Get dinner on the table in less than 30 minutes with this delicious butternut squash noodles recipe! Spiralized butternut squash paired with garlic shrimp, fresh parsley, and lemon juice makes a tasty and healthy meal.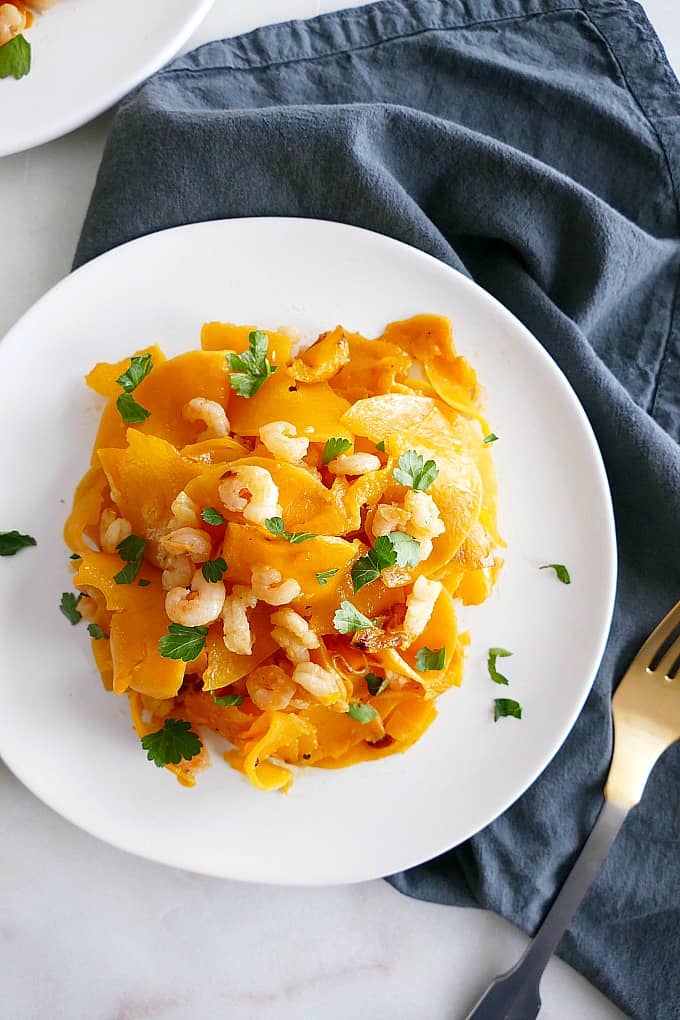 This post may contain affiliate links. For more information, see our affiliate disclosure.
As you might know, I absolutely love my spiralizer. Honestly, if I didn't store it in the highest cabinet in my kitchen, I'd probably use it for every meal. #ShortPeopleProblems.
Even though I'm a veggie noodle fanatic, I did not know that you can spiralize butternut squash until recently! After I found out this important tidbit of information, I knew that I had to use squash noodles in a Veg World recipe ASAP.
But what would I pair with them?! First, I wanted to add a quick protein (shrimp) to make this dish a complete meal. Next, I brainstormed seasonings. For reference, butternut squash noodles taste similar to pumpkin but have a sweeter and nuttier flavor.
Since garlic and lemon go with just about anything, they were the first two flavors I thought of when creating this dish, and the end result exceeded my expectations. Both shrimp and butternut squash proved to be ideal companions for this flavor profile.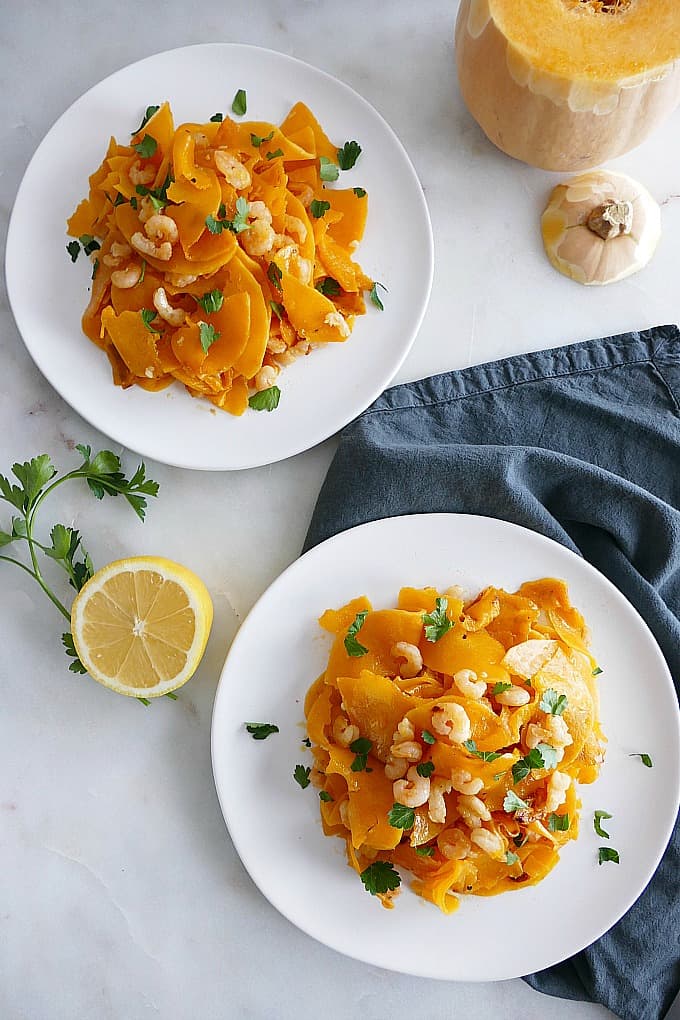 Besides the delicious taste, there are so many reasons why you'll love this recipe, including:
It takes <30 minutes to make.
The leftovers make a great next day lunch.
You don't even need to own a spiralizer to make it (yep, most stores sell butternut squash noodles now)!
PS – if you love veggie noodles, be sure to check out my Sage Brown Butter Kohlrabi Noodles, Sesame Bell Pepper and Cucumber Noodle Salad, and Turnip Noodles with Eggs and Chives while you're here!
Tips for Making Butternut Squash Noodles and Where to Buy Them
To make butternut squash noodles with a spiralizer:
Peel the squash. Then, slice off the stem and bottom part of the squash that contains the seeds (where the neck of the squash meets the wider and rounder part).
Put only the neck of the squash through a spiralizer. To prevent food waste, feel free to remove the seeds and dice up the bottom of the squash to add to the dish while it's cooking.
Depending on the kind of spiralizer you have, you can make skinny or thick noodles for this recipe, as pictured in the above photos. I have tried it both ways, and while I love the appearance of thick noodles, the thinner noodles are easier to cook. So, it's up to you!
If you don't have a spiralizer, you can find pre-made butternut squash noodles, such as Cece's brand, at most grocery stores.
Garlic Lemon Butternut Squash Noodles and Shrimp – Step by Step
After you prep the noodles (photos 1 and 2 below), the rest of the recipe is incredibly easy. Add butter, garlic, and the shrimp to a large skillet over medium heat (photo 3). At the same time, add the butternut squash noodles to another skillet with garlic and olive oil (photo 4).
Once they are both cooked, combine the shrimp and noodles in one skillet, add lemon juice and fresh parsley to taste, and BOOM. That's ALL there is to it!
Expert Tips and Notes
You can use fresh or frozen (and thawed) shrimp for this recipe. Be sure to get shrimp that has been peeled and deveined, unless you want to do that yourself!
Shrimp usually take about 5-7 minutes to cook. Flip them over in the skillet after 3 minutes. You know they are cooked when the flesh is slightly white in color, without any grey remaining.
Other seasoning ideas: dill, red pepper flakes, red wine vinegar
Don't have butternut squash noodles? Use sweet potato noodles instead.
Store leftovers in an airtight container in the fridge for up to 3 days. Reheat in the microwave on high for a couple of minutes.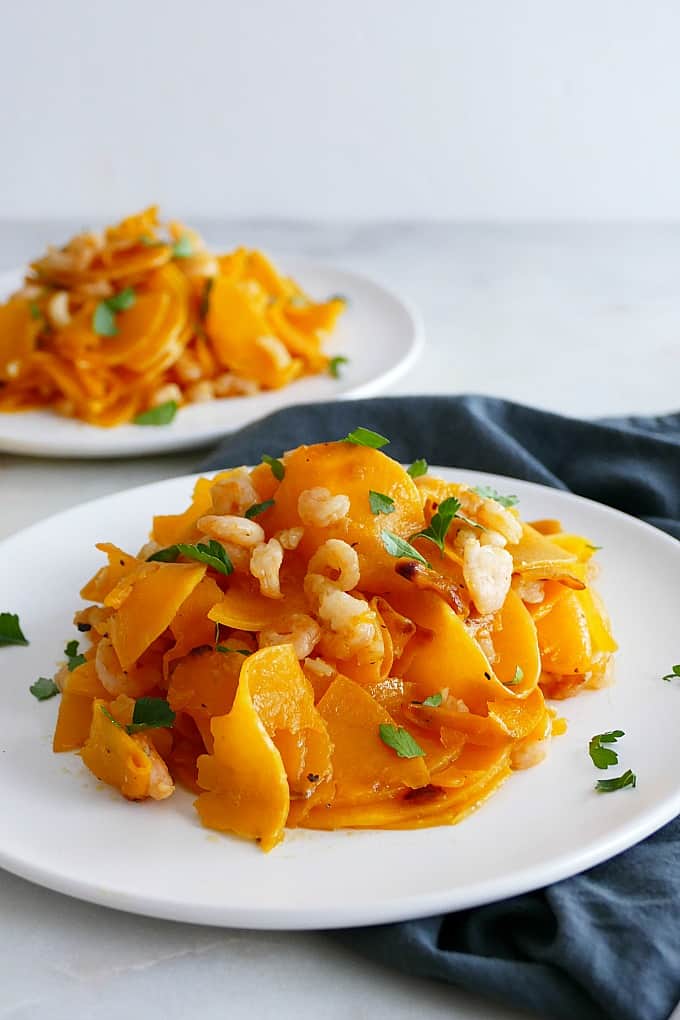 Craving some more butternut squash? Check out my Whipped Butternut Squash and Goat Cheese Dip, Slow Cooker Butternut Squash Brown Rice Risotto, Butternut Squash Dessert Smoothie, and Butternut Squash and Beet Pizza.
If you make this recipe, I'd love to hear how it turns out! Be sure to rate and review it in the comments below, and don't forget to tag and follow me on Instagram.
📖 Recipe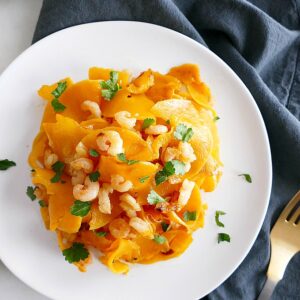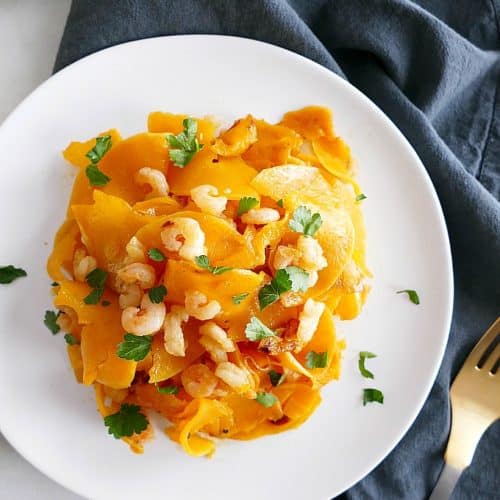 Garlic Lemon Butternut Squash Noodles and Shrimp
A quick and easy spin on traditional pasta with shrimp, served with a simple olive oil and lemon juice dressing.
Print
Pin
Rate
Save
Saved!
Ingredients
1

butternut squash

1

pound

shrimp

-

fresh or frozen (thawed); peeled and deveined

2

tablespoon

butter

-

can sub ghee or extra virgin olive oil

4

tablespoon

extra virgin olive oil -

divided

6

cloves

garlic

-

minced or pressed

2

tablespoon

lemon juice

-

from ~1 small lemon

2

tablespoon

fresh parsley

-

more to taste

Sea salt -

to taste
Instructions
Peel the butternut squash. Slice off the bottom portion with the seeds. You will only be able to spiralize the top portion, and can dice and add the bottom part while the recipe is cooking if desired. Use a spiralizer to prepare the butternut squash noodles.

In a large skillet, heat 2 tablespoon olive oil and 3 cloves minced garlic over medium high heat. Add noodles and stir until coated. Cook for 10-15 minutes, or until noodles are tender, stirring occasionally.

In a separate medium skillet, heat 2 tablespoon butter and 3 cloves garlic over medium high heat. Add the shrimp. Cook for 5 to 7 minutes or until shrimp are fully cooked, flipping over halfway through. Add shrimp to butternut squash noodles. Remove both skillets from heat.

In a small bowl, whisk together the last 2 tablespoon of olive oil, lemon juice, and parsley. Toss shrimp and noodles in the dressing. Season with salt and pepper to taste. Enjoy!
Notes
You will know the shrimp are cooked when the flesh is slightly white in color, without any grey remaining.
Other seasoning ideas: dill, red pepper flakes, red wine vinegar. You can also substitute sweet potato noodles.
Leftovers can be stored in an airtight container in the fridge for up to 3 days and reheated in the microwave.
Nutrition
Serving:
1
serving
|
Calories:
508
kcal
|
Carbohydrates:
32
g
|
Protein:
34
g
|
Fat:
29
g
|
Saturated Fat:
8
g
|
Cholesterol:
401
mg
|
Sodium:
303
mg
|
Potassium:
1040
mg
|
Fiber:
5
g
|
Sugar:
6
g
|
Vitamin A:
27033
IU
|
Vitamin C:
68
mg
|
Calcium:
354
mg
|
Iron:
5
mg
This post was originally published in 2018 but was updated with additional photos and expert tips in Oct 2019.
Have a great weekend!
Lizzie