Over the past week, I've really been in a summer mood. Maybe it's because the weather has been perfect…or maybe it was the trip to the Jersey Shore I took this past weekend! Whatever it is, I'm feeling really good about this season.
It seems that the 4th of July sneaks up on us every year! If Memorial Day is the unofficial start to summer, 4th of July is the official one (at least in my eyes). I'm almost never prepared for the season until the end of June, so I like to think of Independence Day as my personal kick-off!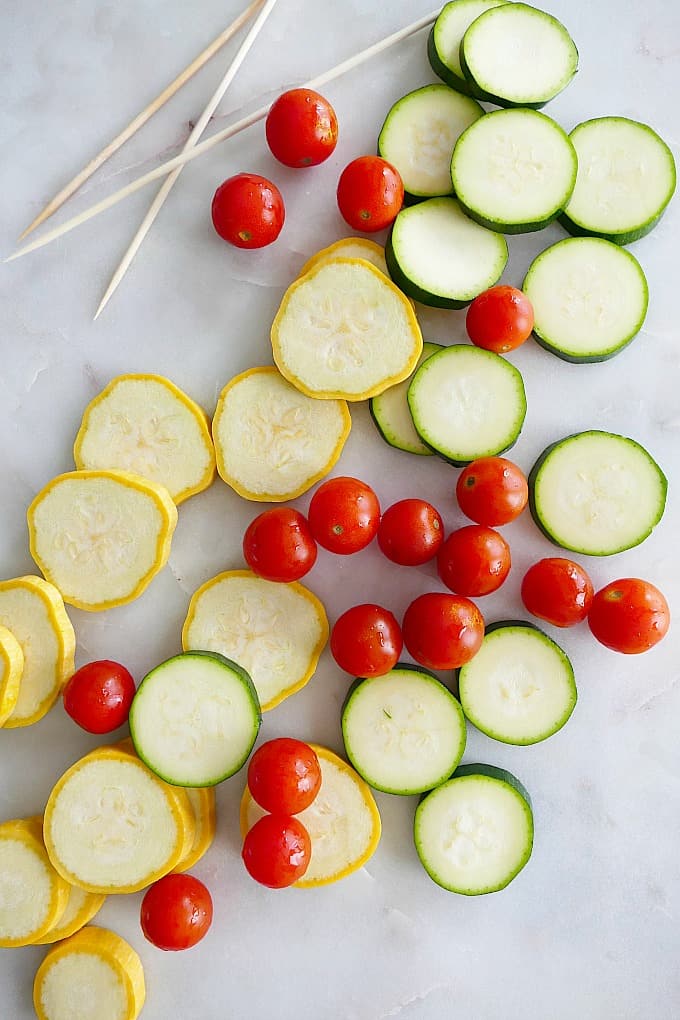 So to get ready for this epic holiday, I've been working up a sweat in the kitchen whipping up some festive dishes for all of you! (I was actually sweating yesterday when I prepped, cooked, styled, and shot about 5 recipes – whew!)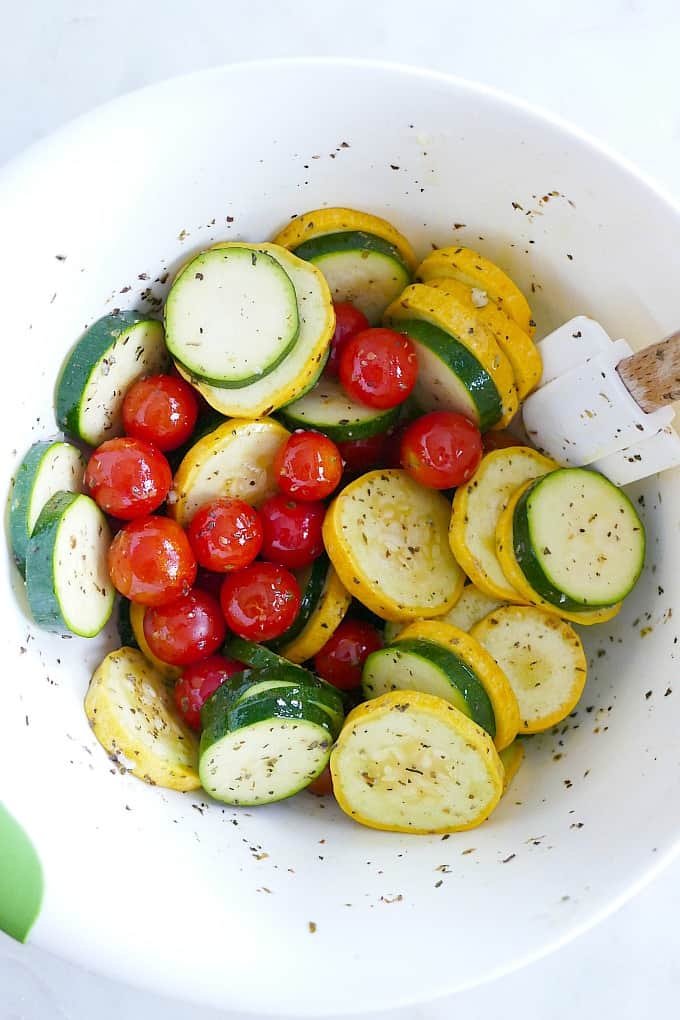 Even though it's only my first week as a full-time entrepreneur, I can already tell what some of the perks will be.
For one, I was able to work a very long day yesterday creating new content for the blog. It was a lot of hours, but I was able to sleep in this morning (if you count 8:30 sleeping in) and take a long lunch break. Plus, all this working in advance will allow me to really enjoy my vacation next week.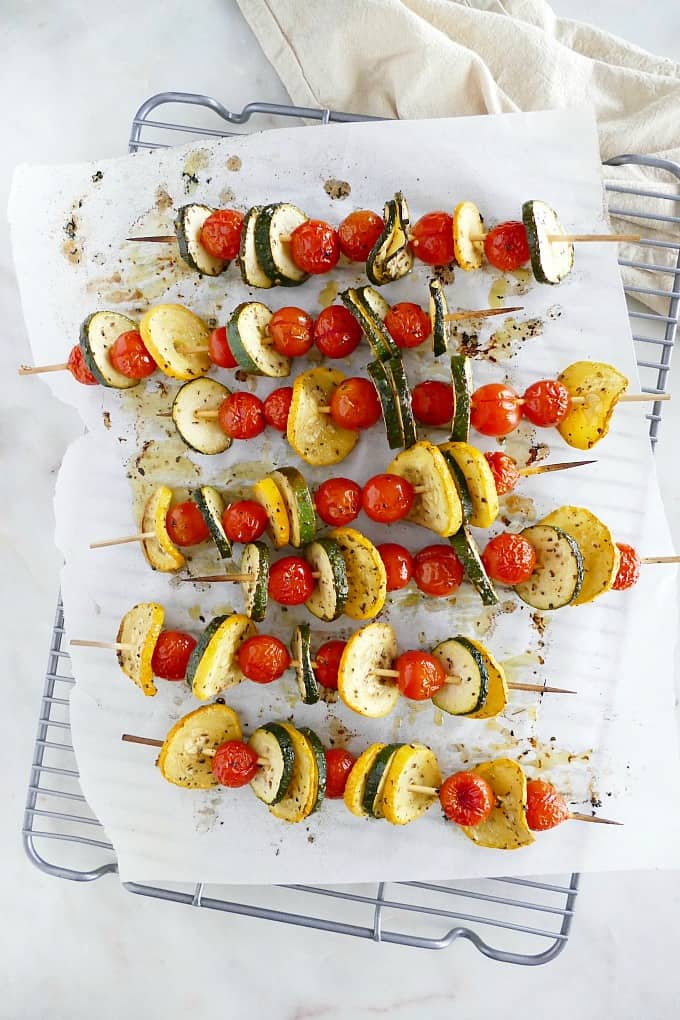 Alright, let's chat about this recipe! Even if the produce stands at your local farmers market aren't lined with zucchini, summer squash, and cherry tomatoes yet, they will be soon! So be sure to bookmark these Easy Italian Zucchini Kabobs.
Plus, they are PERFECT for 4th of July cookouts or gatherings. Since I live in an apartment and don't have grill, I used my oven to make them but they would cook nicely on a grill too.
The delicious marinade in this recipe is JAM packed with flavor. If you like Italian seasonings, then you are in for a real treat. I'm telling you, this one is a real running-back-for-seconds-ASAP recipe…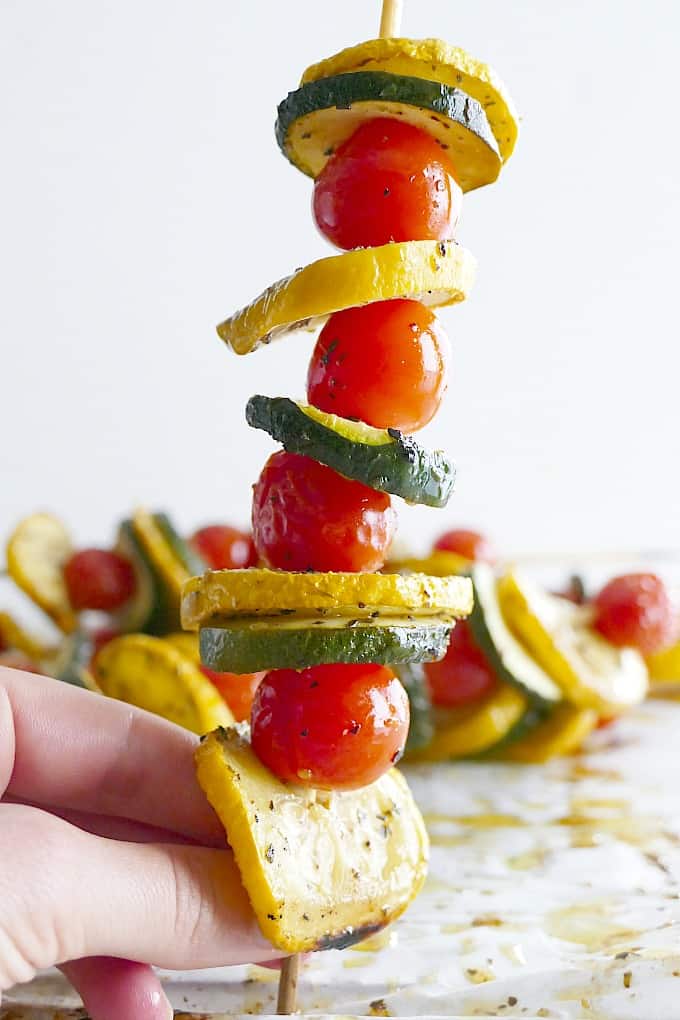 Some of my other favorite recipes with zucchini are:
And now these Easy Italian Zucchini Kabobs!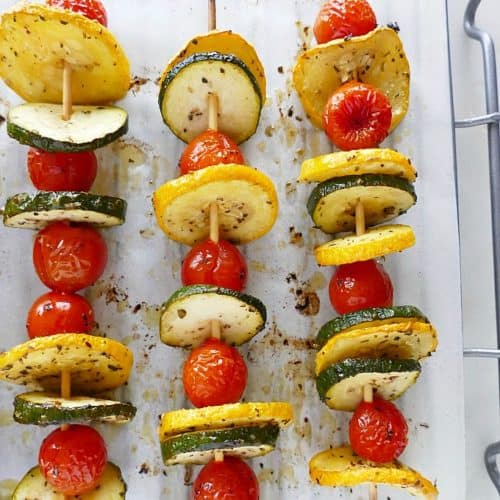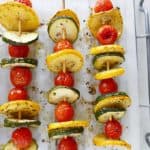 Easy Italian Zucchini Kabobs
These vegan kabobs are a light summer dish using zucchini, cherry tomatoes, and summer squash. They are loaded with flavor from Italian seasonings.
Ingredients
1/3

cup

extra virgin olive oil

3

cloves

garlic

pressed or finely chopped

1

lemon

juiced

1/2

tsp

oregano

dried

1/2

tsp

basil

dried

Sea salt

to taste

Ground black pepper

to taste

1

zucchini

scrubbed and trimmed

1

summer squash

scrubbed and trimmed

1

pound

cherry tomatoes

Bamboo vegetable skewers
Instructions
Preheat the oven to 400 degrees F. Line a baking sheet with parchment paper.

In a large bowl, whisk the olive oil, lemon juice, garlic, and seasonings.

Slice the zucchini and summer squash into 1/2" circles. Rinse the cherry tomatoes.

Add the vegetables to the olive oil mixture. Mix until all of the veggies are coated.

Prepare the skewers by sliding a few cherry tomatoes and zucchini and squash circles onto each stick. You can choose to put them together in whatever pattern you would like. The recipe should yield about 10 skewers but might produce slightly more or less.

Add the skewers to the lined baking sheet. bake for 15-20 minutes or until the tomatoes start to blister.
Recipe Notes
You could also cook these over a grill!
Pin now to make later!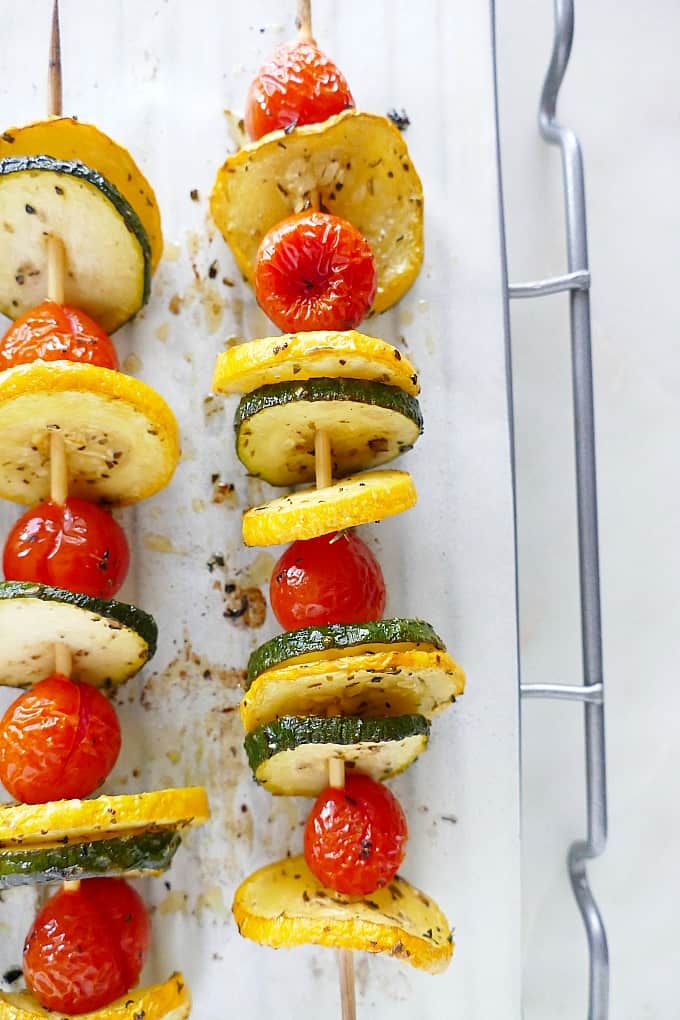 Have a great hump day!
Lizzie