Learn everything you need to know about freezing rhubarb, including how long it lasts and how to use it in cooking. Wondering if you can freeze raw rhubarb or if you need to blanch it? This post has the answers.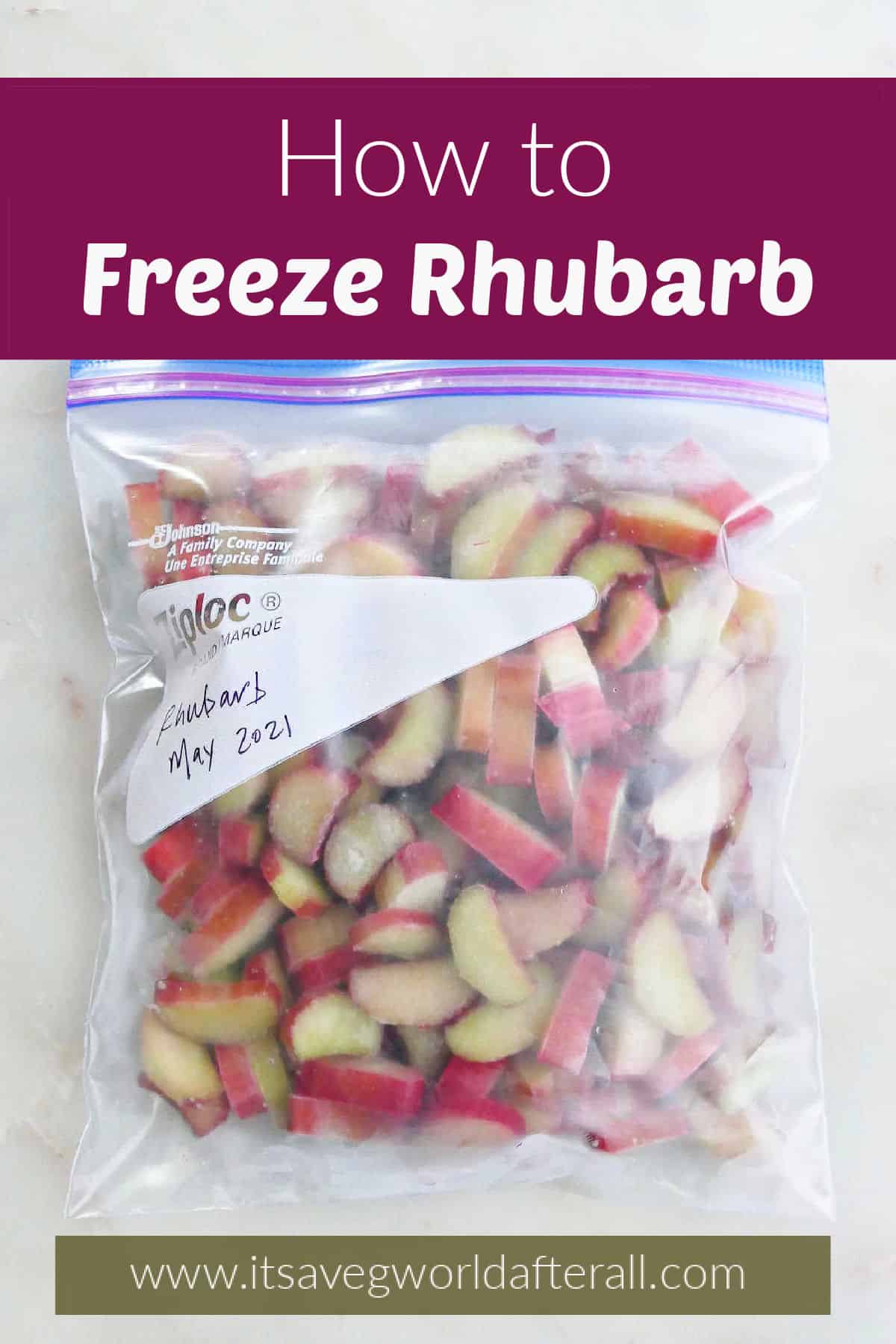 This post may contain affiliate links. For more information, see my affiliate disclosure.
Freezing vegetables is one of my favorite kitchen hacks for preventing food waste, saving money, and extending a certain veggie's season. Rhubarb is an especially good vegetable (yes, it's technically a veggie!) to learn how to freeze, since its season is short.
Rhubarb is also usually used in baking or cooked preparations. So, whether it's fresh or frozen doesn't matter as much as it does with other foods that are commonly served raw. Freezing rhubarb allows you to have it on hand potentially year-round to make your favorite desserts and recipes.
If you grow rhubarb in your garden and have a TON, or if you just want to preserve some store-bough rhubarb for future use, I put together this tutorial to help you. For more tutorials on freezing veggies, check out my posts on Freezing Garlic, How to Freeze Carrots, and How to Freeze Celery.
How to Cut and Freeze Rhubarb
Trim the ends of the rhubarb stalks, and remove the leaves. The leaves contain a compound that's toxic in high amounts and should not be consumed. Chances are if you bought rhubarb at the store, the leaves have already been removed. But if it's coming from your garden, the leaves are probably intact.
Wash and dry the rhubarb stalks. Slice the rhubarb into ½-inch pieces, similar to how you would slice celery.
Spread the rhubarb out on a large baking sheet or freezer-safe tray. Place in the fridge for a few hours until frozen solid.
Transfer the frozen pieces to a labeled bag and container. Store in the freezer for up to a year.
Frequently Asked Questions
The process of freezing rhubarb is simple, but I wanted to answer some of the FAQ about it to clear up any confusion.
Do you wash rhubarb before freezing?
Yes, rinse rhubarb under cold running water and scrub the stalks with your fingers to remove any stuck dirt. Pat the stalks dry before cutting and freezing to remove any excess water.
Can rhubarb be frozen without blanching?
Fresh, raw rhubarb freezes beautifully and does not need to be blanched. However, you can choose to blanch it to help preserve the color and quality if you want.
Bring a large pot of water to a boil while you prep the rhubarb. Drop the cut pieces into the boiling water, cook for just one minute, then remove and immediately transfer to a bowl of ice water. Let the pieces sit in cold water for a couple minutes, then drain, pat dry, and complete the remaining steps.
How long can you freeze rhubarb?
Frozen rhubarb lasts for up to a year in the freezer. For best results, be sure to store it in a tightly sealed container or bag that's suitable for the freezer. If you've had rhubarb in the freezer for a long time and there are a lot of ice crystals and/or freezer burn, it's probably past its prime.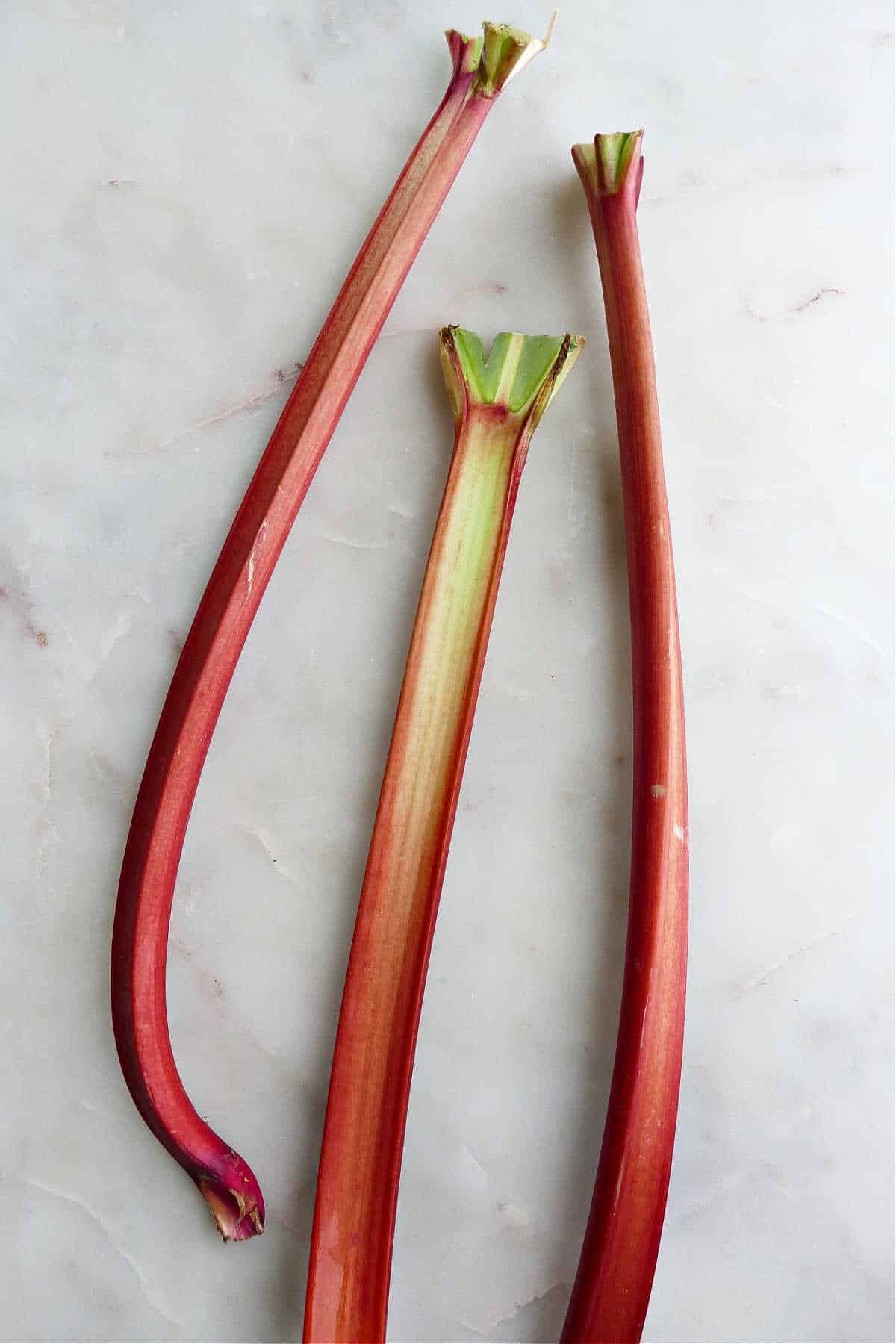 How to Use Frozen Rhubarb
Now that you know all about freezing rhubarb, you need some ways to use it! Frozen rhubarb works best in cooked dishes and baked goods. It should not be used in raw preparations (which is rare for rhubarb anyway), since it may get soggy while defrosting.
Here are some recipes to make using frozen rhubarb:
I'd love to hear how you like this recipe! Rate/review using the stars on the recipe card or in the comments, and follow the Veg World on YouTube, Instagram, Facebook, and Pinterest. Looking for something totally different? Browse the recipe library.
📖 Recipe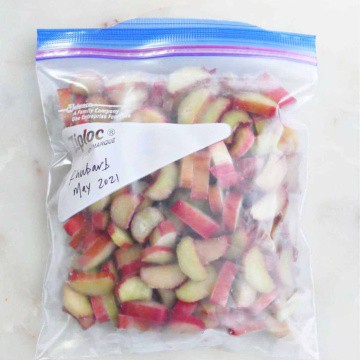 Equipment
cutting board and knife

Freezer bags or containers
Instructions
Trim the rhubarb stalks. Remove and discard the leaves. Wash the stalks under cold running water and scrub off any stuck dirt. Pat the stalks dry.

Slice the rhubarb into ½-inch thick pieces. Spread the pieces out in a single layer on a baking sheet or freezer-safe tray. Place the tray in the freezer, somewhere it won't get bumped, until the pieces are frozen solid. This usually takes about 1 to 2 hours.

Transfer the frozen pieces to a freezer bag or container, seal tightly, and label. Store in the freezer for up to a year.
Notes
Add frozen rhubarb directly to recipes for cooked preparations and baked goods. You don't need to defrost it first. Don't use frozen rhubarb in recipes where it's served raw, since it can get soggy.
Nutrition
Serving:
1
cup
|
Calories:
1
kcal
|
Carbohydrates:
1
g
|
Protein:
1
g
|
Sodium:
1
mg
|
Potassium:
3
mg
|
Fiber:
1
g
|
Sugar:
1
g
|
Vitamin A:
1
IU
|
Vitamin C:
1
mg
|
Calcium:
1
mg
Happy preserving! – Lizzie