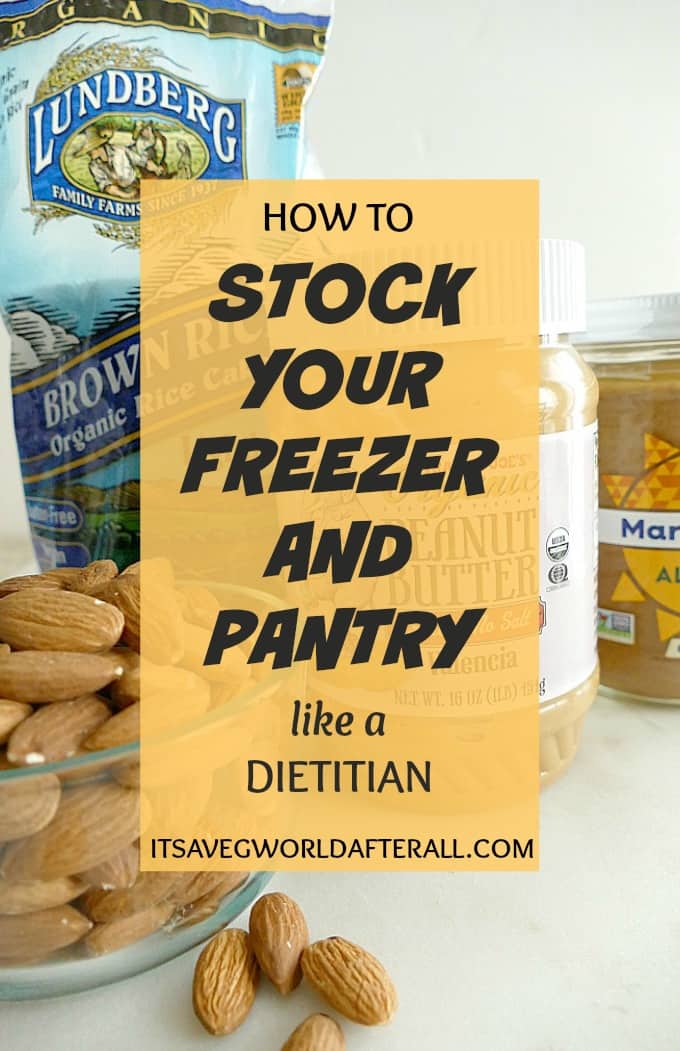 Having a well stocked freezer and pantry is the MOST important aspect of healthy eating. Wait, what?! It's not knowing how to cook like a chef, having access to fresh veggies and fruits, or following a "diet" and strict meal plan?! Nope, it's not!
Just keeping healthy staples on hand can make a huge difference when it comes to eating well. Preparation is key. Read on for my favorite foods to keep in stock, and give your pantry and freezer a "dietitian approved" makeover!
With nutritious foods on deck, you won't need to reach for that take-out menu the next time you come home from work starving (with nothing in the house). Instead, you can quickly whip up a "freezer" or "pantry" meal. The best part? You'll save some money, too!
Pantry Essentials
Stock your pantry like a dietitian…
Grains and Legumes
*pro tip: look for "quick" grains and canned beans whenever possible
Quinoa
Farro
Brown rice
Wild rice
Oats (old-fashioned and quick cook steel cut)
Black beans
Chickpeas
White cannellini beans
Lentils
Brown rice cakes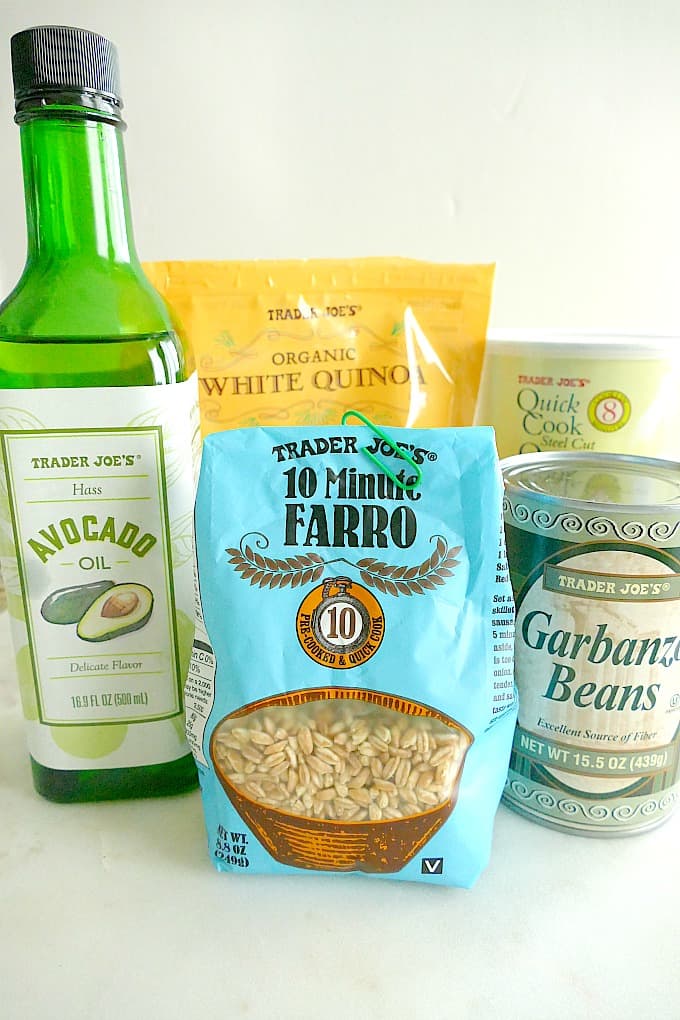 Nuts/Seeds and Proteins
Almonds
Almond butter
Peanut butter
Cashews
Pistachios
Pumpkin seeds
Sesame seeds
Canned tuna
Canned salmon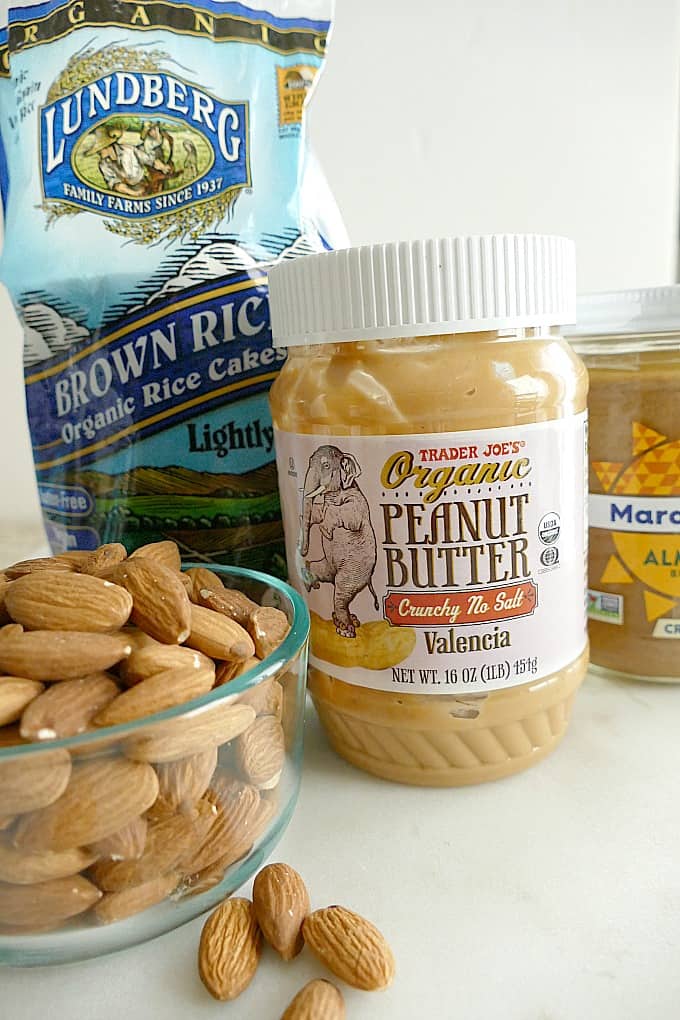 Oils
Extra virgin olive oil
Avocado oil
Coconut oil
Sesame oil
Flavorings
Chicken stock or broth
Vegetable stock or broth
Maple syrup
Honey
Red wine vinegar
Balsamic vinegar
Rice vinegar
Reduced sodium soy sauce
Dijon mustard
Diced tomatoes
Salsa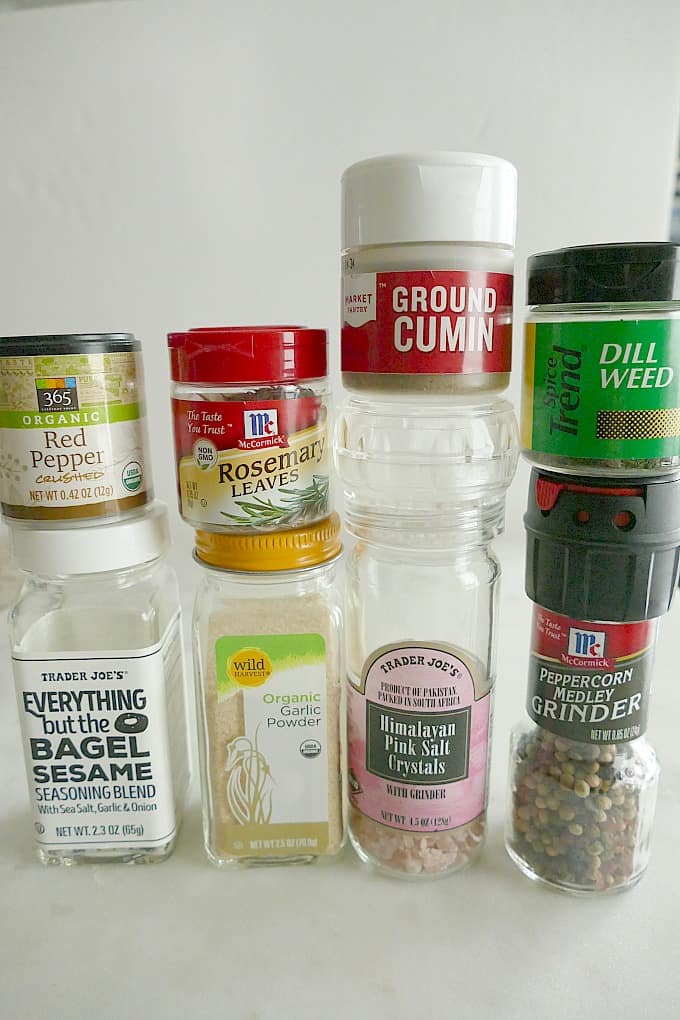 Herbs, Spices, Seasonings
Sea salt
Ground black pepper
Garlic powder
Cumin
Chili powder
Rosemary
Dill
Crushed red pepper flakes
"Everything but the bagel" seasoning (my favorite!)
Now that you've got the pantry figured out, let's talk about the freezer, a.k.a. your best friend when it comes to meal prep. That little ice box is magic, my friends!
Freezer Essentials
Stock your freezer like a dietitian…
Frozen Veggies and Fruits
Broccoli
Green beans
Peppers
Corn
Cauliflower rice (Trader Joe's has this- awesome!)
Onions (dice 'em yourself and throw them in a freezer bag)
Berries
Bananas (great way to preserve bananas that are about to go bad)
Mango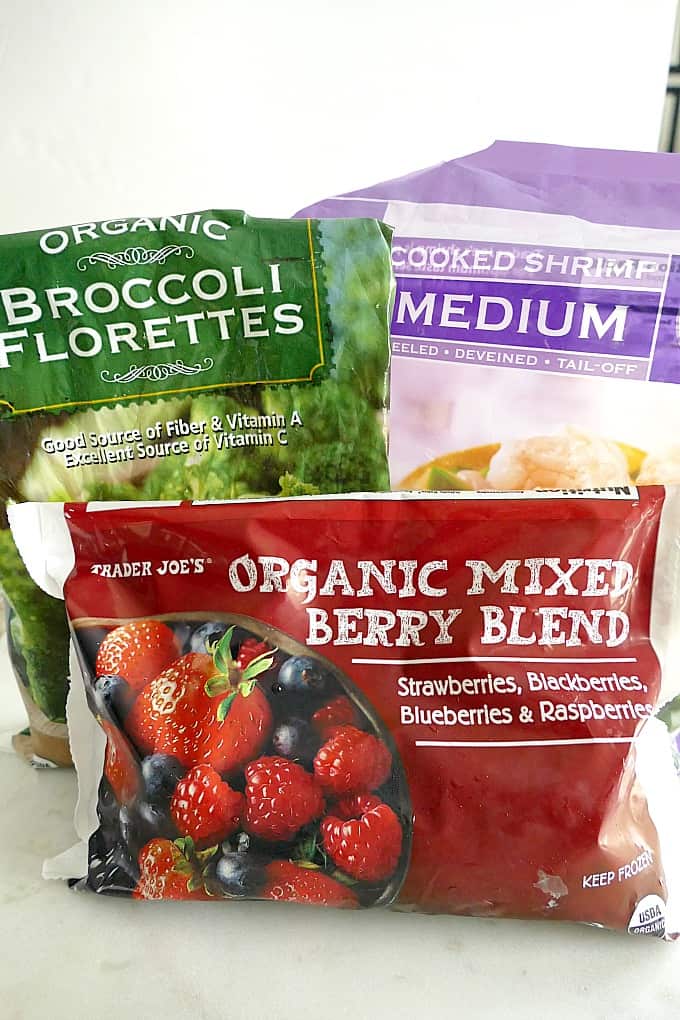 Frozen Proteins
Chicken breasts
Salmon
Shrimp
Ground meats
Peas
Microwave Grains
* you can find frozen, single servings of grains (so great!!)
Frozen quinoa
Frozen brown rice
Frozen Herbs and Garlic
Look for squeeze tubes or frozen cubes of your favorite seasonings. If you live alone or have a small household, you will love these! No more buying fresh herbs and watching them go to waste.
And last but not least, here are a few of my favorite freezer and pantry meals! They're quick, they're easy, and they taste delicious.
Burrito bowls: brown rice, black beans, frozen corn and peppers, salsa; add avocado and shredded cheese if you have it!
Asian salmon: frozen salmon (defrosted), sesame oil, olive oil, soy sauce, dried ginger, frozen garlic; bake at 400 for ~20 minutes; add a whole grain and frozen broccoli for a complete meal
Shrimp and cauliflower rice bowls: frozen cooked shrimp (defrosted), frozen cauliflower rice, frozen peas, broccoli and onions; cook in vegetable broth for added flavor
Oats with frozen berries and nut butter: add the berries to warm oats (they will defrost that way); a quick and easy breakfast!
Salads with beans, nuts, and quick dressing: grab a bag of fresh greens and use your pantry staples to whip up a complete meal in no time, top with 1 tablespoon EVOO whisked with 1 tablespoon balsamic vinegar for a quick and delicious dressing!
I'd love to hear about your go-to freezer and pantry staples, and meals! Let me know in the comments below.
Happy eating!
Lizzie