Thank you to Lean Cuisine for sponsoring this post! Please note that while I received compensation for this post, all opinions are my own.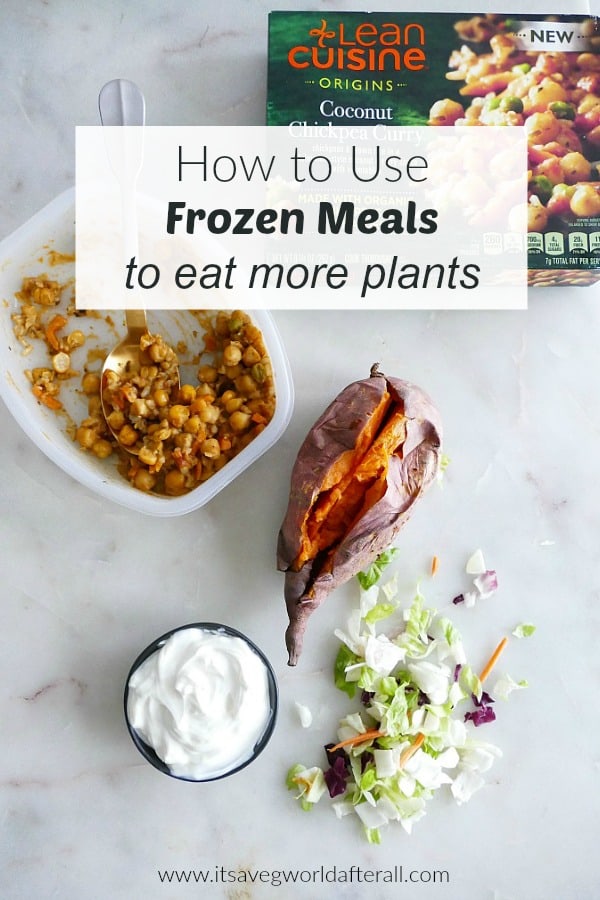 Last month, I spoke at a local wellness event during which a young man approached me to chat about healthy eating. He noted that he didn't grow up eating a balanced diet and had no experience in the kitchen, but that he wanted to start incorporating more nutritious foods into his diet. He was well aware of the benefits of eating a predominantly plant-based diet, but wasn't sure how to make it happen with his limited budget and cooking skills.
This man's situation is relatable to so many of us. Even if you are someone who knows the basics of healthy eating and cooking, translating knowledge into action can be challenging. For example, you may want to eat more plants but feel confused about how to build plant-based meals. Or maybe you are a seasoned plant eater, but could use some more ideas for busy nights.
Fortunately, the Lean Cuisine team has created new frozen meals (Lean Cuisine Origins line) that make plant-based eating feasible and approachable for everyone. Read on to learn more about how you can use frozen meals to eat more plants!
Plant-Based Eating and Barriers to Entry
Plant-based eating, or basing your diet on vegetables, fruits, legumes, and nuts/seeds, is on the rise in the United States. In fact, nearly ⅓ of Americans report trying to incorporate more plant foods into their meals, according to Nielsen 2017 data. But at the same time, people perceive plant foods to be expensive, difficult to prepare, or flavorless. The desire to eat more plants is there, but so are some barriers to entry.
As a dietitian and plant-based recipe developer, I am always brainstorming ways to help others overcome the perceived barriers to eating more vegetables. Incorporating more plants can truly be easy, affordable, and downright delicious! But to get this message across, it's important to meet people where they are.
For the man that talked to me at the event last month, I suggested some basic tips: incorporating more frozen vegetables and beans into the pasta he was already cooking and using his slow cooker to prepare food in bulk. For another client of mine that loved cooking but got bored with her usual recipes, I challenged her to try a recipe with a new vegetable each week. In these examples, I gave each person very different recommendations to reach the same goal of eating more veggies.
However, there are some nutrition tips that can benefit just about anyone. For example, learning how to choose healthy, affordable convenience products to be the base of balanced meals is a helpful skill for beginner and experienced home cooks alike.
Making Plant-Based Eating Easy
Certain convenience products can be vehicles for adding more plants to your diet. For instance, adding frozen vegetables and fruits, canned beans, or packaged nuts and seeds to meals is a simple way to boost their nutrition.
But let's not forget about one of my favorite products to use as a base for quick, healthy dishes–frozen meals! I'm not talking about frozen entrees that are highly processed or filled with preservatives. Nope.
I'm talking about frozen meals that are packed with vegetables, seasonings, and other whole plant foods. The Lean Cuisine Origins line checks all of these boxes. I was simply blown away by the flavor and ingredients of the new meatless meals in this line. These innovative products were created with help from Lean Cuisine's network of chef partners from top restaurants around the country. And you can really tell…they're that good!
Take the new Coconut Chickpea Curry, for example. The ingredients are: organic chickpeas, organic tomatoes, water, organic brown rice, coconut cream, carrots, organic peas, and 2% or less of a variety of seasonings. THAT'S IT! Plus, this dish is completely vegan (say whaaa?) and gluten free, with 19 grams of fiber and 12 grams of complete plant protein. And did I mention what a great price point it is?
Some of the other new Lean Cuisine Origins meals include Sicilian-Style Pesto with Lentil Pasta (vegan, 5 grams fiber, 15 grams protein and only 20% of the DV for sodium) and Farmers Market Pizza (14 grams of protein and 4 different vegetables).
With these meals, Lean Cuisine Origins has changed the game for plant-based eating, making it more convenient and affordable without sacrificing flavor and nutrition.
How to Use Frozen Meals to Eat More Plants and Balance Your Plate
The new Lean Cuisine Origins meals can be enjoyed on their own or as part of a larger meal. They're the perfect base for building a balanced plate. Using an Origins meal as your entree provides plant protein, fiber, and healthy fats. To bulk up your meal and round out a balanced plate, you can simply add more vegetables, some fruit, or another plant-heavy side. Preparing dinner just got a WHOLE lot easier, huh?
I had so much fun experimenting with the Lean Cuisine Origins products in my own kitchen. Here are a few ways that you can use these frozen meals to eat more plants!
1 – Serve the Coconut Chickpea Curry in a stuffed sweet potato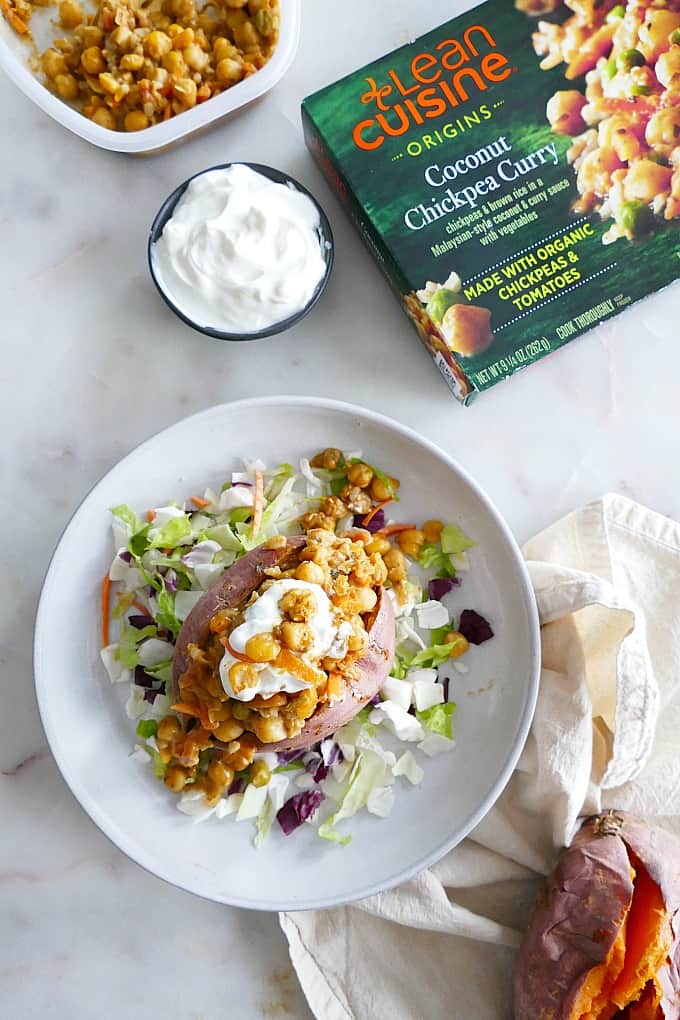 What to do:
Preheat the oven to 400 degrees F. Scrub a sweet potato, poke a few holes in it with a fork, and place it on a piece of aluminum foil on a rack in the oven. Bake for 45 to 60 minutes or until tender. You can prep potatoes in advance to save even more time!
Prepare the Lean Cuisine Origins Coconut Chickpea Curry according to package instructions. Slice open the sweet potato and stuff it with the curry. Serve the stuffed sweet potato over a bed of lettuce. You can add a dollop of Greek yogurt or coconut yogurt to keep it vegan. Enjoy!
2 – Serve the Farmers Market Pizza with a side salad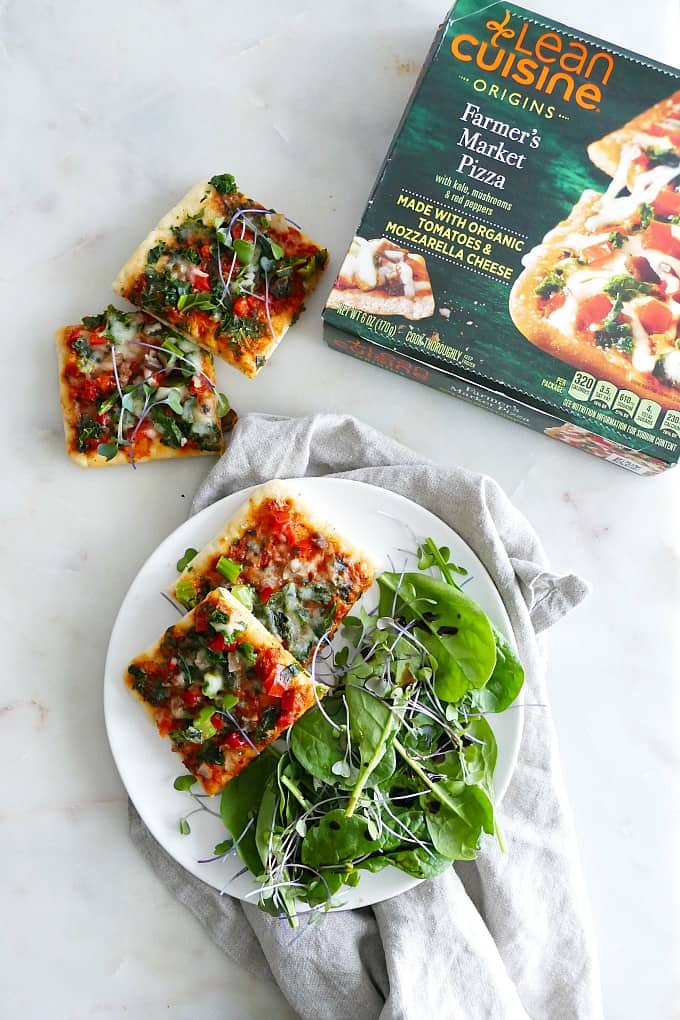 What to do:
Prepare the Lean Cuisine Origins Farmers Market Pizza according to package instructions.
While it's in the microwave, whip up a side salad. Toss greens in a drizzle of extra virgin olive oil and balsamic vinegar, or another dressing of your choice. You can also use a pre-packaged salad to save time!
Don't like salad? Serve the pizza with steamed broccoli or green beans.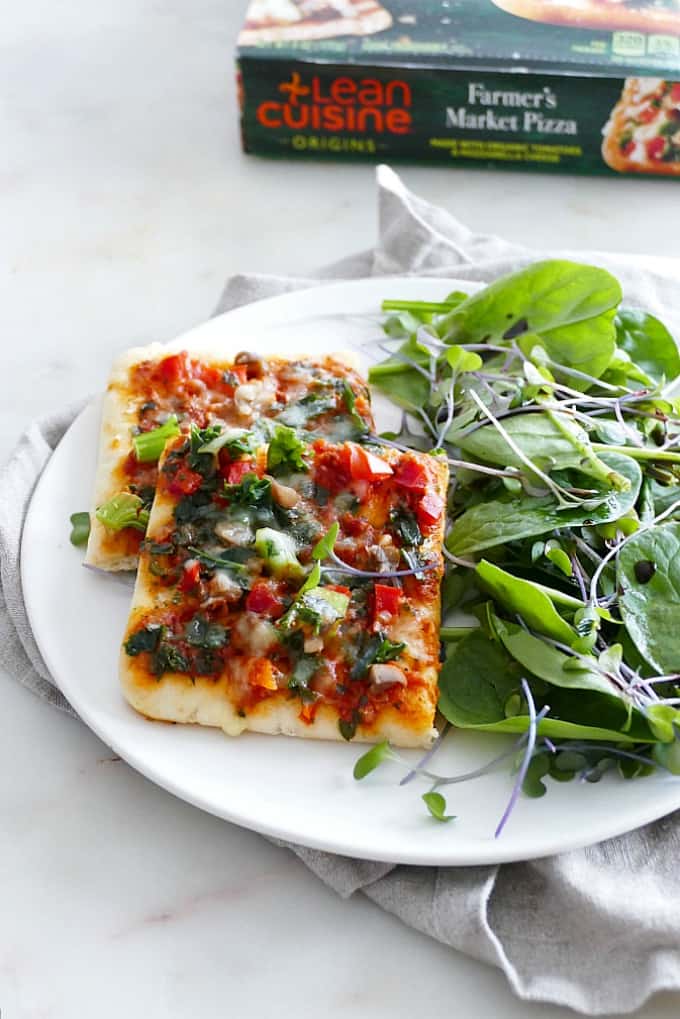 See? Eating a plant-based diet doesn't need to be hard, expensive, or time-consuming. You can make eating more plants an easy reality, especially with the help of products like the Lean Cuisine Origins Meals. If you want to try these meals, you can find them at your local supermarkets. Or check out the product locator on the Lean Cuisine website!
Happy veggie eating –
Lizzie
Thank you to Lean Cuisine for sponsoring this post! Please note that while I received compensation for this post, all opinions are my own.