Made with spiralized vegetables, this flavorful Bell Pepper and Cucumber Noodle Salad is finished with an Asian-inspired sesame dressing. It's a crowd pleasing, vegetarian side dish that comes together in minutes!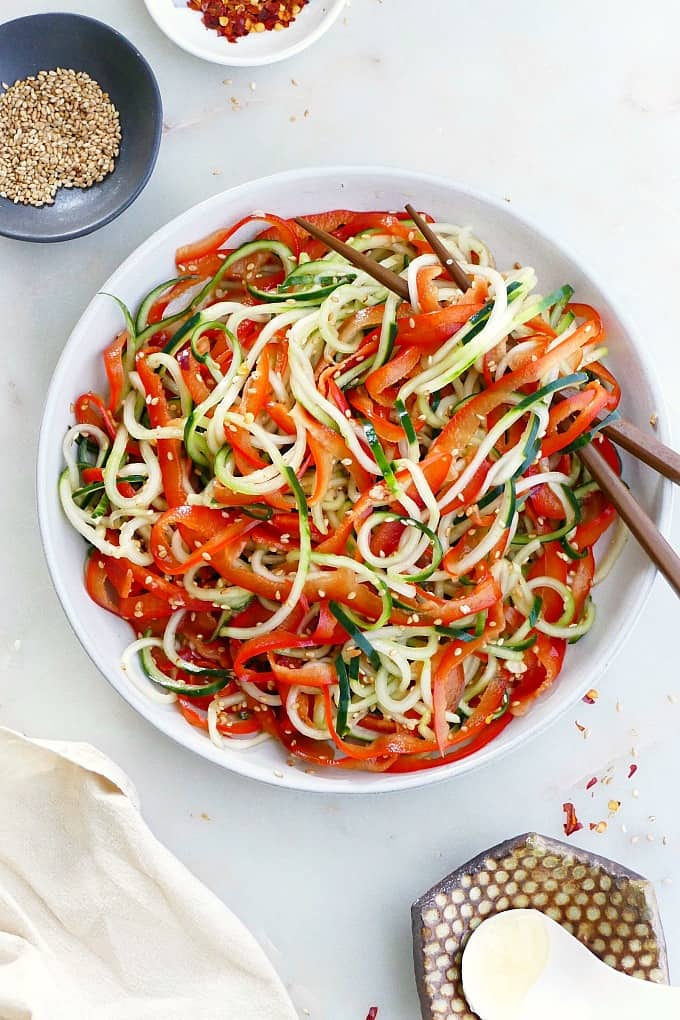 This post may contain affiliate links. For more information, see my affiliate disclosure.
Happy Labor Day weekend Veg World!
Wait. Wait a minute. It's Labor Day weekend?! How?! Why? When?
I cannot believe how quickly this summer has flown by. It feels especially fast this year, but I'm also more excited than usual for fall weather and food. So I guess it's not the worst thing in the world that summer is coming to an end.
I'm still holding onto summer produce though! Hence, this recipe featuring two of late August's best veggies: cucumbers and bell peppers.
Even though Starbucks released their Pumpkin Spice Latte this week, it's a little TOO early to dive into pumpkin spice season here at Veg World HQ. Don't ya think?
But if you disagree with me, perhaps you should check out my One Pot Pumpkin Tomato Pasta and Spiced Sweet Potato Latte before reading any more of this post… ;-)!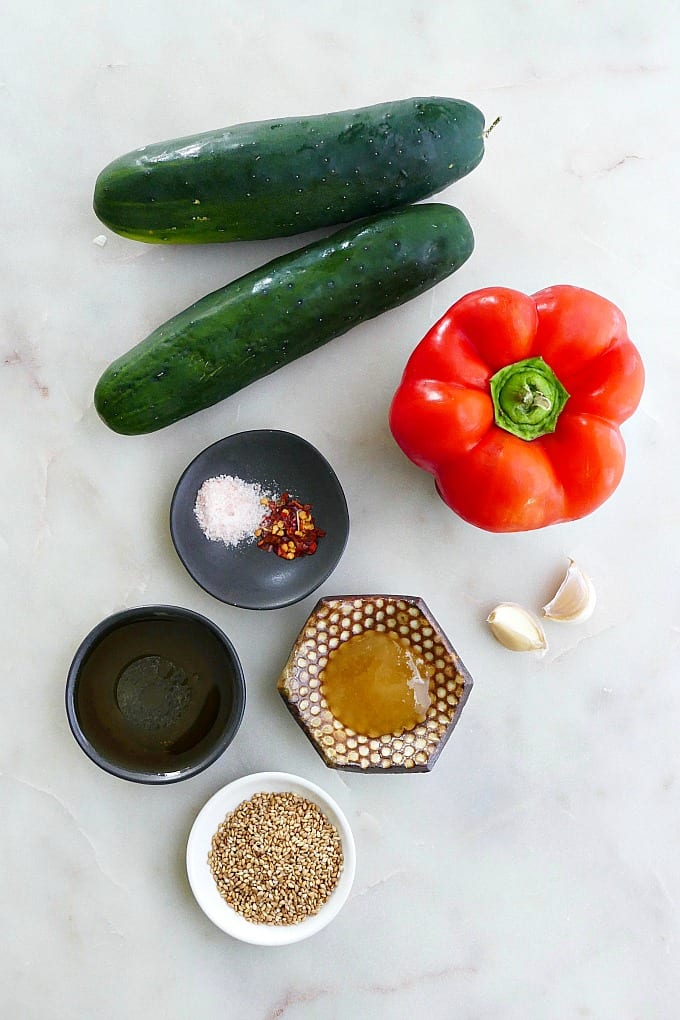 If you're still in the mood for some warm weather recipes, though, then this Sesame Bell Pepper and Cucumber Noodle Salad is for you! It's easy to prepare, flavorful, colorful, and fun. And it might just be perfect for your Labor Day festivities this weekend.
Since this recipe features bell pepper and cucumber noodles, let me give you a brief tutorial on prepping these ingredients. First and foremost, you'll need a spiralizer to make veggie noodles (unless you buy them pre-made).
Here's the spiralizer I recommend if you're in the market for one!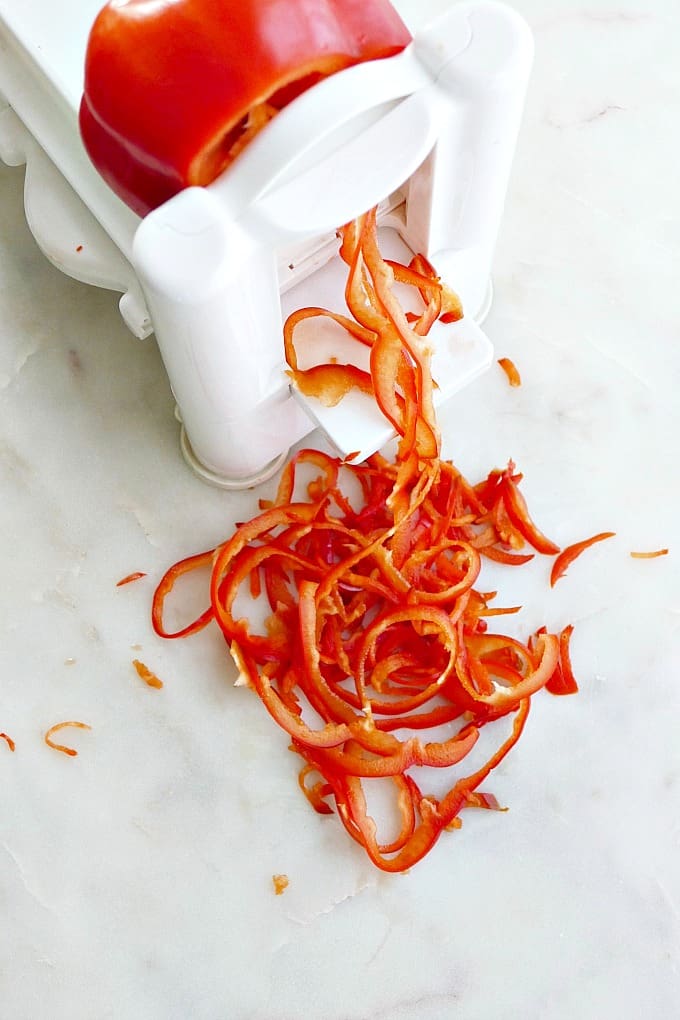 How to Spiralize Cucumbers and Bell Peppers
To spiralize a cucumber:
Slice off both ends of the cucumber.
Insert one end of the cucumber into the spiralizer blade and the other end into the handle.
Run the cucumber through the spiralizer, using the fine (3 mm) or coarse shredding blade.
To spiralize a bell pepper (yes, it's possible!):
Slice off the top of the stem of the bell pepper, so that it's not sticking out. But keep the pepper intact.
Insert the whole bell pepper with the top in the handle and the bottom in the blade.
Run the bell pepper through the spiralizer using the flat blade. This won't work if you use another type of blade.
Separate the inside flesh/seeds from the rest of the noodles and discard.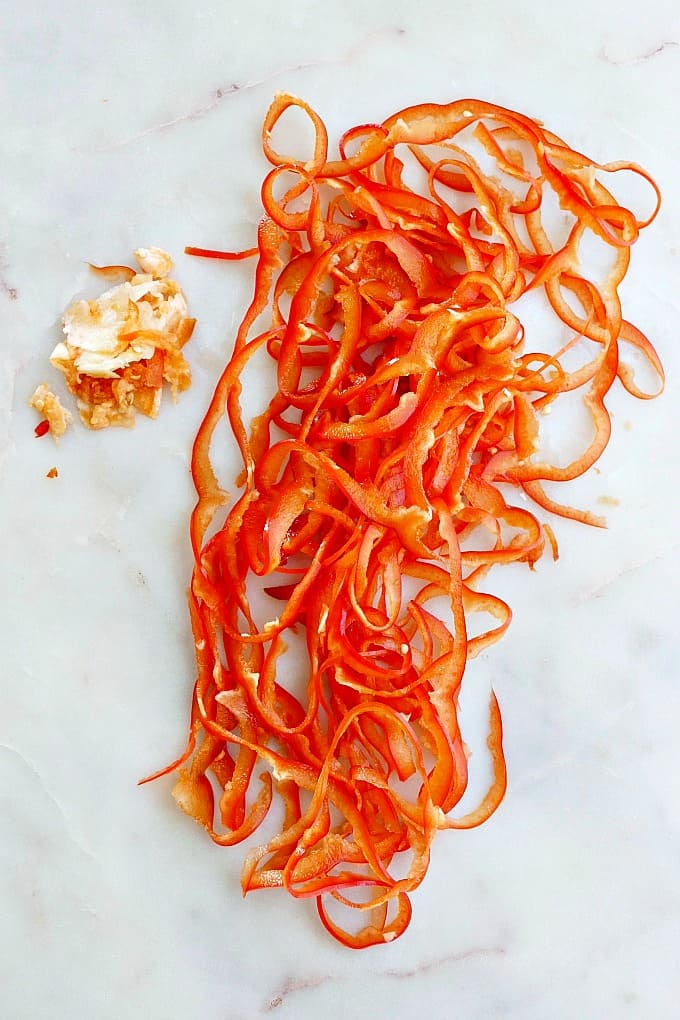 What can I use if I don't have a spiralizer?
Some of you may want to try this recipe without committing to a spiralizer.
To cut veggie noodles without a spiralizer, use a vegetable peeler, sharp knife, or grater. You won't get the same length or shape, but these tools will still get you where you want to be.
How to Make Bell Pepper and Cucumber Noodle Salad
Once you have your veggie noodles ready for the base of the salad, add them to a large mixing bowl.
To make it easier to eat, you might want to slice the noodles in half so that they are easier to pick up with a fork and can be consumed in one or two bites.
Next, whisk together toasted sesame oil, rice vinegar, honey, garlic, red pepper flakes, and sea salt. Pour this over the salad and mix until it's well coated. Stir in sesame seeds, and enjoy!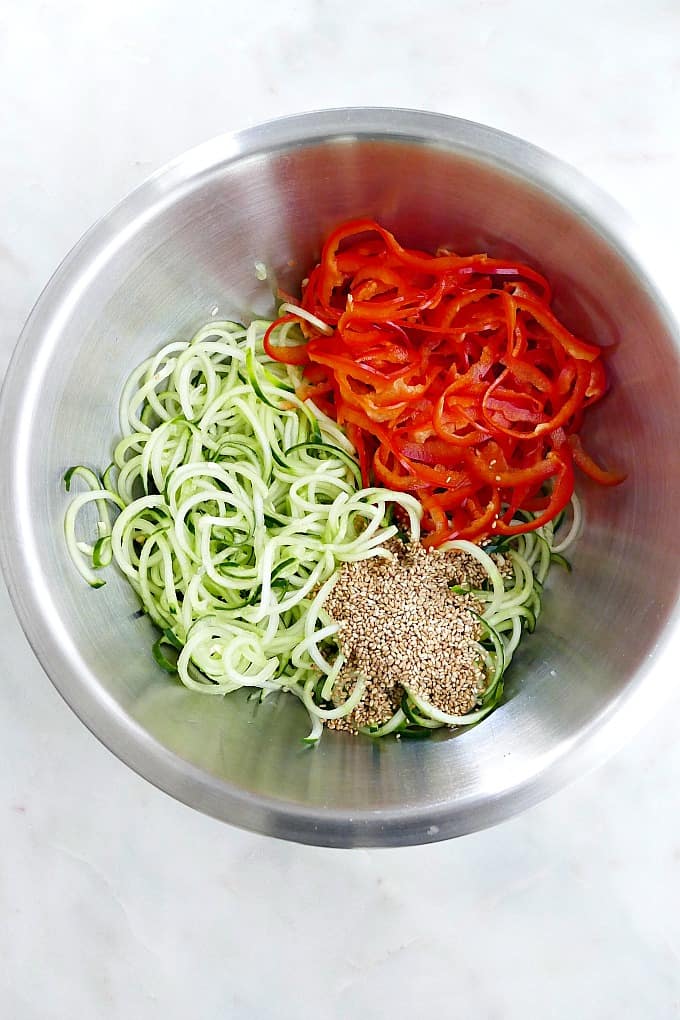 Can you make this ahead of time? Yep. In fact, this recipe tastes best served 3-4 hours after making it so the noodles have time to marinate in the dressing. It can last in the fridge for 2-3 days in an airtight container. But, by all means, you can eat it right away too!
Can you make this vegan? Yes, just swap maple syrup for the honey.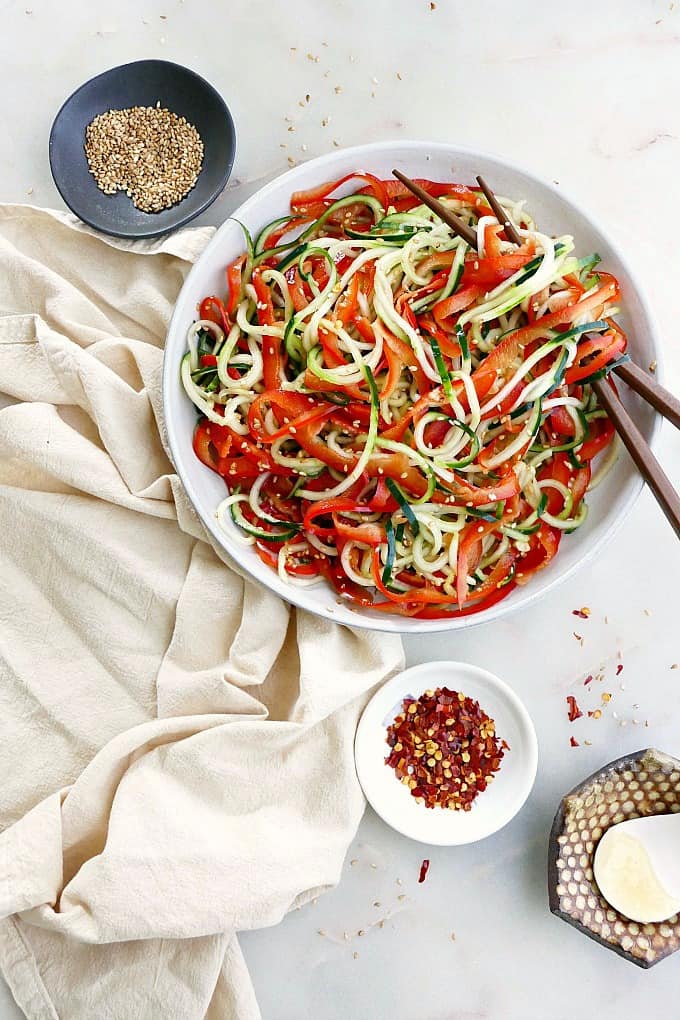 So what do you think? Have I convinced you to get a spiralizer and try this bell pepper and cucumber noodle salad?!
If you're in the mood for some more veggie noodle recipes, check out: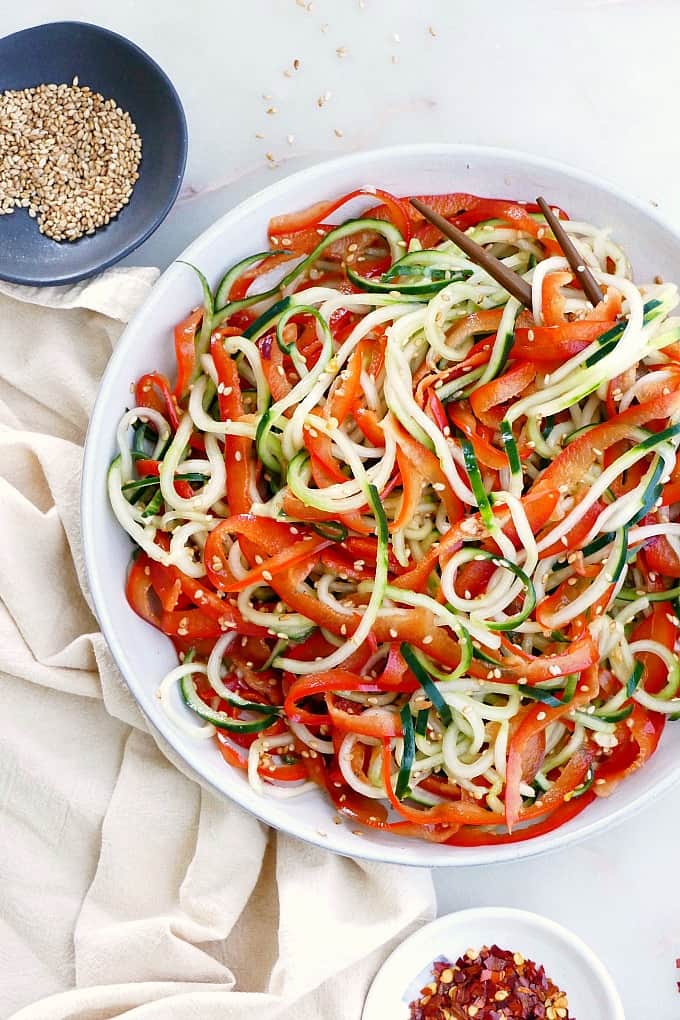 I'd love to hear how you like this recipe! Rate/review using the stars on the recipe card or in the comments, and follow the Veg World on Instagram, Facebook, and Pinterest. Looking for something totally different? Browse the recipe library.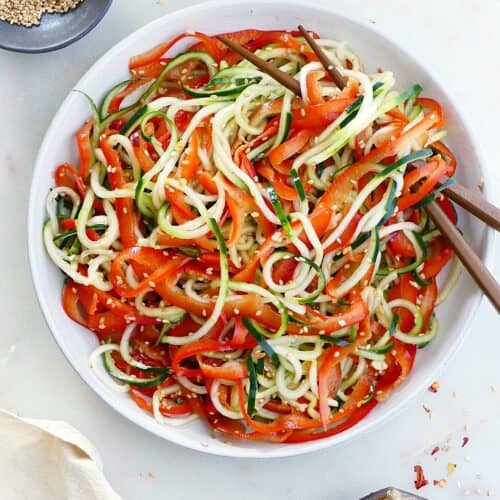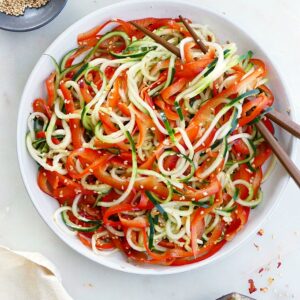 Sesame Bell Pepper and Cucumber Noodle Salad
Made with spiralized bell peppers and cucumbers, this flavorful Asian salad is a fresh and delicious side dish that comes together in minutes. Vegetarian, gluten free, and paleo.
Print
Pin
Rate
Instructions
Prepare the veggie noodles by running the cucumbers and bell pepper through a spiralizer (fine or coarse blade for cucumbers, flat blade for pepper) or by slicing them with a grater, peeler, or knife. Add them to a large mixing bowl. You may want to slice some of the longer noodles in half to make them easier to eat.

In a small bowl, whisk together the sesame oil, rice vinegar, honey, garlic, red pepper flakes, and sea salt. Pour over the veggie noodles and mix until well coated. Stir in the sesame seeds.

Serve and enjoy! This can be eaten right away, but tastes best when made 3-4 hours in advance so that the salad has time to marinate in the dressing.
Notes
Leftovers can be stored in an airtight container in the fridge for 2-3 days.
Nutrition
Calories:
104
kcal
|
Carbohydrates:
11
g
|
Protein:
2
g
|
Fat:
6
g
|
Saturated Fat:
1
g
|
Sodium:
153
mg
|
Potassium:
288
mg
|
Fiber:
2
g
|
Sugar:
8
g
|
Vitamin A:
1077
IU
|
Vitamin C:
43
mg
|
Calcium:
68
mg
|
Iron:
1
mg
Have a great long weekend!
Lizzie