Our weekly CSA box is usually filled to the brim with vegetarian treasures (we like to refer to Tuesdays as "Christmas morning"), and figuring out how to creatively combine all these fresh fruits and veggies has become one of my favorite tasks. But this week, I was definitely stumped by the assortment of goodies we received. What's a girl to do with spaghetti squash and edamame beans (together, at least)?
I was definitely feeling an Asian-inspired dish but without much experience with spaghetti squash, I turned to my dear friend Google for some ideas. A quick search led me to a blog called Family Fresh Cooking (visit their blog by following that link) and an amazing recipe for a dish doused in a yummy sesame sauce. In that moment I realized– spaghetti squash and edamame were made for each other…
Spaghetti Squash Noodles with Edamame and Broccoli
The dressing for this dish is Family Fresh Cooking's wonderful creation. However, I did modify the rest of the dish slightly and added in some steamed broccoli for an extra crunch and veggie!
The following recipe serves about 2 people but to make more, just use the entire cooked spaghetti squash and double the sauce ingredients.
Ingredients:
1/2 large spaghetti squash, cooked (directions below)
1 cup small broccoli florets, steamed
3/4 cup edamame, steamed and shelled
2 tablespoons toasted sesame oil
2 tablespoons tamari or soy sauce
1 tablespoon white wine vinegar
Pinch of ground ginger
Pinch of garlic powder
2 tablespoons toasted sesame seeds
Directions:
Preheat oven to 375 degrees Fahrenheit. Bake squash in a baking pan for about an hour or until you can easily cut into it with a knife. Let cool for 15 minutes. While the squash is cooking/cooling, steam the edamame and broccoli in a frying pan with about 2 inches of boiling water in it.
Prepare the sauce by combining the sesame oil, tamari sauce, white wine vinegar, ginger, garlic powder, and sesame seeds in a small bowl. If your sesame seeds did not come toasted, simply toast them in a small frying pan over medium heat until they turn brown and become fragrant (should not take more than 5 minutes– don't want to burn them).
Once the squash is cool, cut it in half and scoop out the seeds. Then, use a fork to scrape out the insides of each half until all the strings are removed. This is the most fun part!
Finally, make up two bowls with the spaghetti squash noodles, broccoli, and edamame. Dress them with the sauce you prepared and enjoy!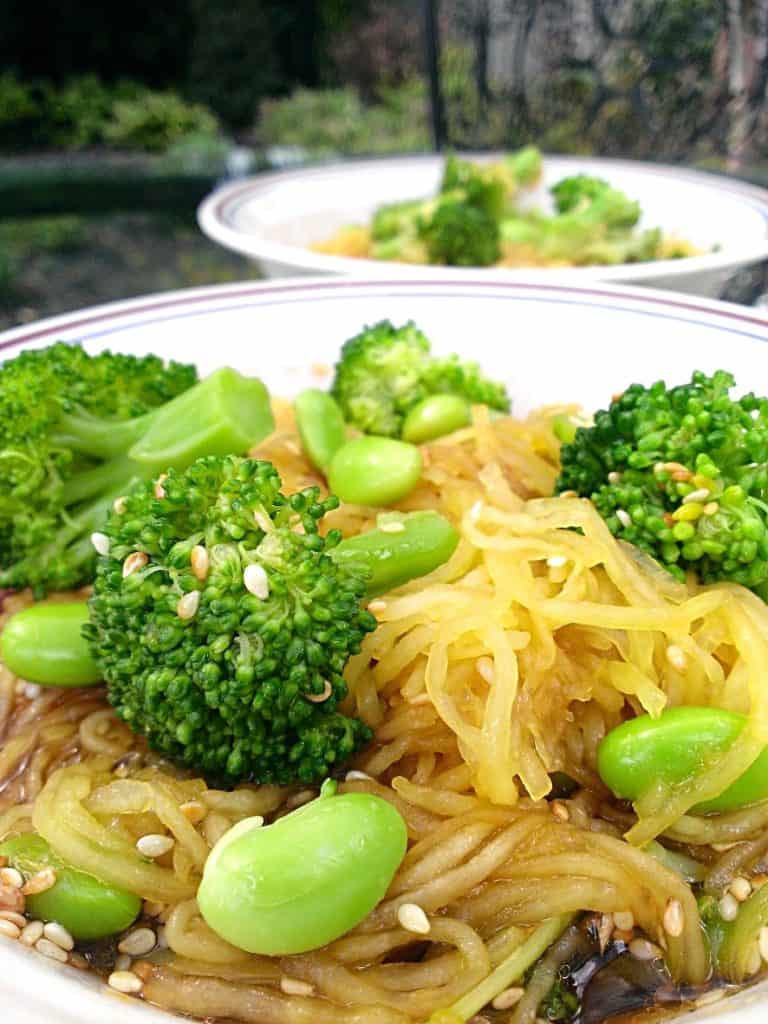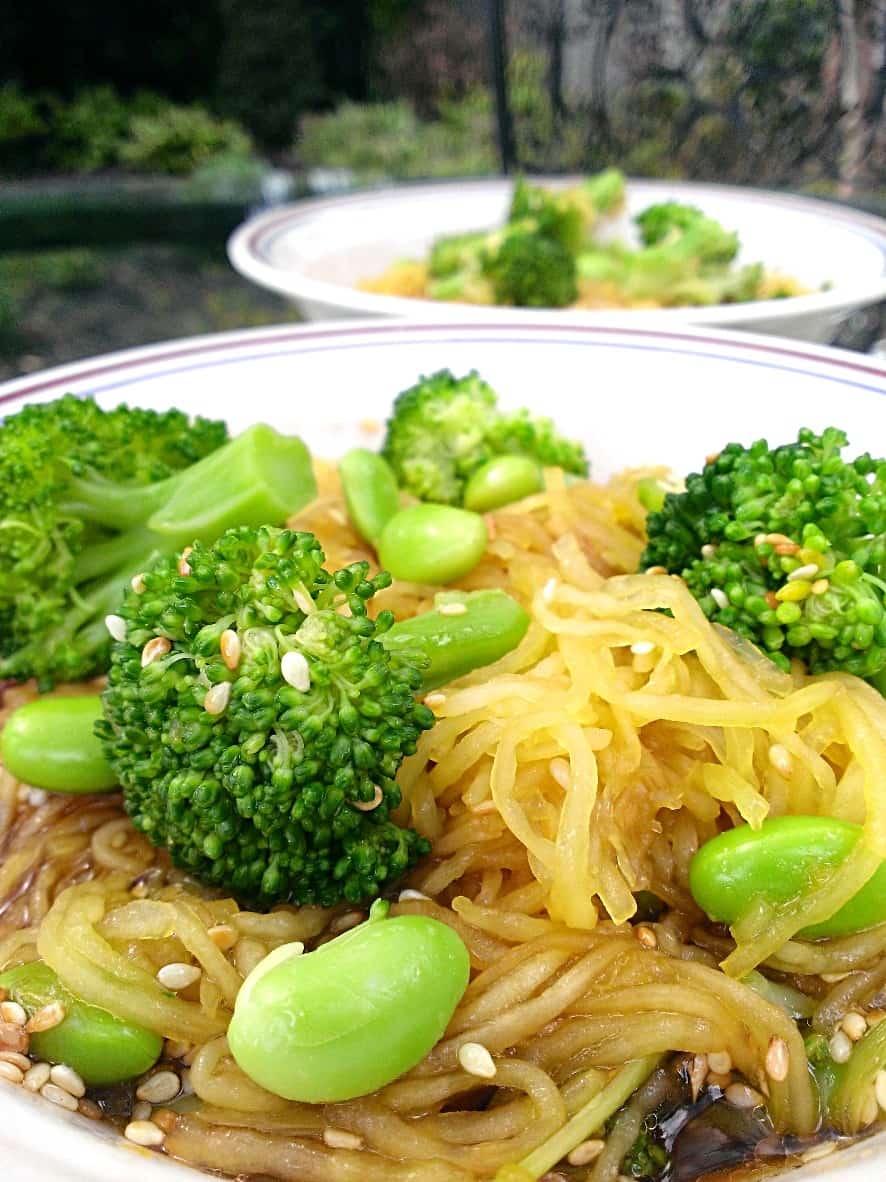 How easy was that?
Happy Friday!
Lizzie