Veggie-loaded spaghetti squash stir fry is seasoned with a delicious sesame soy sauce and mixed with edamame and broccoli. Prep the spaghetti squash and other components in advance, and this vegan dish comes together in 10 minutes. It's a great recipe for a quick lunch or dinner and weekly meal prep.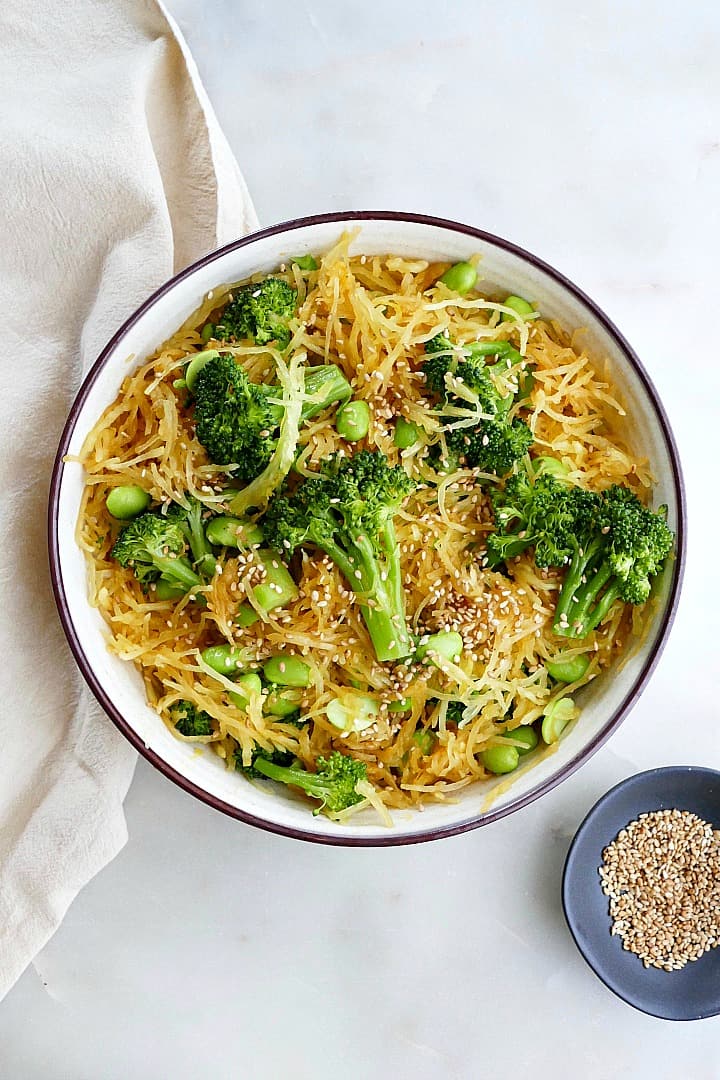 This post may contain affiliate links. For more information, see the affiliate disclosure.
Hey Veg World! This new recipe is an update of one of my very first blog posts from September 2013. It was inspired by the spaghetti squash and edamame that my mom and I received in our CSA box. If you didn't know, participating in that CSA and making recipes with the veggies is how this blog started!
In the original post, I talked about how our box was "filled to the brim with vegetable treasures" and that we referred to Tuesdays as "Christmas morning" since that's when we got our weekly box! Ah, I miss those days. It was so fun to discover new veggies. I think 2013 me would be shocked to see how far the Veg World has come since then and floored that my very own Vegetable Cookbook for Vegetarians (the PERFECT book for a CSA recipient) is now available.
I left the original photo from September 2013 below, too, just for fun! It may be hard to believe, but I still remember the tastes from this recipe over seven years later. I made the dish in time for my mom and I to eat together on her lunch break from work, and we ate it outside in the backyard.
This updated Spaghetti Squash Stir Fry with broccoli and edamame includes the same ingredients that I used in 2013, but I changed the sauce a little. Made with simple pantry ingredients, like soy sauce, sesame oil, garlic, and ginger, it's incredibly flavorful while still being hassle-free. I hope you enjoy this easy dish for a weeknight lunch or dinner!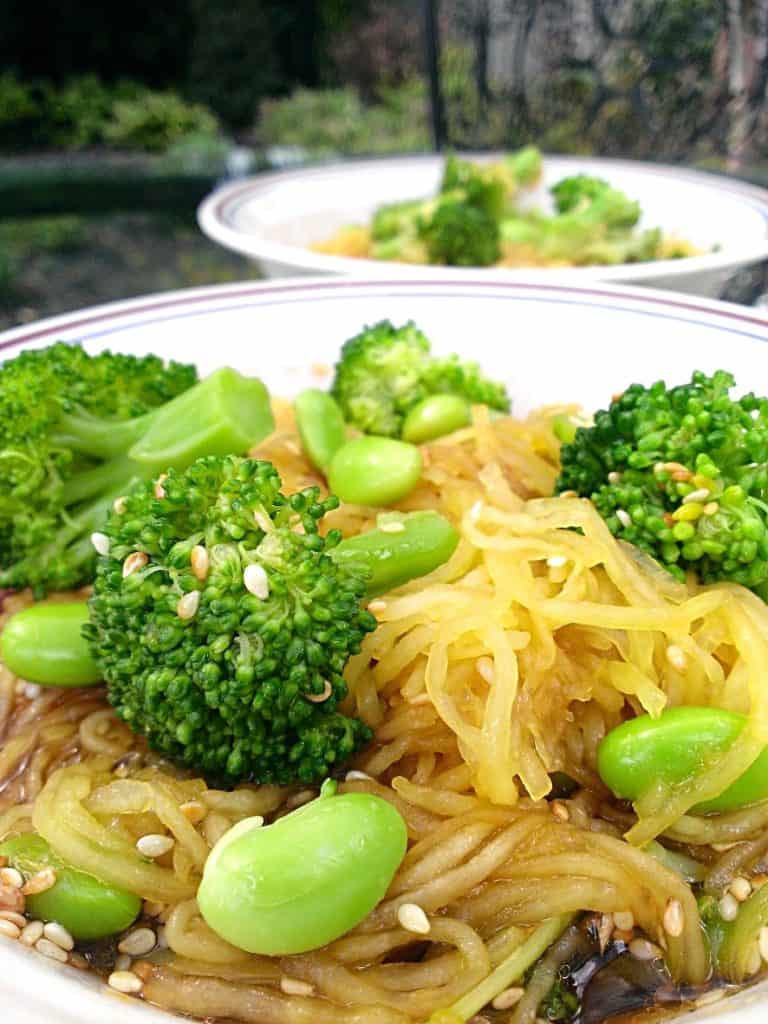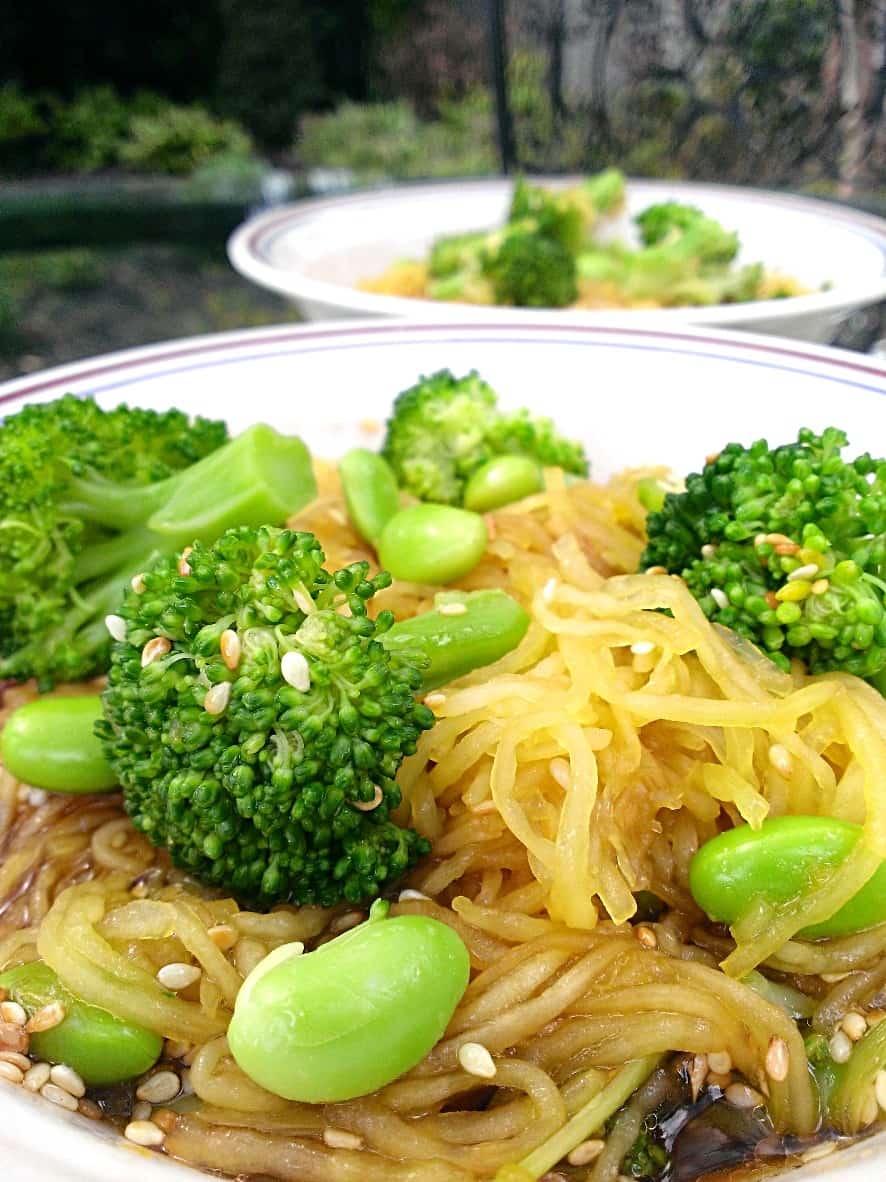 How to Cook Spaghetti Squash Stir Fry
First, prep the spaghetti squash. Slice the squash in half lengthwise, remove the seeds, then rub olive oil over the cut surface. Place the halves cut side down on a lined baking sheet, and roast for 30 to 45 minutes. Cooking time depends on the size of the squash. Flip the halves over, and remove the "noodles" with a fork. For more tips, check out my tutorial on preparing spaghetti squash.
Steam the broccoli and edamame in the meantime. In a small bowl, whisk together the ingredients for the sauce.
Combine the spaghetti squash, broccoli, edamame, and sauce in a mixing bowl. Mix until coated, and serve with toasted sesame seeds.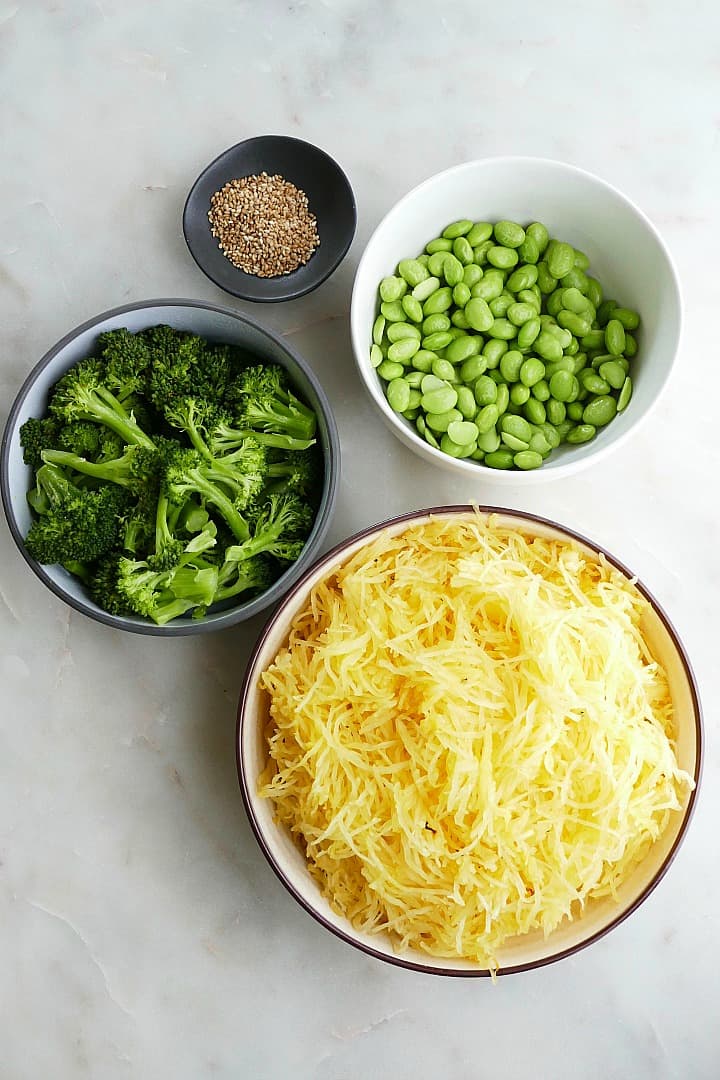 Expert Tips
Spaghetti squash stir fry is the perfect "assembly" recipe, meaning you can prep all the ingredients in advance and just put them together when you're ready to eat. Cooked spaghetti squash and steamed broccoli and edamame will keep for up to five days in an airtight container in the fridge. Store them in separate containers for best results. I like to make the sauce right before eating, but you can even make that in advance and keep it in the fridge too.
Heating/assembly: If you are putting together the recipe with cold ingredients and want to serve it hot, I recommend heating a tablespoon of oil in a large skillet over medium heat. Add the squash, broccoli, and edamame, and cook for 5 to 10 minutes until warmed through. Pour in the sauce, and cook for a few more minutes.
Possible additions and substitutions: Add shredded turkey or chicken or a few scrambled eggs to boost the protein content of the dish. To make this dish gluten free, sub tamari for soy sauce.
Recommended equipment: Here is the chef's knife I use to cut squash, and here is the steamer basket I use to steam veggies like broccoli!
One of the great things about a spaghetti squash stir fry is that it tastes good hot or cold! I love dishes like that.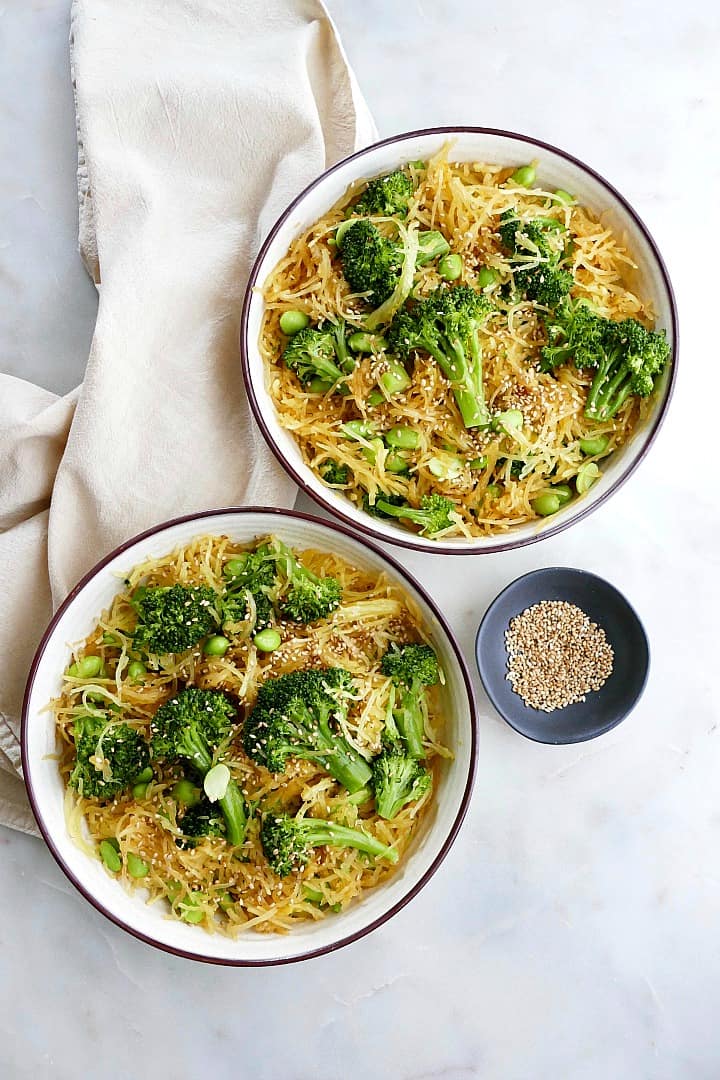 Similar Recipes
If you LOVE spaghetti squash noodles with broccoli and edamame, I think you'll also enjoy the Peanut Soba Noodles with Roasted Broccoli. For other similar recipes, check out the Spring Pea Orzo Fried Rice, Creamy Peanut Zucchini Noodles with Chicken, and the Spaghetti Squash Pad Thai.
Did you make this recipe? I'd love to hear how you like it! Please rate/review using the stars on the recipe card or in the comments section. While you're here, subscribe to the weekly newsletter for more veggie-forward dishes.
📖 Recipe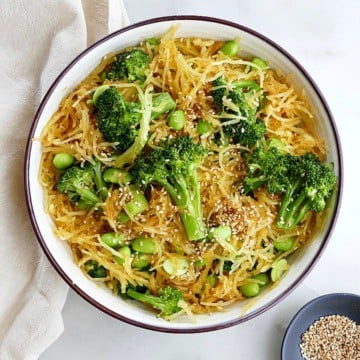 Spaghetti Squash Stir Fry with Edamame and Broccoli
This vegan spaghetti squash recipe is coated in a simple sesame soy sauce and finished with crunchy broccoli and protein-packed edamame. It's a simple recipe that can be easily prepped in advance.
Print
Pin
Rate
Save
Saved!
Ingredients
1

spaghetti squash

-

preferably small or medium to yield ~6 cups noodles

2

cups

broccoli florets

1

cup

frozen edamame

3

tablespoon

toasted sesame seeds
Instructions
Preheat the oven to 400°F, and line a baking sheet with parchment paper. Slice the spaghetti squash in half lengthwise, remove and discard the seeds, and rub the cut surfaces with olive oil. Place the halves cut side down on the baking sheet, and cook for 30 to 45 minutes until the skin is tender. Cooking time will vary depending on the size of the squash. Remove the squash from the oven, carefully flip over the halves with an oven mitt, and use a fork to pull away the "noodles" from the skin. Add the noodles to a large mixing bowl.

While the squash is roasting, bring a few inches of water to a boil in a large pot. Add a steamer basket, place the broccoli florets in the basket, cover, reduce heat to medium, and cook for 6 to 8 minutes until the broccoli is tender but still crisp. Alternatively, you can put the broccoli in a skillet, cover with a couple inches of water, bring to a boil, cover, and steam the florets that way. Steam/cook the edamame according to package instructions. Add the steamed broccoli and edamame to the mixing bowl with the squash noodles.

In a separate bowl, whisk together the soy sauce, sesame oil, rice vinegar, garlic, and ginger. Pour this over the spaghetti squash mixture, and mix until well-coated. Transfer the stir fry to serving dishes, and top with toasted sesame seeds.
Notes
All of the components of this stir fry can be prepped in advance and stored in airtight containers in the fridge for up to five days. When you want to eat the stir fry, make the sauce, and assemble the dish. If you want the dish to be hot, heat a tablespoon of olive oil in a large skillet. Add the squash, broccoli, and edamame, and cook for a few minutes until warmed through. Pour in the sauce, and cook for a little longer until warm.
Possible additions include shredded chicken or turkey or a few scrambled eggs.
To make gluten free, sub tamari for soy sauce.
If you want to reduce the sodium content of this recipe, use low sodium soy sauce or coconut aminos.
Nutrition
Serving:
1
serving
|
Calories:
563
kcal
|
Carbohydrates:
54
g
|
Protein:
18
g
|
Fat:
35
g
|
Saturated Fat:
5
g
|
Sodium:
1182
mg
|
Potassium:
1267
mg
|
Fiber:
15
g
|
Sugar:
17
g
|
Vitamin A:
1146
IU
|
Vitamin C:
97
mg
|
Calcium:
345
mg
|
Iron:
7
mg
Enjoy this OG dish! – Lizzie