This vegetarian Spaghetti Squash "Pad Thai" recipe is loaded with veggies and tossed in a honey peanut sauce! Enjoy this healthy dish for a weeknight meal or dinner party and have the leftovers for lunch the next day. Please note that this recipe is inspired by the flavors of Pad Thai but is not an attempt to mimic or claim it as a traditional Pad Thai recipe.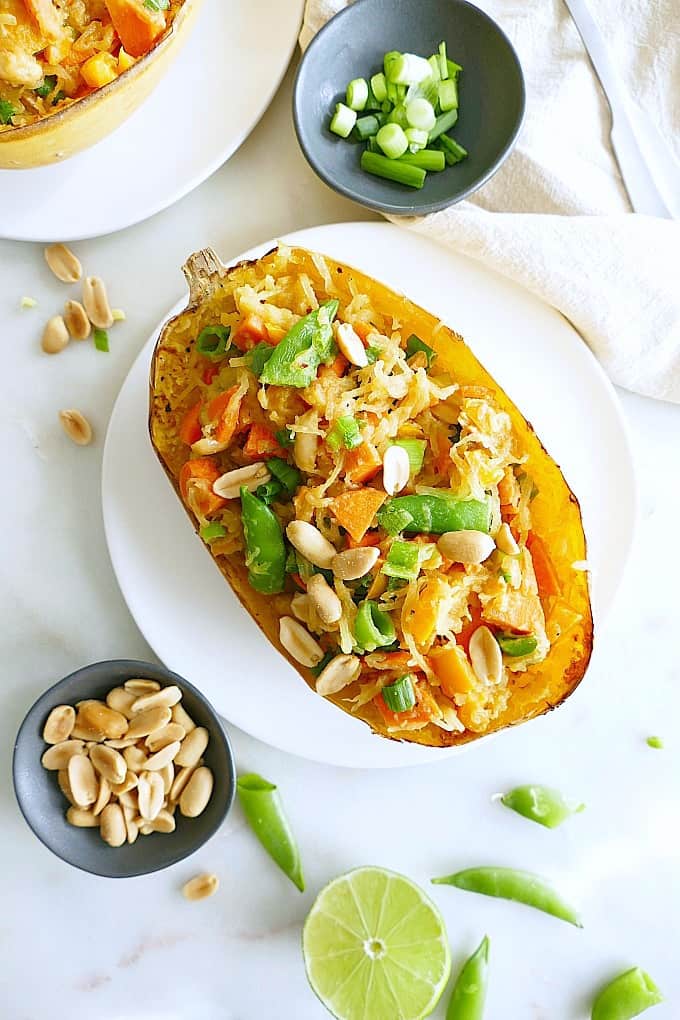 This post may contain affiliate links. For more information, see my affiliate disclosure.
I don't know about you but I'm pretty excited for squash season! There are just so many fun recipes I have planned. Once you really start thinking about it, there are endless ways to prepare squashes, especially spaghetti squash.
This type of squash changes the weeknight dinner game. Will and I love picking one up, slicing it open, and throwing together some type of filling while it's cooking in the oven.
Some of our all time favorite recipes include this Buffalo Chicken Spaghetti Squash from the Real Food Dietitians and my 5 Ingredient Italian Spaghetti Squash Boats. And now…this dish!
PS – If you're not familiar, spaghetti squash has stringy, spaghetti-like pieces inside of it.
Reasons to Love Spaghetti Squash "Pad Thai"
It's stuffed with veggies!
The creamy peanut ginger sauce that has just 5 ingredients. (They're probably all in your pantry at the moment too!)
It's a great substitute for take-out pad thai, that tastes just as good for less money.
The leftovers are great for meal prep and weekday lunches.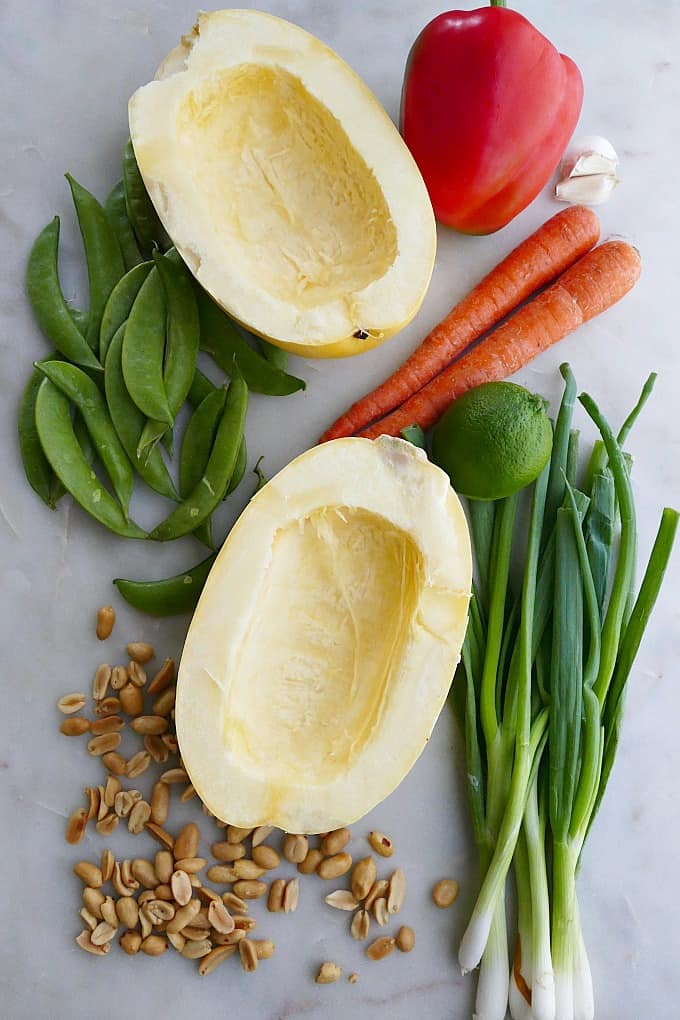 How to Make Spaghetti Squash "Pad Thai"
Cook the spaghetti squash (keep reading for more deets on how to do that!)
Saute the veggies ~15 minutes before the spaghetti squash is ready.
Combine the cooked spaghetti squash and cooked veggies in a large bowl. Add the peanuts, scallions, and dressing. Mix it all up!
Two of the most popular ways to cook spaghetti squash are in the oven and microwave. As you can probably guess, making it in the microwave takes less time.
How to Cook Spaghetti Squash in the Oven
There are a few different ways to make spaghetti squash in the oven. I prefer to slice it in half lengthwise, remove the seeds (discard or roast), and then rub each half with a little olive oil, salt, and pepper. Place the halves cut side down on a baking sheet lined with parchment.
You can also put the squash halves cut side down in a 9×13 baking dish (with sides) and fill the dish with ½-1″ of water. This will help "steam" the squash while it cooks.
Cook in the oven at 400 degrees F for 35-50 minutes. Cooking time will vary depending on the size of the squash.
Use an oven mitt to flip over each half to let the heat escape (spaghetti squash can be really hot)! Then use a fork to pull the strings away from the skin.
How to Cook Spaghetti Squash in the Microwave
Making spaghetti squash in the microwave is the best way to cook it fast! Here's how to do it:
Slice the squash in half lengthwise and remove the seeds.
Place the squash cut side down in a small baking dish. Fill the dish with ~1″ of water.
Microwave on high for 10-12 minutes, or until you can pierce the skin with a fork.
Let the squash cook for a few minutes before you flip it over and remove the flesh.
Be sure to keep an eye on the squash while it's cooking. Smaller squash will cook faster. Cooking times will also depend on the power of your microwave.
Want more recipes like this Spaghetti Squash "Pad Thai"? Check out the Peanut Soba Noodles with Roasted Broccoli and No Waste Broccoli Salad with Peanut Dressing.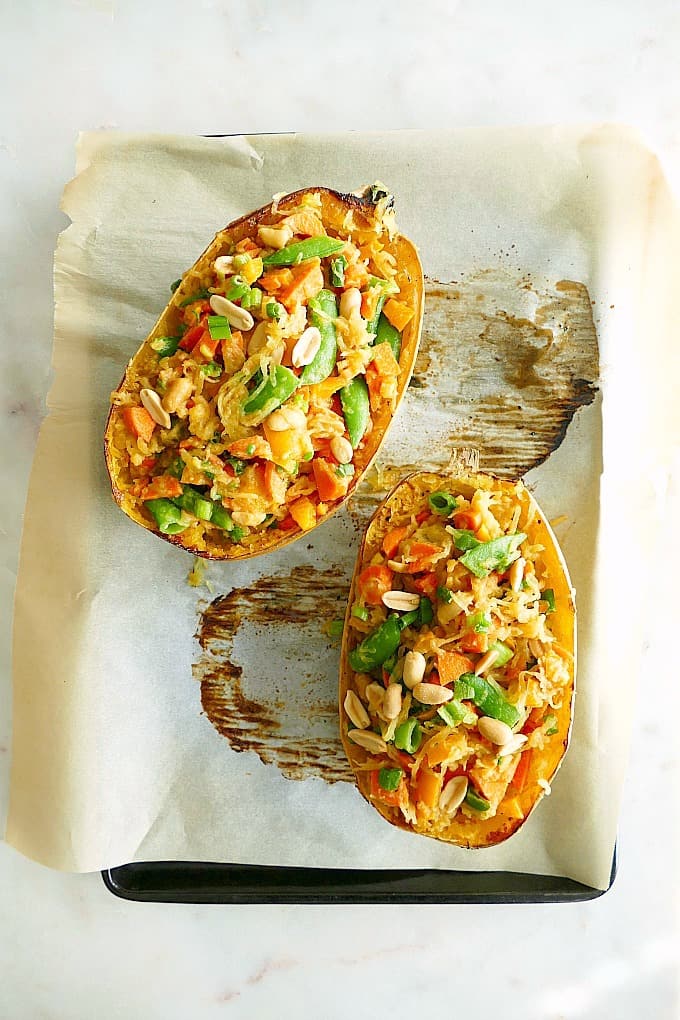 Can cooked spaghetti squash be frozen?
Cooked spaghetti squash can be frozen in airtight freezer bags or Stasher bags. Let the squash cool before transferring to bags, then squeeze out as much air as possible before sealing.
Spaghetti squash can last in the freezer for 3 or more months and in the fridge for up to 7 days. So, why not make it in advance to make this recipe even easier?!
Expert Tips
Make the spaghetti squash ahead of time to decrease the prep/cook time for this recipe.
You can also make the sauce in advance, and store in an airtight container in the fridge for 3-5 days or in the freezer for up to 3 months.
To make spaghetti squash "pad Thai" vegan, substitute maple syrup for the honey.
Feel free to mix up the veggies and add broccoli, zucchini, green peas or other non-starchy veg to the mix.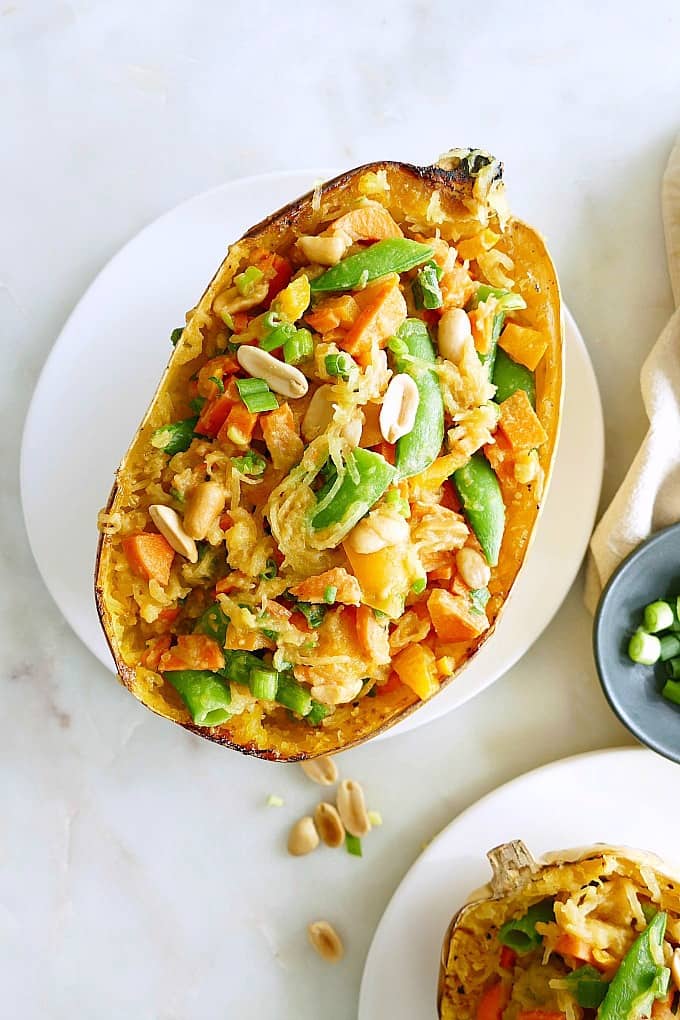 More Spaghetti Squash Recipes
If you make this recipe, I'd love to hear how you like it! Please rate/review it using the stars on the recipe card or in the comments section.
📖 Recipe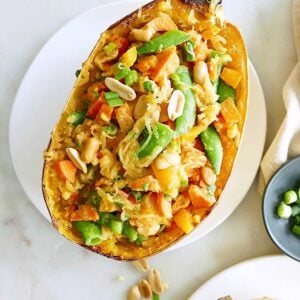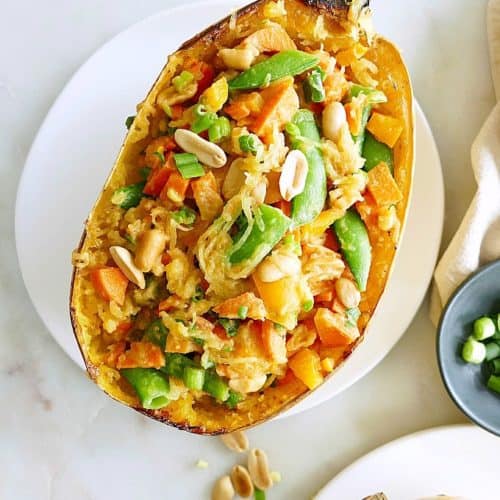 Spaghetti Squash "Pad Thai"
An easy spaghetti squash recipe loaded with veggies and topped with a peanut ginger sauce!
Print
Pin
Rate
Save
Saved!
Instructions
Preheat the oven to 400 degrees F. Line a baking sheet with parchment paper. Prepare the spaghetti squash by slicing it in half and scooping out the seeds. Rub each cut side with olive oil, salt and pepper. Place each half cut side down on the lined baking sheet and bake for 35 to 45 minutes. Remove from oven, flip each half over (use an oven mitt!) to see if the flesh is cooked (put it back in the oven if not), and let it cool for a few minutes.

About 15 minutes before the squash is ready, heat olive oil in a skillet over medium-high heat. Add the garlic, peppers, snow peas, and carrots, and sauté for 5 to 7 minutes or until the veggies are tender. Chop the green onions and peanuts.

You can also prepare the dressing while the veggies are cooking. In a small bowl, whisk together the soy sauce, peanut butter, lime juice, honey, and ginger until smooth.

Use a fork to scoop the cooked squash into a large bowl. Add the peppers, snows peas, carrots, green onions, and peanuts. Mix until well combined. Pour the dressing over the mixture and stir until coated.

You can serve the pad thai in the spaghetti squash skins for fun, or just on a plate! Garnish with more peanuts and green onions, and serve with lime wedges. Enjoy!
Notes
This makes enough for 2 people, but can usually serve up to 4.
You can also cook the spaghetti squash in the microwave. Slice in half, remove the seeds, and place cut side down in a small baking dish. Add 1-inch of water and cook for 10-12 minutes on high, or until you can pierce the skin with a fork.
To cut down on prep time, cook the squash and make the dressing in advance.
Store leftovers in an airtight container for 3-5 days.
To make vegan, sub maple syrup for honey.
Please note that this recipe is inspired by the delicious flavors of Pad Thai but is not an attempt to mimic or be considered a traditional Pad Thai.
Nutrition
Serving:
1
serving
|
Calories:
659
kcal
|
Carbohydrates:
74
g
|
Protein:
22
g
|
Fat:
37
g
|
Saturated Fat:
6
g
|
Sodium:
752
mg
|
Potassium:
1525
mg
|
Fiber:
19
g
|
Sugar:
34
g
|
Vitamin A:
13997
IU
|
Vitamin C:
160
mg
|
Calcium:
251
mg
|
Iron:
7
mg
Happy Friday!
Lizzie