Here's how to steam frozen vegetables so they're not soggy and taste delicious! You'll learn how long to cook them on the stove and ways to steam them without a steamer (like in the microwave), plus seasoning and recipe ideas.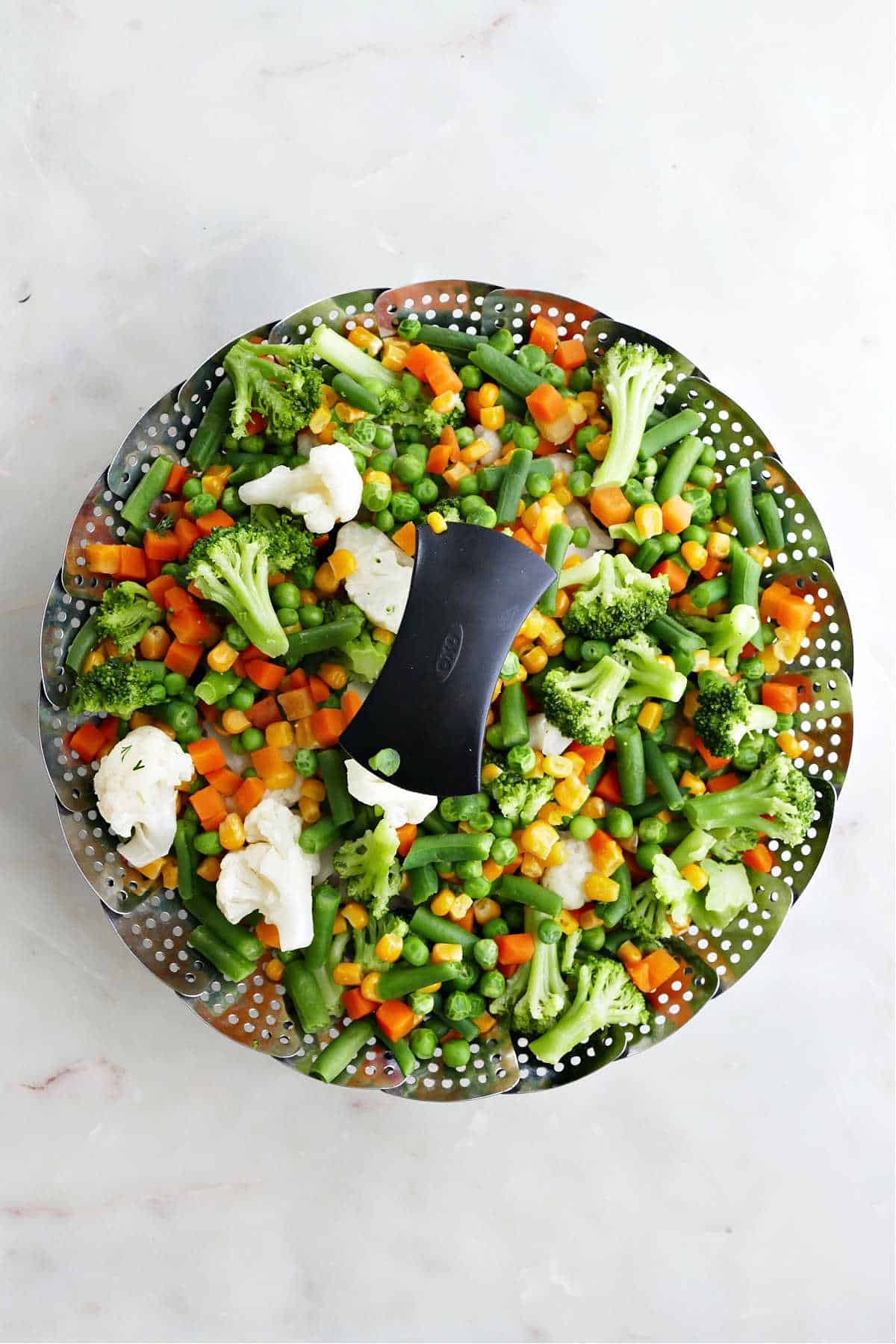 Frozen vegetables are amazing. Seriously. While I obviously love fresh vegetables and eating what's in season, frozen veggies have been a lifesaver in my house more times than I can count.
If you're wondering about the nutrition of frozen vegetables and whether they are actually as good as fresh ones, I have good news. Their nutrition is often comparable (and sometimes better) than that of fresh vegetables, due to how they are harvested and preserved. Read more about it in my post Are Frozen Vegetables Healthy?
Frozen vegetables are also very accessible and affordable, AND they require pretty much no prep time. I especially love making them for my daughter Sydney, because they are usually cut into safe sizes and shapes. For instance, frozen butternut squash is typically sold cut up in the perfect shape that's small enough and safe for a baby. The same goes for frozen carrots and peas and frozen whole green beans.
So, there you have it, frozen veggies rock. Steaming them is one of the best ways to prepare them so that you can have an easy vegetable side on the table in minutes, but you can also roast them (see Roasted Frozen Cauliflower, Broccoli, and Brussels Sprouts). Read on to learn all about how to steam frozen vegetables so you can easily eat more of them!
Jump to:
Instructions
Steaming is a moist-heat cooking technique that involves exposing vegetables and other foods to steam that rises from hot water. You can steam vegetables on the stove or in the microwave. The easiest way is on the stove is with a steamer basket. I use this one from Oxo. Here are the steps for this process:
Fill a large pot with at least 1 inch and up to 2 inches of water. Bring to a boil.
Set the steamer basket in the pot. Fill it with the frozen vegetables.
Cover the pot with a lid. Keep the heat at medium-high.
Cook until the vegetables are tender.
If you want to know how to steam frozen vegetables on the stove without a steamer basket, try one of the following methods:
Use a strainer or colander: If you have a stainless steel mesh strainer or colander that fits into a pot, use that in place of a steamer basket.
Use aluminum foil balls and a plate: If you don't have a steamer basket or strainer, roll up 3 balls of foil and place them into the pot with the water. Put the vegetables on a heat-safe plate (that fits into the pot) and use that as a makeshift basket that sits on top of the foil balls.
You can also steam frozen vegetables in the microwave. Place them in a microwave-safe bowl, add 1 cup of water, cover with a microwave-safe plate, and cook for 3 to 5 minutes.
To boil frozen vegetables, bring a cup or two of water to a boil in a pot or saucepan, add the vegetables, cover, reduce heat to maintain a gentle boil, and cook for 5 to 7 minutes. Read the instructions on the back of the package for more specific tips.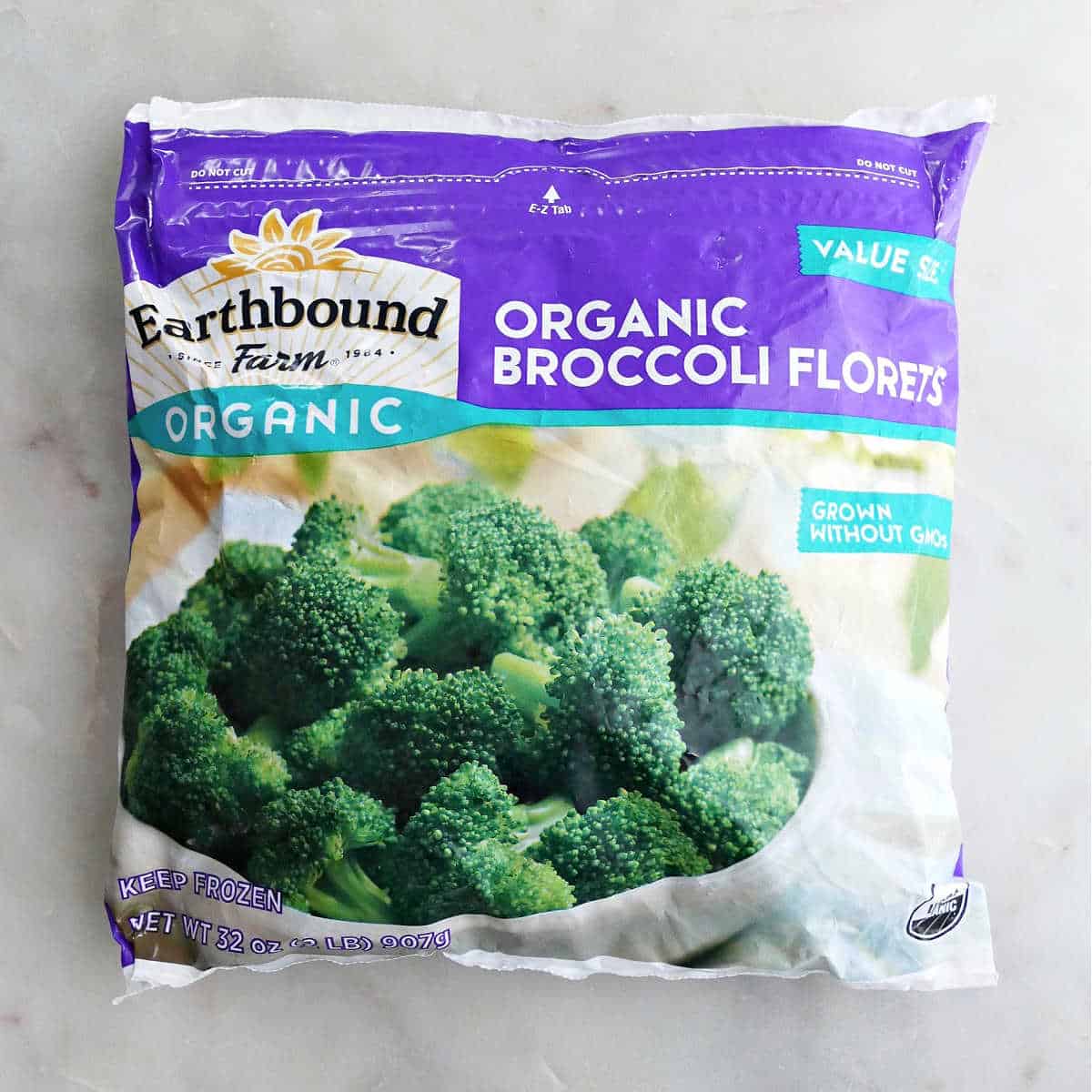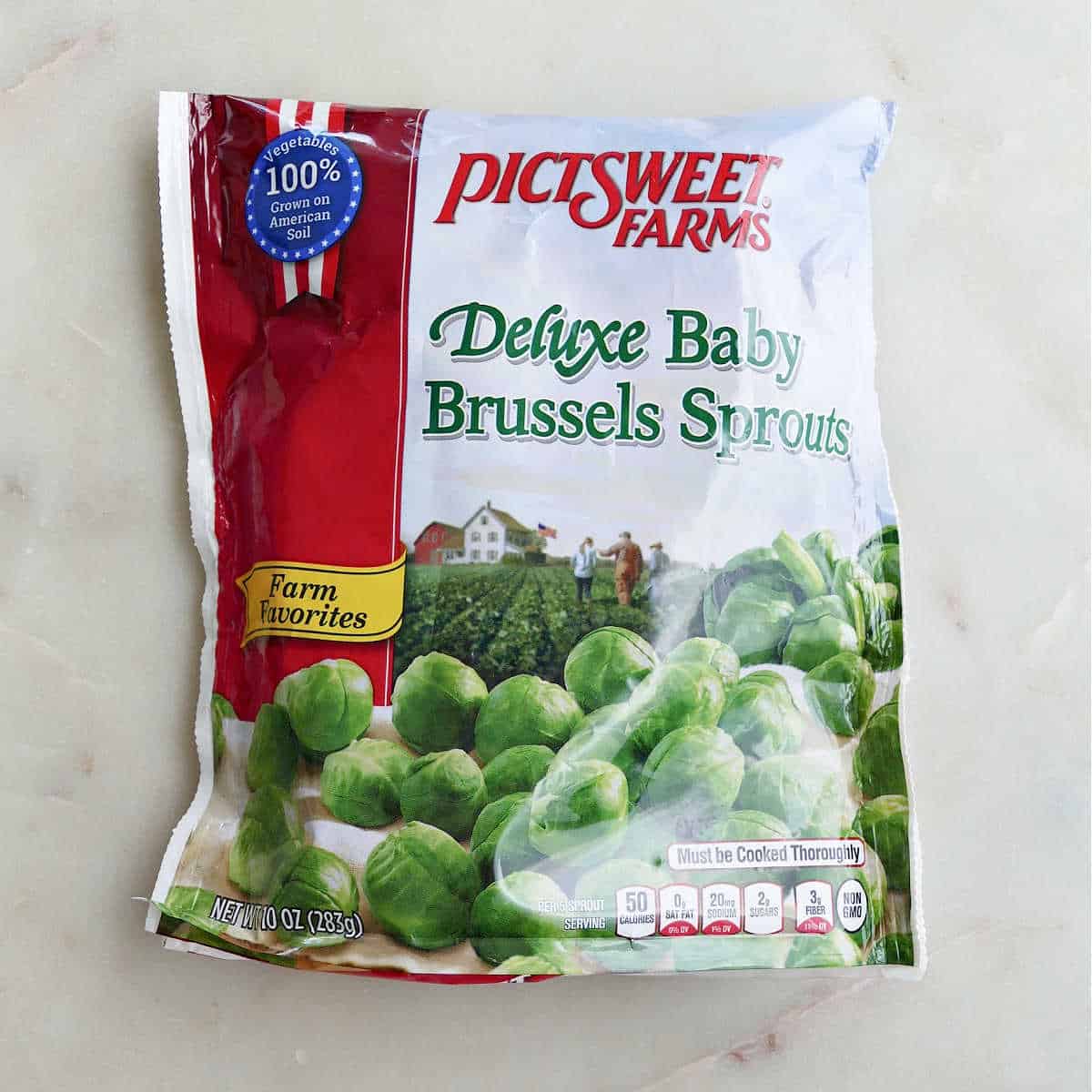 Cooking Times
When steaming frozen vegetables, cooking time depends on the type of vegetable and whether it's cut into pieces or kept whole. Here is a rough guideline for how long to steam certain veggies. Check the back of the package of your frozen vegetables for more specific guidelines related to cooking time.
Broccoli, cauliflower, asparagus, green beans, leafy greens, mixed vegetables: 3 to 10 minutes
Beets, potatoes, carrots, squash, other firm root veggies: 10 to 20 minutes (whole beets or root vegetables can take up to 30 minutes)
Seasoning Ideas
To make steamed vegetables taste good, toss them in a mix of extra virgin olive oil or melted butter and seasonings of choice after cooking. You can also use your favorite salad dressing or marinade, like my Cilantro Chimichurri Sauce. I love using melted butter, garlic, and parmesan cheese or olive oil with parsley, basil, and oregano. For more ideas, see my Vegetable Seasoning Guide.
Storage and Reheating
Store steamed vegetables in an airtight container in the fridge for 3 or 4 days. Reheat in the microwave for 1 to 2 minutes or until warmed through.
Nutrition Benefits
In general, exposing vegetables to heat of any kind can degrade some nutrients, especially water-soluble vitamins. The degree of nutrient loss depends on how long the veggies are exposed to heat, the temperature, the amount of liquid (if any), and the vegetable itself.
Since steaming typically involves a shorter and gentler exposure to heat and liquid compared to other cooking techniques, steamed veggies retain nutrients well.
One study compared the effects of steaming, microwaving, boiling, stir-frying, and boiling then stir-frying on the nutrients in broccoli. The researchers found that steaming was the only method of cooking that did not lead to significant losses in vitamin C. Steaming also retained the carotenoids in broccoli best, followed by microwaving and stir-frying. Furthermore, a review of studies found that steaming helped maintain the nutritional quality of several vegetables other than broccoli.
While steaming appears to have benefits, the best cooking method for maximizing nutrition still depends on the vegetable. Some methods, like roasting and microwaving, may also maintain nutrition and even improve the availability of some nutrients or beneficial compounds like antioxidants.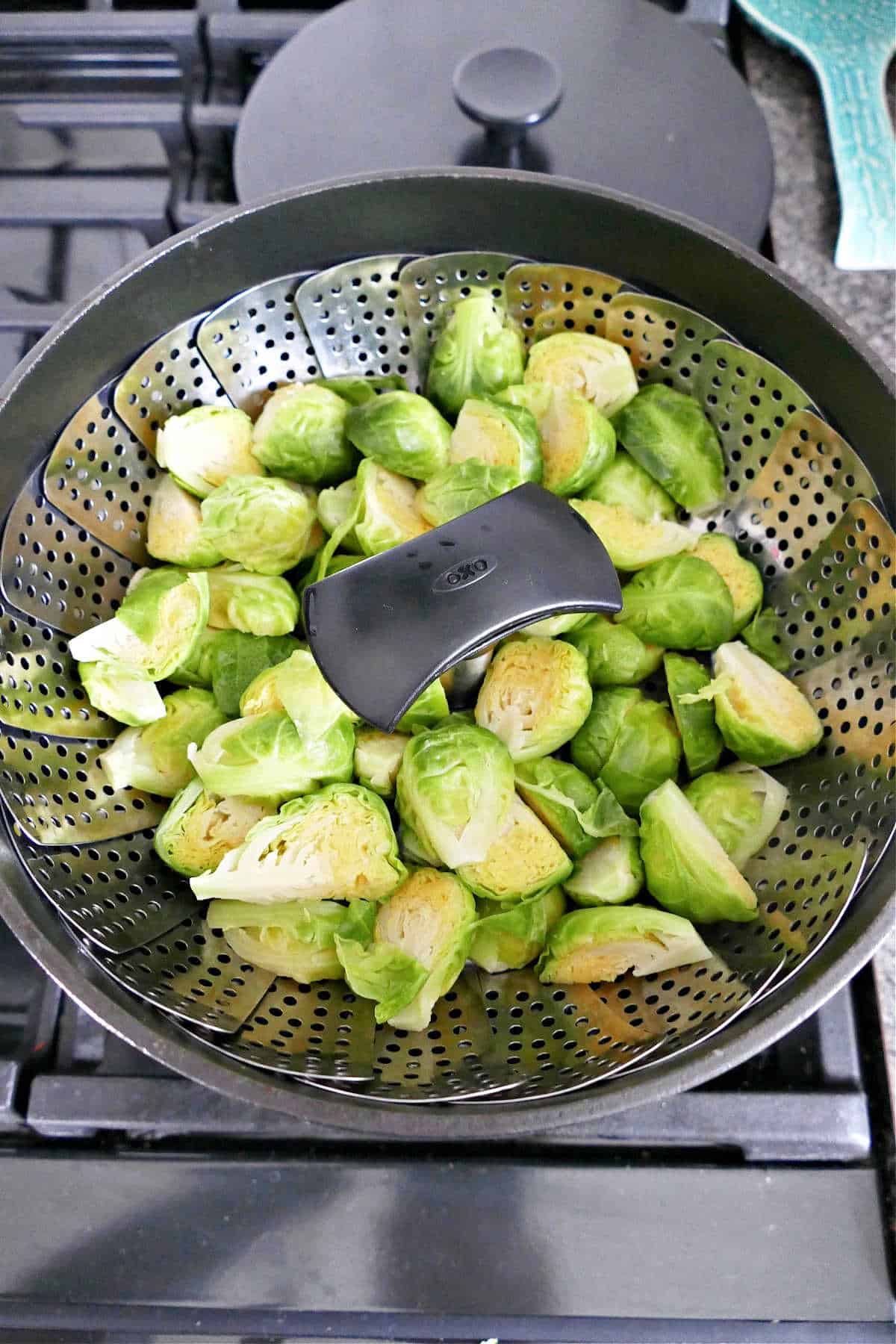 FAQ
Should you defrost frozen vegetables before steaming?
There is no need to thaw them before cooking and doing so may actually make them mushy. Just add frozen vegetables straight from the freezer to a steamer basket.
How do you cook frozen vegetables without getting soggy?
To prevent soggy vegetables, avoid overcrowding the steamer, set a timer, and check to see if they're finished cooking a few minutes earlier than you think they may be done. Steaming vegetables often takes less time than you may think. If you are steaming different vegetables together, make sure they are around the same size and have a similar level of firmness. For instance, you could cook root vegetables together as well as broccoli and cauliflower florets.
How do you make steamed frozen vegetables taste good?
Use good seasoning combinations. Mix fresh or dried herbs and spices with melted butter or extra virgin olive oil. Add citrus or soy sauce for some extra flavor. Here are a few ideas: lemon juice and garlic, parmesan cheese and oregano, orange juice and red pepper flakes, and ginger and soy sauce.

Steamed Vegetable Recipes
I'd love to hear how you like this recipe! Rate/review using the stars on the recipe card or in the comments, and follow the Veg World on YouTube, Instagram, Facebook, and Pinterest. Looking for something totally different? Browse the recipe library.
📖 Recipe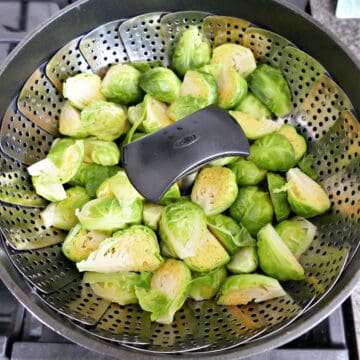 Steamed Frozen Vegetables
Steamed veggies are a fast and nutritious side dish and go great with quick dinners.
Print
Pin
Rate
Save
Saved!
Servings:
2
1-cup servings
Ingredients
2

cups

water

-

enough to have 1 to 2 inches in the bottom of a pot

2

cups

frozen vegetables
Instructions
Add 2 inches of water to a pot and bring to a boil over medium high heat.

Put a steamer basket into the pot and fill with the vegetables.

Cook until the vegetables are tender. Cooking time will depend on the vegetable. See notes for approximate time ranges. Check the vegetables frequently to avoid making them mushy or soggy.

Season the vegetables with herbs and spices of choice and olive oil or melted butter.
Notes
Approximate veggie steaming times:
Green beans, asparagus, or spinach: 3 to 5 minutes
Broccoli or cauliflower: 5 to 7 minutes
Carrots, beets, potatoes: 10 to 20 minutes
Please note that nutrition info will vary depending on the types of vegetables used.
Store leftover steamed vegetables in an airtight container in the fridge for 2 to 3 days. Reheat in the microwave.
To steam veggies without a basket, use a fine mesh strainer. Alternatively, you can roll up 3 balls of aluminum foil and place them in the pot. Put the veggies on a heat-safe plate and place the plate on top of the balls to act like a makeshift basket.
Nutrition
Serving:
1
cup
|
Calories:
116
kcal
|
Carbohydrates:
24
g
|
Protein:
6
g
|
Fat:
1
g
|
Saturated Fat:
0.2
g
|
Polyunsaturated Fat:
0.4
g
|
Monounsaturated Fat:
0.1
g
|
Sodium:
97
mg
|
Potassium:
386
mg
|
Fiber:
7
g
|
Vitamin A:
9242
IU
|
Vitamin C:
19
mg
|
Calcium:
53
mg
|
Iron:
2
mg
Happy veggie eating! – Lizzie
This post was originally published in March 2019. It was updated in April 2023.