Learn about the nutrition of steamed veggies, how to make them, and more!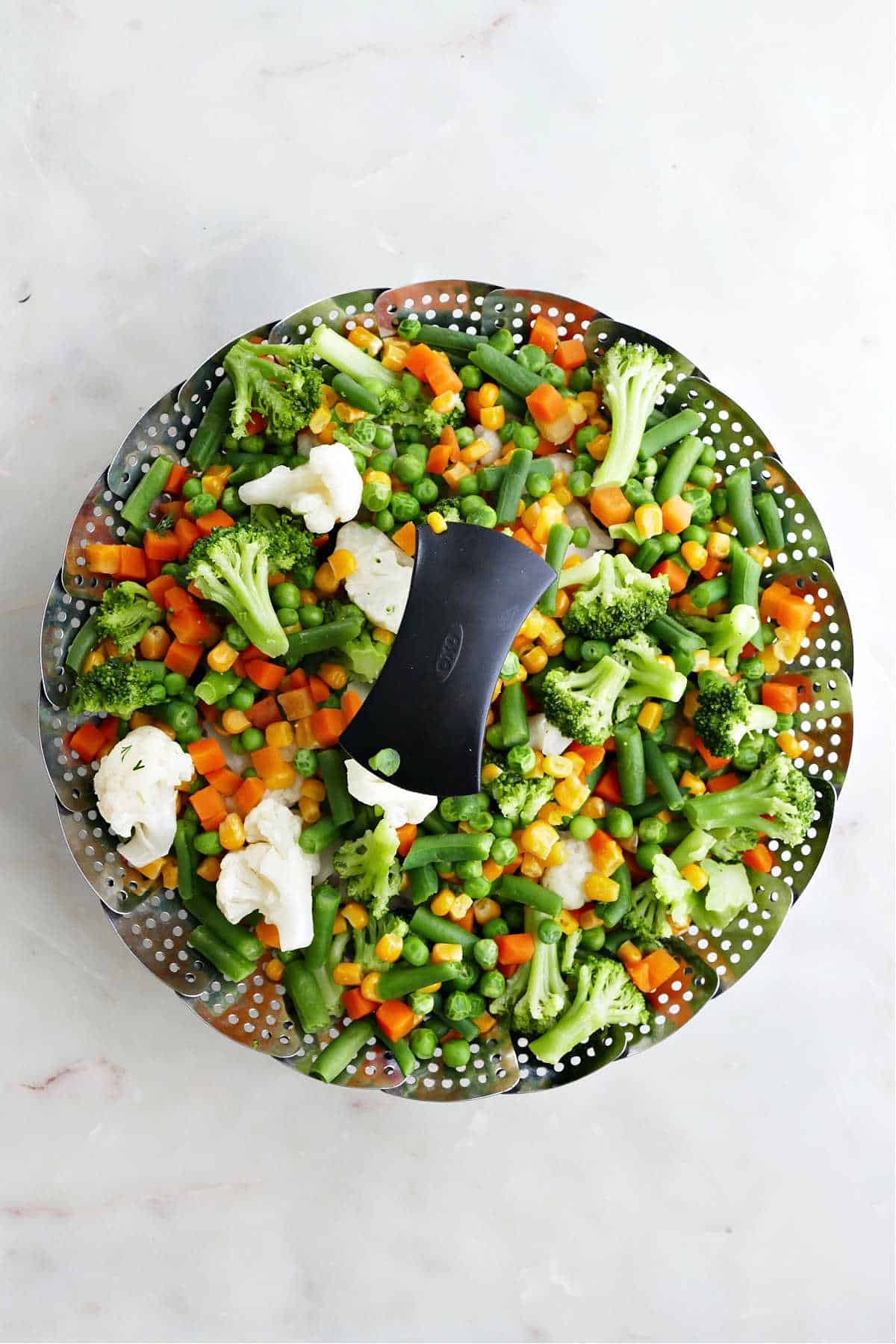 This post may contain affiliate links. For more information, see my affiliate disclosure.
If you like to cook and eat healthy foods, you have probably wondered what method of cooking preserves the most nutrients in vegetables. I know I have!
In general, exposing vegetables to heat of any kind can degrade some nutrients, especially water-soluble vitamins. But the degree of nutrient loss depends on how long the veggies are exposed to heat, the temperature, the amount of liquid (if any), and the vegetable itself.
The best cooking method to maximize nutrition may be different for every vegetable. However, steaming appears to be one of the best ways to prevent nutrient loss for most veggies. Read on to learn about the benefits of steaming, how to make delicious steamed veggies and more!
Benefits of Steaming Vegetables
Steaming is a moist-heat cooking technique that involves exposing vegetables and other foods to steam that rises from hot water. This is typically done using an electric steamer or a steamer basket that is placed in a pot of shallow boiling water.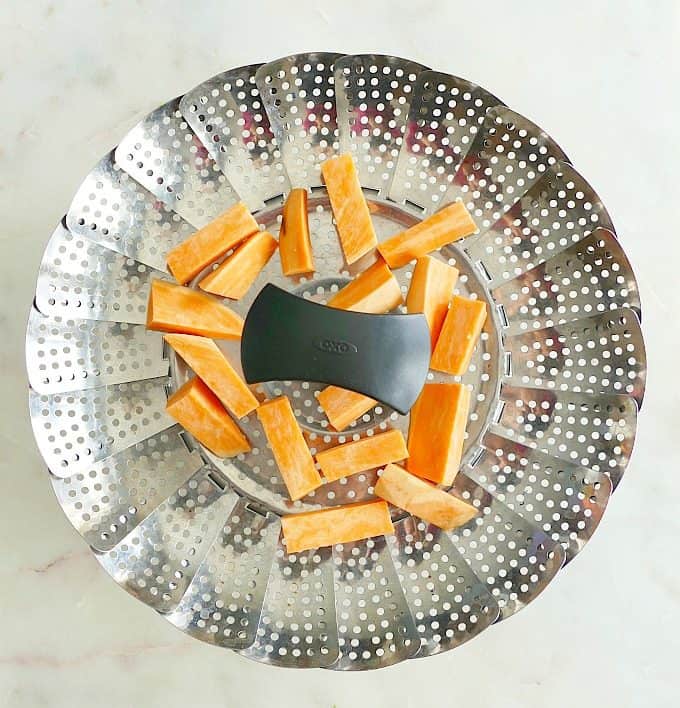 Steamed Veggies Retain Nutrients
Since steaming typically involves a shorter and gentler exposure to heat and liquid compared to other cooking techniques, steamed veggies retain nutrients well.
One study compared the effects of steaming, microwaving, boiling, stir-frying, and boiling then stir-frying on the nutrients in broccoli. The researchers found that steaming was the only method of cooking that did not lead to significant losses in vitamin C. Steaming also retained the carotenoids in broccoli best, followed by microwaving and stir-frying. Furthermore, a review of studies found that steaming helped maintain the nutritional quality of several vegetables other than broccoli (1, 2).
How does steaming compare to other cooking methods?
Based on the limited research available, steaming appears to preserve the most nutrients in most vegetables. However, the best cooking method for maximizing nutrition still depends on the vegetable. Some methods, like roasting and microwaving, may also maintain nutrition and even improve the availability of some nutrients.
For example, the antioxidant lycopene in tomatoes becomes more available with increased heat exposure, which suggests that roasting tomatoes may be an ideal preparation method. Celery, beets, green beans, and garlic also seem to maintain their antioxidant levels with other cooking methods, including microwaving, sautéing, and roasting (3, 4).
However, boiling causes nutrient losses in most vegetables, including zucchini, carrots, cauliflower, and green beans. Therefore, it is likely best to avoid boiling veggies and steam, sauté, roast, or microwave them instead. And remember, just eating more vegetables in general has health benefits (4, 5).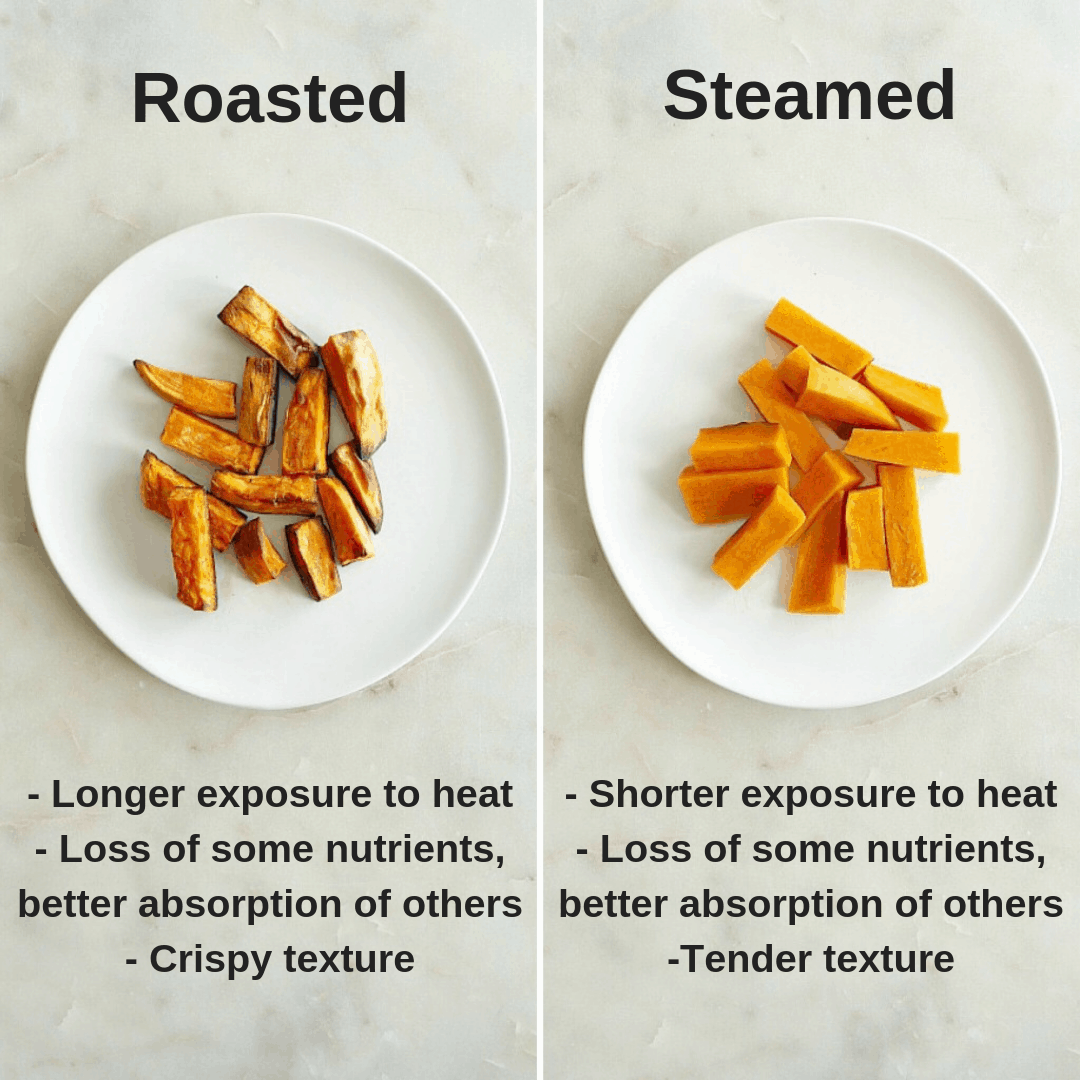 How to Steam Vegetables
The easiest way to steam vegetables is to use a steamer basket placed inside a pot of shallow boiling water. Here's how to do it:
Slice veggies of choice into uniform pieces.
Fill a pot with 2 inches of water. Bring to a boil.
Arrange veggies in a stainless steel steamer basket (<- I use that one!). Place this in the pot and cover.
Allow veggies to cook until they are slightly tender. Cooking time will depend on the vegetable.

Broccoli, cauliflower, asparagus, green beans, leafy greens: 3 to 10 minutes
Beets, potatoes, carrots, other root veggies: 10 to 20 minutes

If all of the water in the bottom of your pot dissolves into steam before your veggies are tender, you can add a couple more inches of water.
To avoid making mushy steamed veggies, be sure to set a timer. And remember, less is more when it comes to steaming – most veggies probably need less time than you think.
How to make steamed veggies without a steamer
If you don't have a steamer basket, you can use a colander or sieve to steam veggies. Just place the veggies in one of these tools, put it in a pot with 2 inches of boiling water, cover and cook.
You can also make steamed veggies in the microwave by combining veggies with a small amount of water in a microwave-safe bowl, covering the bowl, and microwaving on high for 3 to 4 minutes.
How to season steamed vegetables
If you think steamed veggies are boring, think again! Steamed vegetables taste great with sauces, herbs, and spices. Here are some great ways to season them:
Broccoli + olive oil, lemon, garlic
Asparagus + sesame oil, soy sauce, honey, sesame seeds
Beets + tahini, lemon, parsley
Radishes + blended avocado, dill, sea salt
Sweet potatoes + homemade BBQ sauce
For more ideas, check out my Ultimate Vegetable Seasoning Guide.
How to store and reheat steamed vegetables
You can store steamed vegetables in an airtight container in the fridge for three or four days, or in a bag or container in the freezer. The best way to reheat steamed veggies is to lay them out in an even layer on a plate and microwave them for a few minutes.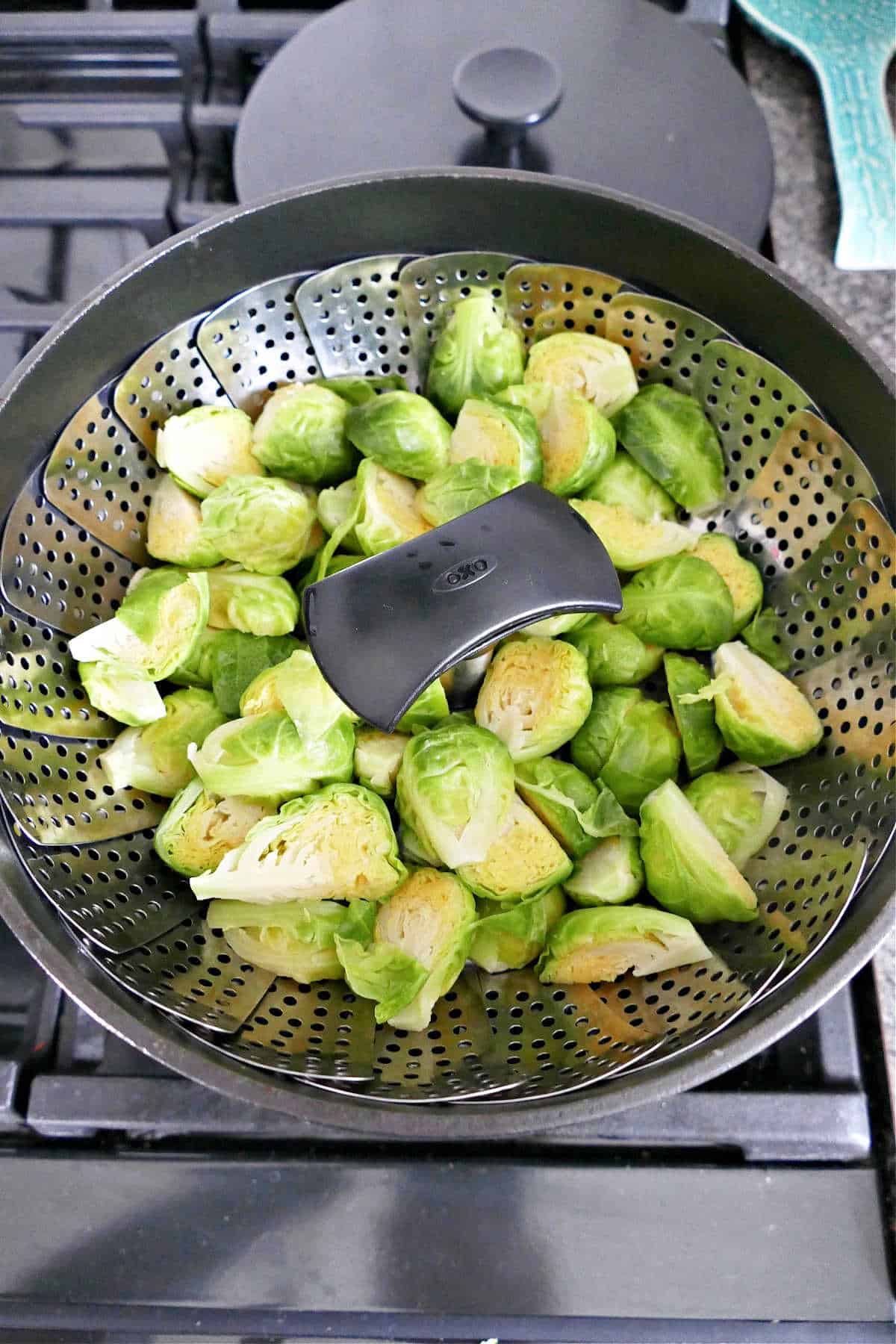 For more blog posts about vegetables, check out my posts on how to fill half your plate with veggies and the difference between starchy and non-starchy vegetables.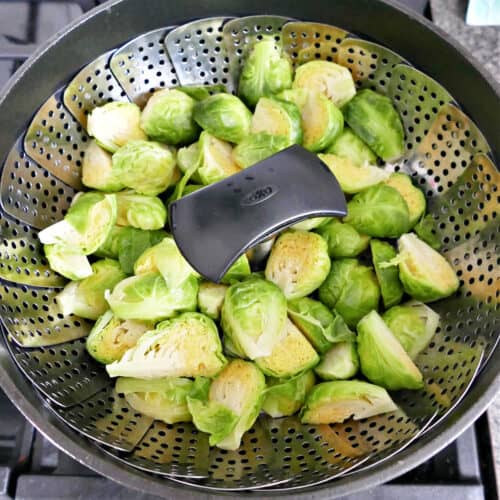 Easy Steamed Veggies
Steamed veggies are a fast and nutritious side dish and go great with quick dinners.
Print
Pin
Rate
Save
Saved!
Ingredients
¼

cup

water

-

enough to have 2 inches in the bottom of a pot

2

cups

vegetables

-

cut into uniform pieces
Instructions
Cut the veggies into uniform pieces. This will promote even cooking. Add 2 inches of water to a pot and bring to a boil over medium heat.

Put the veggies in a stainless steel steamer basket. Place it in the pot and cover. Cook until the veggies are tender. Cooking time will depend on the vegetable. Enjoy warm!
Notes
Approximate veggie steaming times:
Green beans, asparagus, or spinach: 3 to 5 minutes
Broccoli or cauliflower: 5 to 7 minutes
Carrots, beets, potatoes: 10 to 20 minutes
Please note that nutrition info will vary depending on the types of vegetables used.
Nutrition
Serving:
1
serving
|
Calories:
100
kcal
|
Carbohydrates:
24
g
|
Protein:
2
g
|
Fat:
1
g
|
Saturated Fat:
1
g
|
Sodium:
15
mg
|
Potassium:
499
mg
|
Fiber:
7
g
|
Sugar:
6
g
|
Vitamin C:
23
mg
|
Calcium:
48
mg
|
Iron:
1
mg
Happy veggie steaming!
Lizzie