Stuffed to the brim with tomatoes, spinach, and lentils, these Vegetarian Italian Spaghetti Squash Boats make a delicious plant-based meal. They have only 5 main ingredients, a few additional seasonings, and a whole lotta flavor. Make this easy stuffed spaghetti squash recipe for dinner, lunch, or even meal prep.
This recipe is featured in my Winter Week 2 Meal Plan and the monthly winter vegetable meal plan. For more info, visit the meal plans page.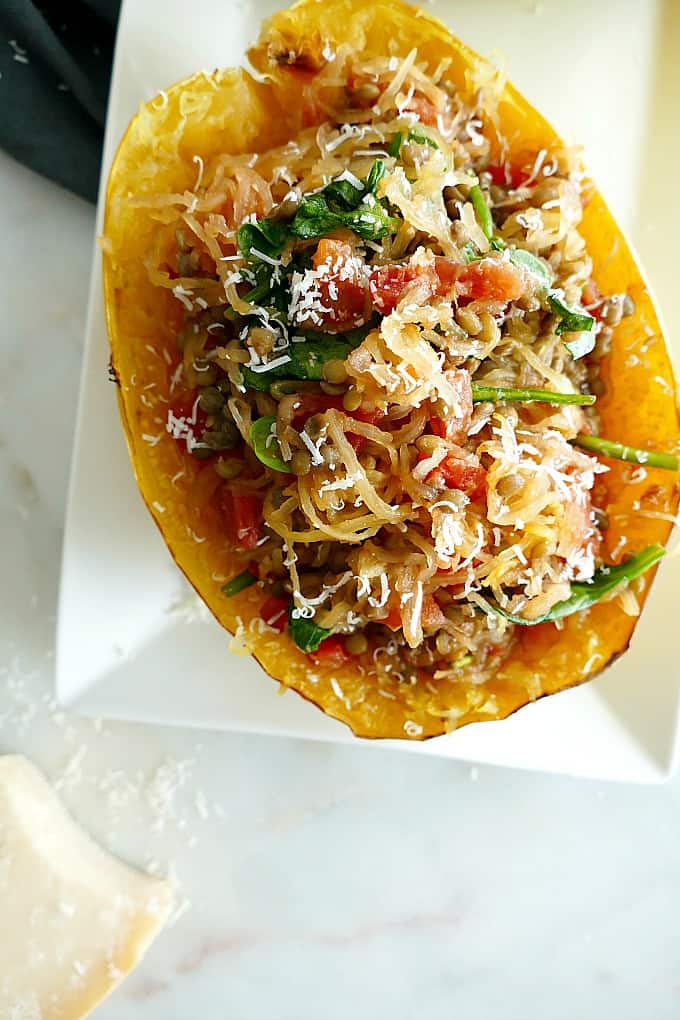 This post may contain affiliate links. For more information, see my affiliate disclosure.
Just like that, we made it to the first week of February! I don't know about you, but I am so pleased to be entering the month of February, mainly because this means we are one step closer to warmer weather.
And do you know what warmer temps mean?! More fresh vegetables to experiment with for the blog! But until then, I'll still be whipping up tasty dishes with winter produce.
These healthy vegetarian spaghetti squash boats are the ideal recipe to make on cold winter weeknights. They'll keep you feeling warm and nourished all at the same time. And if you happen to get a big spaghetti squash (like I did), you might have extra for lunch the next day. That's a win-win situation if you ask me.
In terms of the process, you know you have it easy when the most complicated part of the recipe is cooking the lentils. The other ingredients are kitchen staples that you may even have hiding on your shelves or in your fridge at this very moment.
Need another reason to give Vegetarian Italian Spaghetti Squash Boats a try? They have not one, not two, but THREE vegetables. Add in some lentils (protein) and a dusting of parmesan cheese (fat), and you have yourself a balanced meal that will keep you satiated all evening (or afternoon).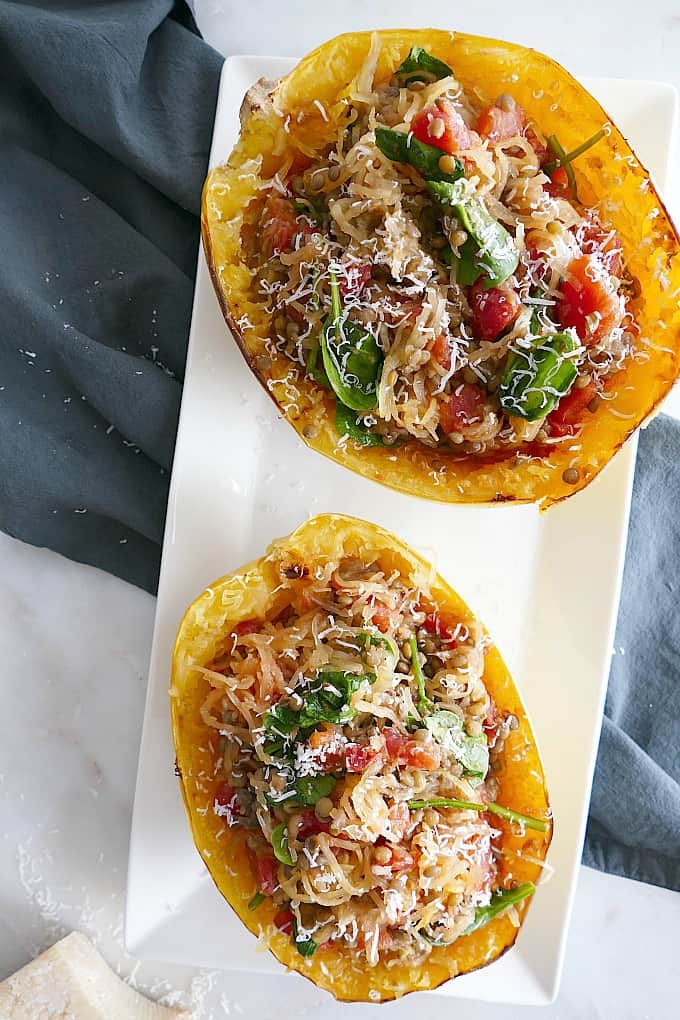 Looking for more balanced meals that feature winter vegetables? Get your seasonal veggie meal plan today!
How to Make Italian Spaghetti Squash Boats
Slice the spaghetti squash in half lengthwise. Rub the skin with a little olive oil, salt, and pepper. Place each half flesh-side down on a lined baking sheet. Pop in the oven for 30-45 minutes, or until tender.
Use a fork to pull the stringy spaghetti squash away from the skin.
Combine the lentils, diced tomatoes, basil, oregano, salt, garlic, and spinach in a large skillet. Cook until warm.
Add the filling to each spaghetti squash boat and use a fork or spoon to mix it all together. Sprinkle with parmesan cheese.
Expert Tips and FAQ
You can cook the spaghetti squash up to 5 days in advance to save time. Store in an airtight container in the fridge and reheat in the microwave, or add it to the skillet with the filling. You can also store cooked spaghetti squash in the freezer in airtight bags for up to 3 months.
To save even more time, try cooking the spaghetti squash in the microwave.
As the name suggests, these are Italian Spaghetti Squash Boats, but you don't need to serve the recipe in the "boats" if you'd rather eat it on plates.
Ingredient substitutions and additions:

To make vegan, forego the parmesan cheese. You can use nutritional yeast instead if desired. Some types of parmesan cheese are not strictly vegetarian. If you are concerned about that, be sure to read the label at the store.
For a kick, try adding red pepper flakes.
For some additional protein, add shredded chicken or ground turkey to the filling.
How do you know when a spaghetti squash is cooked?
If the spaghetti squash skin is soft to the touch, the flesh inside is cooked. When handling spaghetti squash in the oven, remember to wear an oven mitt (it can be really hot!). Flip each half of the squash over to release the steam, and use a fork to remove the flesh from the skin. If it pulls away easily, the squash is cooked.
Is spaghetti squash healthy?
Spaghetti squash is rich in fiber but low in starch, which can help promote good blood sugar control. It's also rich in manganese, a trace mineral that's involved in bone formation and blood clotting.
Does spaghetti squash taste like real spaghetti?
Since these are Italian Spaghetti Squash Boats, some of you may wonder if they taste similar to actual spaghetti with red sauce. Spaghetti squash has a very similar size and shape to actual spaghetti, but it's slightly crunchier and does not have the same flavor (it tastes like squash).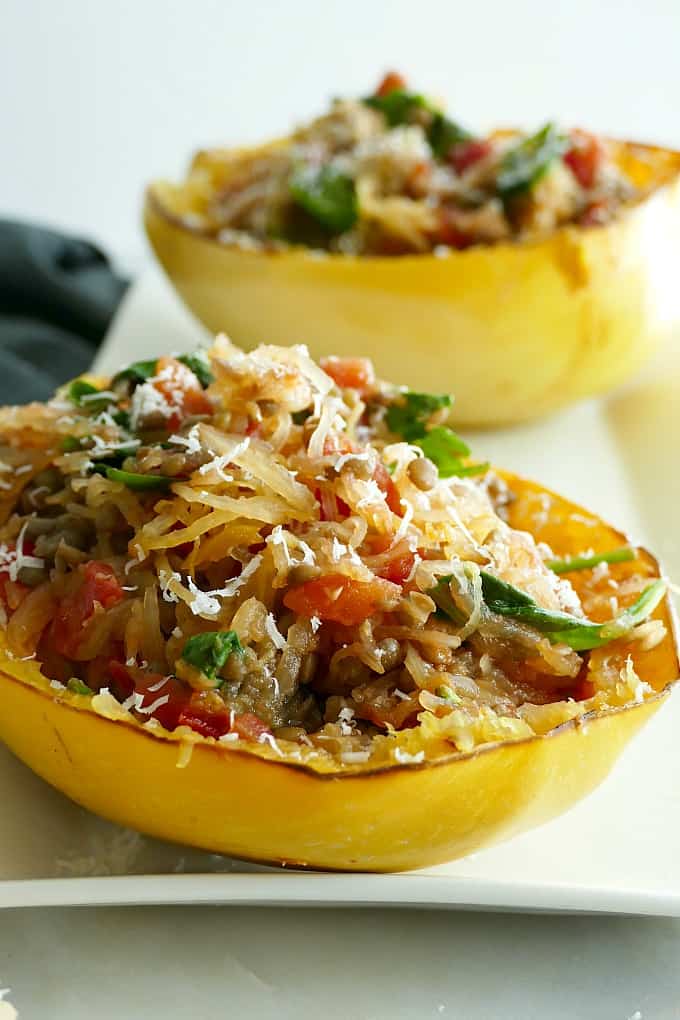 More Healthy Spaghetti Squash Recipes
If you make this recipe, I'd love to hear how you like it. Please rate/review using the stars on the recipe card or in the comments section.
📖 Recipe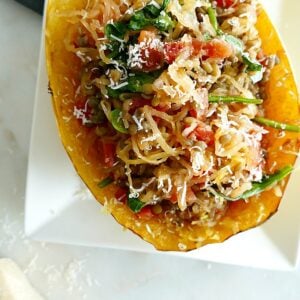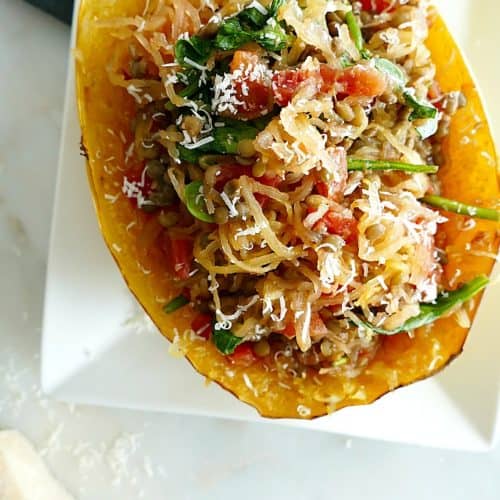 Vegetarian Italian Spaghetti Squash Boats
These easy and delicious spaghetti squash boats contain only 5 main ingredients and make a great plant-based dinner.
Print
Pin
Rate
Save
Saved!
Instructions
Preheat oven to 400 degrees F. Prepare the spaghetti squash by slicing in half and scooping out the seeds. Rub each half with olive oil, salt, and pepper. Place the squash halves cut side down on a baking sheet lined with parchment, and bake for 35-45 minutes until tender.

While the squash is cooking, prepare the lentils if you haven't cooked them yet (combine 0.5 cup dry lentils with 1 cup water in a saucepan, bring to a boil, then cover and simmer for 20-25 minutes). A few minutes before the squash is finished, add the diced tomatoes with their juices, garlic, oregano, basil, and salt to a large skillet. Heat for a few minutes before adding the spinach. Cook and stir until the spinach is wilted.

When the squash is finished, prepare the boats by combining the spaghetti squash in each half with half of the lentils and tomato/spinach mixture. Mix until well combined. Top with freshly shredded aged parmesan cheese as desired. Enjoy!
Notes
You can cook the spaghetti squash up to 5 days in advance. Store in an airtight container in the fridge until you want to make the recipe. Reheat in the microwave, or add to the skillet with the filling.
Leftovers from the full recipe will last for 3-4 days in the fridge. Reheat in the microwave.
To make vegan, skip the parmesan cheese.
For an extra kick, add red pepper flakes. You can also add shredded chicken or ground turkey.
Nutrition
Serving:
1
boat
|
Calories:
329
kcal
|
Carbohydrates:
68
g
|
Protein:
16
g
|
Fat:
4
g
|
Saturated Fat:
1
g
|
Sodium:
437
mg
|
Potassium:
1635
mg
|
Fiber:
19
g
|
Sugar:
21
g
|
Vitamin A:
5097
IU
|
Vitamin C:
49
mg
|
Calcium:
289
mg
|
Iron:
9
mg
This post was originally published in January 2018. It was updated with expert tips in February 2020.
Have a happy and healthy week!
Lizzie