These creamy, decadent Whole Roasted Onions with balsamic vinegar are an incredibly easy and satisfying side dish with only four simple ingredients.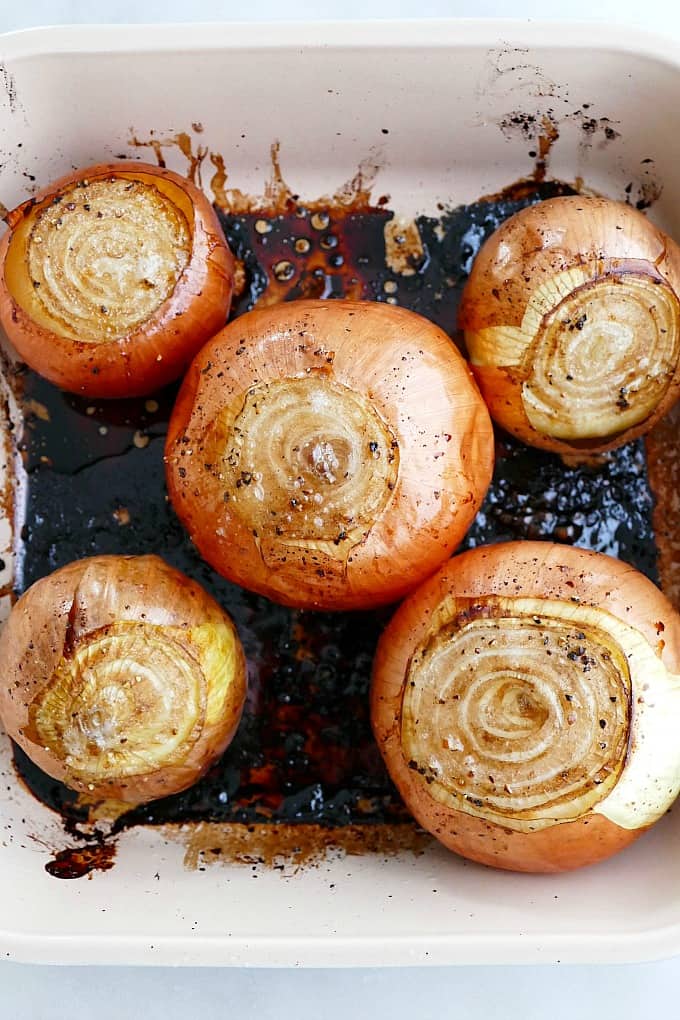 This post may contain affiliate links. For more information, see my affiliate disclosure.
If you like sweet onions, then you NEED to try them roasted whole. They're basically like caramelized onions but better.
For one, you can eat whole roasted onions in the same way you would eat a baked potato, which I think is pretty awesome. Plus, they're not as much work as caramelized onions.
There's no slicing or stirring required! Just pop them in the oven and forget about 'em. Well, don't totally forget about them…you still need to take them out of the oven at some point. 😉
If you're still looking for an easy side dish for your Easter ham this weekend, this recipe is perfect for you. You can make several whole roasted onions at once, and end up with a delicious side for each of your guests!
How to Roast Onions Whole
As the name of the recipe suggests, you don't need to slice and dice "whole" roasted onions. Heck, you don't even have to peel them!
All you need to do is follow these easy steps.
Trim ¼″ off the top and bottom of each onion, so they lay flat in a baking dish.
Put them in a square baking dish.
Drizzle a mix of olive oil and balsamic vinegar over them. Add a pat of butter to the top of each one, and a crack of salt and pepper.
Bake for an hour!
I rediscovered my Le Creuset square baking dish during our move, so this was the first recipe I made in it! If you're looking for a good quality baking dish, I'd recommend checking it out.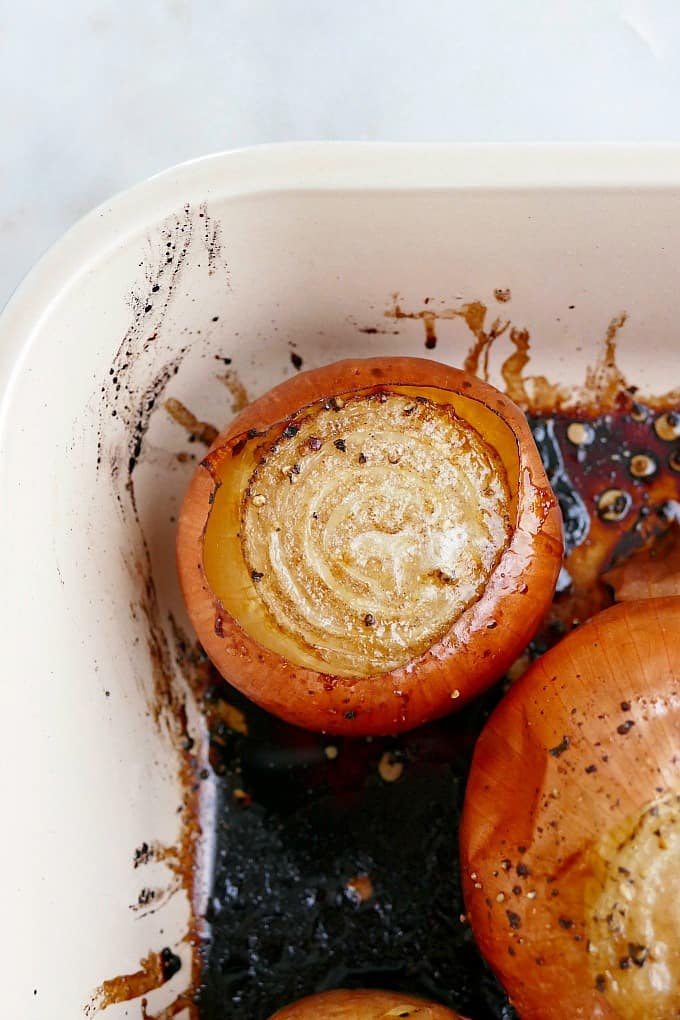 You can scale this recipe up or down, depending on your needs. If you just want to make one or two onions, use less olive oil, balsamic, and butter. If you want to make more onions, use a larger baking dish and more of those ingredients.
Pretty awesome, huh? As I mentioned above, you can eat whole roasted onions like you would eat a baked potato, with a little butter, maybe some sour cream, herbs, you name it! But there are tons of other ways to enjoy them too.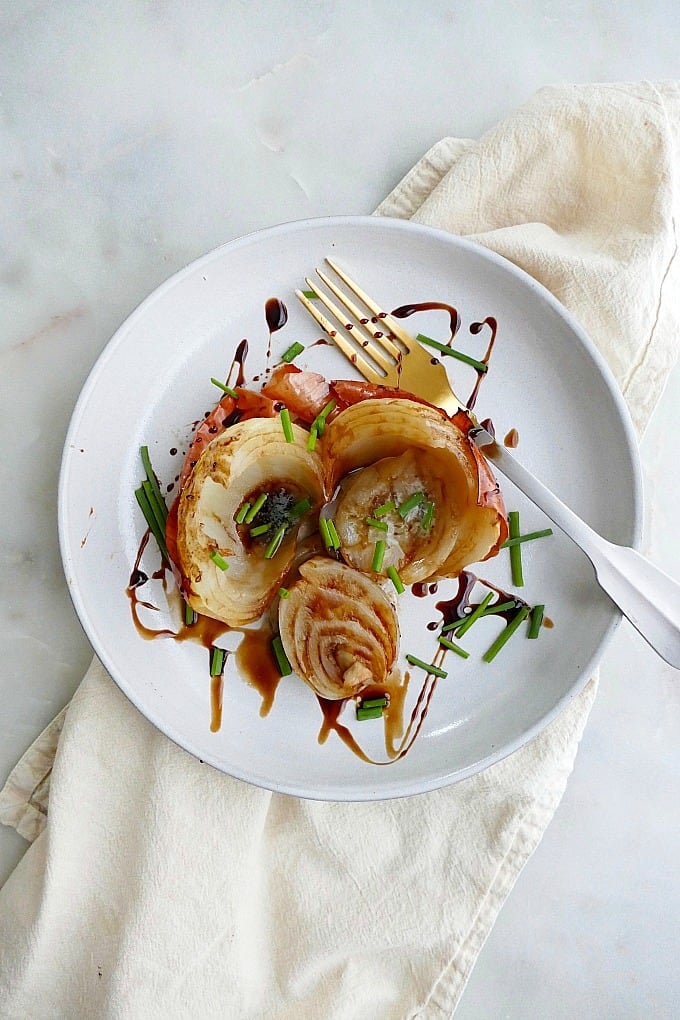 Ways to Use Whole Roasted Onions
Baked onions are irresistibly creamy and tender. They have a melt-in-your-mouth texture that makes them really versatile.
Besides eating them whole, here are a few ways to use them:
Sliced in half with a pat of butter, balsamic vinegar, and chives (this is what's in the photo above)
Mashed into potatoes
Mashed and spread onto bread with butter, herbs, and sea salt
Mixed into a dip, like in place of caramelized onions in my Caramelized Onion and White Bean Dip
Sliced in half and topped with tomato sauce, mozzarella, and basil, then baked for a few minutes to make a "pizza"
Served on top of burgers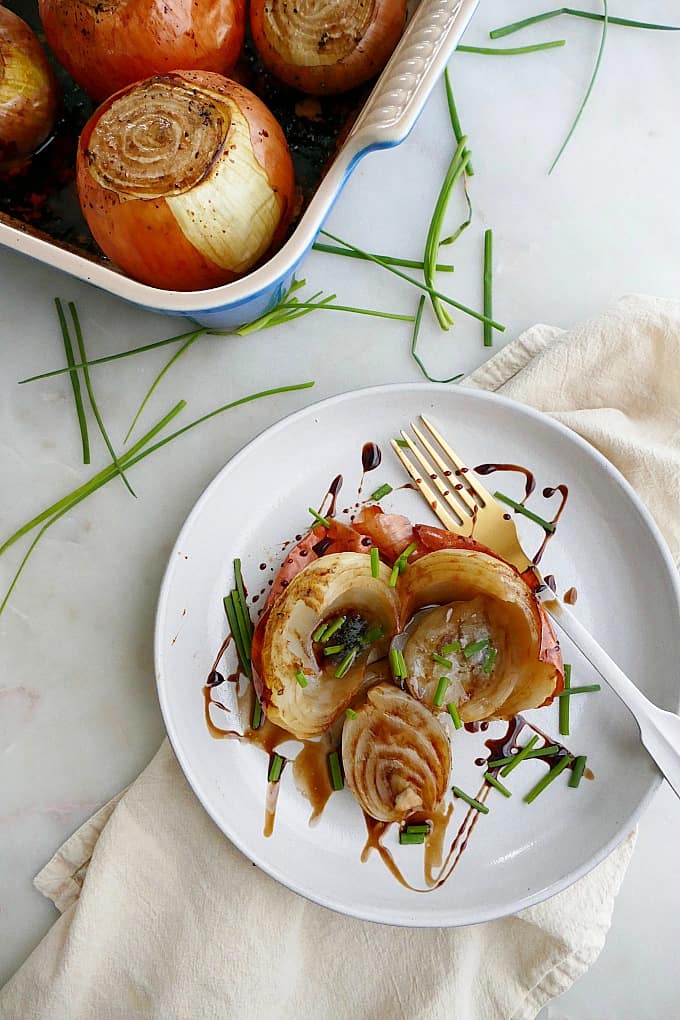 For some other simple side dishes, check out my Dill and Maple Roasted Carrots and Roasted Sesame Asparagus.
📖 Recipe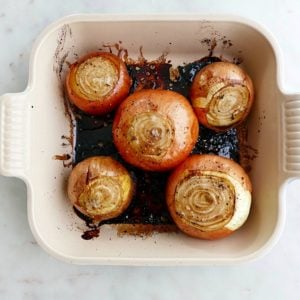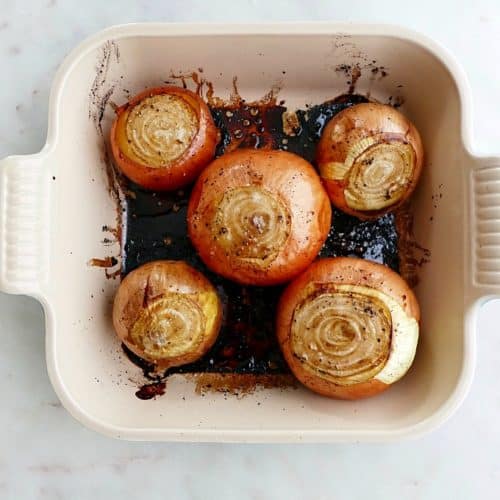 Instructions
Preheat oven to 400 degrees F. Line a 9×9 baking dish with parchment paper. Prepare the onions by slicing off ¼" from the bottom and top so they lay flat. You can keep the skin on or take it off if you wish.

Transfer the onions to the lined baking dish. In a small bowl, whisk together the olive oil and balsamic vinegar, then drizzle it over the onions. Add a pat of butter to each onion, and a crack of sea salt and pepper.

Bake for ~60 minutes or until the onions are tender and creamy. You can use a fork or knife to see if they are done to your liking.

Serve with butter, balsamic vinegar, and fresh herbs!
Notes
Try to find onions that are about the same size. However, I was not able to do that, so I just had a few onions that were slightly more cooked than others.
To make just 1 or 2 onions at a time, use less olive oil and balsamic (1 tablespoon each).
Rosemary, thyme, and other herbs would be great additions.
I used a ceramic Le Creuset baking dish for this recipe and did not have issues with the onion juices sticking to it. However, you should line any other type of dish with parchment paper to avoid staining it.
Nutrition
Serving:
1
onion
|
Calories:
229
kcal
|
Carbohydrates:
27
g
|
Protein:
3
g
|
Fat:
13
g
|
Saturated Fat:
4
g
|
Cholesterol:
12
mg
|
Sodium:
69
mg
|
Potassium:
405
mg
|
Fiber:
3
g
|
Sugar:
18
g
|
Vitamin A:
142
IU
|
Vitamin C:
16
mg
|
Calcium:
69
mg
|
Iron:
1
mg
Have a great weekend!
Lizzie