These braised radishes and leeks are a simple side dish with a delicate flavor and tender texture.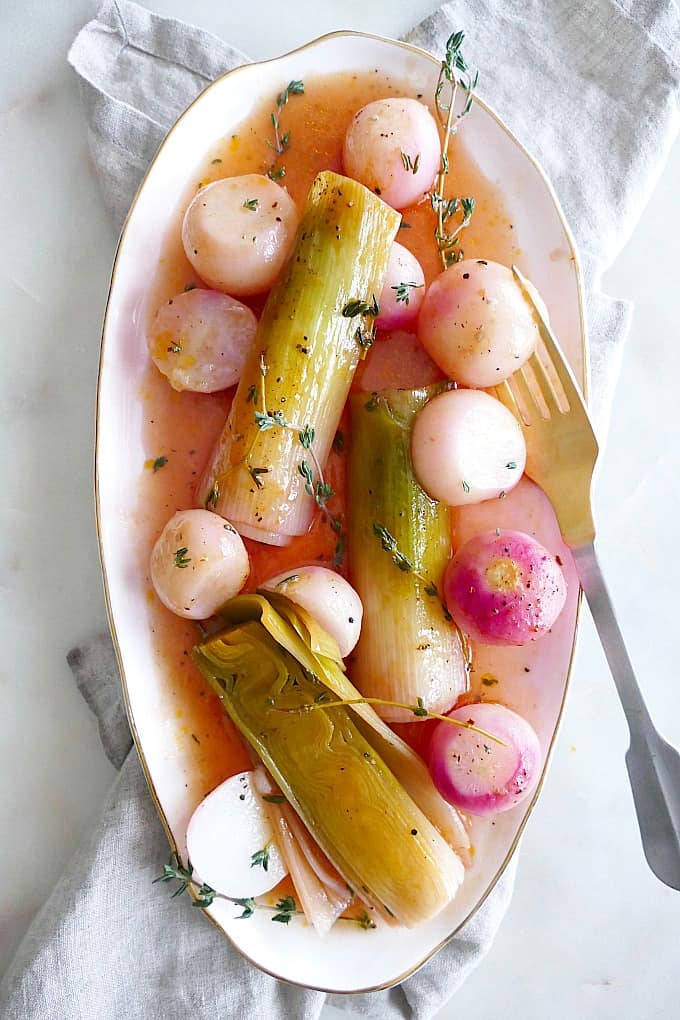 Here I am, sitting on the couch after a loooonggg day of grading final exams for the students in my nutrition classes. I was almost too exhausted to write this post (who knew grading could be so tiring?), but then I remembered which vegetable I chose to highlight for today's Vegmas post. Plus, I got a little help from a Christmas cookie (or two) to muster up enough energy to write…
So without further adieu, on the seventh day of Vegmas, my true love gave to me…RADISHES!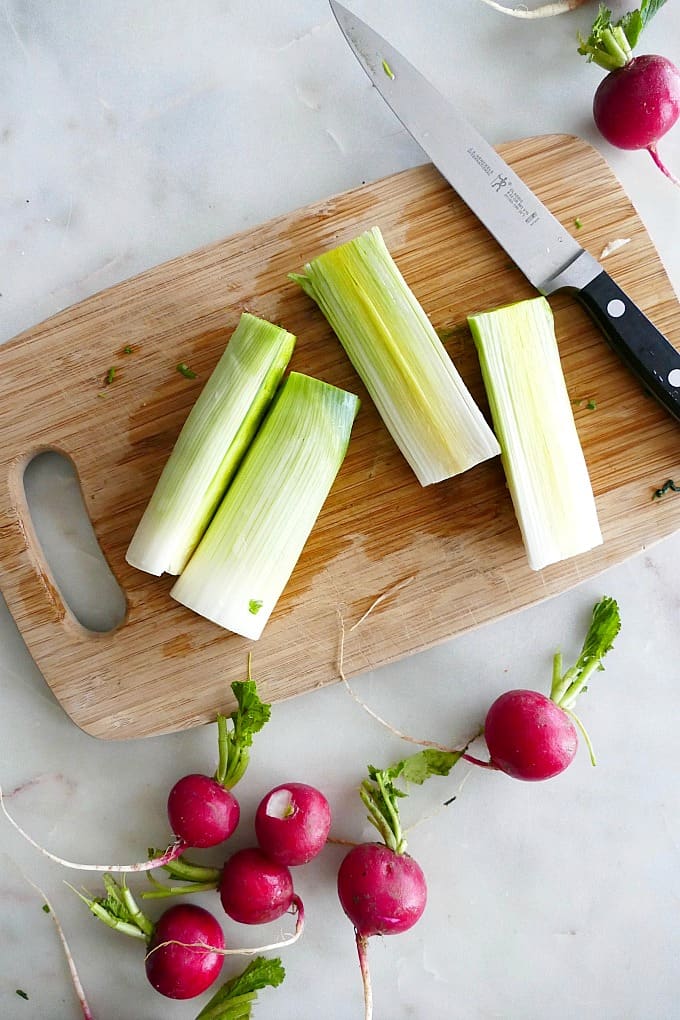 If you are familiar with vegetable growing patterns, you may be wondering why I'm highlighting April's prized vegetable in mid-December. Well, did you know that radishes can be grown as both spring and winter crops? Yes, indeed! You can find small red radishes, daikon radishes, and even watermelon radishes throughout the winter in most areas.
So in an effort to include all different types of vegetables in my Vegmas posts, I created a recipe using zesty, crisp radishes and onion-like leeks. Leeks also happen to be in season during the winter, and I don't think they have made an appearance in any of my recipes to date. Sounds like a potato leek soup recipe is in store for this winter, huh?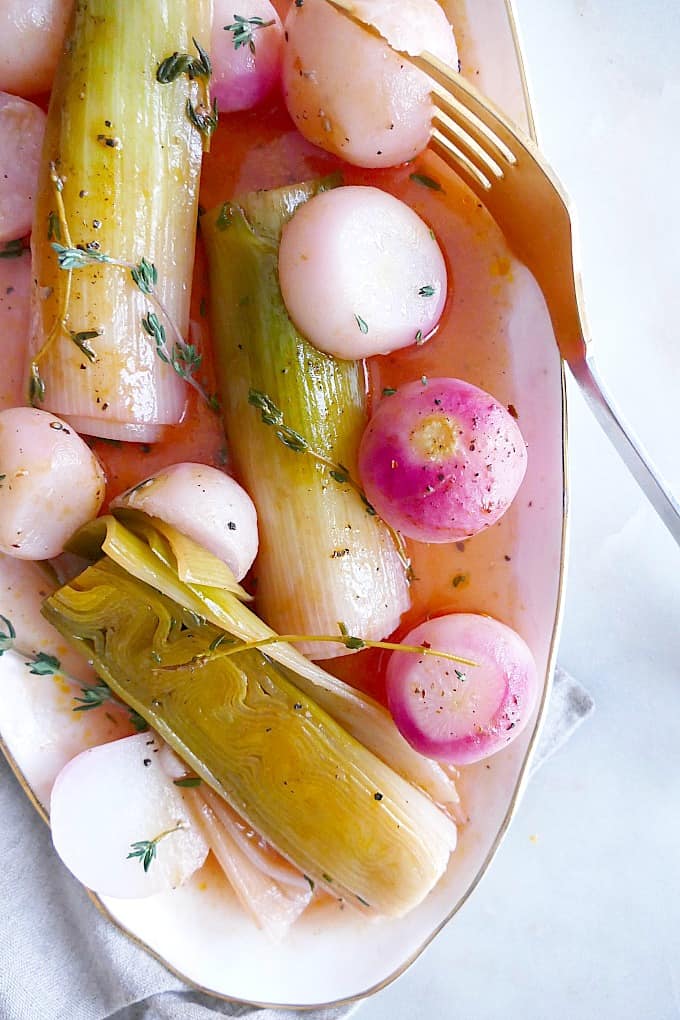 This recipe combines radishes and leeks in a braised vegetable side dish. Braising refers to the process of heating meats or vegetables in a small amount of broth in a covered skillet. The liquid is just enough to make them tender and delicious, but not totally mushy. Braised vegetables also tend to have a pronounced, deep flavor that comes from the added liquid and herbs.
If you don't love the taste of raw radishes, I dare you to try them braised! Since some of their flavor seeps out into the braising liquid, the final product is much more delicate than spicy raw radishes.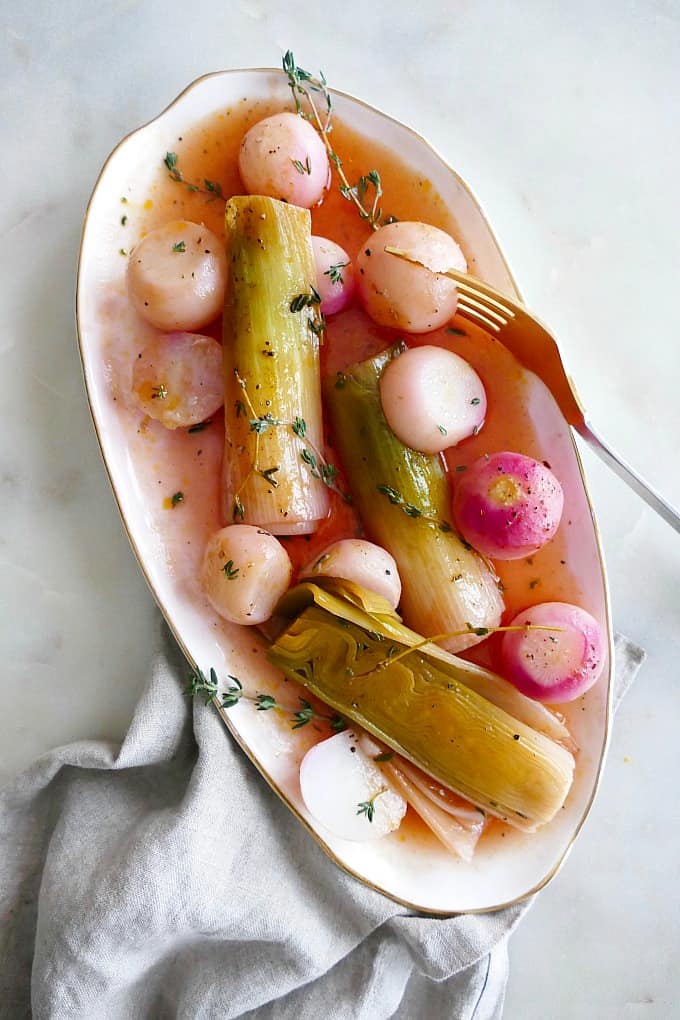 To get started, pick up a bunch of radishes and a few leeks at the store, add broth and toss in some herbs, and watch the magic happen!
Did you make this recipe? I'd love to hear how you enjoyed it! Rate/review using the stars on the recipe card or in the comments section to let me know.
📖 Recipe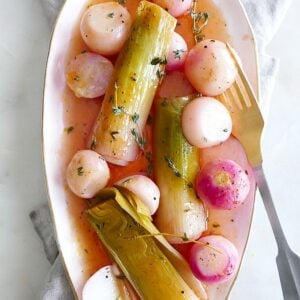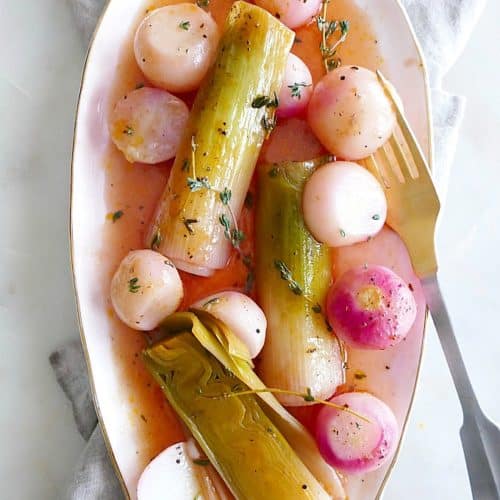 Braised Radishes and Leeks
A simple side dish with tender braised vegetables. Recipe yields approximately 2 servings.
Print
Pin
Rate
Save
Saved!
Instructions
Prepare the radishes by trimming them and gently scrubbing or washing them clean. If you use small red or Easter egg radishes, leave them whole. Prepare the leeks by slicing off the ends and dark green part of the plant. You will only use the white and light green part. Rinse this part to remove any sand or grit, and slice each one in half lengthwise to get 4 long leek slices.

In a large skillet over medium high heat, heat the olive oil and add the radishes and leeks. Cook, stirring occasionally, for 5 to 7 minutes. Add just enough broth to cover the veggies ¾ of the way (it was approximately ¾ cup when I made it). Add the thyme sprigs. Bring everything to a boil, cover, and turn heat to low. Simmer until the vegetables are tender but not falling apart, about 15 to 20 minutes.

Remove vegetables from the skillet. Pour some of the liquid over the vegetables before serving, season with salt and pepper, and enjoy!
Nutrition
Serving:
1
serving
|
Calories:
204
kcal
|
Carbohydrates:
18
g
|
Protein:
2
g
|
Fat:
14
g
|
Saturated Fat:
2
g
|
Sodium:
416
mg
|
Potassium:
430
mg
|
Fiber:
4
g
|
Sugar:
6
g
|
Vitamin A:
1790
IU
|
Vitamin C:
32
mg
|
Calcium:
92
mg
|
Iron:
3
mg
Want to make these Braised Radishes and Leeks soon? Pin them now!


Happy seventh day of Vegmas!
Lizzie