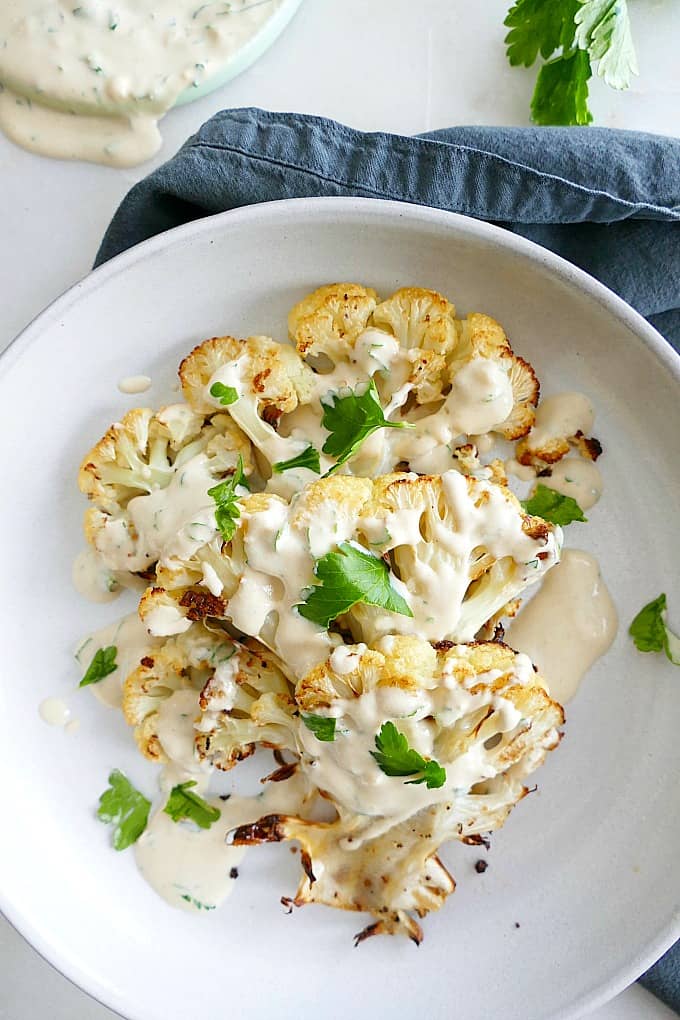 By Thursday night, does anyone actually feel like cooking? I admit it's one of the most difficult nights for me to get in the mood to whip something up. Feeling tired from the first half of the week, combined with some pre-Friday excitement, makes take out much more attractive than a home cooked meal.
But since I try to reserve eating out for the weekends, I usually muster up the energy to put something easy together. While my go-to recipes for Thursdays are rather simple, I try to choose ones that do not sacrifice taste! That's where these Cauliflower Steaks with Lemon Parsley Tahini come in. They're incredibly easy to make for dinner, but still loaded with flavor!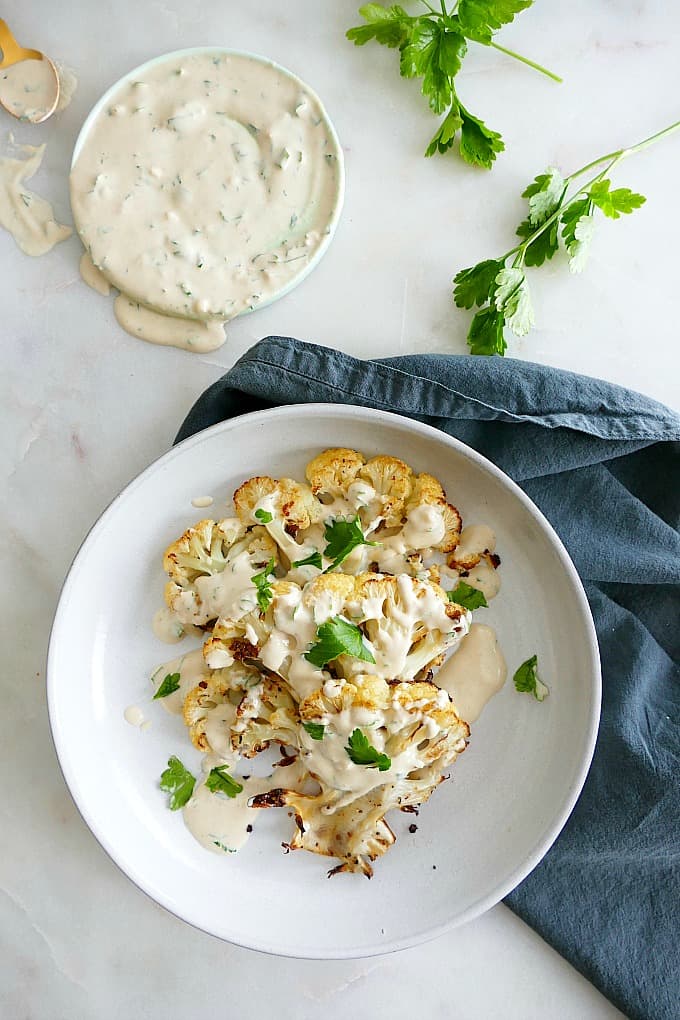 I first saw cauliflower "steaks" pop up on restaurant menus a few years ago when I was living in Philly. I loved the idea of using a vegetable as the mainstay of a meal, adorned with tasty sauces, legumes, nuts, seeds, and more. Since then, I've seen many takes on these steaks (see what I did there?) but have yet to make my own!
One of the best versions I've tried had dried fruit, pine nuts, and some type of yogurt sauce. YUM!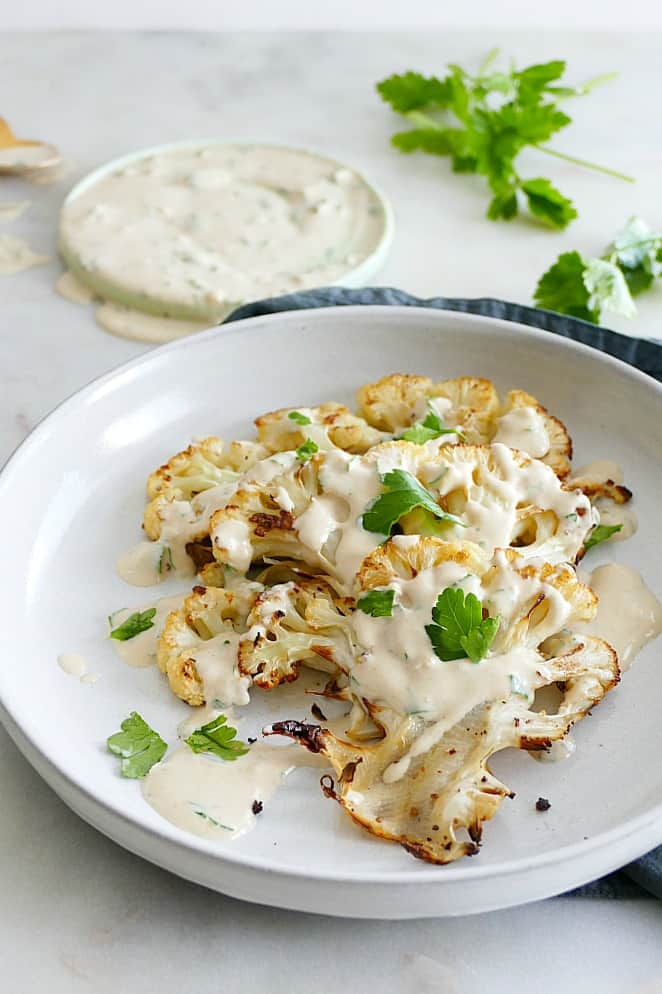 Knowing that cauliflower steaks do well with a tasty sauce, I got to thinking about one of my favorite ingredients to use in creamy dressings: tahini! This sesame seed paste is so versatile, and with the right flavorings, transforms from a bitter puree into a delicious condiment. In this recipe, I've coated cauliflower steaks with lemon parsley tahini. The result? PERFECTION.
Try this out for a weeknight dinner, and bulk it up with a lean protein source for a complete meal. These Cauliflower Steaks with Lemon Parsley Tahini also make a delicious side dish.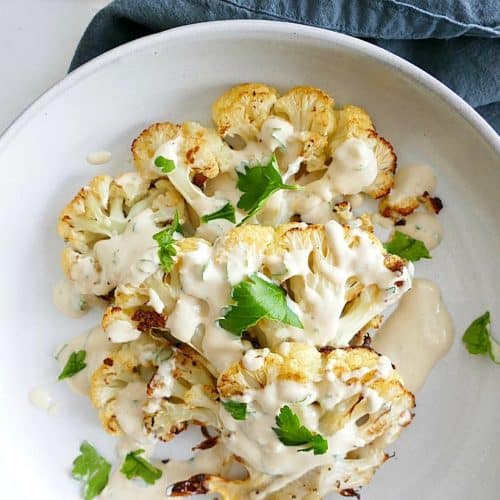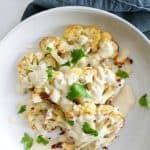 Cauliflower Steaks with Lemon Parsley Tahini
Large, flat pieces of cauliflower resemble "steaks" in this tasty dish, and are drizzled with a lemon parsley tahini!
Ingredients
1

head

cauliflower

1

tbsp

olive oil

Sea salt

to taste

Ground black pepper

to taste
For the dressing:
1/2

cup

tahini

1

lemon

juiced

1/4

cup

parsley

finely chopped

2

cloves

garlic

pressed

1/4

cup

water
Instructions
Preheat oven to 425 degrees F. Line two baking sheets with parchment paper.

Prepare the cauliflower by slicing it lengthwise through the core. Make 1/2"-1" slices that resemble flat "steaks." Depending on the size of your cauliflower, you may slice between 6 and 8 flat pieces.

Transfer the cauliflower steaks to the lined baking sheets. Drizzle with olive oil, salt, and pepper. Bake for approximately 25 to 30 minutes, flipping the cauliflower halfway through.

While the cauliflower is roasting, prepare the tahini sauce. Combine all ingredients in a mixing bowl, and whisk. It will stiffen up, so add up to 1/4 cup water slowly, and whisk to get a runnier sauce that can be easily drizzled.

When the cauliflower is finished, transfer to a serving plate and drizzle with sauce. Enjoy!
Recipe Notes
To make this a more complete meal, consider adding a plant-based protein, such as chickpeas. Or serve as a side dish to another source of protein. 
Pin now to make later!


Have a great Thursday night (with an easy dinner)!
Lizzie