Growing greens in a window box is a fun way to make the most out of a small space and create an edible landscape! This post includes my top tips for how to grow salad greens from beneath your window ledge.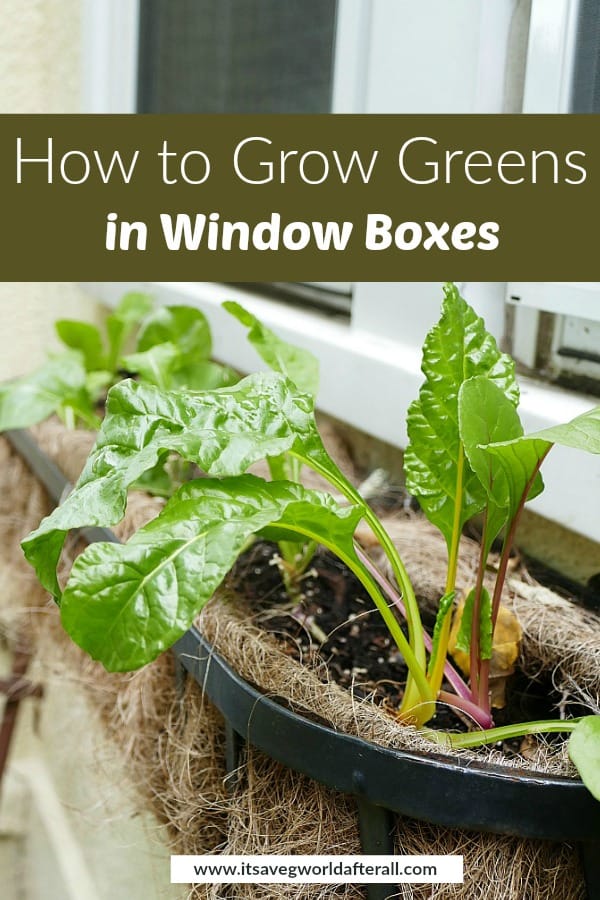 This post may contain affiliate links. For more information, see my affiliate disclosure.
Have you ever wondered if you can grow vegetables in a window box?! Well, guess what, you sure can!
This summer, I experimented with growing rainbow chard and arugula in boxes outside the living room windows at the front of our house. It worked really well, and I'm anticipating harvesting these salad greens until the first frost.
Although I usually put bright flowers in these boxes, I was so pleased to switch it up this year and plant something that was both edible and decorative. The window boxes get morning shade and afternoon sun, plus they have great drainage, so the greens I planted did really well.
So, here are my tips for how to grow greens in a window box in case any of you get inspired and want to try it! In fact, now (early September) is an ideal time to sow seeds for leafy greens for the fall.
Supplies and Equipment
Here's what you'll need for this project:
Window boxes: I use hayrack window boxes, but you can grow greens in any kind of box (wood, fiberstone, plastic, etc). Just make sure that the boxes are 8 inches or more deep and have good drainage.
Organic potting soil: Use the same kind of soil that you would for growing veggies in containers. Ideally, the soil should have some organic matter/compost mixed into it. Don't use topsoil. Adding some vegetable fertilizer, like Espoma GardenTone (follow package instructions), every few weeks can also be helpful.
Seeds: I used these arugula seeds and these rainbow chard seeds. See my list below for other greens that you can try.
Steps for Growing Greens in a Window Box
Here's exactly how to grow greens in a window box:
Secure the window boxes if they are not already in place. Fill with potting soil. Add fertilizer.
Sow the seeds according to package instructions.
Water gently, keep the soil moist, and watch until the seeds germinate. My greens germinated within 7 to 10 days, but it may take longer for some greens.
Thin the seedlings once they are a few inches high. After thinning, each seedling should be a couple inches apart. I like to use a pair of small herb scissors to do this, so that I don't disrupt the seedlings that much.
Harvest the greens when they have reached your desired size, and enjoy! For example, I like to pinch or cut chard and arugula leaves when they are about three inches high.
Tips for Harvesting and Watering
One of the great things about salad greens is that they keep growing if you harvest them as baby greens. Snip or pinch the outermost leaves about one inch from the base, and keep the younger inner leaves intact until the next harvest. Repeat this process each time you harvest, and the greens will continuously grow for a few months.
However, be sure to cut the greens when they are fairly young so that the plant is encouraged to grow more leaves. If you prefer to harvest more mature greens, you can just plant new rounds of seeds every few weeks instead for a continuous supply of greens.
Finally, it's really important to keep the soil in your window boxes moist for best results, especially if your box is in a sunny location. You will likely need to water your greens more often than you would if your box just had flowers in it.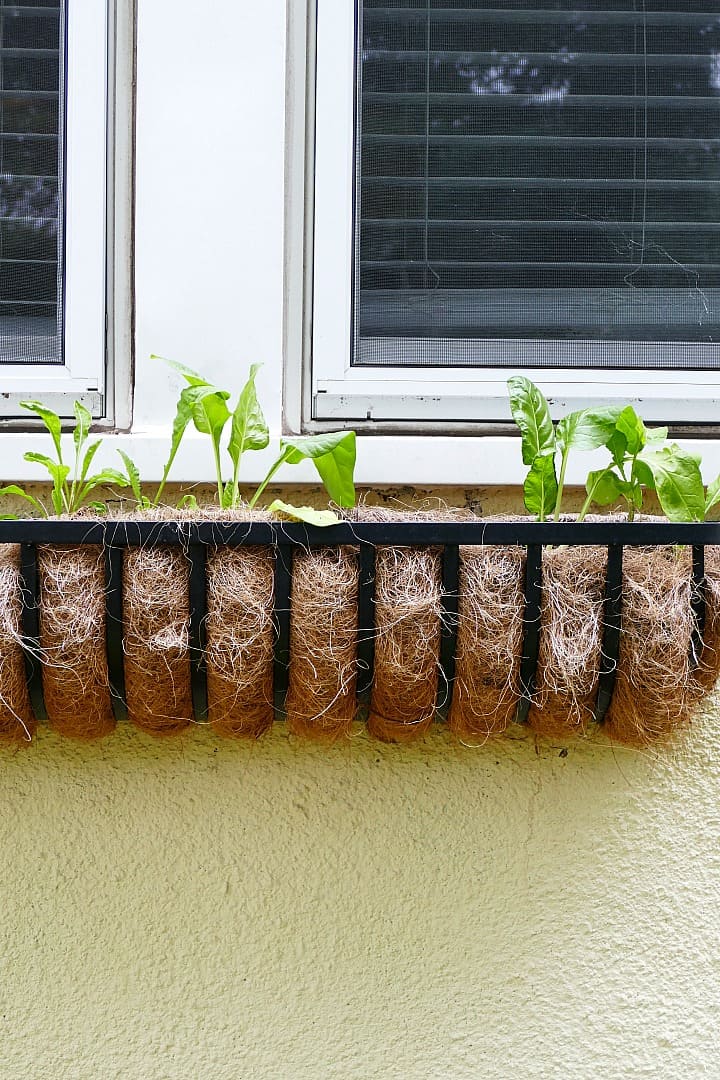 Best Greens for Window Boxes
The best greens for you to grow in your window box depends on its location. If your box gets full sun, and you are planning to sow seeds at the beginning of the summer with hot weather in the future, stick with heat-tolerant greens.
As I mentioned, my boxes receive afternoon sun but are mostly shaded in the morning, so arugula and chard did great in this location, as they didn't get too bothered by the heat. (Note: I live in Minnesota, so these greens may not work for those of you in hotter climates.)
If you're doing a fall sowing, you can choose from a larger variety of greens that do better with cool temperatures, including:
Arugula
Lettuce
Swiss Chard (plant rainbow chard for a pop of color!)
I can't wait to hear what types of greens you grow! Let me know in the comments, and be sure to browse my recipes for arugula, chard, and other varieties once you harvest them.