Wondering how to grow peas in pots? Here are my tips on growing sugar snap peas in containers.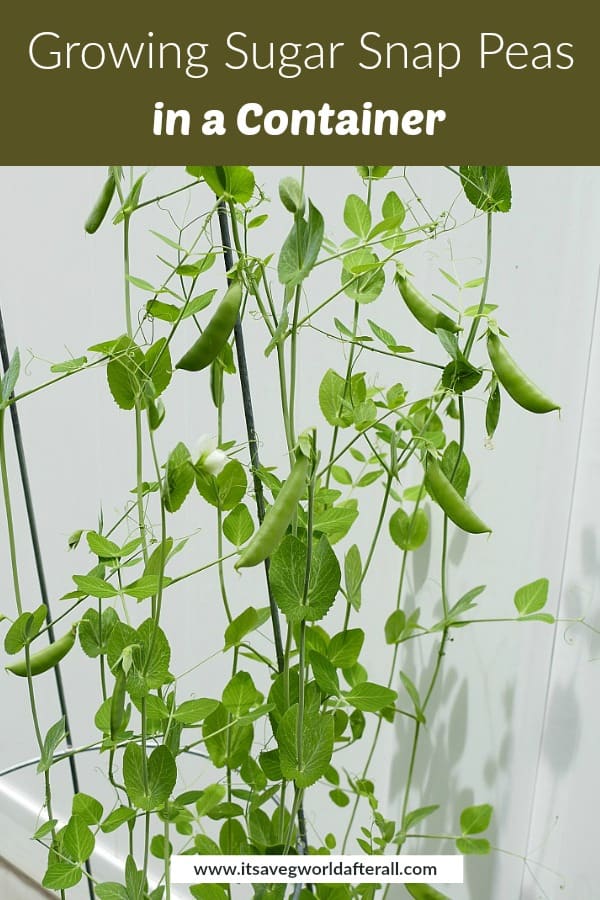 This post may contain affiliate links. For more information, see my affiliate disclosure.
Before we moved into our house last year, I grew vegetables in containers on the balcony of our apartment. Based on my few years of experimentation there, I learned that as long as they get sufficient water, sun, and fertilizer, vegetables can really grow anywhere…not just in big backyards!
Even though I now have a yard with raised veggie beds, I still grow some things in pots. This year, I had a lot of seeds left after sowing peas in one of my beds, so I experimented with growing sugar snap peas in containers. (See my Vegetable Garden Diary, Volume 1 for more details on my garden design.)
The peas that grew in my pot were just as good, and almost as fruitful, as the ones in the veggie bed. So, I thought I'd share my tips for those of you who have container gardens or want to supplement your backyard veggie beds with a few pots!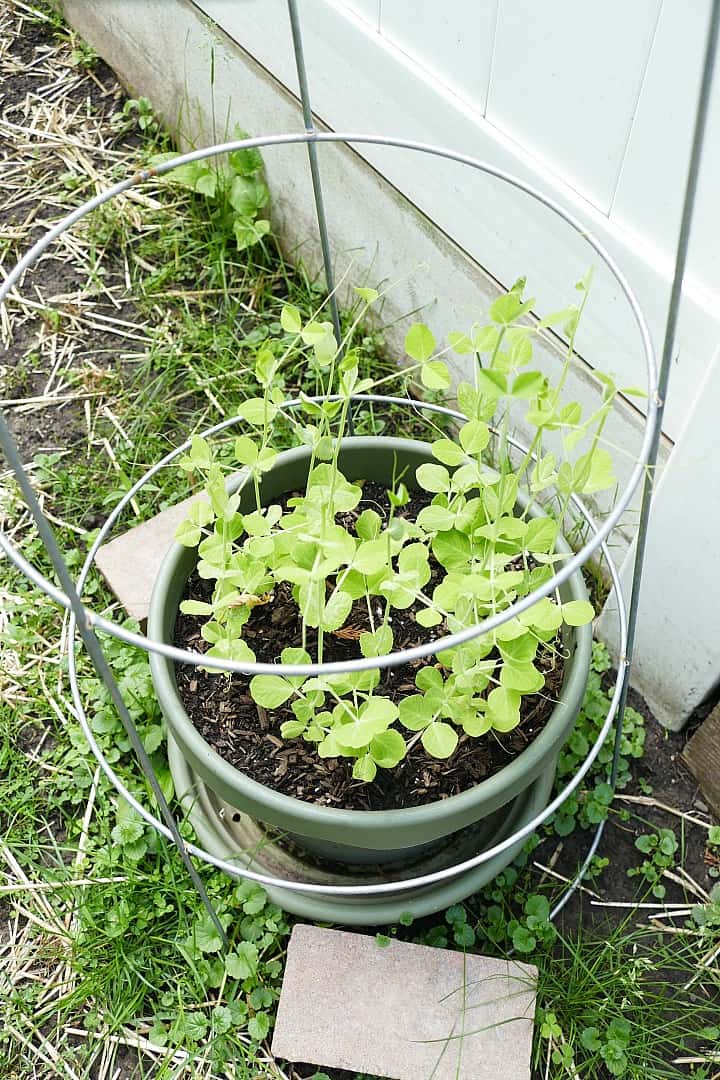 What You'll Need
Large pot. Make sure it's at least 12 inches wide and has good drainage. I used a plastic pot like this one with a drainage container underneath.
Trellis or support system. Snap peas need to climb to grow, so you need to have a support system in place. Pea trellises are widely available at garden centers, but I used an upside down tomato cage and it worked extremely well. This is my favorite hack for growing sugar snap peas in containers! However, if you do this, make sure your pot fits inside the top of the tomato cage. Also, make sure you put a brick or something heavy on the tomato cage to hold it down! See the above photo.
Good potting soil and veggie fertilizer. I really like Espoma Garden-Tone.
Sugar snap pea seeds. I had excellent luck with these seeds from Burpee this year!
A sunny area. Sugar snap peas grow best with at least six hours of sun. My beds get morning and late afternoon sun, with shade in the early afternoon. The peas seemed to thrive there.
Instructions for Growing Sugar Snap Peas in Containers
Prepare the pot with soil and fertilizer. Be sure to refer to the package instructions to determine the amount of fertilizer to use. In my experience, sugar snap peas do not need a lot of fertilizer. I only added it once at the time of sowing. Place the pot on its drainage container and get ready to sow the seeds!
Plant the peas in a circle around the edges of the container. I planted them about 1 inch from the edges of my pot and 1.5 to 2 inches from each other and made a complete circle. Plant the seeds about 1-inch deep then cover gently with soil. I put two seeds in each hole.
Set up the support. Place the upside down tomato cage on top of the pot or set up your pea trellis so that the peas can grow up it.
Water generously with a watering can or hose.
Watering, Harvesting, and Storing
When growing sugar snap peas in containers, it's very important to be consistent and generous with your watering. I got a ton of peas out of my container plant, but I did notice that some of the bottom leaves turned yellow. I believe this was from a lack of water.
The pea plants in the veggie beds did not get this discoloration, and they produced more peas in the end. So, make sure the soil in your pot is pretty much always moist. You will likely have to water container peas more than those you grow in a bed or directly in the ground.
The peas started to sprout in about 10 to 14 days. They took about two months, from the end of April to the end of June, to start producing fully grown sugar snap peas. Depending on where you live, your timeline for growing sugar snap peas in containers may be shorter or longer than mine.
Sugar snap peas are ready to harvest when the peas are the same width as the pod. You don't want to wait until the peas are bulging out of the pod, and you also don't want to pick them too soon (when they look more like snow peas instead). To harvest sugar snap peas, pinch behind the "tassle" at the top of the pod and pull them off the vine. Here's a photo of some of my best peas this season.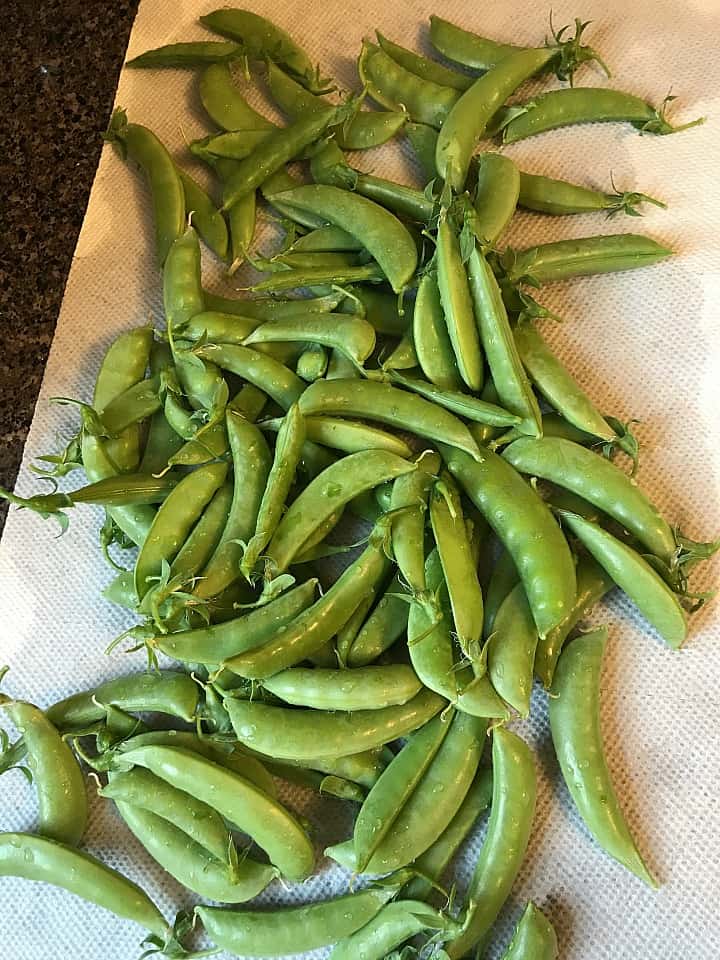 Store your fresh sugar snap peas in an airtight container in the fridge or in a sealed plastic bag. I like to wash them under cold running water right after I pick them and then wrap them in a paper towel before storing. They should last in the fridge for at least a week.
Most pea plants are done producing by mid-July. I picked off the last few peas and cut down my vines at this point. Now I plan to plant another round of beets in the bed that had my peas, since I read that beets will grow well in that soil. Let's see!
Sugar Snap Pea Recipes
Were you successful at growing sugar snap peas in containers using these tips?! I'd love to hear about your experience. Leave a comment and let me know.
And before you go, check out these delicious recipes for fresh sugar snap peas: Fresh Melon and Sugar Snap Pea Salad, Sugar Snap Pea Quinoa Salad, and Spring Pea Orzo Fried Rice. For more gardening and cooking posts, sign up for my weekly newsletter.
Happy gardening! – Lizzie