This creamy Mint Banana Smoothie is just as delicious but much healthier than a classic shamrock shake. Whip it up for a snack on St. Patrick's Day or after school, work, or exercise. You can enjoy this vegan smoothie any time of year!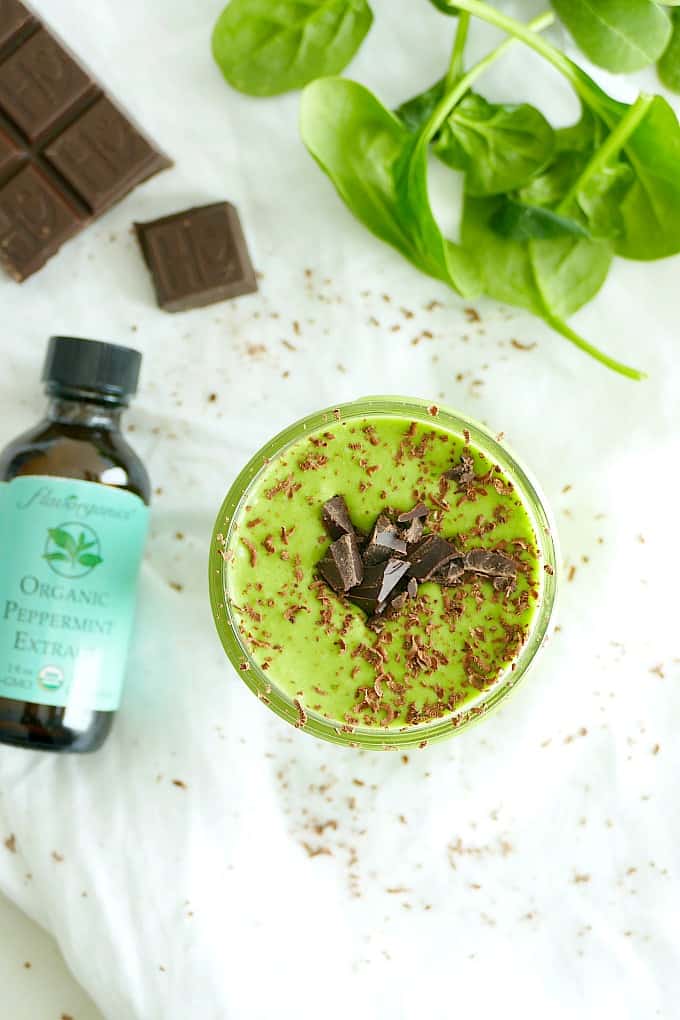 This post may contain affiliate links. For more information, see my affiliate disclosure.
Growing up, I never let a March pass without getting at least one shamrock shake from McDonald's. (Yes, I have eaten at McDonalds!) I loved the mint flavor, the whipped cream topping, and the cherry on top. Plus, this shake meant that spring was here or coming, and I always associate the taste with warm afternoons, lacrosse practice, and carpools home with my friends.
As a dietitian, I encourage my readers to focus on what we can add to our diet, instead of what we should take away. I love to think about food as a vehicle for nourishing our bodies and minds – chock full of nutrients AND meaning. Instead of always thinking about foods a carb, fat, or protein, I like to take a step back and attach a new meaning.
Does drinking a smoothie help you relax? Maybe it wakes you up? Or maybe you don't enjoy smoothies because you attach a negative emotion or past event to them, like a restrictive diet or weight loss program? All of these are important questions to ask yourself when you prepare food and make food choices.
For me, drinking a shamrock shake was a fun activity that usually followed high school lacrosse practice. So, coming up with a healthy Mint Banana Smoothie brought back these memories, and bridged my teenage years with my current lifestyle. You never know what you will come to realize by exploring how and why you feel about certain foods!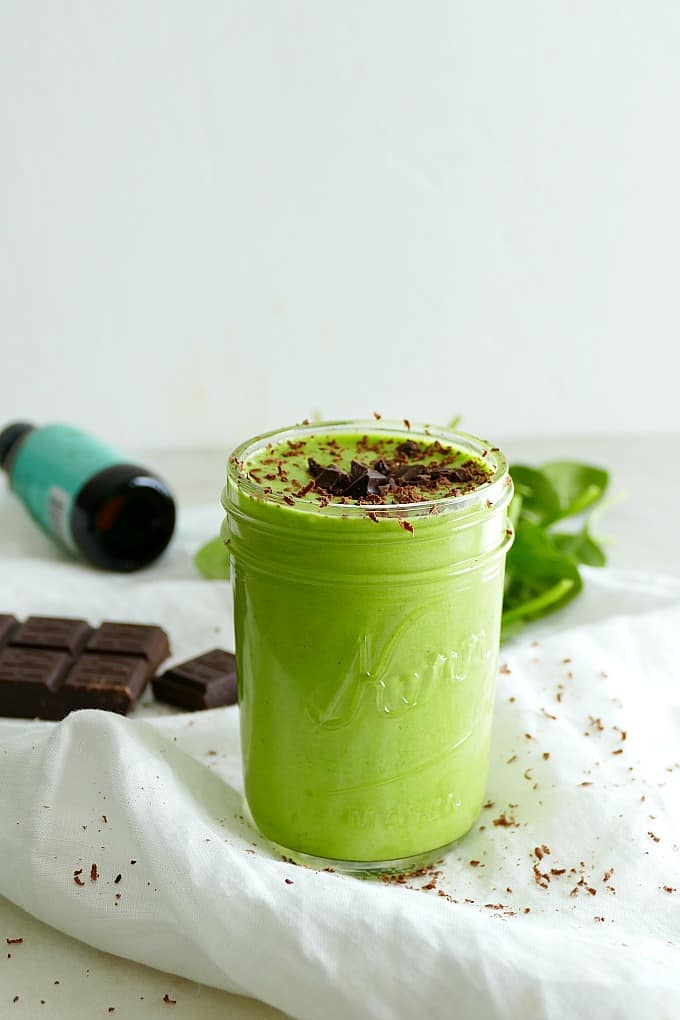 It's not news to anyone that the McDonald's Shamrock Shake is loaded with sugar (and who knows what else). But believe me, I'm not here to totally bash this festive treat. There is a time and place for everything!
BUT what if I told you that you could get the same delicious minty taste PLUS some extra nutrition. And that you could do all of this in less than 5 minutes?
Yep, it's true! This healthy Mint Banana Smoothie is the perfect way to satisfy your craving for a shamrock shake, but with a dose of fiber and vitamin C instead of loads of added sugar.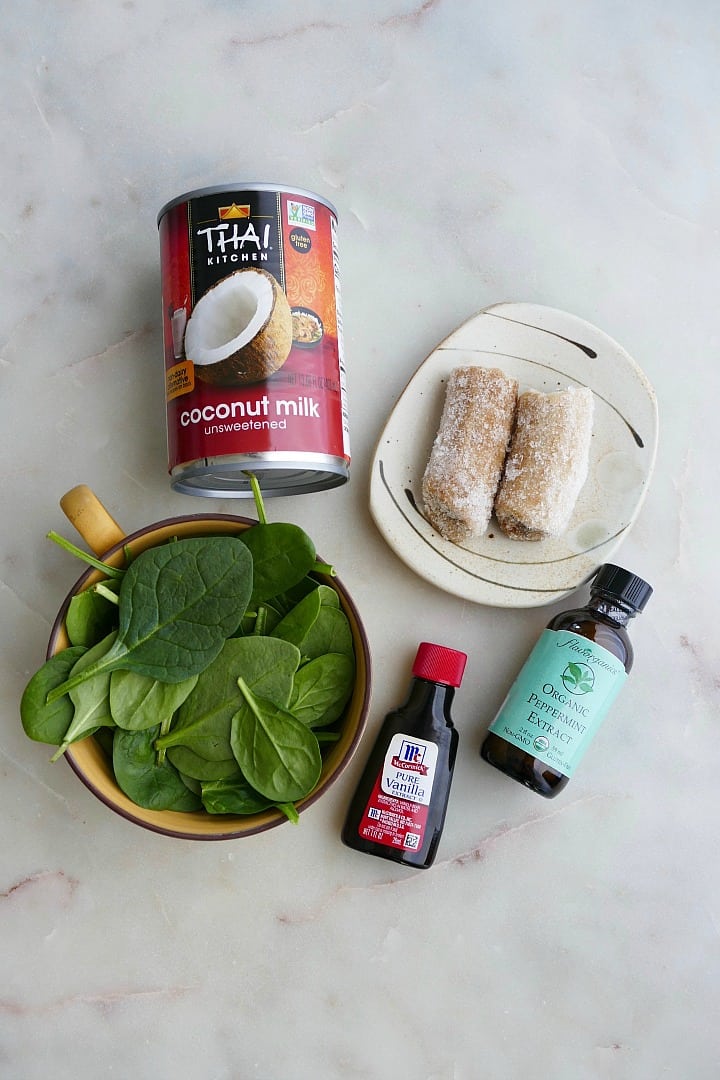 How to Make a Mint Banana Smoothie
Making a vegan shamrock shake is so easy that it's almost hard to believe! First, gather your ingredients: spinach, banana (frozen is best!), full-fat coconut milk, and peppermint and vanilla extracts. Instead of peppermint extract, you can use fresh mint if you have it on hand. Add them all together, blend, and you're done!
I like to shave some dark chocolate, like Hu brand, on top of my shake before serving. You can also top it with a few chocolate chips for a little extra sweetness.
Full-fat coconut milk (the kind in the can) is key to making this smoothie extra creamy so that is resembles a milkshake. I've made it with almond milk before, too, but it doesn't turn out as thick. If your coconut milk separated in the can, blend it alone in your blender first to get it smooth, then measure out the cup you need for this recipe.
In case you still need a reason to try it, this Mint Banana Smoothie is husband-approved, and I presume kid-friendly! I love to make it during March around St. Patrick's Day.
For some other St. Patrick's Day vegetable recipes, check out the Healthy Crockpot Mashed Potatoes with Arugula, Black and Blue Oven Roasted Cabbage Steaks, and Coconut Cinnamon Irish Potato Chips while you're here. Come to think of it, I really need to make an Irish stew for the blog, too!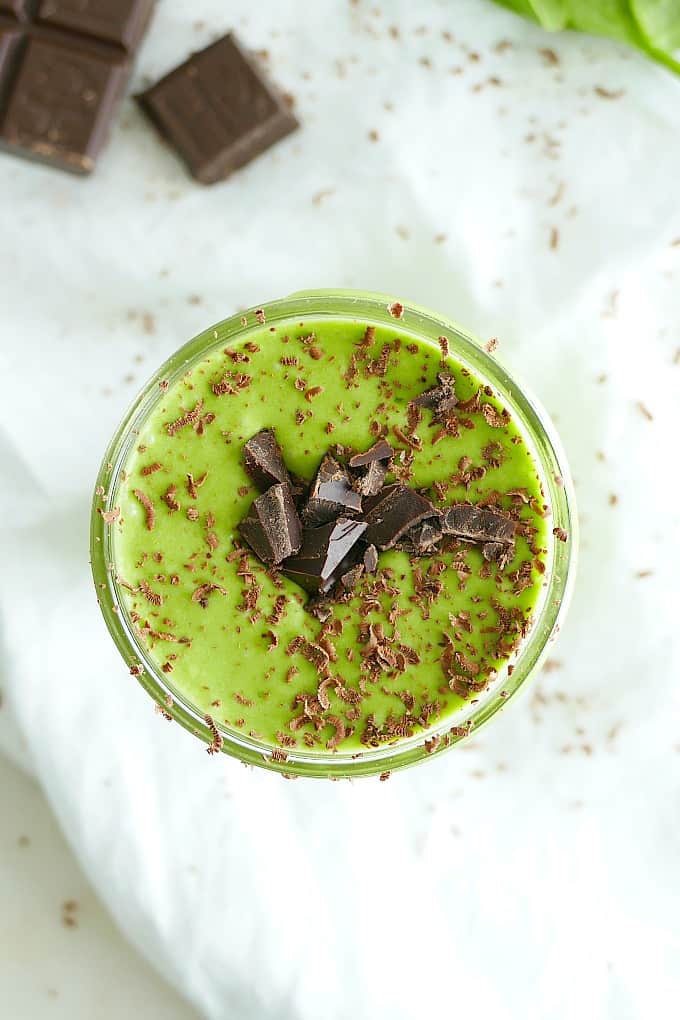 More Vegan Smoothie Recipes
If you make this recipe, I would love to hear from you! Please rate/review using the stars on the recipe card or in the comments section. And don't forget to sign up for the weekly newsletter.
📖 Recipe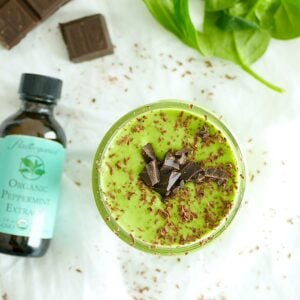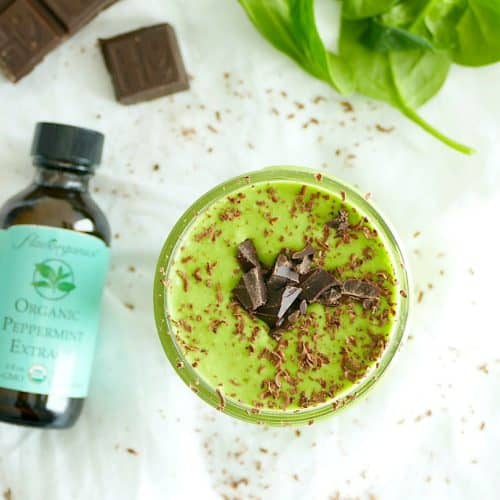 Shamrock Mint Banana Smoothie
A vegan spin on the traditional shamrock shake! This smoothie is creamy and delicious with no added sugar.
Print
Pin
Rate
Save
Saved!
Instructions
In a blender, combine all ingredients except chocolate, and blend until smooth. If you used a fresh banana instead of a frozen one, you may want to add ice to make it colder. Garnish with shaved or chopped dark chocolate. Enjoy!
Notes
Using full-fat coconut milk is key to making this smoothie resemble a shamrock shake. You can, however, sub any type of milk if you don't have coconut milk on hand. If your coconut milk separated in the can, blend it together by itself first to get it smooth, then measure out the cup you need for the smoothie.
Other topping ideas include shredded coconut and chocolate chips.
A little bit of peppermint extract goes a long way. I recommend starting with exactly ⅛ teaspoon (measure it out) and then adding more if desired.
If you don't have peppermint extract, sub 5 to 7 leaves of fresh mint. It works great!
Nutrition
Serving:
1
smoothie
|
Calories:
562
kcal
|
Carbohydrates:
35
g
|
Protein:
7
g
|
Fat:
49
g
|
Saturated Fat:
43
g
|
Sodium:
54
mg
|
Potassium:
1087
mg
|
Fiber:
4
g
|
Sugar:
15
g
|
Vitamin A:
2889
IU
|
Vitamin C:
21
mg
|
Calcium:
70
mg
|
Iron:
9
mg
Have a great week everyone! – Lizzie
This post was originally published in March 2018. It was updated with new photos and tips in March 2021.