Wondering what to do with leftover pumpkin puree? This post includes ideas for leftover pumpkin recipes, ranging from breakfast to desserts. Plus, you'll learn how to freeze canned pumpkin to stop it from going to waste.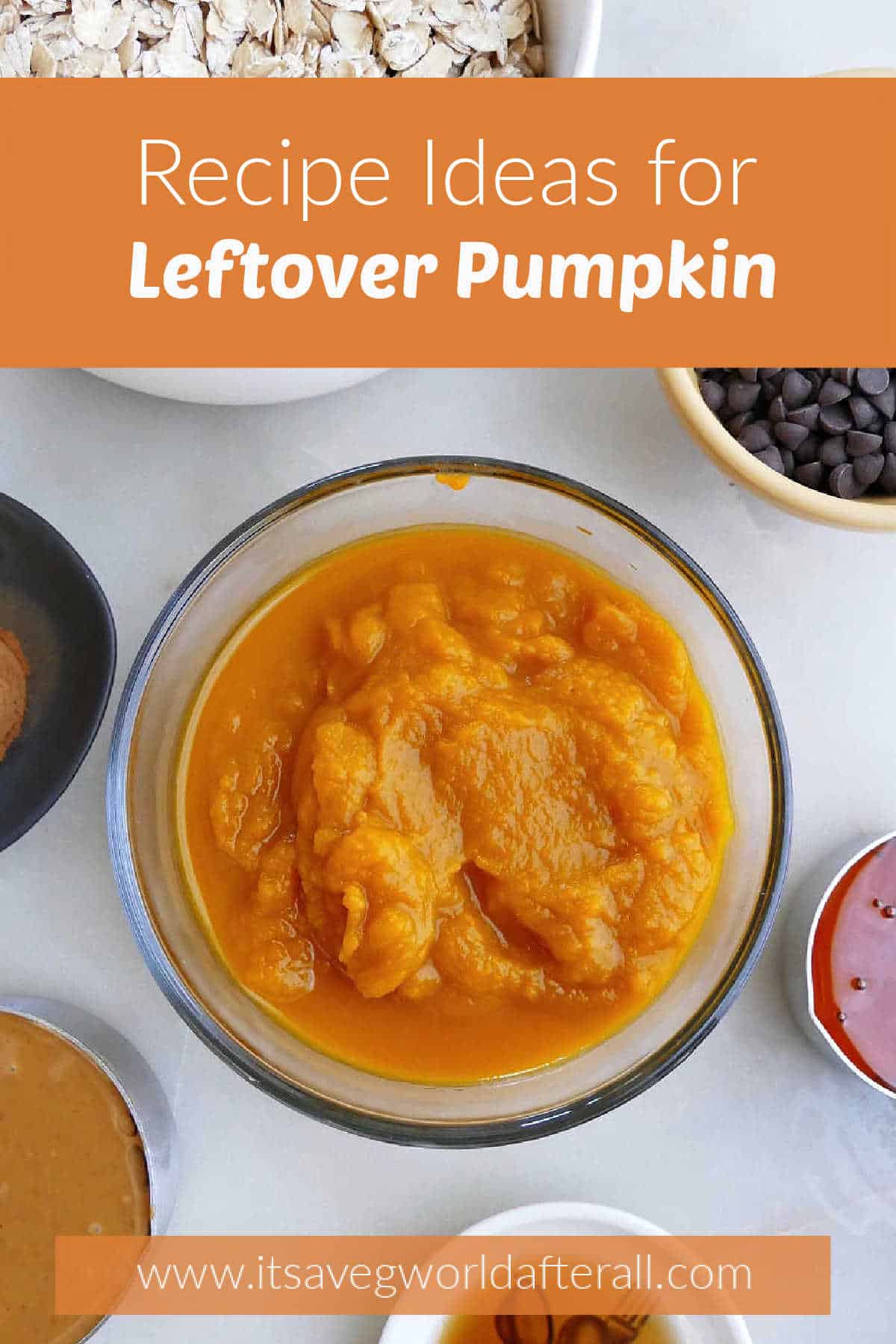 This post may contain affiliate links. For more information, see my affiliate disclosure.
Point of view: you're excited to make your first pumpkin recipe of the season and open a fresh can of pumpkin to add to the dish. You end up using less than half of the can, and store the rest of it in the fridge. A couple weeks later, that used-to-be-bright-orange puree is giving off a funky smell. Now you're wishing you used it up when you still could!
Sound familiar? I am 100% guilty of this exact scenario, almost every fall. I always pick up a can of pumpkin to make one of my recipes and frequently forget to use the rest of it. Ugh. It's the worst!
Well, I've got solutions for you (and me)! There are so many ways to use up leftover pumpkin puree to boost the color, nutrition, and creativity of your everyday meals. You don't need to make a fancy recipe or spend a lot of time to do it either.
Read on to learn some great ideas for leftover pumpkin recipes, ranging from full meals to tips for stirring in some pumpkin to what you're already eating. At the very least, you'll learn how to freeze pumpkin so you can enjoy it a later time if you're really just not feeling it at the moment.
Healthy Canned Pumpkin Recipes
Every meal of the day presents an opportunity to use up pumpkin puree. You can stir it into oatmeal at breakfast or add it to pasta sauce at dinner. Here are some of my favorite ideas, separated into breakfast, snack, savory, and sweet categories.
Breakfast Ideas with Pumpkin
Eating veggies at breakfast has never been easier! Start your day with a healthy dose of fiber and beta-carotene from pumpkin.
Leftover Pumpkin Snacks
Snacks are among my favorite options for leftover pumpkin recipes. These healthy options will give you a boost of energy and nutrition when you need it the most!
Canned Pumpkin Savory Recipes
Want to use leftover pumpkin in a savory recipe for lunch or dinner? Here you go!
Canned Pumpkin Dessert Recipes
Last but not least, let's talk pumpkin desserts! Most people think of pumpkin as an addition to sweet foods. These healthy leftover pumpkin recipes are a great way to satisfy your sweet tooth with a little extra nutrition.
Tips for Storing Leftover Pumpkin
If you still have some pumpkin puree after making leftover pumpkin recipes, you can freeze it! Here are my answers to frequently asked questions about keeping canned pumpkin in the fridge or freezer.
How long is leftover pumpkin good for?
In the fridge, canned pumpkin typically lasts for 5 to 7 days. Keep it in airtight container. I have found that is lasts longer if I transfer it to a container instead of keeping it covered in the can.
How do you know if pumpkin is bad?
The best way to tell if canned pumpkin has gone bad is to smell it. If it smells slightly sweet and earthy and like it did when you first opened the jar, it hasn't gone bad. If it has a strong and rotten smell, it is past its prime. Any signs of mold or discoloration also indicate that pumpkin is bad.
Can leftover pumpkin be frozen?
It sure can! One of the best ways to freeze canned pumpkin is to separate it into individual portions using a muffin tin. Scoop out ½ cup portions, plop them into the muffin tin, and transfer that to the freezer for a couple of hours.
Once the pumpkin is frozen solid, pop the servings out of the tray, and place them in a labeled bag or container. Using a silicone muffin pan makes popping out the servings super easy! Frozen canned pumpkin should last for at least 3 months.
You can also just transfer all of the pumpkin puree you have to a Stasher bag or plastic container. Place it in the freezer and use it in leftover pumpkin recipes within a few months.
To defrost frozen pumpkin, transfer it to the fridge and let it thaw overnight. You can also microwave it or add it directly to hot dishes.
And that's a wrap! What's your favorite way to use up leftover pumpkin? Let me know in the comments! – Lizzie