Learn all about the gorgeous cosmic purple carrot and how to prepare a delicious vegan hummus with this vegetable. Made with creamy white beans, cumin, coriander, and dried apricots, this unique purple carrot recipe is delicious and healthy.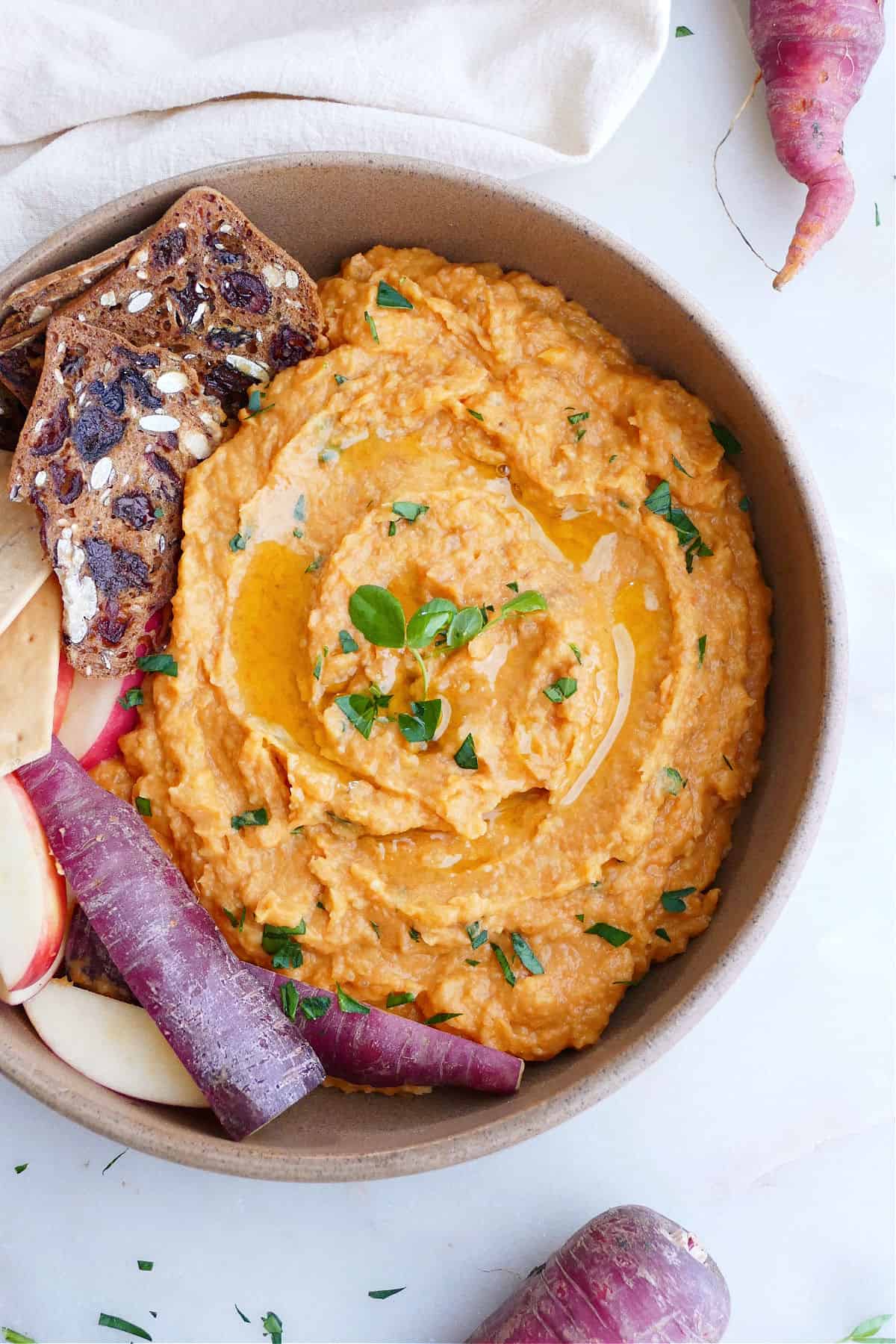 This post may contain affiliate links. For more information, see my affiliate disclosure.
If you've been part of the Veg World for a while, then you probably know that I'm ALL about unique veggies! So when I saw cosmic purple carrots available at the local farm stand, I knew I had to snag a bunch and make a recipe with them.
While they're not as common as orange carrots, purple carrots aren't as rare as you may think. In fact, rumor has it that the first carrots to be cultivated may have been purple or yellow, not orange.
You can find purple carrots at farmers markets, some grocery stores, and even at Trader Joe's, where they sometimes sell a bag of tri-color carrots that includes purple, yellow, red, and/or orange varieties.
If you happen to come across them, remember to come back to this purple carrot recipe! And even if you can only find orange carrots, you can still make this hummus. It's delicious with any and all carrots.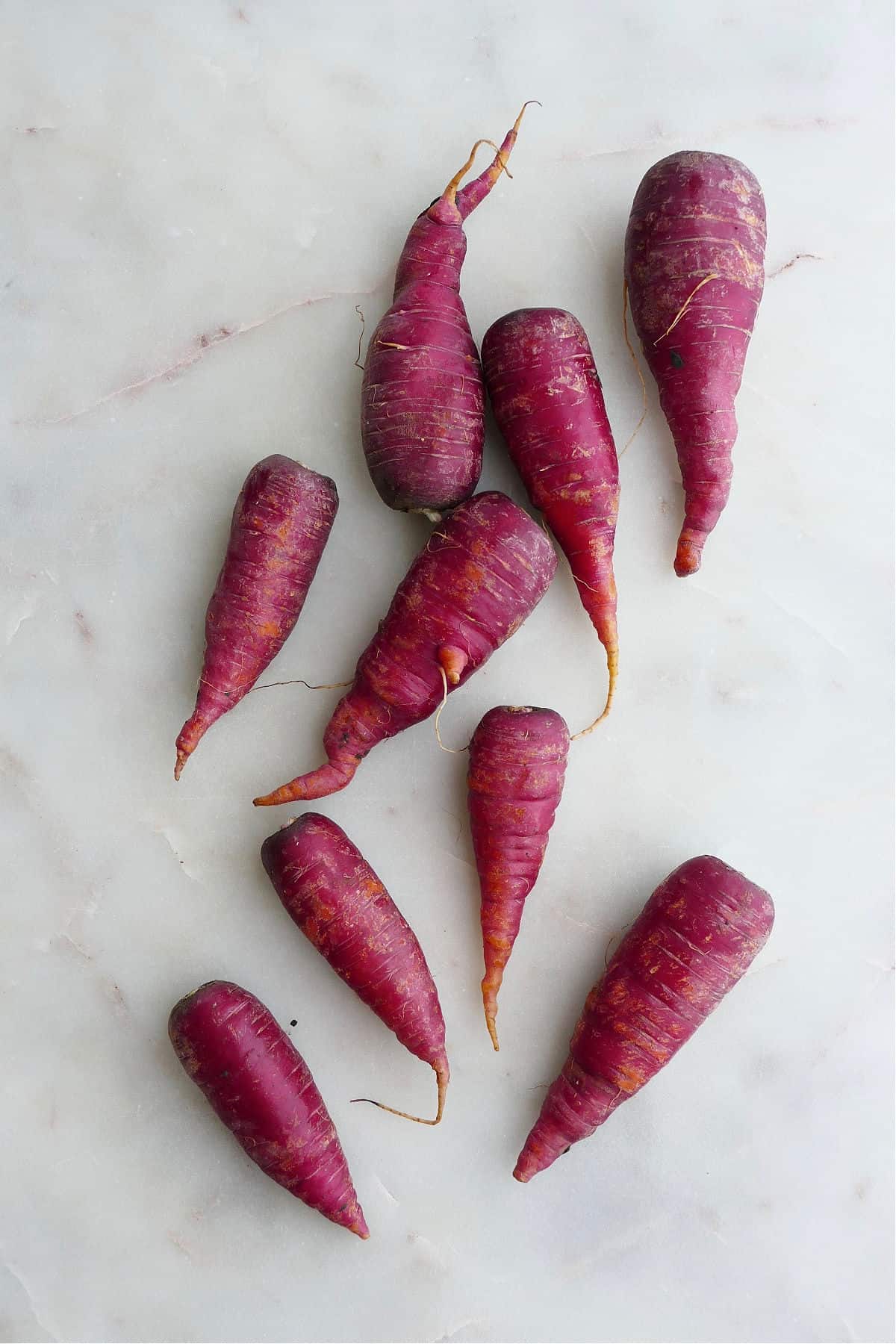 What are the health benefits of purple carrots?
All carrot are nutritious, but purple carrots specifically contain pigments known as anthocyanins. Anthocyanins act as antioxidants, helping to protect against diseases such as heart disease, mental decline, and some types of cancers.
If purple carrots have an orange/yellow interior, like the ones I used in this recipe, they're also rich in beta-carotene. This pigment, often associated with orange carrots, helps protect against eye disorders.
How to Make Purple Carrot Hummus
For a video tutorial, as well as the full ingredient list and instructions for this purple carrot recipes, scroll down to the recipe card.
Prepare the carrots by cleaning them under cold running water. Trim and slice into coins, then steam for 7 to 9 minutes until fork-tender.
Add the steamed carrots to a blender or food processor with the dried apricots, white beans, spices, lemon juice, garlic, and salt.
Begin pulsing/blending the mixture while you slowly pour olive oil into the opening at the top.
Taste, adjust seasonings as desired, and enjoy with crackers, apples, and sliced veggies.
Since purple carrots likely originated in parts of the Middle East and Central Asia and were especially common in Turkey and Afghanistan, I wanted to use ingredients inspired by these locations. I used ground cumin and coriander for my spices and added dried apricots as a sweetener. (Did you know Turkey is the number one producer of apricots in the world?)
Instead of chickpeas, which are typically used in hummus, I used white beans to make my dip super creamy. I also added garlic and lemon juice for good measure. The final result is very delicious!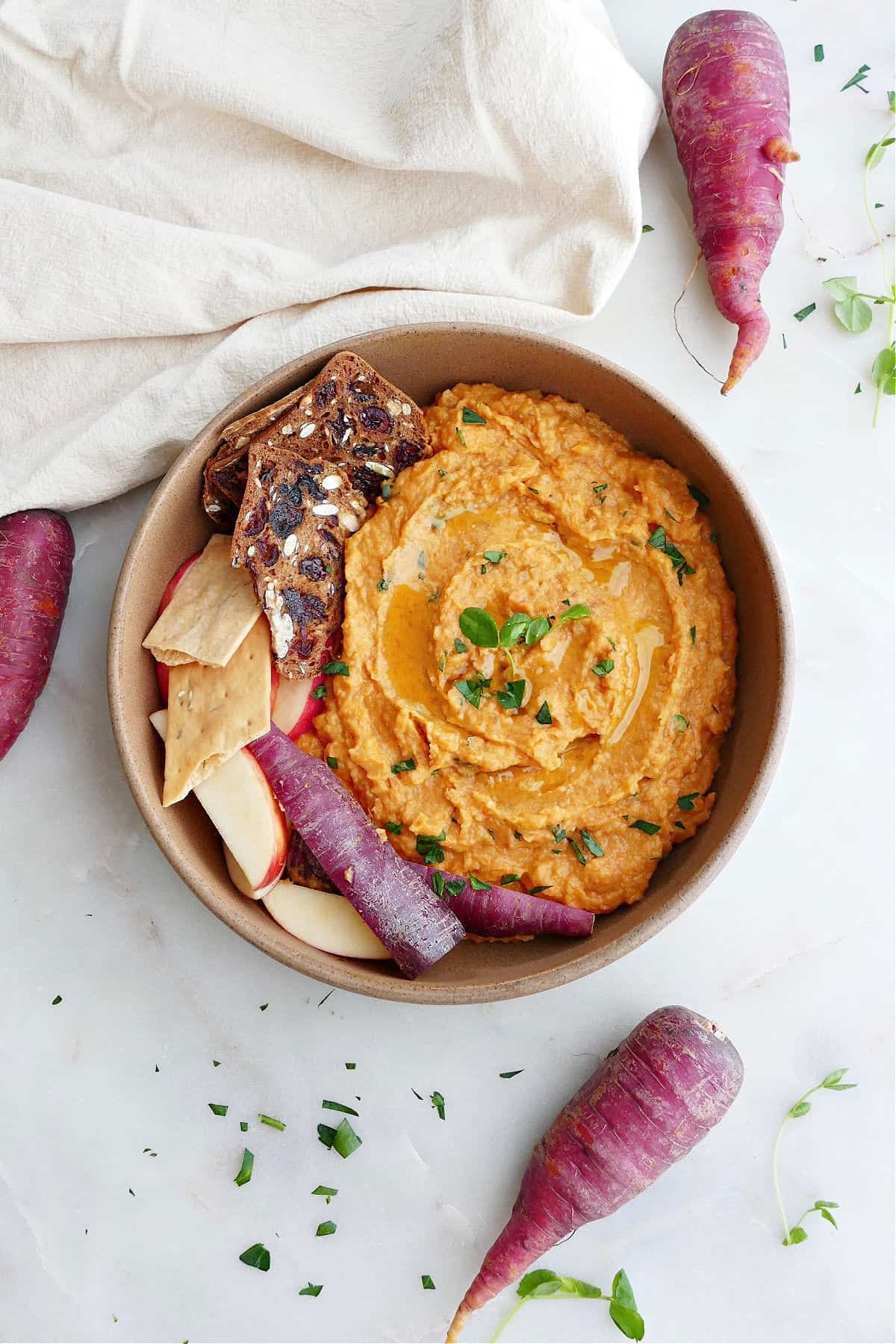 Expert Tips
Equipment: I used my Vitamix blender for this recipe, but you can also use a food processor or regular blender. You may need to add a little more liquid (water, lemon juice, or olive oil) to promote blending.
Cooking Purple Carrots: Don't skip the step of steaming the carrots before adding them to the blender. Raw carrots do not blend well. You can steam the carrots in advance to cut back on prep time. If you have a vegetable steamer basket (that's the one I recommend), fill a pot with one inch of water, bring to a boil, place the steamer basket with the sliced carrots inside, cover, and cook for 7 to 9 minutes. If you don't have a steamer basket, you can steam the carrots in a large skillet with ½-inch water for about 5 minutes.
Substitutions and Additions: I used Great Northern beans for this recipe, but you can sub other types of white beans or chickpeas if needed. Feel free to increase the amount of spices in the hummus for more of a kick. As I mentioned earlier, you can use other types of carrots for this recipe, too.
Serving: Serve with sliced carrots, pita chips, seed crackers (like my Homemade Seed and Kale Crackers), and/or sliced veggies. You can also use purple carrot hummus on veggie wraps or sandwiches.
Storage: Transfer the hummus to an airtight container and store in the fridge for 5 to 7 days.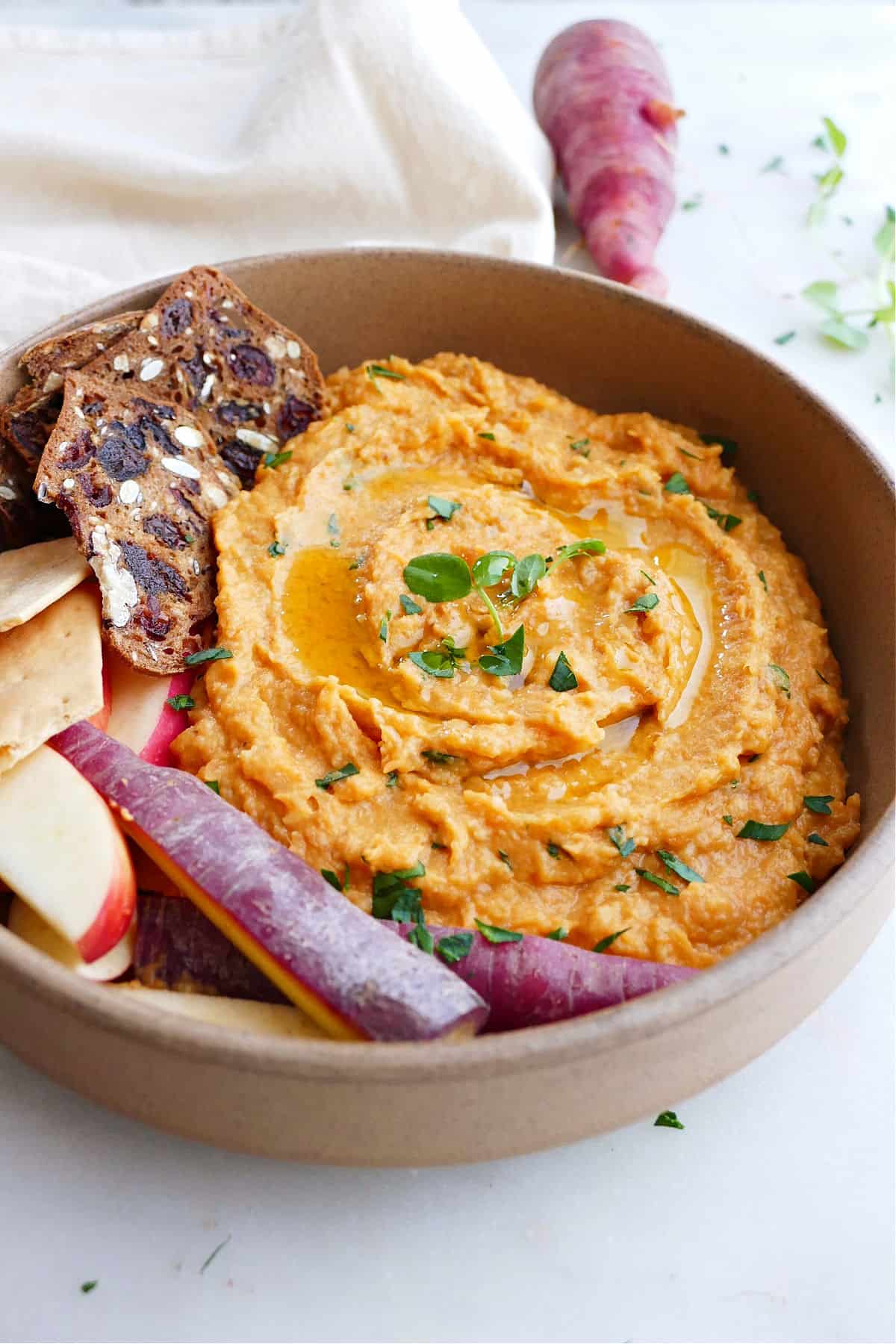 More Carrot Recipes
Love this purple carrot recipe? Check out the Carrot and Celery Soup with Thyme Pecan Crumble, Carrot and White Bean Vegan Blondies, or the Vegan Carrot Banana Muffins. If you have a lot of carrots on hand, check out my tips on How to Freeze Carrots to preserve them for later use.
I'd love to hear how you like this recipe! Rate/review using the stars on the recipe card or in the comments, and follow the Veg World on YouTube, Instagram, Facebook, and Pinterest. Looking for something totally different? Browse the recipe library.
📖 Recipe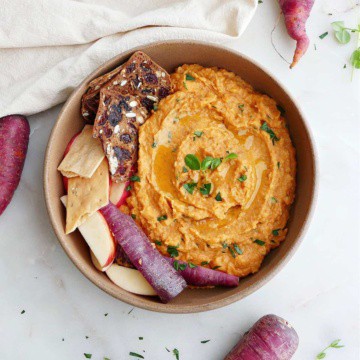 Purple Carrot Hummus Recipe
This creamy hummus recipe uses steamed purple carrots, white beans, dried apricots, and smoky spices. You can make it with any carrot variety!
Print
Pin
Rate
Save
Saved!
Equipment
Food processor or blender
Instructions
First, place the dried apricots in a bowl of very hot water so that they can soak for 15 minutes. Next, prepare the carrots for steaming. Wash them under cold running water, trim, and slice into ½-inch coins.

Fill a large pot with about 1 inch of water, bring to a boil, place a vegetable steamer in the pot, and add the carrots. Cover and cook for 7 to 9 minutes until fork tender. If you do not have a steamer basket, bring ½-inch of water to a boil in a skillet. Add the carrots, cover, and cook for about 5 minutes, then drain.

Add the steamed carrots, rinsed white beans, and soaked apricots (drain them first) to a blender or food processor. Then add the garlic, ground cumin and coriander, salt, and lemon juice. Begin to pulse/blend the mixture, slowly adding the olive oil through the hole at the top of your blender or food processor lid. Blend until the mixture is creamy and smooth, stopping to scrape down the sides as needed. Add more liquid (lemon juice, olive oil, or water) as needed to promote blending.

Serve the hummus with crackers, pita chips, apple slices, or sliced veggies. Enjoy!
Notes
Store the hummus in an airtight container in the fridge for up to 5-7 days.
Feel free to increase the amount of the spices for more of a kick.
As noted above, you can use any variety of carrots in this recipe.
Nutrition
Serving:
0.25
cup
|
Calories:
99
kcal
|
Carbohydrates:
12
g
|
Protein:
3
g
|
Fat:
5
g
|
Saturated Fat:
1
g
|
Sodium:
114
mg
|
Potassium:
237
mg
|
Fiber:
3
g
|
Sugar:
3
g
|
Vitamin A:
3684
IU
|
Vitamin C:
2
mg
|
Calcium:
32
mg
|
Iron:
1
mg
Enjoy this gorgeous recipe! – Lizzie