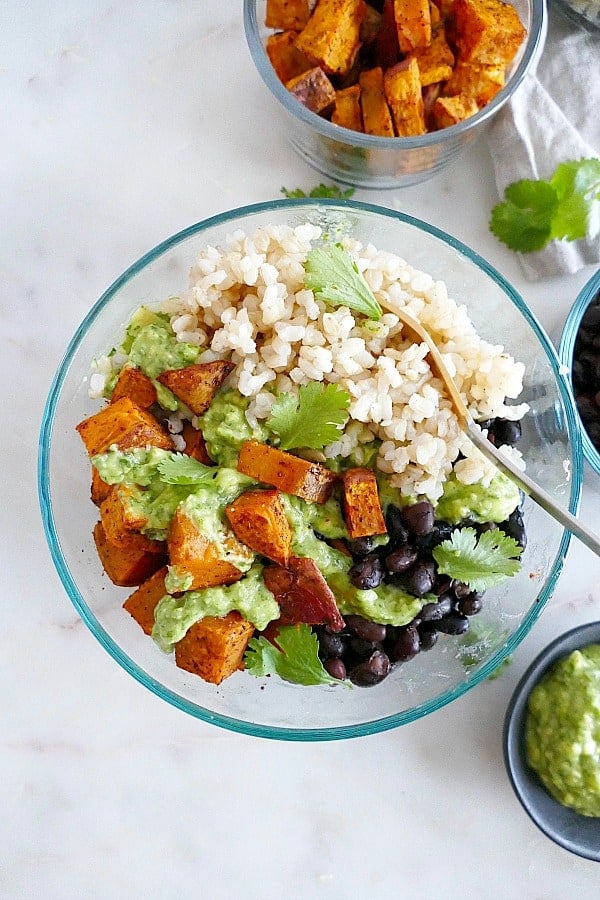 Meal prep can be a life changing practice.
…and you only need to devote a small amount of time each week to reap the benefits!
With meal prep, you can get back some precious time on weeknights when you'd rather be doing anything else but cooking. Plus, you'll have the option to choose nutritious meals over takeout or restaurant food, even on your busiest days.
As you can see, I'm a big advocate of meal prep. But I also understand how it can be intimidating. If you don't like to cook, or if you're new to preparing food, meal prep can seem like a foreign language or some type of complicated magic. There's good news though. I'm here to help you realize how easy meal prep can be, and how to figure out a routine that's good for you!
If you're new to meal prep or a beginner home chef, here's some advice:
Start small. Each week, focus on one meal or snack that you would like to prepare. For example, if you want to get in the habit of eating breakfast, make an easy recipe for this meal that can be stored in the fridge and reheated. (Check out my Healthy Breakfast Egg Muffins or Spiced Parsnip and Apple Baked Oatmeal).
And remember, meal prep is going to look different for everyone. If you don't like eating the same meals throughout the week, that's ok! You can try "component" or "buffet" meal prep. Start by preparing a couple different veggies, a protein or two, and a whole grain. Then make a few different sauces or dressings, so you can enjoy a variety of flavors without making tons of recipes.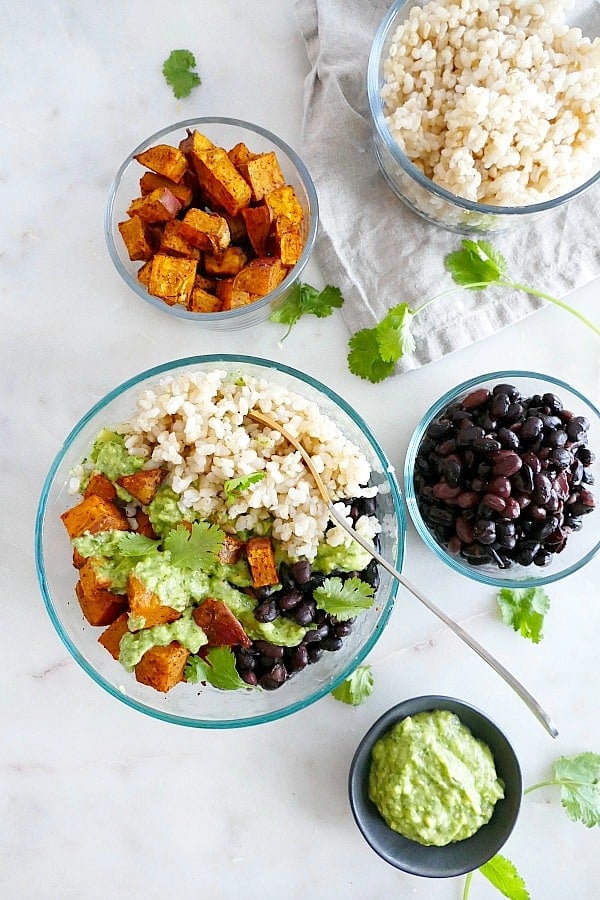 Ok ok, I digress. Here's what you need to know about this recipe!
Wherever you are in your meal prep journey, these Sweet Potato Black Bean Meal Prep Bowls are for you! They can be a great addition to a seasoned meal prep routine, or a gateway recipe to your new habits.
These bowls happen to be 100% vegan and have the most creamy, dreamy cilantro lime dressing. Plus, they're loaded with fiber from whole grain brown rice, black beans, and mighty sweet potatoes. With all that goodness, you'll feel energized and ready to power through your afternoon slump.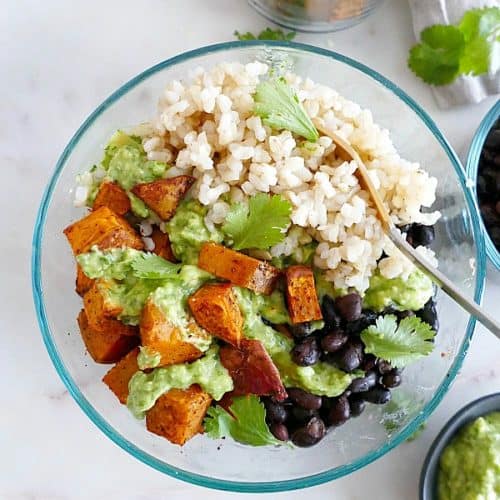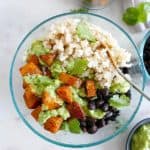 Sweet Potato Black Bean Meal Prep Bowls
These delicious meal prep bowls are 100% plant-based, loaded with nutritious sweet potatoes, and drizzled with a creamy cilantro lime dressing.
Ingredients
1

large sweet potato

1

tbsp

extra virgin olive oil

1/2

tsp

cumin

1/2

tsp

chili powder

1

cup

brown rice

cooked

2

cups

black beans

or one can, drained and rinsed
For the cilantro lime dressing:
1

avocado

1/2

cup

cilantro

1

tbsp

apple cider vinegar

2

tsp

lime juice

2

tbsp

extra virgin olive oil

1/8

tsp

sea salt
Instructions
Preheat the oven to 425 degrees F. Line a baking sheet with parchment paper. Dice the sweet potato and transfer to the baking sheet. Drizzle with olive oil, cumin, and chili powder. Bake for 25 to 30 minutes, or until tender.

While the sweet potatoes are baking, prepare the brown rice according to its package. You can use short grain or long grain brown rice, or even use frozen or minute rice to save time. Once cooked, set aside 1 cup for the bowls.

Prepare the dressing while the rice and potatoes are cooking. In a food processor or powerful blender, combine the avocado, cilantro, apple cider vinegar, olive oil, lime juice, and salt. Pulse until smooth and creamy.

Prepare the bowls by dividing the rice, potatoes, and black beans evenly into 4 containers. Drizzle each bowl with the cilantro lime dressing, or pack 4 small containers with the dressing. Store the bowls in the fridge for up to 4-5 days.
Pin these Sweet Potato Black Bean Meal Prep Bowls now to make later!


Happy meal prepping!
Lizzie