Satisfy your mid-morning or afternoon hunger with these nutritious and tasty vegetable snacks. Instead of reaching for chips or cookies, prep some of these snacks in advance to keep in the fridge for healthy weekday snacking!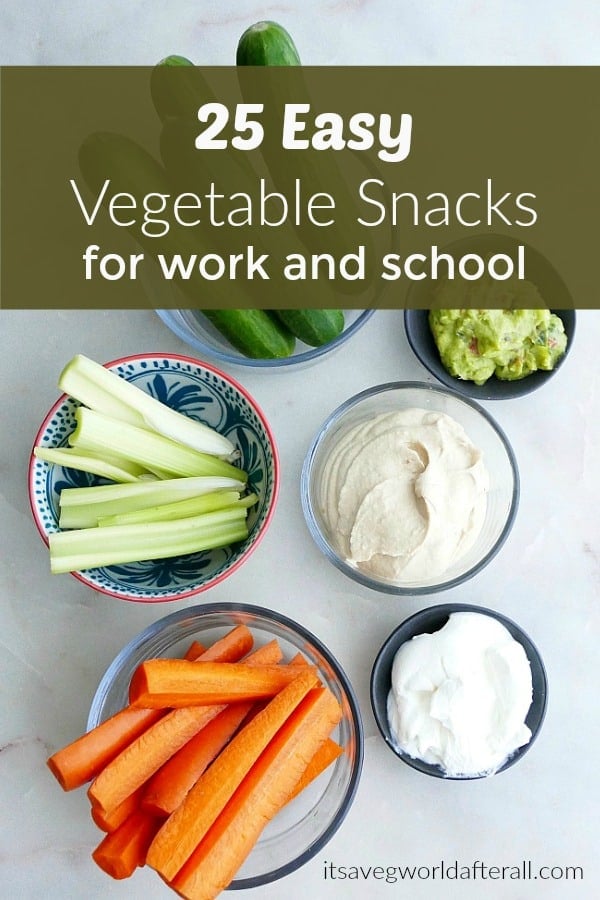 Snacks make the world go round. They can give you a boost of energy and break up your morning or afternoon at work or school.
But, like most things related to food, the type of snack you choose can make a huge difference in how you feel. You know the quick energy rush and subsequent crash that happens when you eat a candy bar or cookie?
That's fun for a while, until you feel hungry again an hour later and reach for more empty calories.
Vegetable snacks, on the other hand, are rich in fiber and complex carbs. And when you pair veggies with a protein or healthy fat, you'll feel full for hours, instead of minutes!
Read on to see my top 25 portable vegetable snacks for kids or adults, and work or school.
1 – Ants on a log
This classic snack is made with celery sticks, nut butter, and dried fruit. Try peanut, almond, or cashew butters, and raisins or dried cranberries. Whatever suits your fancy!
2 – Egg salad stuffed bell peppers
Stuffed peppers are a meal prep friendly snack that's easy to transport to (or even assemble at!) work. First, slice a bell pepper in half and remove the seeds. Next, combine a smashed hardboiled egg with mustard (or yogurt), salt, and pepper. Stuff the pepper halves and enjoy!
3 – Chopped veggies and hummus
Hummus is satisfying, delicious, and widely available. You can choose from several options at the store, or make your own at home with chickpeas, tahini, lemon juice, olive oil, and garlic.
For easy vegetable snacks to grab on your way to work or school, divide hummus into single-serve containers and pair with chopped veggies.
This recipe is incredibly easy to prep in advance! The next time you want some afternoon nosh, enjoy this flavorful chickpea salad stuffed into cucumber halves.
Veggies aren't just for dipping. They can also be blended into dips, like my Roasted Turnip Hummus. Serve this tasty condiment with Granny smith apples or chopped veggies.
6 – Sliced radishes and guacamole
You can make guacamole with avocado, red onion, garlic, tomato, and lime juice. Slice a few radishes to pair with guac for a satisfying snack. But remember, try to eat the guac within a few days to prevent browning.
7 – Broccoli and Greek yogurt dip
For a protein-packed snack, try Greek yogurt mixed with lemon juice, garlic powder, dill, salt, and pepper. Pack some raw broccoli florets to enjoy with this tasty dip.
8 – Cherry tomatoes and feta cubes
Tomatoes and feta go together like PB & J. Pack a handful of each in a small container for an afternoon snack, or make tiny toothpick skewers with these ingredients. Drizzle olive oil and balsamic on top, and voila!
Need your veggies on the go? Green smoothies are a fantastic vegetable snack option. This version uses frozen green peas, spinach, bananas, and fresh mint. Add a scoop of nut butter for some added protein.
A simple and delicious snack, these veggie-loaded skewers are lunchbox-friendly! You can prep them days in advance to eat all week long.
11 – Root vegetable chips
Baked veggie chips provide the same crunch as processed potato chips but with much more nutrition! You can make your own by slicing root vegetables with a mandoline or sharp knife, tossing in olive oil and sea salt, and baking at 375 degrees F for 20-25 minutes on lined cookie sheets.
12 – Kale chips
Cooking kale leaves at low temperatures transforms them into crispy chips. Roughly chop a head of kale, toss in olive oil, and spread out on several baking sheets. Make sure the kale doesn't overlap or touch. Bake for 20-25 minutes at 225 degrees F.
Applesauce is an underrated snack that's portable and delicious. And did you know that you can boost its nutrition with added veggies? This tasty and vibrant applesauce contains both beets and carrots.
Loaded with fiber-rich spinach, bananas, and oats, these green muffins are amazing vegetable snacks. They taste great alone or with a schmear of peanut butter.
15 – Bell peppers and mashed pea avocado dip
Get two veggies in one snack with this one. Make the dip by combining mashed avocado with fresh or frozen peas and lime or lemon juice. Divide into single-serve containers with sliced bell peppers.
Spice up your snack routine with these stuffed celery sticks. Buffalo chickpeas and bleu cheese are a match made in heaven. Plus, they're rich in fiber and protein to keep you satisfied all morning long.
The ultimate portable snack, these muffins are loved by kids and adults alike. They freeze well and can be made in large batches for easy snacking.
18 – Cucumber bites with cream cheese and smoked salmon
To make this filling snack, cut a cucumber into thick slices and spread cream cheese on each one. Top with a slice of smoked salmon and enjoy!
Another veggie-based dip for the win! Savory caramelized onions add rich flavor to this snack, while white beans contribute a punch of protein and fiber.
These healthy blondies also feature those versatile white beans. Make a few batches over the weekend to pack for yourself or your kids for lunch. But be careful…you won't be able to stop at one!
21 – Cauliflower with lemon tahini
Tahini, made from ground sesame seeds, is an excellent base for dressings. Whisk together tahini, lemon juice, salt, and pepper for a simple veggie dip, and pair with cauliflower florets for a healthy snack.
Granola is a classic companion to Greek yogurt, but have you ever tried a veggie-based granola? This recipe features two vegetables for an extra boost of nutrition.
23 – Popcorn
While popcorn is technically considered a whole grain, it still counts as a veggie in my book ;-)! Make your own with an air popper. Or you can add ⅓ cup popcorn kernels to a paper bag, fold it closed, and cook in the microwave for 2-3 minutes (or until the time between poppings is 1 second).
Make your own veggie juice to sip on the run. But remember to pair it with almonds, another type of nut, a hard boiled egg, or string cheese to make a more filling snack.
Want a cookie that tastes great but doesn't make you crash? Look no further! Prepare a batch of these sweet potato cookies to satisfy your sweet tooth.