Studded with shredded carrots and flecks of spinach, these healthy veggie chicken burgers are a great way to add extra vegetables, nutrients, and color to a meal! They're really flavorful and seasoned with things you likely already have in your pantry. Plus, they freeze well and are suitable for kids and toddlers. This easy main dish recipe is sure to become part of your regular dinner rotation!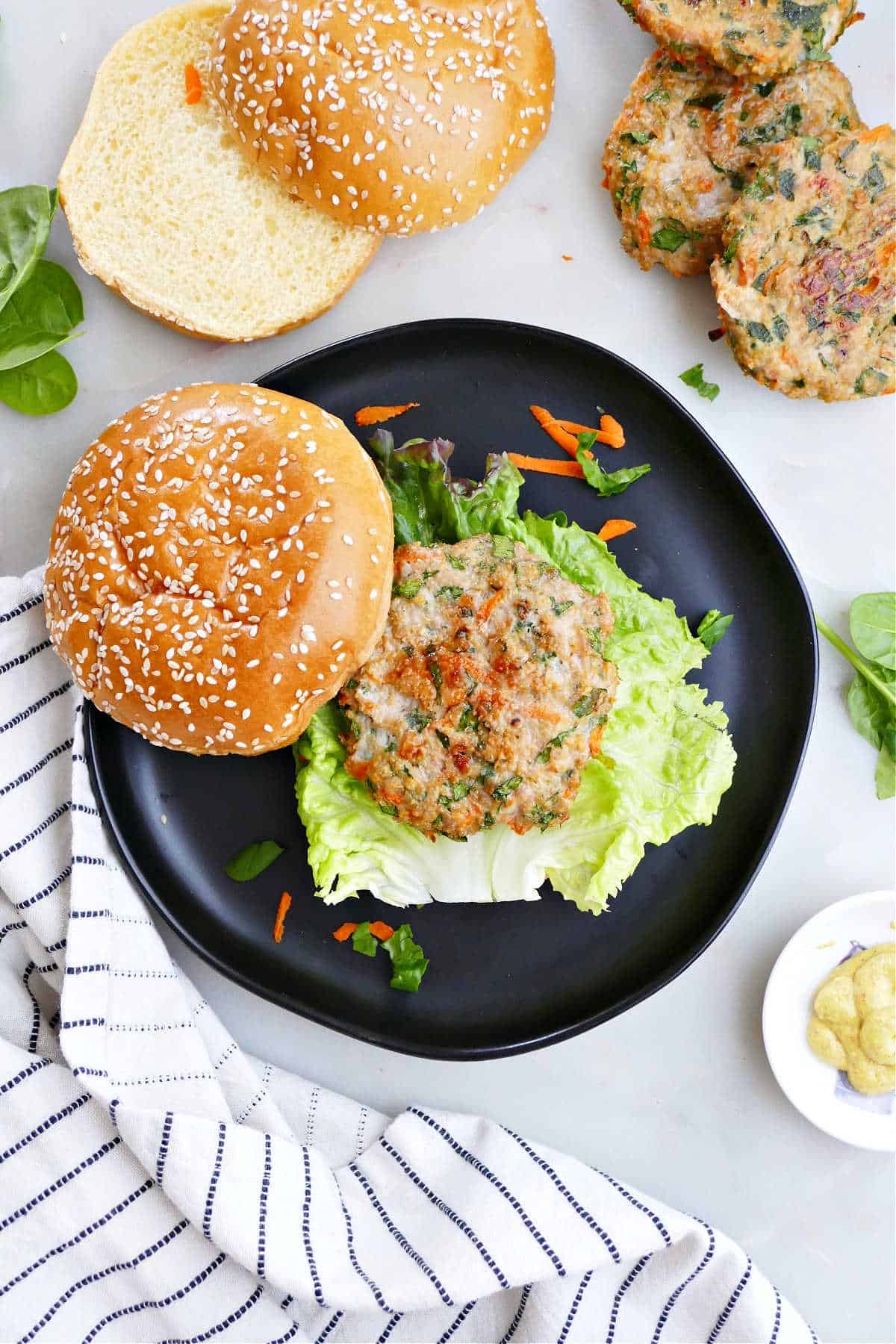 Burgers and summertime go hand in hand, especially if you like to grill! So, as the weather gets warmer, I've been experimenting with a recipe for veggie chicken burgers for all of you fellow vegetable lovers.
Since this is the Veg World (after all), I obviously had to use veggies in some way. My mind quickly went to using chicken as a base, since I figured it would pair well with most vegetables. Once I settled on chicken, I chose carrots and spinach as the other main ingredients, since they tend to be staples for a lot of people. Plus, spinach is always one of those veggies that's hard to use up before it goes bad!
Next, I came up with a seasoning blend that would provide the right kind of savory tastes you'd expect from a classic chicken patty. The end result is really, really tasty! My whole family LOVED these, especially my 1-year-old daughter. They're a great option for older kids, toddlers, and even baby led weaning with a few modifications.
If you love these burgers as much as we did, I highly recommend checking out the Spinach Chicken Meatballs. And remember to report back and leave a comment if you make this recipe!
Jump to: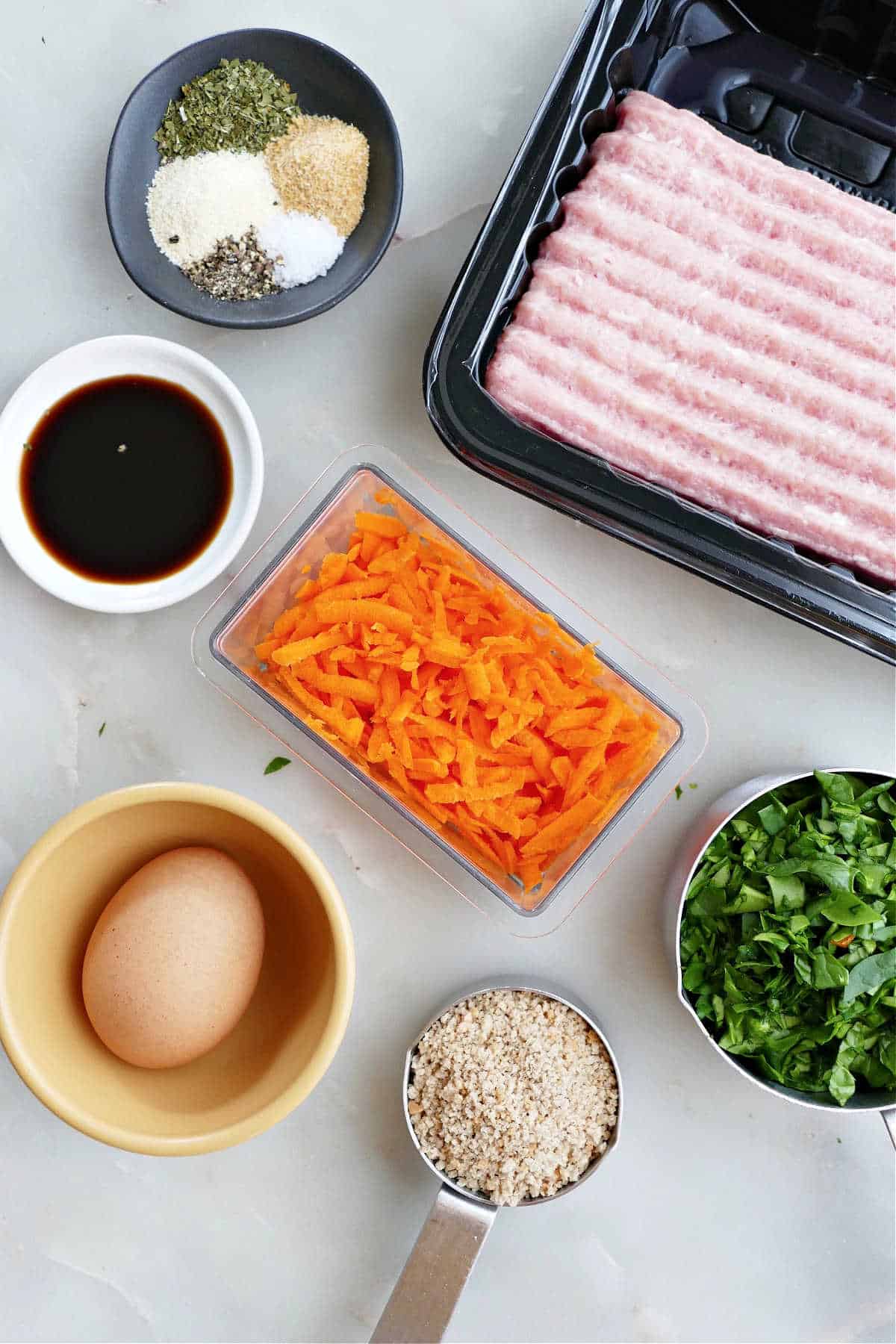 Ingredients and Substitutions
Ground chicken: Use a pound of ground chicken to yield 4 to 6 patties. You can easily double the recipe if you need more burgers.
Shredded carrots: I grated a large carrot with a cheese grater, but you can absolutely use pre-shredded carrots.
Spinach: Substitute arugula or kale if desired. You could use frozen spinach if you don't have fresh, but you will want to thaw it first and squeeze out as much water as possible.
Onion powder: Substitute 2 tablespoons of minced onion (fresh or dried) if you don't have powder.
Garlic powder: Use a clove of minced garlic in place of powder if you want.
Dried parsley: Substitute 1 to 2 tablespoons of fresh if you don't have dried.
Worcestershire sauce: You can substitute soy sauce if you don't have Worcestershire. Omit this ingredient for babies under 1 if desired (it can be high in salt and usually has added sugar).
Egg: Omit this if you don't have one on hand or can't eat eggs. They should still stick together well without it.
Breadcrumbs: I like to use Panko breadcrumbs when making veggie chicken burgers, but you can substitute other kinds.
Buns and toppings, as desired
Variations
If you want to substitute or add other vegetables to the patties, I recommend chopped bell peppers or shredded zucchini. If you decide to use shredded zucchini, squeeze it between paper towels to remove as much water as possible before adding it to the chicken mixture. You can also add cheese, such as crumbled feta. To ensure that the patties still stick together, don't exceed 2 and ½ cups total of added veggies or other fix-ins.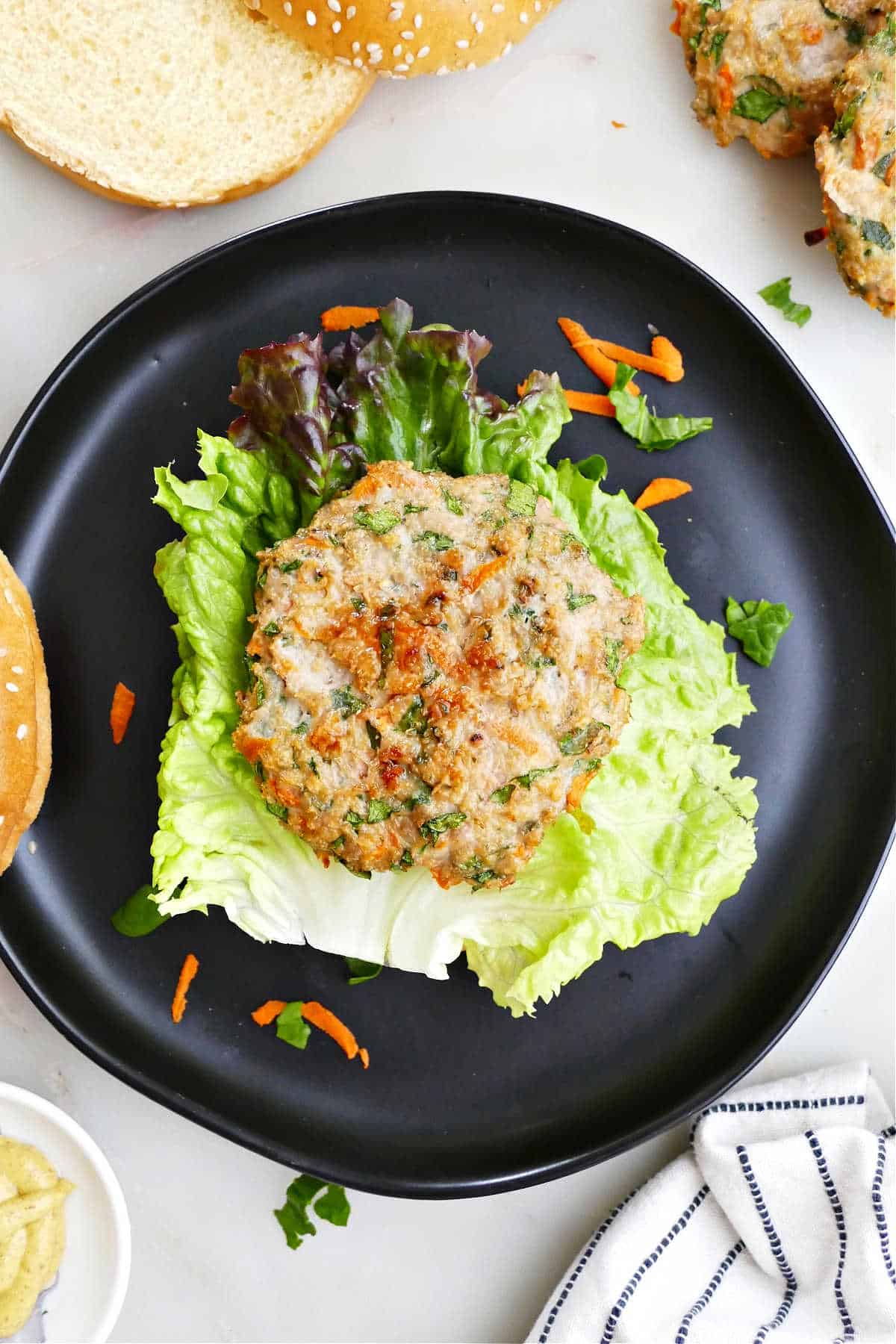 Instructions
Other Cooking Methods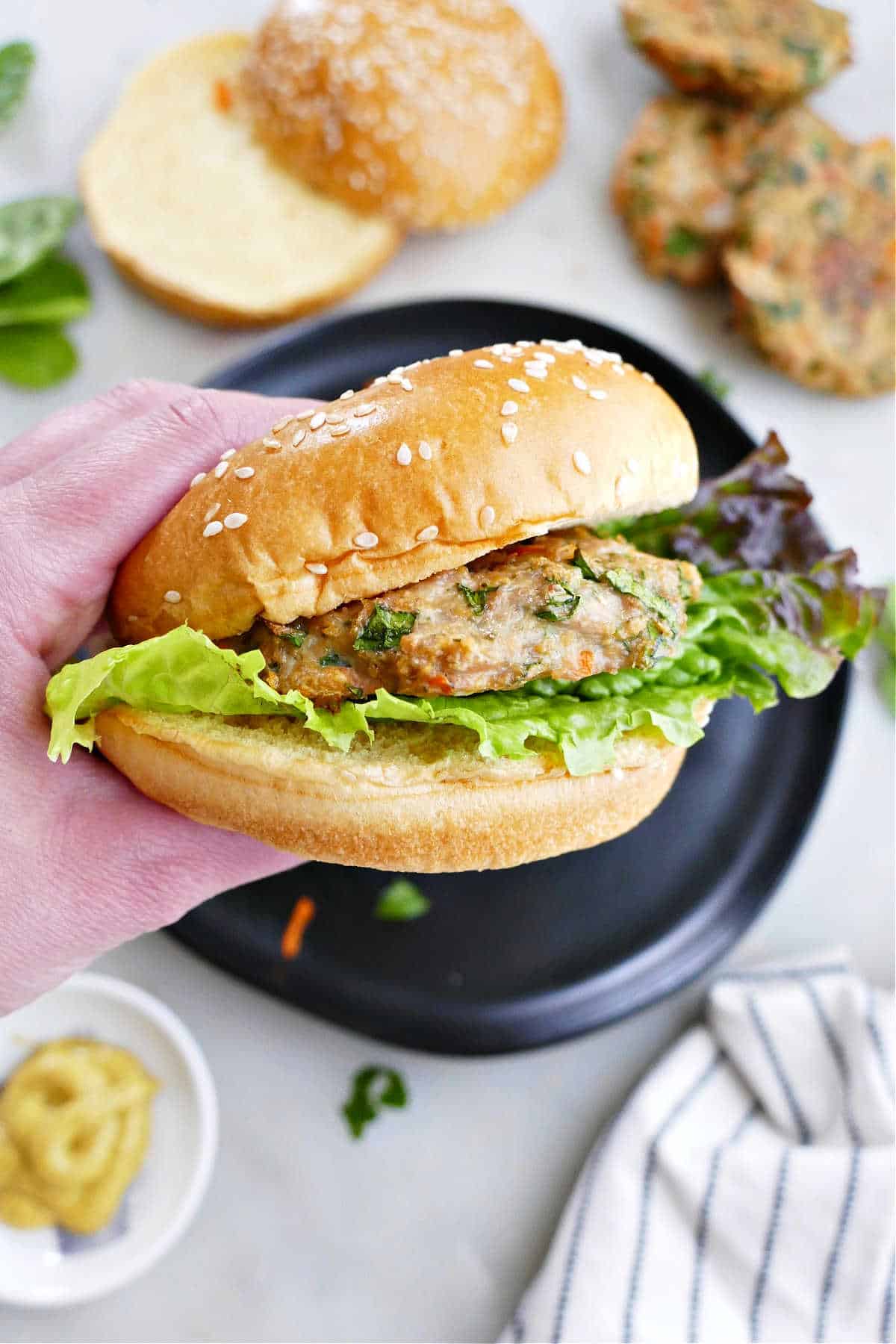 Storage and Reheating
Veggie chicken burgers keep well in the refrigerator for 3 to 5 days when stored in an airtight container. To reheat, warm some oil in a skillet over medium heat. Place the desired number of patties in the skillet. Cook for 4 to 5 minutes on each side until warmed through.
To freeze these burgers, cook them completely and let cool. Wrap each one in plastic wrap to prevent freezer burn, then place in a freezer-safe container or bag. Seal tightly, label, and keep in the freezer for up to 3 months. For best results, thaw the burgers in the fridge overnight before reheating in a skillet (using the method mentioned above). You can also reheat them from frozen in a skillet, but you will need to add a few more minutes of cooking time.
Serving
More Burger Recipes
I'd love to hear how you like this recipe! Rate/review using the stars on the recipe card or in the comments, and follow the Veg World on YouTube, Instagram, Facebook, and Pinterest. Looking for something totally different? Browse the recipe library.
📖 Recipe
Happy cooking! – Lizzie