Ever wonder what cooking oil you should use? This guide breaks down the pros and cons of popular oils to help you make informed choices about the healthiest cooking oil to use in the kitchen!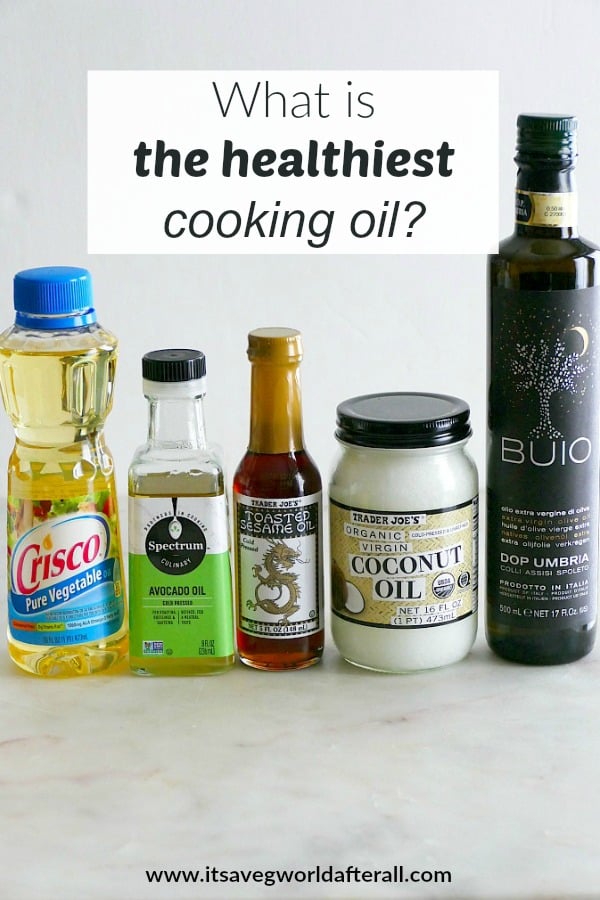 When it comes to healthy cooking and preparing vegetables, what kind of oil you use can make a big difference. Oils add flavor, help you absorb more nutrients from vegetables, and contribute to texture changes. They are one of the backbones of a healthy pantry and a major part of any home cook's repertoire.
But did you know that some cooking oils may be better than others, depending on how they're used?
This guide breaks down the science-based pros and cons of common cooking oils, and provides information on how to use them.
Cooking Oils 101
Oils continue to be a controversial topic in the nutrition world. While olive oil is well-established as one of the healthiest cooking oils, research on vegetable and coconut oils yields less solid results.
When it comes to choosing the healthiest cooking oil, it's important to know the oil's smoke point and consider how stable it is when heated. An oil's smoke point is the temperature at which it starts to break down, react with oxygen and form harmful compounds called free radicals. Consuming or breathing in vapors from oils that have been oxidized and cooked past their smoke point can be damaging to your health (1, 2, 3).
Extra-Virgin Olive Oil
As the name suggests, olive oil is made from pressed olives. High-quality olive oil has a fruity taste with a hint of herbs or pepper.
Pros: Olive oil is one of the most well-researched cooking oils. It is mostly made of monounsaturated fatty acids (MUFA), and contains compounds and antioxidants that may fight inflammation and boost heart health (4, 5).
Cons: It has a smoke point of around 375ºF, which is lower than most other oils. However, olive oil has been shown to resist oxidative damage even when heated to a high temperature (6). "Light" olive oils have higher smoke points, but are more processed.
How to Use: Appropriate for sautéing and roasting. Excellent for dips and dressings that are served cold. Look for oils in a dark glass bottle, since this prevents them from reacting with light, and labeled extra-virgin, which means they are the least processed. Store in a cool, dry place.
Veg World Pick: Click here to see one of my favorite, high-quality olive oil brands (affiliate link). And check out my Roasted Garlic Dipping Oil for a delicious way to use olive oil.
Coconut Oil
One day, coconut oil is amazing for you, and the next day, it's terrible. That's mainly because current research about coconut oil offers mixed results. That being said, using coconut oil in moderation, and not as your sole cooking oil, likely won't have terrible consequences.
Some experts claim that the high saturated fat content of coconut oil is dangerous for heart health, but other studies show that the fatty acids in coconut oil may actually provide health benefits (7, 8, 9).
So, it's truly a personal choice if you want to use coconut oil. If we look at coconut oil just from a cooking perspective, here's what we know.
Pros: Refined coconut oil has a fairly hight smoke point of 450ºF, whereas virgin coconut oil has a smoke point of 350ºF. It can add a desirable taste to recipes.
Cons: Aside from the mixed research on the health benefits or risks of this oil, some people may not like the subtle coconut taste it adds to foods.
How to Use: Both refined and virgin coconut oils can be used for sautéing and roasting, and substituted for butter or other oils in baking. Since they are more processed, refined coconut oils tend to have a less intense coconut flavor than virgin. Look for cold-pressed versions of these oils when shopping. Store in a cool, dry place.
Veg World Pick: Here's one of my favorite brands of coconut oil (affiliate link). To try your hand at using coconut oil in healthy baked goods, check out my Carrot Banana Breakfast Bread. Pro tip: always measure the coconut oil after you melt it for best results while baking.
Avocado Oil
Oil made from pressed avocados has become popular in recent years. Avocado oil is high in heart-healthy monounsaturated fatty acids and has compounds that act as antioxidants.
Pros: It has one of the highest smoke points, around 520ºF for refined versions and 480ºF for unrefined versions, making it an excellent oil for all types of cooking and frying. Avocado oil also has a fairly neutral taste.
Cons: Some may not like the taste of avocados and therefore dislike the subtle avocado aftertaste of the oil.
How to Use: Great for sautéing, roasting, frying, and grilling, even at high temperatures. Works well as a carrier oil for other flavors, herbs, and spices. Look for unrefined, cold-pressed versions. Store in a cool, dry place.
Veg World Pick: Check out my favorite avocado oil brand here (affiliate link). Avocado oil can be used in place of olive oil in most of my recipes, including my Savory Roasted Root Vegetables.
Sesame Oil
Sesame oil is made from pressed raw or toasted sesame seeds, and is commonly used to add flavor to Asian-style dishes. It is rich in antioxidants and unsaturated fatty acids.
Pros: It is one of the most flavorful oils. A little bit goes a long way!
Cons: It has a middle of the road smoke point ranging from 350ºF to 400ºF. Some may not like its strong taste.
How to Use: Ideal for Asian stir-fries. Can be used to add flavor to broths. Use cold-pressed versions, and store in the refrigerator for best results.
Veg World Pick: Here's my favorite type of sesame oil (affiliate link). For a unique way to use sesame oil, check out my Vegetarian Spaghetti Squash Ramen.
Vegetable Oils
Vegetable oils are highly processed oils made from seeds, such as rapeseed, canola, soybean, corn, sunflower, and safflower oils. They are often produced with chemical solvents.
Pros: Since they are so refined, they tend to have higher smoke points than other oils and can be used in high heat cooking and baking.
Cons: Most vegetable oils are high in omega-6 polyunsaturated fatty acids. While you need some omega-6, consuming too much may increase inflammation in the body and contribute to the development of diseases, but research is mixed (10, 11). In addition, the fats in vegetable oils may oxidize and form harmful compounds more easily than fats in other oils (12). Vegetable oils may also contain trans fats (13).
How to Use: Personally, I rarely use vegetable oils due to the controversial and mixed results regarding their health effects. However, from a cooking perspective, they are effective for high heat cooking or frying.
So, Which Cooking Oil Should You Use?
Olive oil and avocado oil are two of the healthiest cooking oils. While avocado oil is the most neutral-tasting and has the highest smoke point, olive oil is well known for its health benefits and appears to be stable in the majority of cooking scenarios. For sautéing, roasting, and making dressings, either olive or avocado oil would be a healthy choice.
Sesame oil is a great option for Asian dishes, while coconut oil can be a substitute for butter or vegetable oils in baking. You can also use coconut oil in moderation to add a different flavor to sautéed or roasted vegetables. Lastly, even though vegetable oils may be good for high heat cooking, they are more processed than other oils and may do more harm than good.
Overall, incorporating a variety of healthy oils in your cooking can help you spice up your recipes and get different beneficial nutrients!