Wondering what to bring to the farmers market this weekend? Don't forget to pack the essentials listed in this post for a stress-free trip!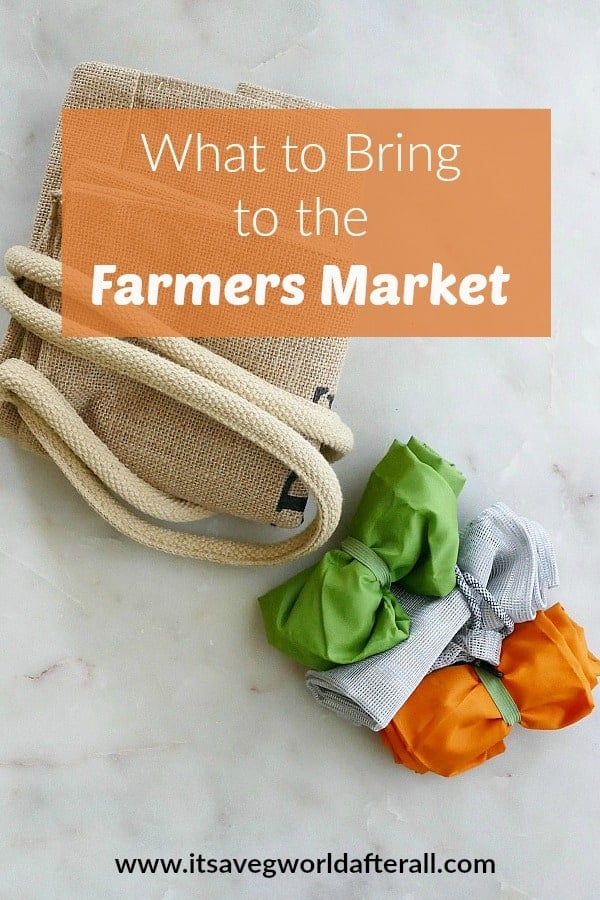 This post may contain affiliate links. For more information, see my affiliate disclosure.
Farmers market season is quite possibly the greatest time of the year. Fresh veggies, meats and cheeses, good coffee, and if you're lucky, a treat from the local bakery…what more do you need?!
But if you're new to the farmers market scene, it can be a little overwhelming. Luckily, there are a few easy things you can do to ease your stress and help you get the most out of the experience!
The first step in mastering the farmers market is having a general idea of what produce is in season and what vendors will be at the market. To figure that out, check out the info booth at your farmers market or use this online seasonal produce tool.
Knowing what's in store can also help you make a plan for the week using farmers market produce. I have a lot of tips on how to do this in my post on How to Make a Farmers Market Meal Plan.
Once you have an idea about what you might buy, make sure you bring the following essentials. They will help you navigate the market with ease and efficiently transport your goodies back home!
5 Essentials to Bring to the Farmers Market
1 – Large tote bags
Like for any trip to get groceries, you're going to need something to carry them!
I prefer large tote bags with a reinforced bottom, so that there's enough support and room for your fresh veggies. I like to get ones that are collapsible and can be folded for easy storage.
My absolute favorite tote bags are Apolis market bags. They have an inner lining that helps prevent the bag from getting stained or wet and can be easily cleaned.
2 – Reusable produce bags
If you're planning to get several different kinds of produce at the farmers market, you'll want to bring reusable produce bags to store your veggies separately.
I recommend the rePETe Produce Stand bags from ChicoBag for veggies like carrots, broccoli, celery, lettuce, cabbage, asparagus, and other veggies that are usually stored in the fridge.
For potatoes, garlic, onions, and apples, I prefer mesh produce bags.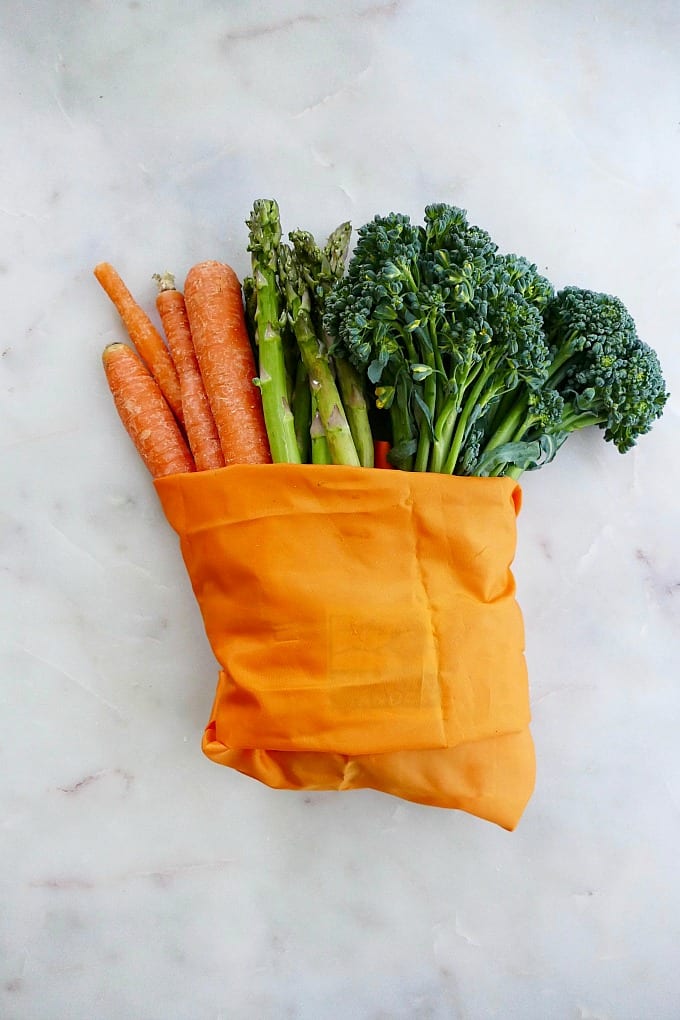 3 – Small bills
Most farmers will not accept credit cards and greatly appreciate small bills.
Depending on your market, you may be able to use a credit card to purchase tokens at the farmers market info booth that can be used at all of the stands. But to be safe, try to bring cash and small bills if you can!
4 – Water bottle or reusable cup
Since farmers market season spans through the summer, the weather can be very hot and humid.
Remember to bring a water bottle so that you don't get thirsty and tired as you shop. And if you know there are vendors that serve coffee or other cold drinks, pack a reusable cup so that you can enjoy a drink while you shop.
I love my Contigo stainless steel water bottle for farmers market trips…it keeps my water so cold!
5 – A cooler
Finally, you might want to bring a small cooler on wheels to the market, especially if you want to purchase meats, cheeses, or eggs.
This will help you transport your food safely back home, without worrying about it spoiling on a hot summer day.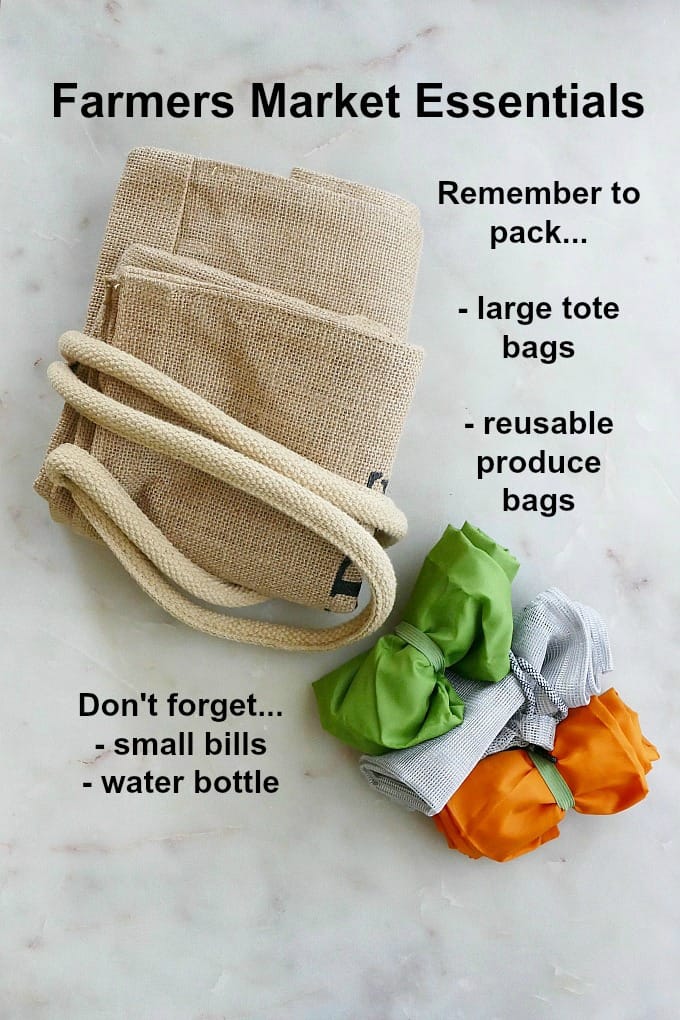 What else do you like to bring to the farmers market?! I'd love to know in the comments below!
Once you stock up on your farmers market veggies, be sure to check out the recipe library for easy ways to use your produce. You may also like my tips on preserving summer vegetables for winter!
Enjoy your fresh veggies,
Lizzie