These perfectly blistered shishito peppers are seasoned with sea salt and cooked in a cast iron skillet. They make a delicious 10 minute side dish for busy nights. Warning: they are highly addictive!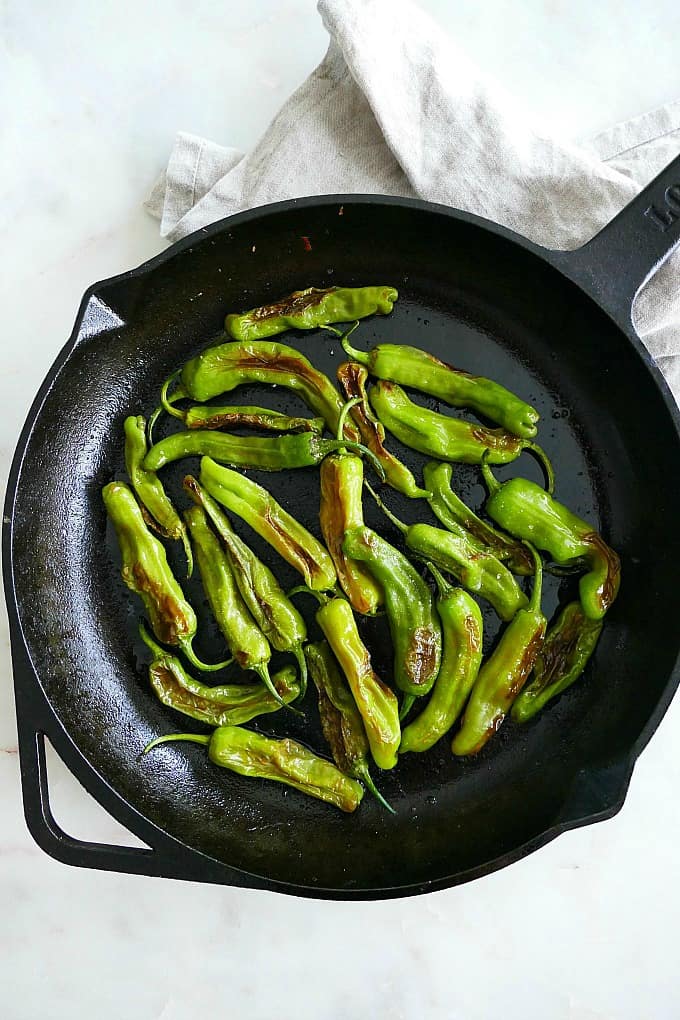 This post may contain affiliate links. For more information, see my affiliate disclosure.
I wasn't going to post this recipe for 10 Minute Cast Iron Blistered Shishito Peppers. But after I saw how many people loved the recipe on my Instagram post, I figured I'd add it to the blog!
You know those questions, "what food would you bring to a desert island if you could only bring one?" or "what would be your last meal?" Well, friends, my answer might be this recipe! These blistered peppers are the real deal.
With only 10 minutes of prep time, they're pretty much the easiest side dish ever. Serve them with a source of protein and complex carbohydrates, and you'll have a balanced meal. I especially enjoy shishito peppers alongside my BBQ Lentils with Shredded Carrots and Bell Pepper and Cheddar Savory Muffins!
But first, let's chat about the star ingredient in this recipe. If you're not familiar with shishito peppers, they are an Asian variety of chili peppers. They're small, slender, bright green, and super cute! I rounded up some FAQ about these peppers for you below…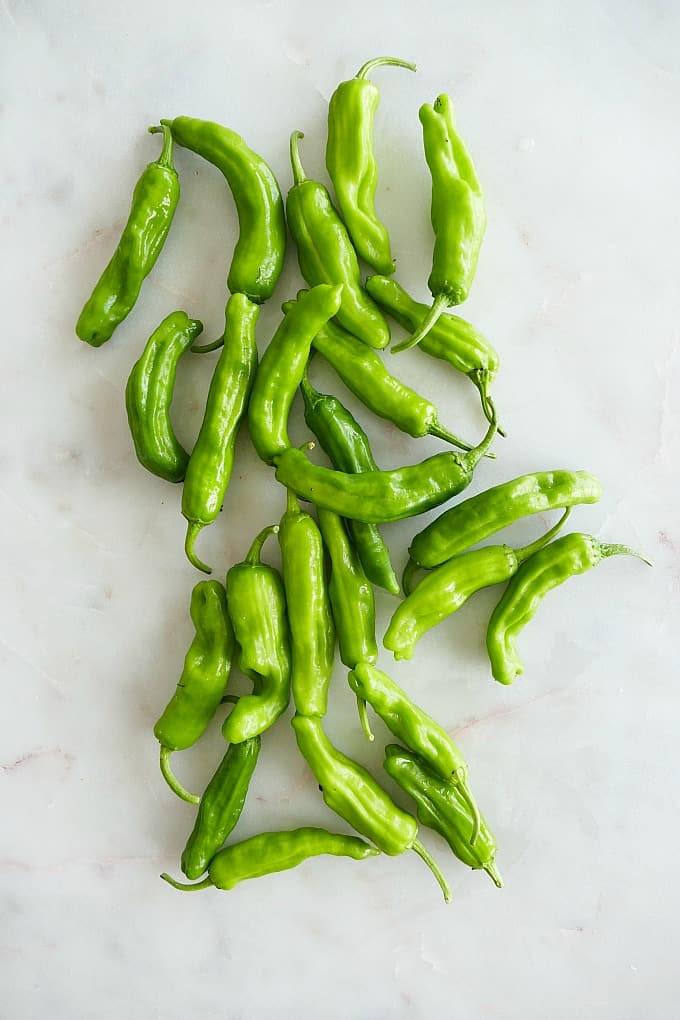 Are they hot?
Not usually. Their flavor is delicate and sweet with just the tiniest hint of smokiness. Sometimes, one or two peppers in a bunch may be hotter than others, but this has only happened to me a couple of times!
Shishito peppers can be eaten raw or cooked, and I tend to eat the whole darn thing at once (except for the tops).
Are they healthy?
Shishito peppers are low in calories, and rich in fiber and vitamins A and C. They're a great addition to a healthy diet and a fun way to mix up your veggie intake.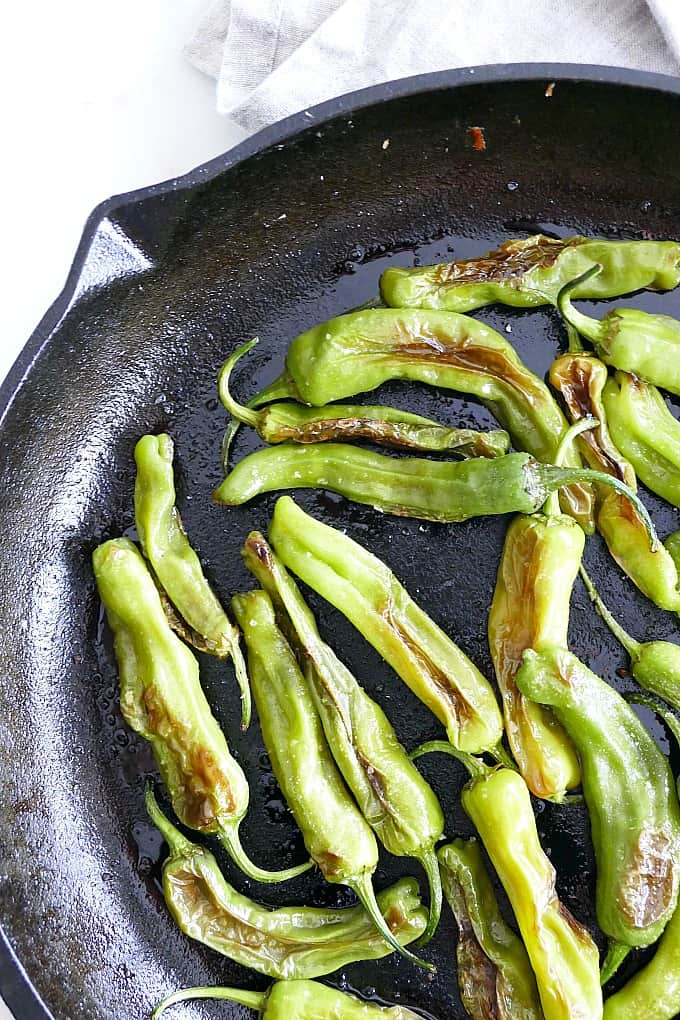 Where to Buy and How to Cook Shishito Peppers
In some areas, they're available all year round, and Trader Joe's tends to keep them in stock. However, their peak season is late summer and early fall. Farmers markets can be overflowing with them during that time of year!
Cooking shishito peppers is an incredibly easy process. Since they're so tasty and delicately sweet, they don't need much else! In fact, this shishito peppers recipe only has 3 ingredients.
Seasonings that would work well with them include sea salt, lemon juice, cumin, paprika, garlic, or red pepper flakes. I prefer to keep it simple with just sea salt and olive oil to bring out the natural flavors, but I'd love to hear what spices you like to use!
You can cook shishito peppers in a skillet on the stovetop, on the grill, or in the oven. I like to use a cast iron skillet (hence the name, Cast Iron Blistered Shishito Peppers) since it can get incredibly hot and help with the blistering process.
So, there you have it. If you find shishito peppers at your next trip to the farmers market, you NEED to give them a try! Who knows, this might become your desert island meal too! For other pepper-based recipes, check out the Best Easy Roasted Red Peppers, Creamy Jalapeno Sauce, Tarragon Roasted Summer Vegetables, and Roasted Red Pepper Pasta Sauce.
If you make this recipe, be sure to rate and review it in the comments below, and don't forget to tag @its_a_vegworld_afterall on Instagram! Looking for something totally different? Browse the recipe library.
📖 Recipe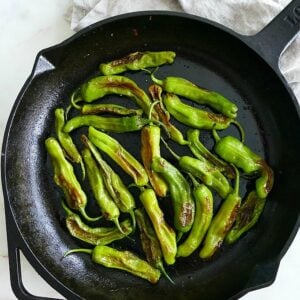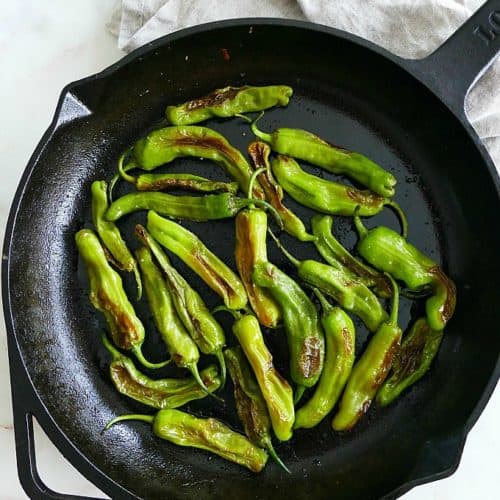 10 Minute Cast Iron Blistered Shishito Peppers
A simple recipe that's loaded with delicious flavor and has only three ingredients!
Print
Pin
Rate
Save
Saved!
Instructions
Wash and dry shishito peppers. Heat the olive oil in a cast iron skillet over medium high heat.

Add the shishito peppers and cook until blistered, about 10 minutes, flipping them halfway. Decrease heat as needed to promote even cooking and prevent burning. Add sea salt to taste before serving, and enjoy!
Notes
I like to use coarse or flaky sea salt for maximum flavor.
Other seasoning ideas include lemon juice, cumin, paprika, garlic, or red pepper flakes.
Nutrition
Serving:
1
serving
|
Calories:
92
kcal
|
Carbohydrates:
7
g
|
Protein:
1
g
|
Fat:
7
g
|
Saturated Fat:
1
g
|
Sodium:
295
mg
|
Potassium:
261
mg
|
Fiber:
3
g
|
Sugar:
4
g
|
Vitamin A:
551
IU
|
Vitamin C:
120
mg
|
Calcium:
15
mg
|
Iron:
1
mg
Happy pepper eating! – Lizzie