Want to mimic a restaurant experience at your own table? From serving-ware and napkin recommendations to menu inspiration, learn everything you need to know about fine dining at home.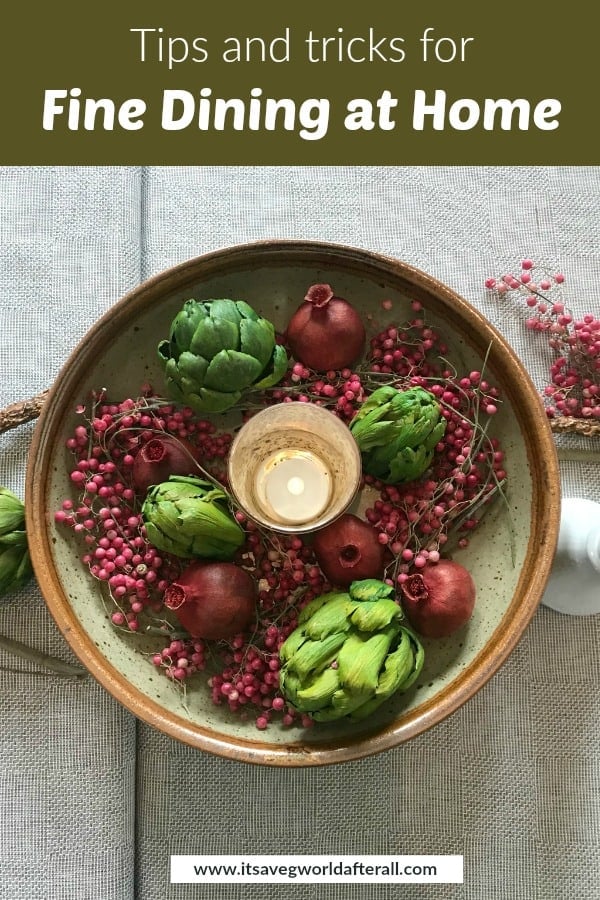 This post may contain affiliate links. For more information, see my affiliate disclosure.
Going out to eat at a nice restaurant is not just a culinary experience. Sure, you may want to try the chef's famous dish or satisfy your craving for a particular meal that's on the menu. But how many of us also visit restaurants for the ambience?
Whether or not it's at the forefront of your mind when you make a reservation, a restaurant's atmosphere makes a huge impact on a diner's experience.
Take a moment to think about why you love certain dining establishments. Is it the classical music that plays in the background while you eat, the candles on the table, or the red checkered tablecloths?
The best restaurants are those that create a complete gastronomic experience for their customers, one that provokes emotion and delights all of the senses.
At this point in time, so many of us are stuck at home and our favorite restaurants are closed. The days are running together, and it's hard to separate weekends from work days. So why not find ways to mimic fine dining at home?
My mom proposed the idea for this blog post while we chatted on the phone yesterday. She's been setting the table with her favorite thick linen napkins for both homemade and take-out dinners. This simple act has elevated her at-home dining experiences. So, thank you mom, for inspiring us!
How to Create Fine Dining at Home
Plan a gourmet, but feasible, menu. Look for recipes for homemade versions of dishes that you get at your favorite restaurant, or plan a four course meal with an appetizer, salad, main dish, and dessert. If you're an experienced home cook, challenge yourself to make a more difficult dish, like homemade pasta. If you're not as comfortable in the kitchen, choose recipes that have basic ingredients but still feel fancy, like my One Pan Lemon Artichoke Chicken and Roasted Turnips with Rosemary Honey Butter.
Use a linen tablecloths and napkins. Set your table in a way that clearly sets it apart from how it looks every other day. I love using linen tablecloths and patterned napkins that I typically reserve for Thanksgiving or Christmas. This gray tablecloth is one of my favorites and gets a lot of use in our house.
Dust off your wedding china or "nice" serving-ware. Chances are your nice plates are just gathering dust at the moment, so why not use them for a nice dinner? It's a simple thing that can really change the experience.
Make a centerpiece. As someone who loves entertaining, I especially enjoy making centerpieces. I like to use dried or fresh flowers and greens, candle votives, and small vases. If that doesn't float your boat, remember that centerpieces can be as simple as you want them to be. Putting some flowers in a vase with a few tea candles around it is an easy way to boost the elegance factor.
Light candles and adjust the lighting. Fine dining at home is simply not complete without candles. You can use your favorite candlesticks, tea candles, or reusable LED ones. Light the candles before you sit down to eat, and remember to dim the lighting if you can. I really like these Woodfire Candles that sound just like a crackling wood fire.
Add the little "touches" from your favorite restaurant. If you especially enjoy how a restaurant keeps oil and vinegar or a salt cellar at the table, do the same at your table. Love how the servers offer freshly grated parmesan cheese? Place a block of cheese and a grater on the table for your meal at home. Finally, create a playlist that sounds similar to the one at your favorite restaurant if that's what you enjoy about it.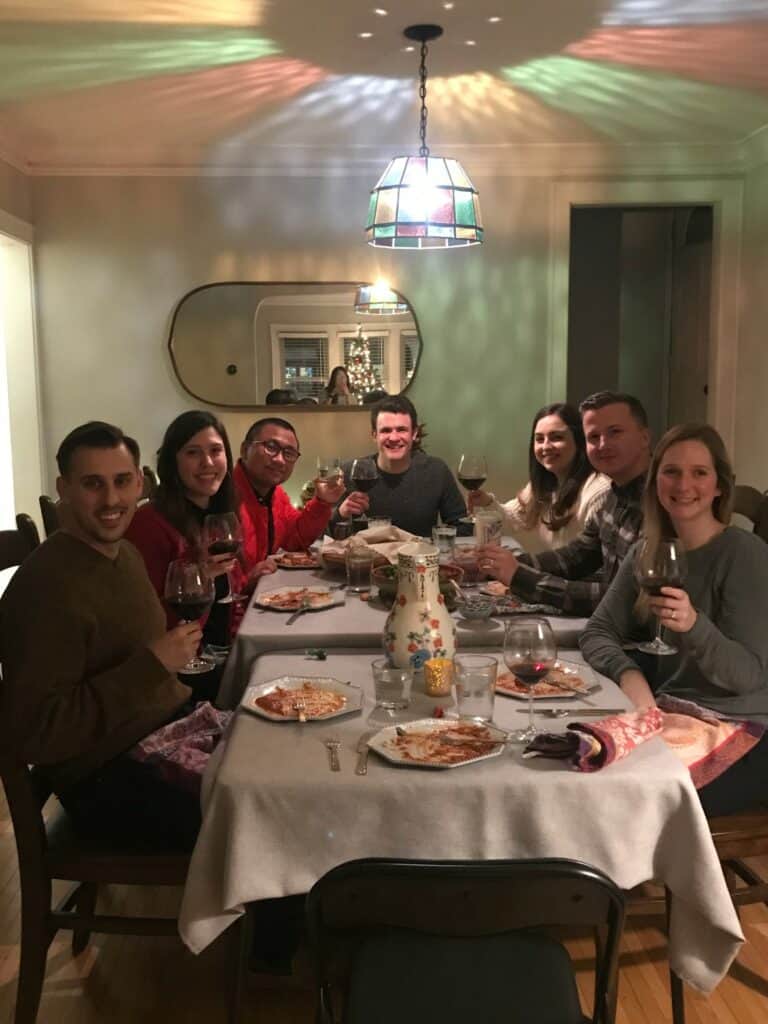 These tips can help you create a wonderful ambience and take your home-cooked meals to a new level. But keep in mind that you can implement fine dining at home for a take-out meal too! If you're able to support your favorite restaurants by ordering a meal during this time, that's fantastic…and you can take a night off of cooking.
Finally, my tips don't just apply to fine dining. Some of our favorite restaurants and bars are more divey than they are elegant. To mimic the vibe of these spots, we'd ditch the tablecloth, change the playlist, and pour our beers in a pitcher instead. There are options for whatever type of experience you want to create!
Have any other tips or tricks for fine dining at home? I'd love to hear what you're doing right now! Let me know in the comments.
Happy eating! – Lizzie