Last Updated on
Please the vegetable lovers in your life with a veggie-centric gift! From kitchen gadgets to non-kitchen essentials, this Holiday Gift Guide for the Vegetable Lover has something for every budget and style.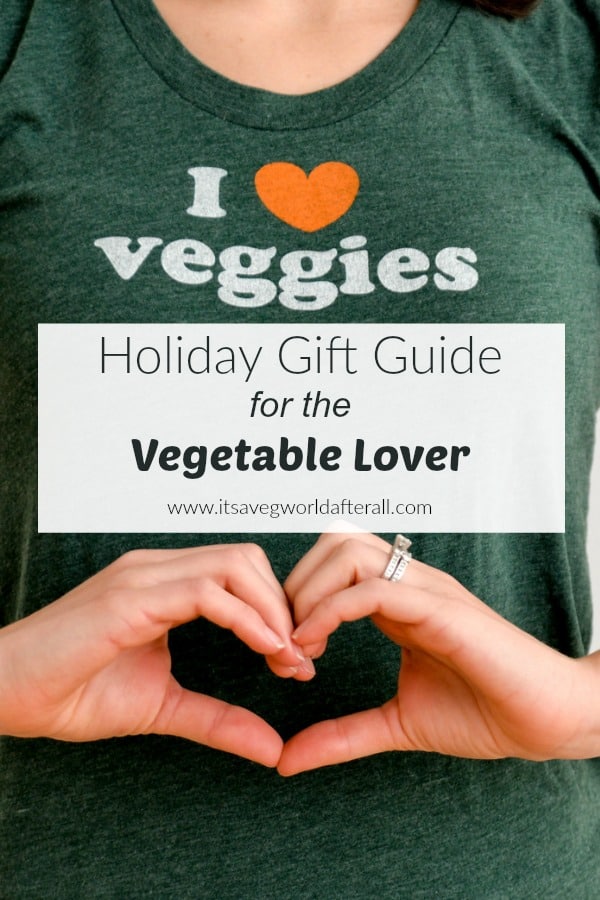 Happy December, veggie enthusiasts!
This is an exciting holiday season for the Veg World! For one, I'll be running my first ever "12 Days of Vegmas" starting on Monday 12/11 through Friday 12/21. Yes, that's right, I'm giving you 12 of my BEST veggie recipes during this Vegmas celebration. I can hardly wait to get started.
Plus, this is the first year that I'm posting a holiday gift guide! So many of you have asked me for recommendations on my favorite kitchen gadgets and products over the past few months. I figured it was time to compile some of my absolute favs. Whether you use this guide to purchase a gift for yourself or to get gift ideas for fellow vegetable lovers, I hope that you find it helpful!
My Holiday Gift Guide for the Vegetable Lover is broken down into two categories: Kitchen Necessities and Non-Kitchen Essentials. Under each of these categories, I identify which gifts cost less than $20, less than $50, or more than $100 (there are only a few of those!).
All of these gifts have one thing in common: they help people cook, eat, celebrate, or learn more about veggies. I have personally used all of these products, and the Veg World wouldn't exist without most of them! Enjoy!
Kitchen Necessities
Under $20: 
(These would all be great stocking stuffers!)
For scrubbing your veggies clean: Fruit & Veggie Brush
For easily prepping herbs to season vegetables: Herb Stripper

For those who LOVE garlic but hate prepping it: Garlic Press
For whipping up citrus salad dressings: Citrus Squeezer
For peeling or shaving vegetables: Swivel Peeler


Under $50:
For spiralizing vegetables: 5-Blade Spiralizer
For making the perfect veggie slices: Oxo Good Grips Mandoline
For the everyday cook: Lodge Cast Iron Skillet
For the meal prepper: Pyrex Glass Storage Set

For the soup fanatic: Immersion Blender
For sautéing, roasting, and dressing veggies: Sicilian Extra Virgin Olive Oil
Over $100
For making a veggie-filled morning smoothie: NutriBullet


For juicing vegetables: Breville RM-JE98XL Juicer
For making dips, sauces, soups, and more: Vitamix E310

Non-Kitchen Essentials
Under $20:
For sprucing up your laptop: Fruit Laptop Decals or Powered by Plants Decal
For keeping your cooking hands smooth: Day Hand Lotion
For meal planning: The 52-Week Meal Planner (by a fellow RD!)
For learning more about cooking, food systems, and nutrition: Michael Pollan's Cooked, Beth Dooley's In Winter's Kitchen, and Catherine Shanahan's Deep Nutrition
To keep your home smelling great, even when there's nothing in the oven: Essential Oil Diffuser

Want a recommendation for something you don't see on here? Leave a comment and I'll add it to the list! And remember, telling your fellow veggie lovers about the Veg World counts as a gift too ;-)!!!
Happy gift-giving!
Lizzie
Please note that this post contains affiliate links. If you purchase items using these links, I will receive a small compensation. Thank you supporting the programs that make the Veg World possible!