Please the vegetable lovers in your life with a veggie-centric gift! From kitchen gadgets to non-kitchen essentials, this Holiday Gift Guide for the Vegetable Lover has something for every budget and style.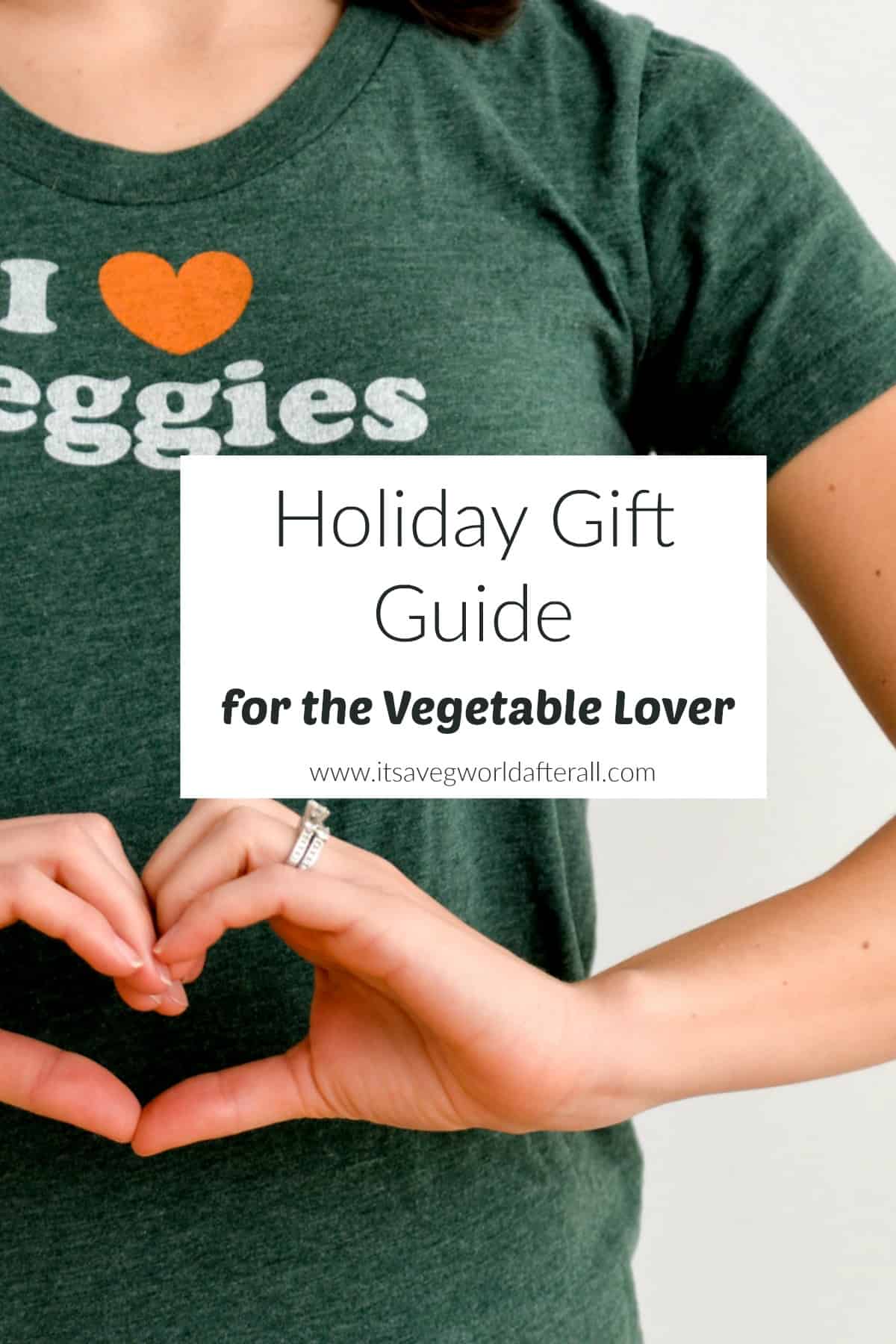 This post contains affiliate links. For more information, see my affiliate disclosure.
Happy December, veggie enthusiasts!
I'm so excited to share my updated gift guide for the 2020 holiday season. Whether you use it to purchase a gift for yourself or to get gift ideas for fellow vegetable lovers, I hope that you find it helpful!
This Holiday Gift Guide for the Vegetable Lover is broken down into two categories: Kitchen Essentials and Non-Kitchen Essentials. For the kitchen essentials, I identify which gifts cost less than $20, less than $50, and over $50 and above.
All of these gifts have one thing in common: they help people cook, eat, celebrate, or learn more about veggies.
In the past few holiday seasons, I have picked gifts for my family and friends that support a hobby or passion and facilitate an experience. To me, nurturing or inspiring someone's interest in cooking is truly the best gift of all…for both the body and the mind.
So without further adieu, let's get to the guide. I have personally used most of these products, and the Veg World wouldn't exist without a lot of them. Enjoy!
PS – This year, I'm encouraging my readers to contribute to the Veg World group donation to Feeding America. Scroll to the bottom of this post for more details.
Kitchen Essentials
I found myself coming back to these essentials time and time again throughout 2020. This year brought many challenges, and I turned to cooking to relieve stress and bring excitement the our new mundane life at home.
I used my swivel peeler, garlic press, immersion blender, and Dutch oven constantly, and I was reminded how important it is to have a high quality set of Shun knives in the kitchen. This gallery includes all of my top tools from the past year, my most-used ingredient (flaky sea salt), the new under-lighting I added to our kitchen (you won't believe how affordable it is!), and of course…my COOKBOOK!

Under $20
Under $50
Over $50
Non-Kitchen Essentials
Like all of you, we spent so much time at home this year! Here are a handful of my everyday essentials that make hunkering down comfortable and cozy.
You'll see my favorite slippers that have enough support for me to wear them all day in the kitchen and my favorite vest that can hold my recipe notes and cell phone in the pockets. I also included my wireless headphones that have made it so easy to listen to my favorite podcasts while cooking, and a few other cozy things for good measure.

Want a recommendation for something you don't see on here? Leave a comment and I'll add it to the list! And remember, telling your fellow veggie lovers about the Veg World counts as a gift too.
Veg World Gives Back
This year, I'd like to invite my readers to contribute to the Veg World group donation for Feeding America. Over 54 million Americans are at risk of facing hunger, and this food insecurity crisis has only become worse during the pandemic. I will be matching the contributions of my readers up to $250. Please consider donating at this link! When you make a donation, you will be entered into a drawing to win a signed copy of my cookbook. If you have any questions about this initiative, please email me at [email protected]
Happy gift-giving! – Lizzie