Walk through my new kitchen with me in this sponsored post, made possible by our realtor Brian Gallagher of the Matt Engen Group.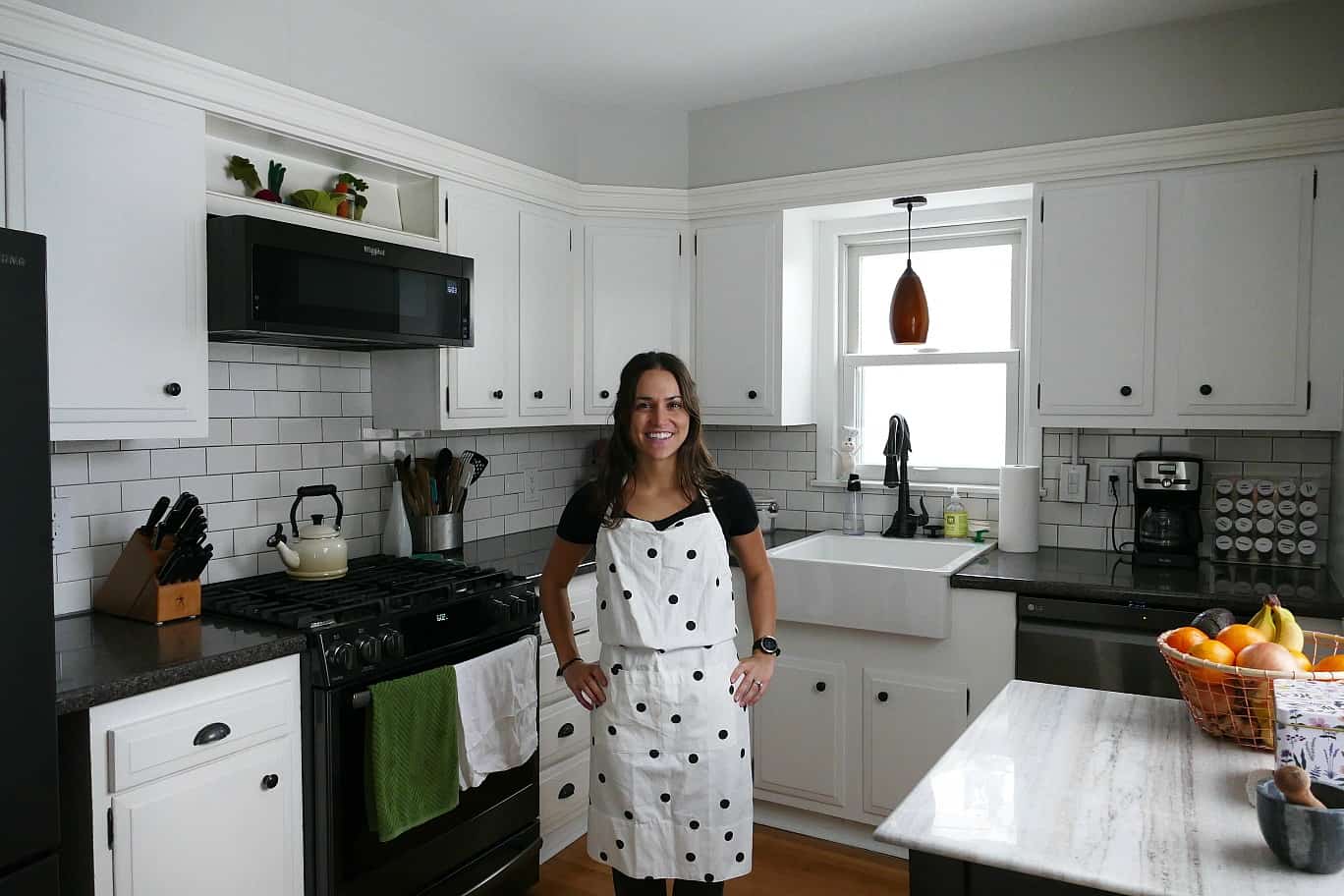 Please note that while this post was sponsored, all opinions are my own. For more information, see my sponsored post policy.
After years of creating Veg World recipes in apartment kitchens, I am beyond pumped about the kitchen in our new home! Seriously guys, I feel like I graduated to the big leagues. I'm so excited to share the ins and outs of our new kitchen with you in this post!
The House Hunt
For those of you who don't know, Will and I just moved to our first ever house after a long and tiring process of searching for homes that lasted…one week. Wait, what?
Yeah, you read that correctly. We had just started our home buying process when we happened to fall head over heels in love with a home that just went on the market. Sometimes that's just how it happens, ya know?
Here's how it all went down. On a Monday in early January, we met with Brian Gallagher, a realtor who came highly recommended from two of our best friends in Minneapolis. As soon as we sat down with Brian to chat over some happy hour beers, I knew we were going to have an excellent experience with him.
For one, Brian has years (18!) of experience as a realtor in the Twin Cities market. He also has loads of experience with first-time home buyers. For someone like me who didn't even know what a "house closing" was, this was very important!
After meeting with Brian for just a couple hours, Will and I knew exactly what we needed to do to make the home buying process go as smoothly as possible. Brian considered all of things that we wanted in our first home, and set us up with an online account where he could flag homes we might like to see. Soon enough, a charming South Minneapolis bungalow that checked all of our boxes popped up on our radar.
Brian promptly responded to our request to go see the house (along with a few others) that weekend, and by Sunday night, he had submitted an offer on our behalf. How's that for amazing customer service?!
Seriously though, without Brian's prompt actions and expert advice, I doubt we would have gotten the home! He thoroughly explained all of the next steps, made sure we got the best deal possible, and responded to every single one of our questions. Closing was a breeze!
So for my Minneapolis/St. Paul readers out there, if you're looking for a home, don't hesitate to give Brian a ring. And make sure to check out all of the other amazing reviews he has on Zillow!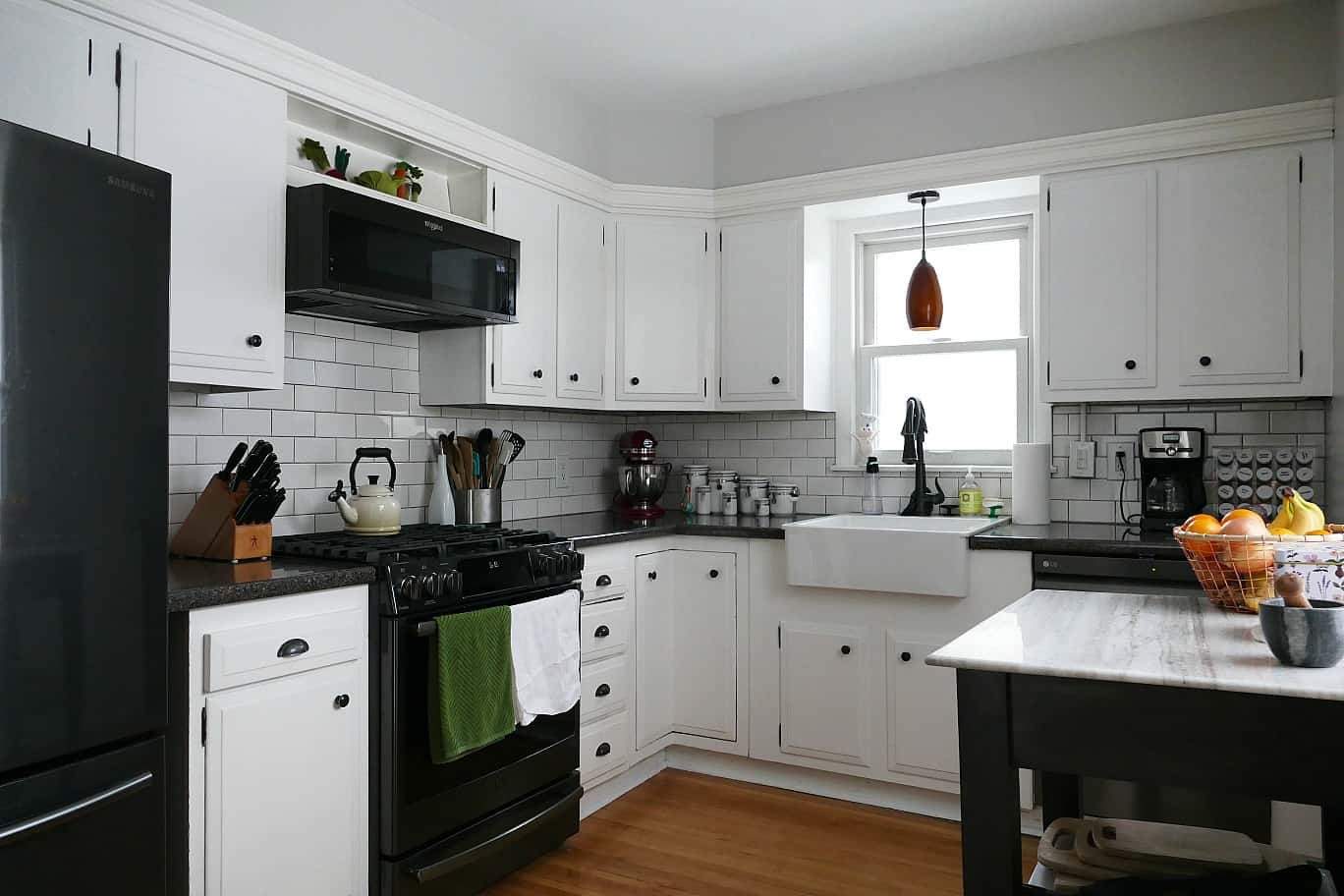 Welcome to the New Veg World Kitchen!
As you can imagine, one of my biggest priorities in our house hunt was the kitchen space. We told Brian all about the Veg World at our first meeting, so he knew how important the kitchen was to us.
Since it's where I spend almost half of my working hours, it had to be functional, have good appliances, and plenty of storage. And let me tell you, the kitchen in our new home checks ALL of those boxes!
The appliances are incredible, especially the 5-burner gas stove that makes me feel like I'm on the Food Network!!
We have tons of deep cabinet space, including a Lazy Susan! Who knew so many things could fit on one of those?! I filled the first shelf with oils, vinegars, spices, and baking ingredients, and the bottom shelf with appliances that I regularly use: the Vitamix, spiralizer, and popcorn maker.
Right above the Lazy Susan is another deep cabinet that fits all of our pots and pans. It's so nice to have everything organized and right there at my fingertips.
Another amazing thing about our new house is the amount of storage in the basement. We have an entire room dedicated to storage down there were we put wire shelves that fit everything we need (and then some!).
I have an aggressive amount of kitchen tools, so I don't think any kitchen would be big enough for me to put them all in the cabinets. But with the basement stairs directly off the kitchen, and the storage room right at the end of the stairs, it's like I have a kitchen extension! We put things that we don't use every day or week down there, like the slow cooker, our nice serving dishes, our salt block, turkey roaster, and salad spinner.
Because of this ideal set-up, the kitchen has exactly what I need without feeling crowded. I can also keep a lot of the counter space clear, which I love! We use the cabinet to the left of the stove for plates, bowls, and serving ware, the cabinet to the right for our pantry, and the cabinet above the dishwasher for some everyday kitchen tools and storage containers.
And of course, I can't forget to talk about two of my favorite parts of the kitchen: the farm sink and the stand-alone butcher block. The sink is just so charming, and deep enough to throw all of our dishes in there without crowding up the counters.
The butcher block was something that the previous owners had in the kitchen, and that Brian negotiated for us to get in the purchase. It fits perfectly in the space beneath the window that looks into the backyard, and it's actually surface where I take my recipe photos! If you look closely, you can see that it was SNOWING when I took these photos. In APRIL. Classic Minnesota…
So there you have it, the space where the Veg World magic happens! I can't wait to create so many memories there. Sending a huge thank you to Brian for helping us land a house and kitchen that fits all of our needs, and for making this post possible!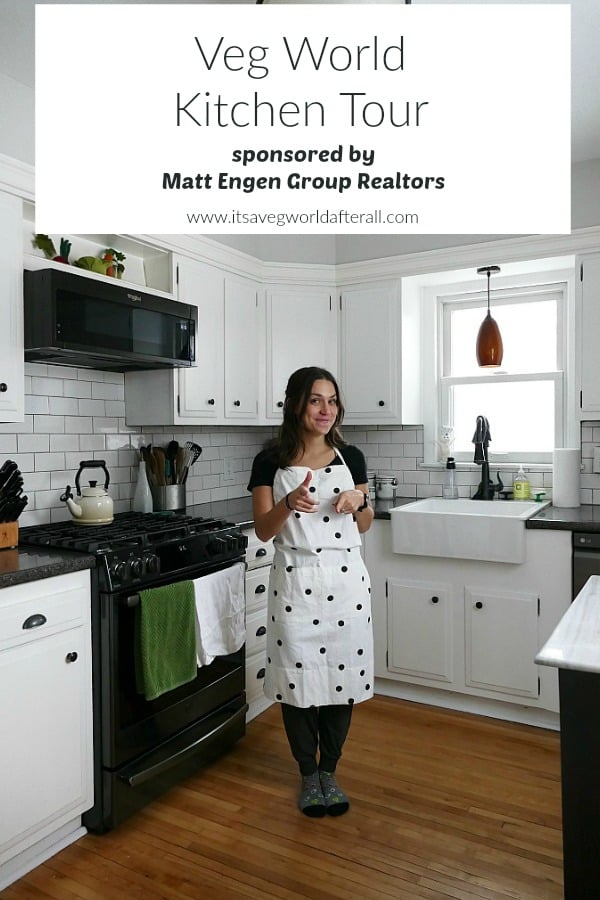 I hope you enjoyed this virtual kitchen tour!
xoxo,
Lizzie