Learn how to build a healthy baked potato with all the right fix-ins for a balanced meal!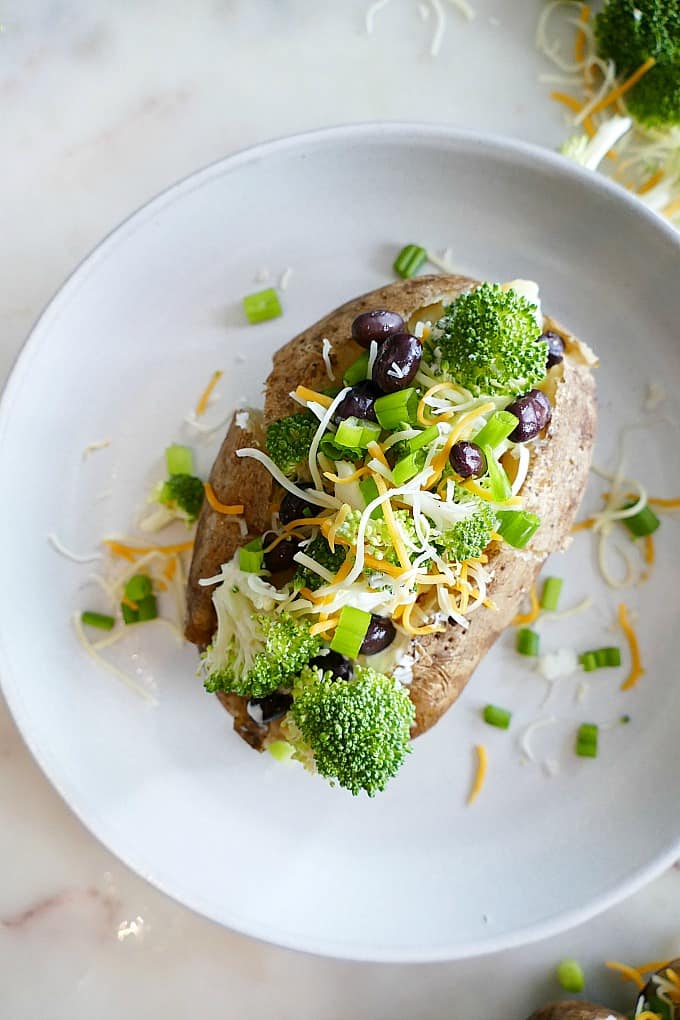 Are Baked Potatoes Good For You?
White potatoes have a bad reputation, mainly because they are usually fried and coated with salt. But in reality, they are loaded with nutrients and can be a healthy addition to balanced meals when they are baked, roasted or boiled. A single baked potato has 25% of the Daily Value (DV) of potassium and 70% of the DV for vitamin C. In fact, potatoes are likely the best source of potassium and vitamin C in the average American child's diet.
White potatoes are actually comparable to sweet potatoes in terms of nutrition, though most people assume that sweet potatoes are more nutritious. In reality, white potatoes actually have more fiber and micronutrients than sweet potatoes per serving!
So if you think baked potatoes are unhealthy, think again! But like most foods, the nutritional value of potatoes depends on how they are prepared. And in the case of baked potatoes, how they are stuffed! If you add nutritious toppings to a potato, you can transform a regular spud into a flavorful, nutrient dense meal.
How Baked Potatoes Can be a Balanced Meal
Balanced meals contain four components: a protein, a fat, non-starchy vegetables, and complex carbohydrates. Eating meals that include all of these nutrients can help you feel satisfied, energized, and overall healthier.
Just think about the up-and-down energy rollercoaster you have probably experienced if you eat meals that aren't balanced. A donut for breakfast usually leads to a pretty quick dip in energy, but having eggs, avocado, and fruit (slow-burning protein, fat, and carbs) keeps you full and energized all morning long.
So to avoid these energy crashes, and the cravings for sugar and salt that accompany them, try to plan more balanced meals instead. They don't have to be perfect, but incorporating foods with macronutrients that you usually leave out of meals can make a huge difference in how you feel.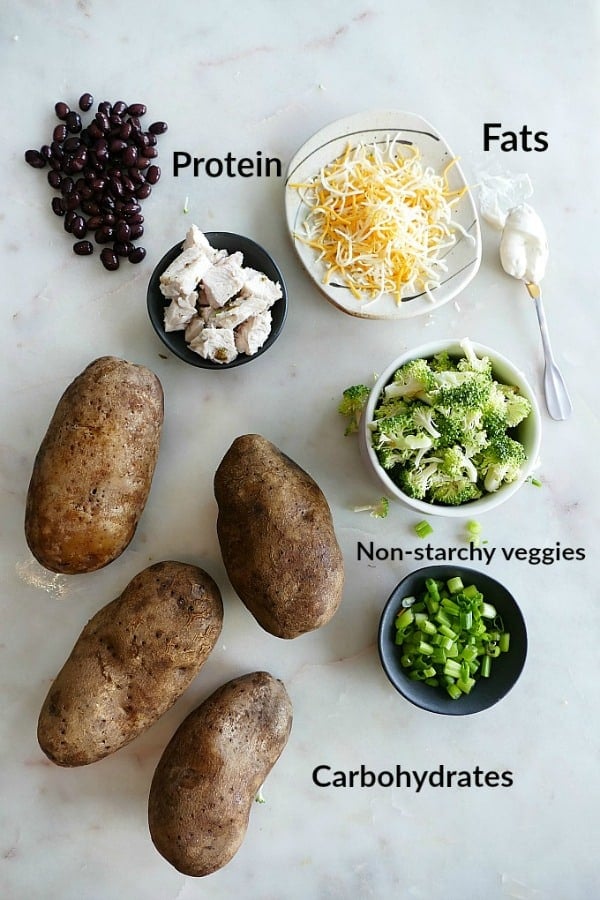 Building a nutritious baked potato is a simple way to implement the practice of creating balanced meals.
Here's how to create a healthy baked potato with all the right fix-ins:
Complex Carbohydrates: A baked potato checks the "carb" box, with approximately 37 grams in 1 medium potato including close to 5 grams of fiber.
Non-starchy veggies: The more, the merrier! Broccoli, scallions, and peppers are classic additions to a healthy baked potato, but you can also think outside the box. What about cauliflower? Carrots? Maybe even spinach?
Protein: If you eat a plant-based diet, go for fibrous beans, tofu, or edamame. If not, you can incorporate diced chicken, lean ground beef or bison, or even fried or scrambled eggs!
Fat: If you love sour cream on your baked potatoes, how about Greek yogurt instead? You can also add avocado or shredded cheese. Yum!
The Easiest Way to Prepare Baked Potatoes
Most people know that you can bake potatoes in the oven. Scrub and dry the potatoes, poke a few holes in them, rub with oil, and bake for 45 minutes to and hour on a baking sheet at 425 degrees F.
However, the EASIEST way to make baked potatoes is in the crockpot! I had no idea that you could do this, or at least I never tried it before preparing this post. But I was amazed at how well they cooked in my slow cooker. It was so easy!
To make slow cooker baked potatoes, scrub and dry the potatoes, poke a few holes in them with a fork, rub olive oil over them, and wrap them each in a sheet of aluminum foil. Place the potatoes in the slow cooker and cook on high for 4 to 5 hours or on low for 7 to 8 hours.
Once you have the potatoes and toppings prepped, you can build a healthy baked potato in minutes! For a quick family meal, create a baked potato "bar" for your kids to prepare their own spuds.