Trader Joe's is an oasis of affordable, nutritious foods that make eating your vegetables easy, delicious, and fun. One of the best parts of the store is the freezer section. Read on to learn about my picks for the best frozen vegetables from TJ's!
FYI: this post is totally not sponsored. I just love TJ's!
Trader Joe's is one of my favorite spots to get groceries that supplement what I get from other stores, farmers markets, and local foods co-op. I like to go at least once a month to stock up on my favorite products. They have a variety of affordable staples with quality ingredients, including organic nut butters, the very best Greek yogurt, corn tortillas made with just a few ingredients, and inexpensive organic canned beans, to name a few.
If you're a Trader Joe's fan like me, then you know that the whole store is a gold mine. The freezer section, in particular, is one of the best parts!
In those signature open freezer bins, you'll find tons of frozen vegetables to keep on hand when you're pressed for time or don't feel like cooking. I love the variety of plain vegetables they have as well as the pre-seasoned options with healthy ingredients and interesting flavors.
If you're new to the freezer section, it can be a little difficult to navigate. So, I rounded up the top 6 best frozen vegetables from Trader Joe's to help you eat more veggies. Most of them can be ready in minutes!
1 – Colorful Carrot Coins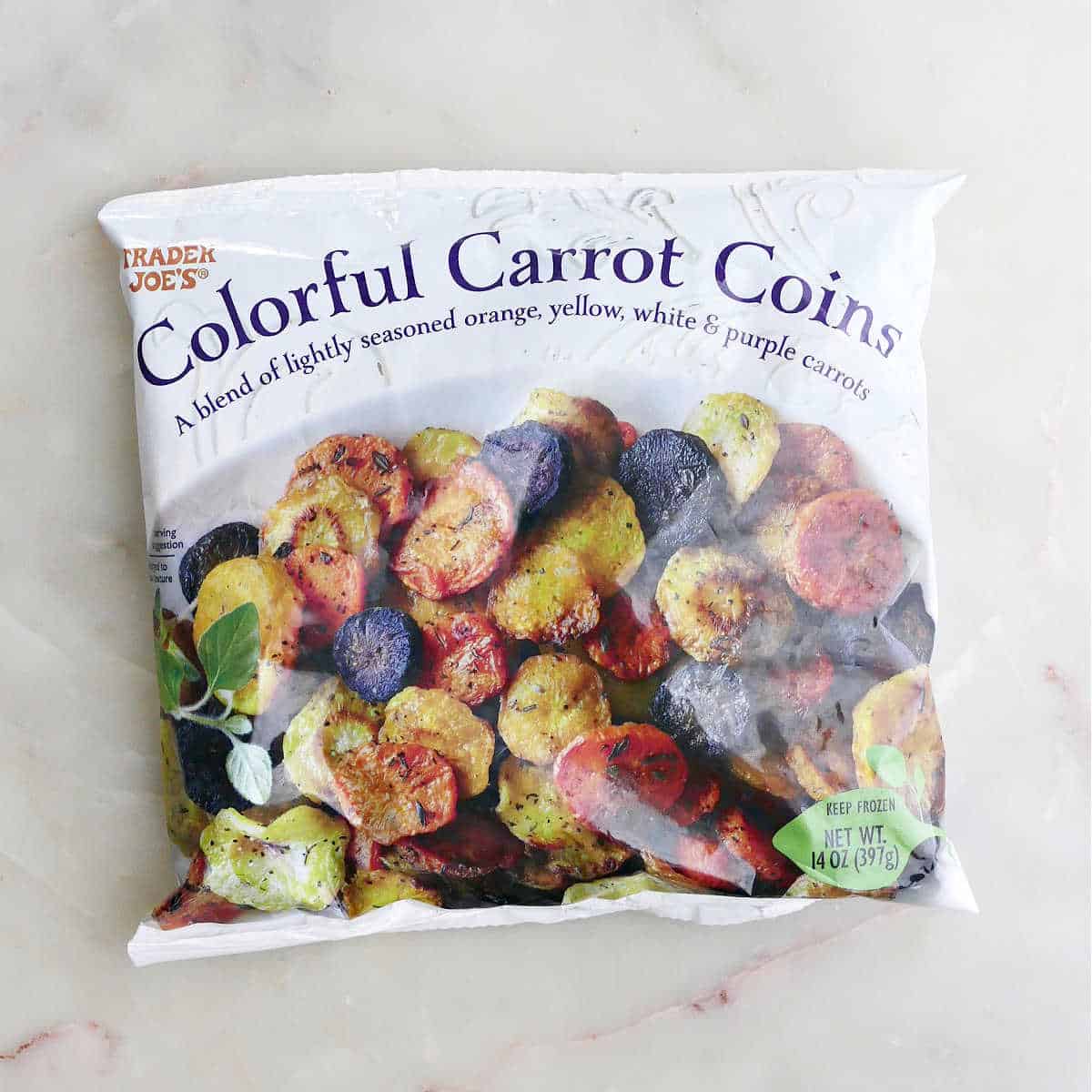 These coins are the perfect side dish for a weeknight meal. They're loaded with color and flavor and have quality ingredients (carrot coins, olive oil, thyme, salt, and pepper).
Make it a complete meal: Pair them with Trader Joe's frozen turkey burgers and frozen organic brown rice.
2 – Riced Cauliflower Stir Fry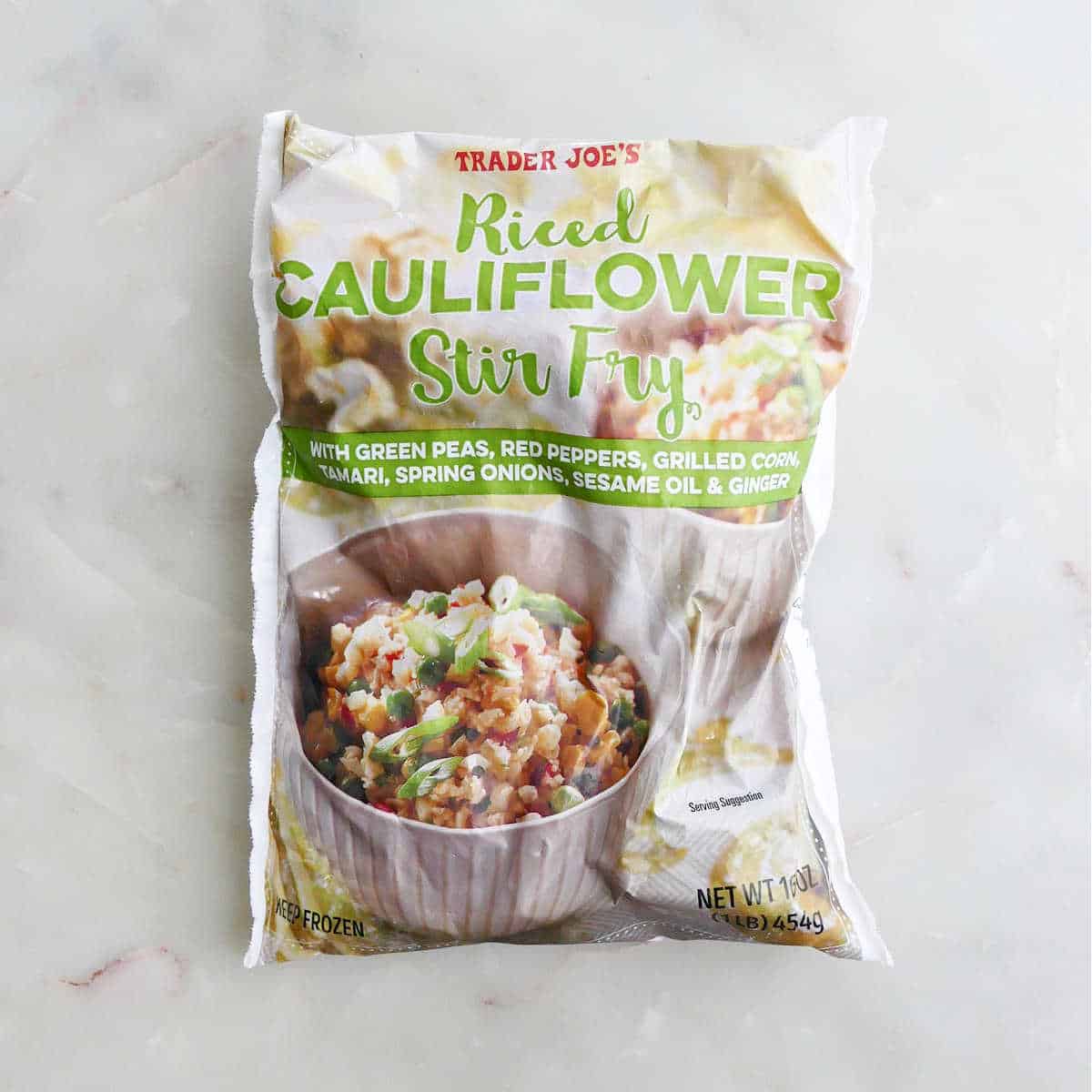 This is such a delicious way to eat veggies! Riced cauliflower is the base for a packed stir fry with peas, corn, peppers, and onions. The seasonings are on point, and I always add a dash of soy sauce for even more flavor.
Make it a complete meal: Add frozen broccoli and edamame (found in the Trader Joe's prepared food section) or some scrambled eggs for extra protein. If you want more carbs, mix it with brown rice or quinoa.
3 – Roasted Corn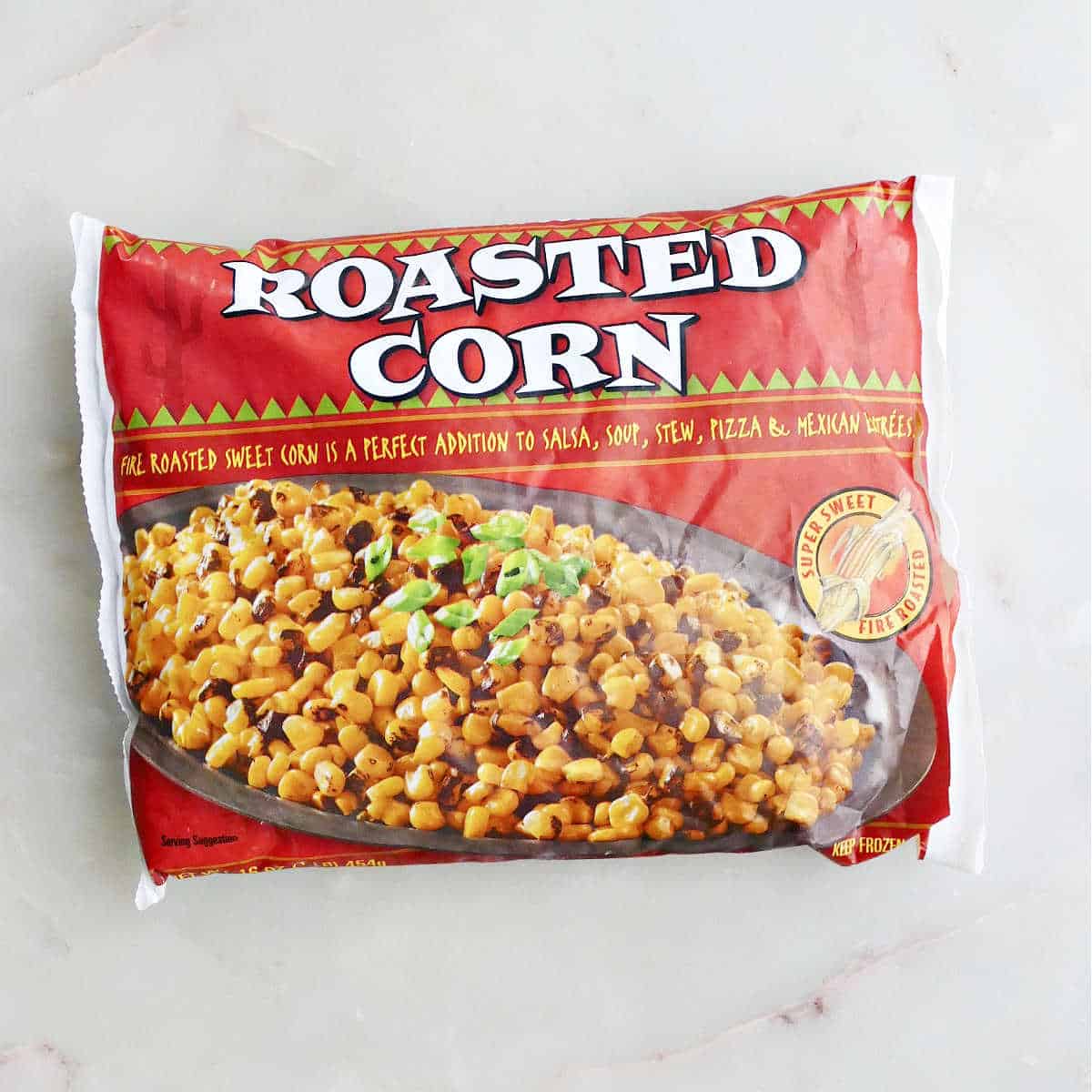 The frozen roasted corn is a work of art. The only ingredient is corn but there is a TON of flavor, thanks it being fire roasted! It's amazing in salads or soups, on tacos, and mixed into burrito bowls. Check out my Roasted Chickpea Salad with Herb Yogurt Dressing for a recipe using this product.
Make it a complete meal: Make burrito bowls with the roasted corn, a can of Trader Joe's black beans (or pinto beans), and frozen organic brown rice. Stir in some of the TJ's salsa verde.
4 – Garlicky Stir Fried Cabbage
This one has simple ingredients that provide a lot of flavor. Plus, the Trader Joe's website highlights the stir fried cabbage as a "heat and eat" product that's ready in under 10 minutes. What more could you want?!
Make it a complete meal: Whip it up to serve alongside the Trader Joe's frozen soup dumplings or vegetable gyoza. It would also be a great base for fried eggs.
5 – Roasted Seasoned Brussels Sprouts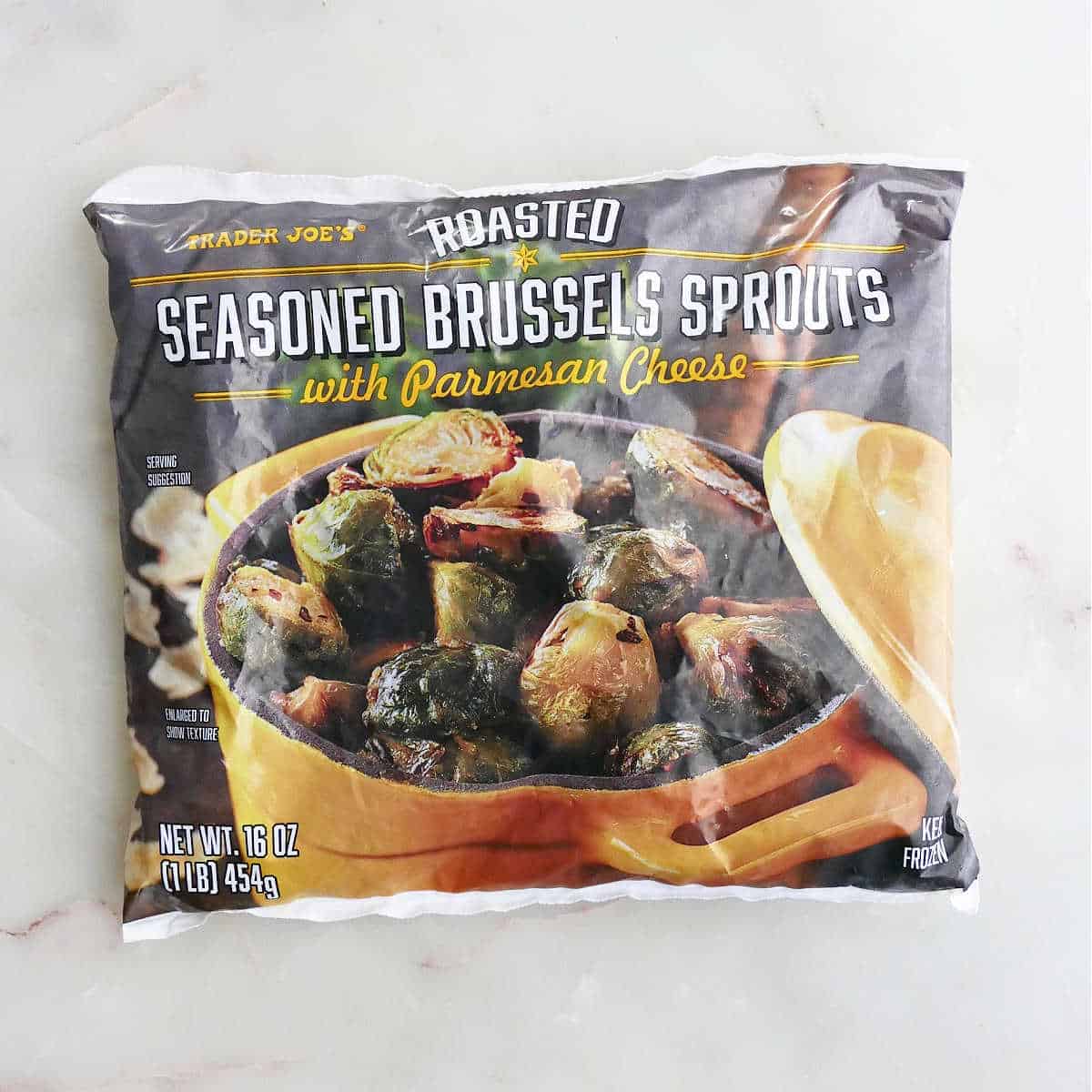 Frozen Brussels sprouts may not sound appetizing, but Trader Joe's knocks it out of the park with this one. They're very flavorful and coated in just the right amount of parmesan cheese. Plus, they are a lot easier than making your own when you're crunched for time.
Make it a complete meal: Serve alongside any TJ's ravioli or their frozen gnocchi. I have seen people prepare them in an air fryer on Instagram, and they look delicious that way!
6 – Organic Rainbow Cauliflower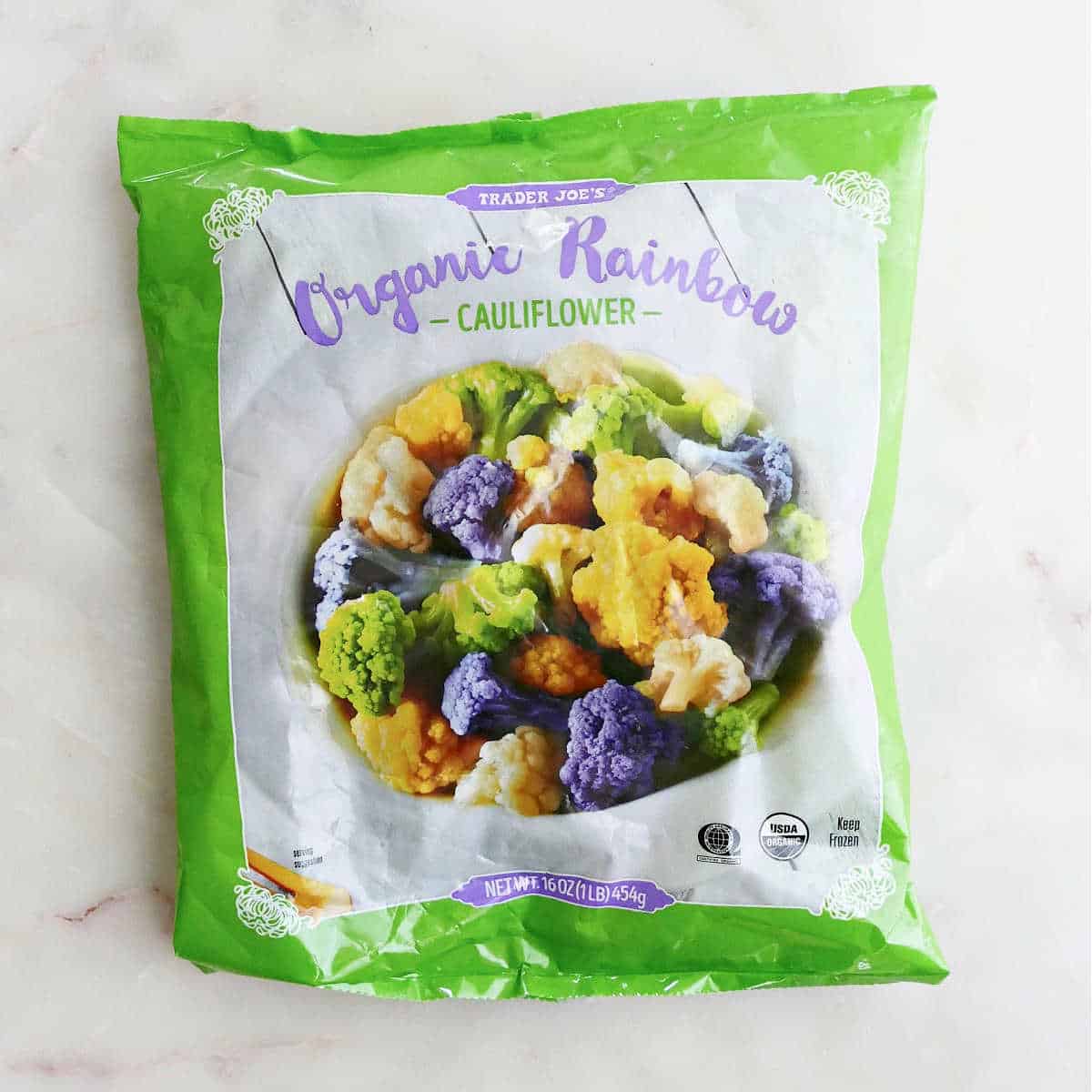 Frozen rainbow cauliflower is a really fun item! The purple and yellow florets are especially pretty and, in my experience, make a "yucky" vegetable more appealing to kids. My daughter loves them!
Make it a complete meal: Make my Roasted Frozen Cauliflower and enjoy with the Trader Joe's wild caught salmon and a baked potato. You can also try them in my Cherry Chocolate Cauliflower Smoothie for breakfast or a snack.
Nutrition and Cooking Tips
Hopefully this post has you excited about trying some of the frozen vegetables offered at Trader Joe's. However, now you may be wondering how to cook them and if frozen vegetables are as nutritious as fresh. Check out my posts Are Frozen Vegetables Healthy? and How to Steam Frozen Vegetables for more information. For an easy meal that uses frozen veggies and other Trader Joe's products, see my Lentil Pasta Primavera.
And that's a wrap! What are some of your favorite Trader Joe's products? I'd love to hear in the comments.
This post was originally published in April 2019. It was updated with some new products in April 2023.