Learn how to cut mushrooms, including button (white), portobello, shiitake, chanterelle, cremini (baby bella), king trumpet/oyster, and lion's mane varieties. The step-by-step photos and short video include tips for how to trim, slice, quarter, and chop mushrooms for use in pasta, stir fry, soups, kabobs, and pizza recipes. Plus, you'll see how to clean and store mushrooms.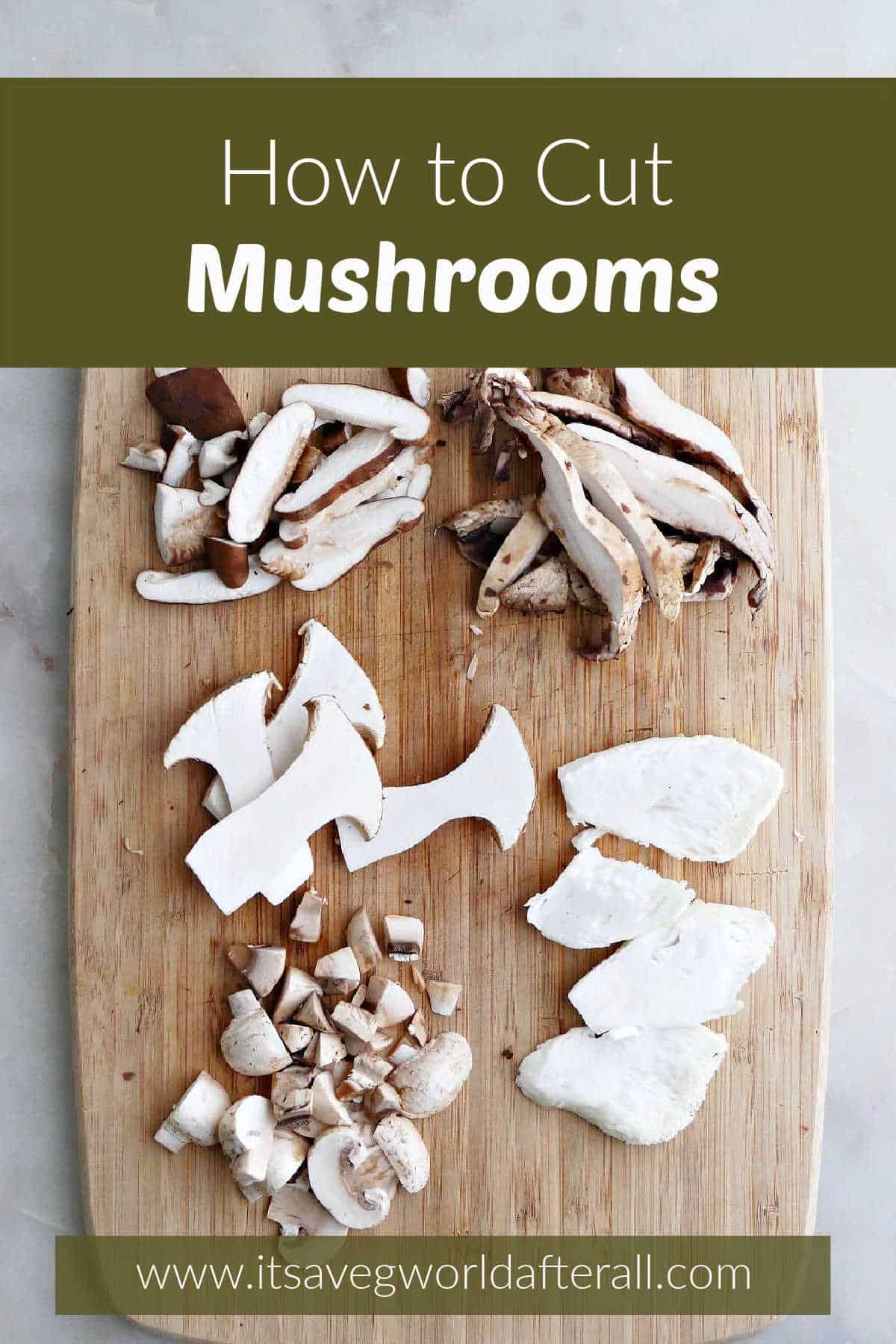 Mushrooms come in all shapes and sizes. There really is quite the assortment of fungi out there! That's why I thought it would be helpful to provide a detailed tutorial on how to cut mushrooms.
If you are new the world of mushrooms or just have a new variety that you don't know how to prepare, this post is for you. Learn how to slice, quarter, and chop 'shrooms like a pro! I included some of my favorite mushroom recipes, too.
Jump to:
How to Clean Mushrooms
Before working with mushrooms, it's important to remove any dirt. Depending on the type, they can be very dirty! To clean mushrooms, use a damp paper towel to wipe the dirt away. You can also rinse mushrooms under running water. However, they absorb water like a sponge, so they may end up mushy if you rinse them.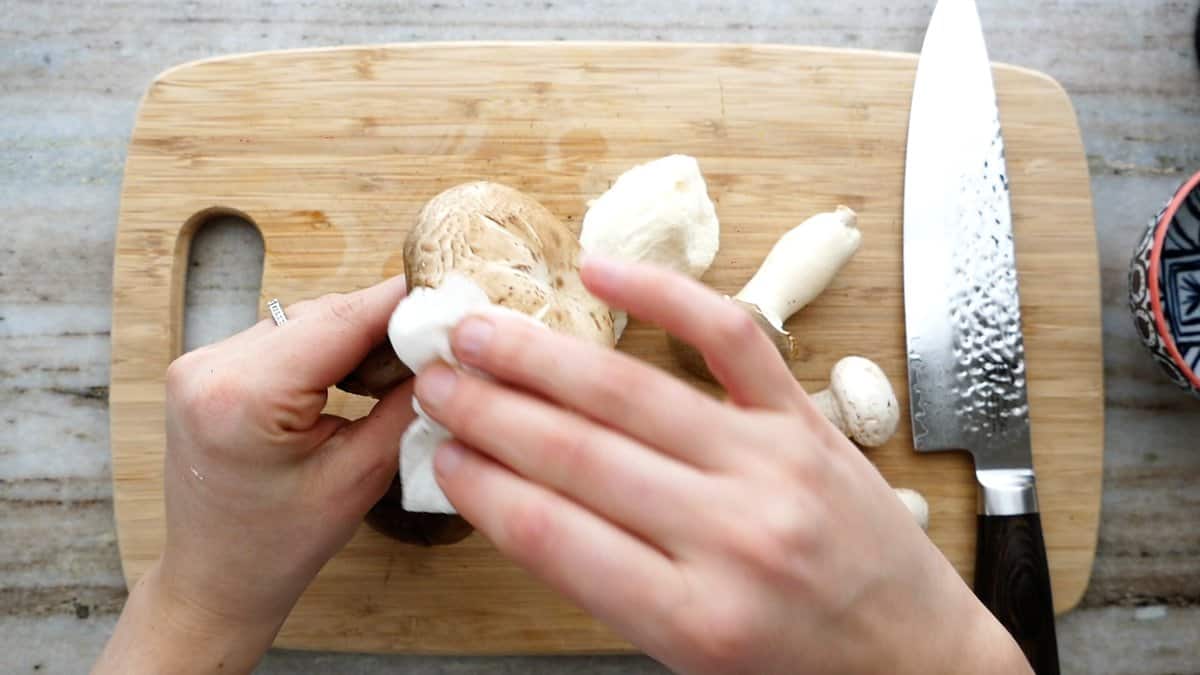 How to Trim Mushrooms
Most mushrooms need to be trimmed before cutting them, but some do not. Trim off any woody or dried out pieces of the stems of button/white mushrooms, cremini/baby bella mushrooms, king trumpet/oyster mushrooms, and Lion's mane mushrooms.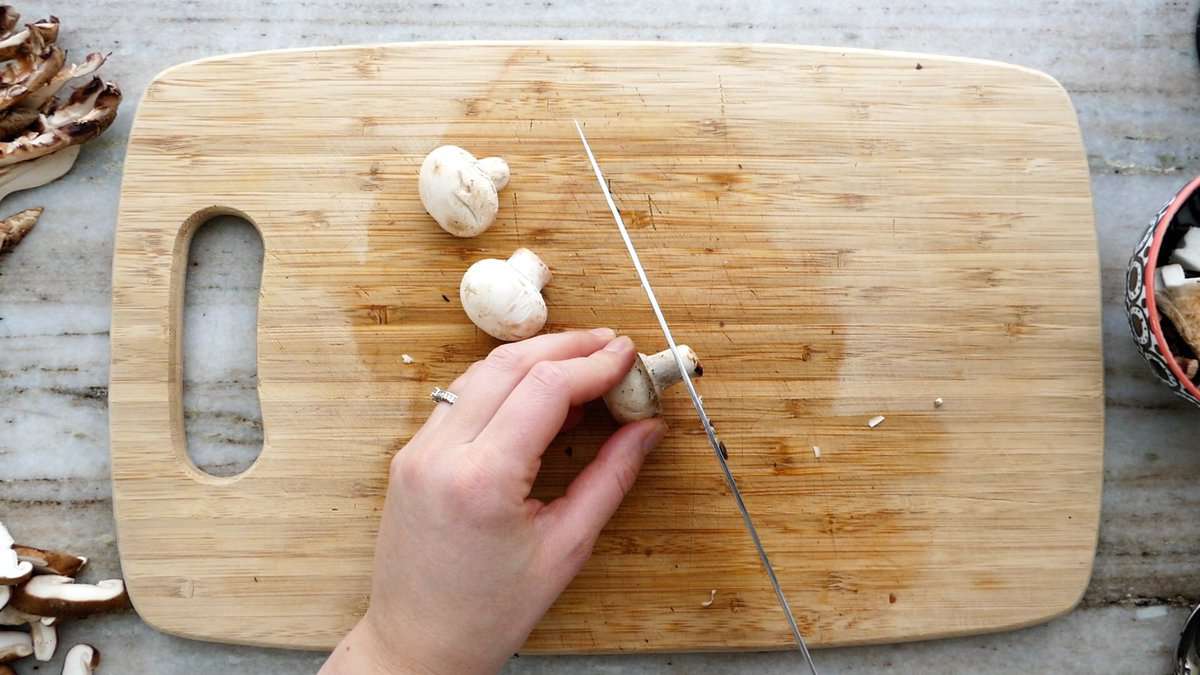 For shiitake, chanterelle, and portobello mushrooms, remove the stems entirely. Their stems tend to be woody and dried out all the way up and don't taste good in recipes.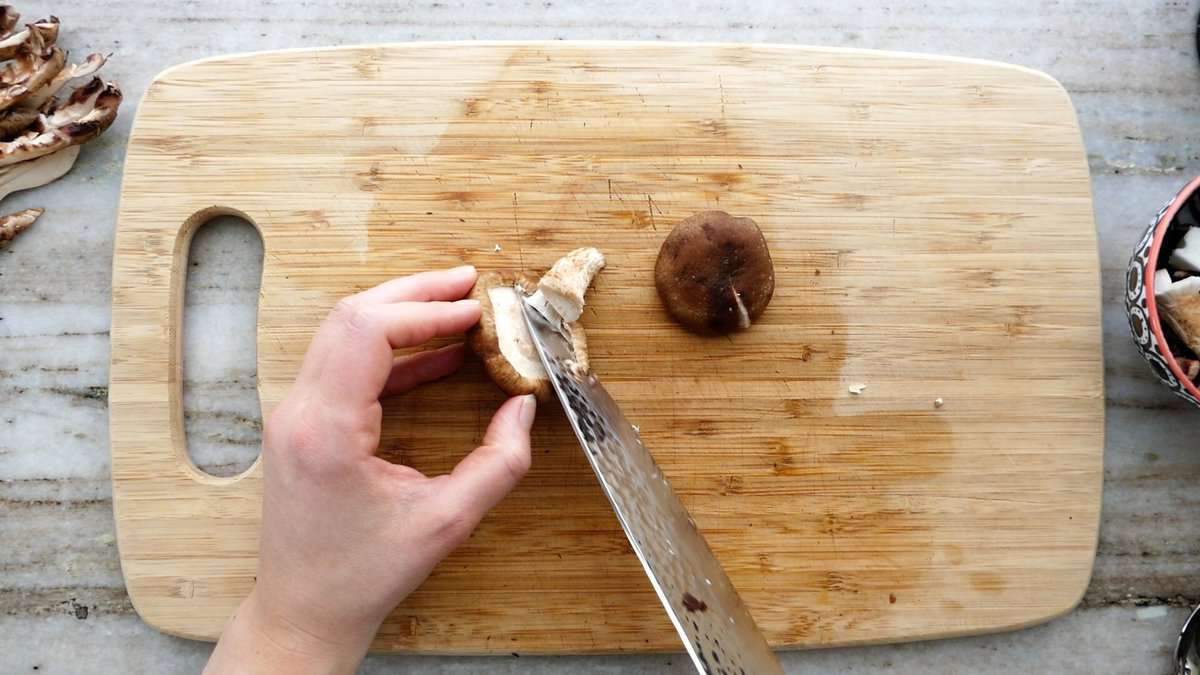 Button and Baby Bella Mushrooms
Button (white) and baby bella (cremini) mushrooms are both small varieties that look very similar except for their color. Baby bella mushrooms are brown and button mushrooms are, well, white. You can cut them into slices, quarters, or diced pieces.
To slice these mushrooms, first trim off any dried out parts of the ends. Then cut them into slices of your desired size.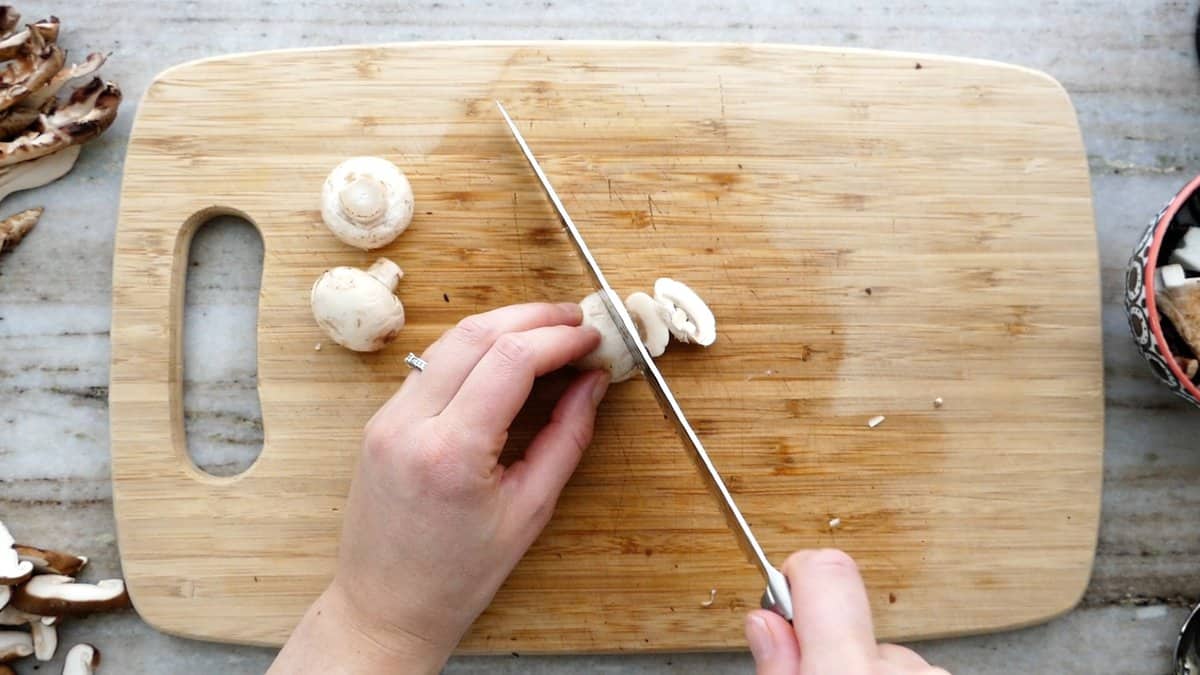 To quarter these mushrooms, slice them in half, turn them 90 degrees, then slice in half again.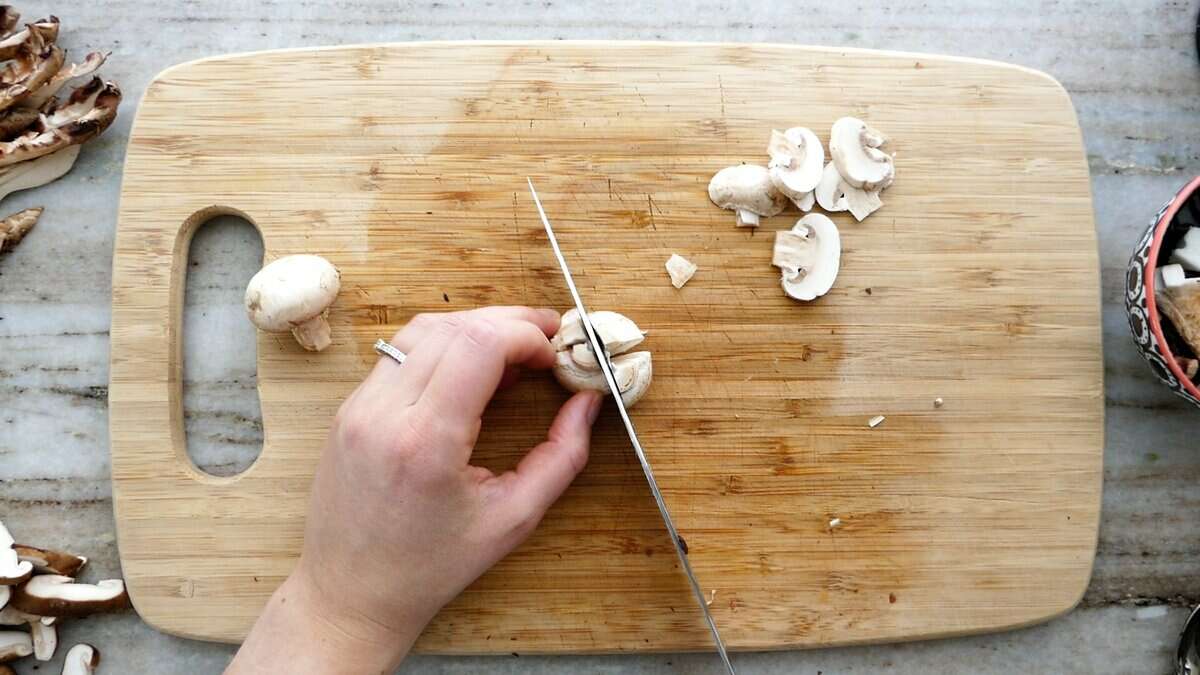 To chop these mushrooms, cut them into slices or quarters then chop them into smaller pieces.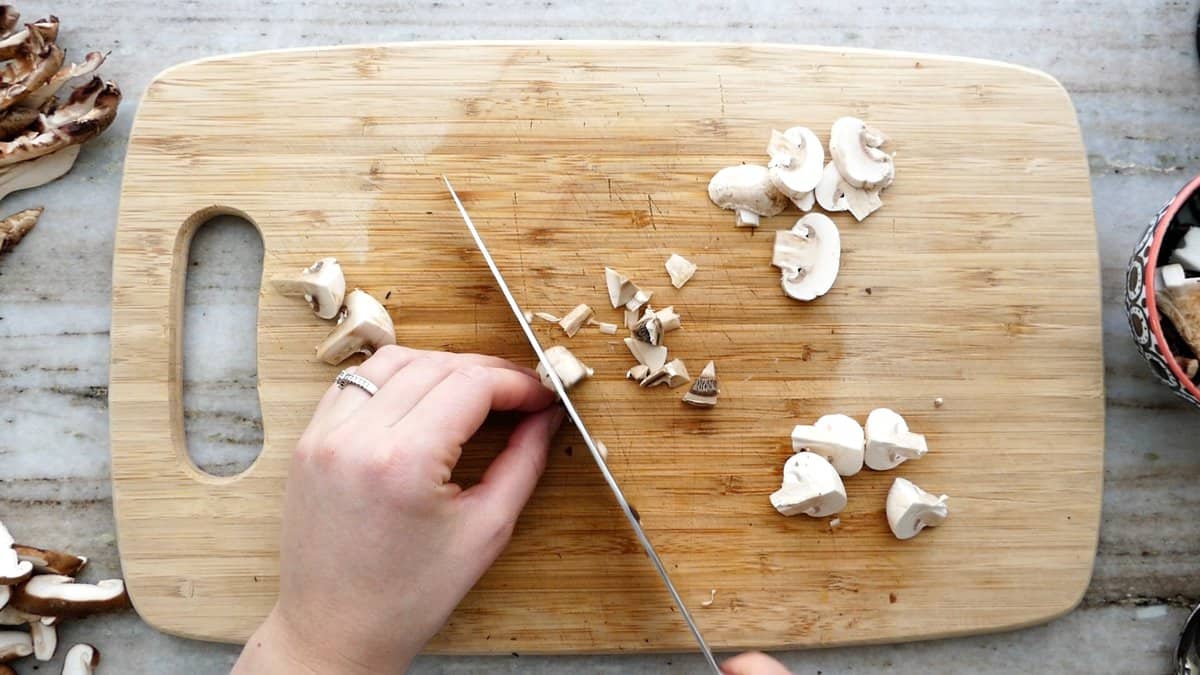 Shiitake and Chanterelle Mushrooms
The stems of these mushrooms tend to be fully dried out and tough, so you should remove them entirely. Then, slice into pieces of your desired size.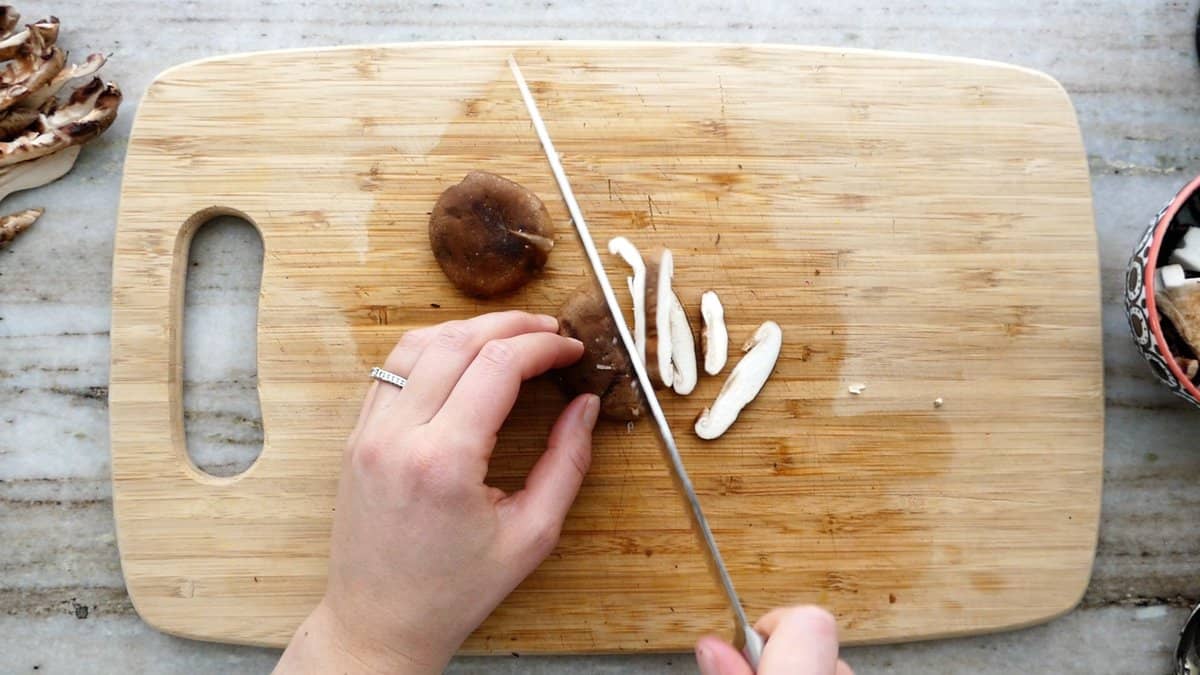 Portobello Mushrooms
You can remove the entire stem from portobello mushrooms, since it's usually too dried out and woody to be palatable. It's also common practice to scoop out the gills of portobello caps, since they will get mushy when cooked.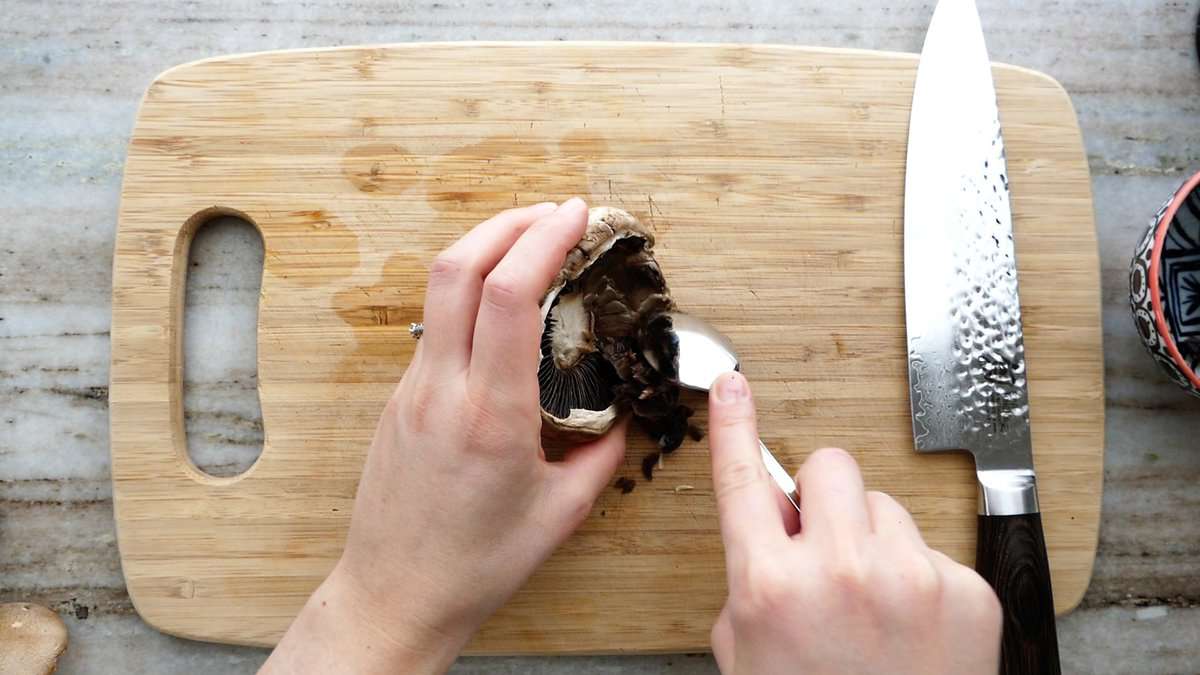 After scooping them out, slice the cap into pieces of your desired size.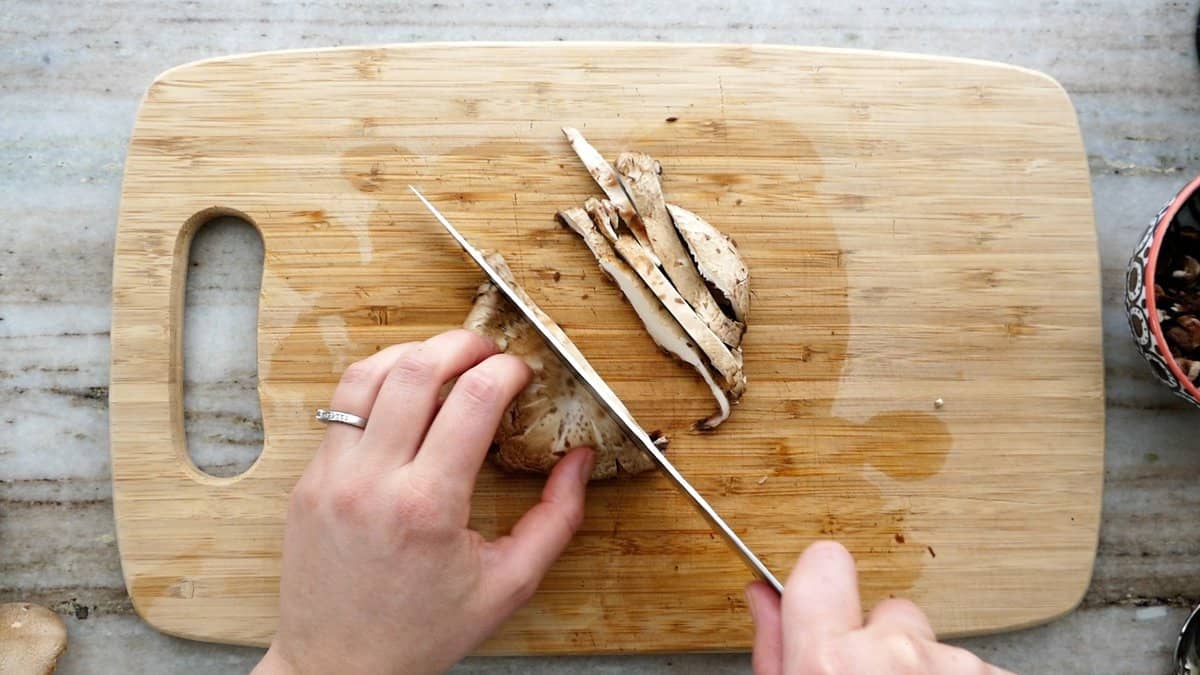 King Trumpet (King Oyster) Mushrooms
These mushrooms are known for their meaty texture, so it's best to cut them into slighter thicker slices. You do not need to remove the stem, but you may want to trim it if you see any dried out pieces. Then, cut lengthwise into slices.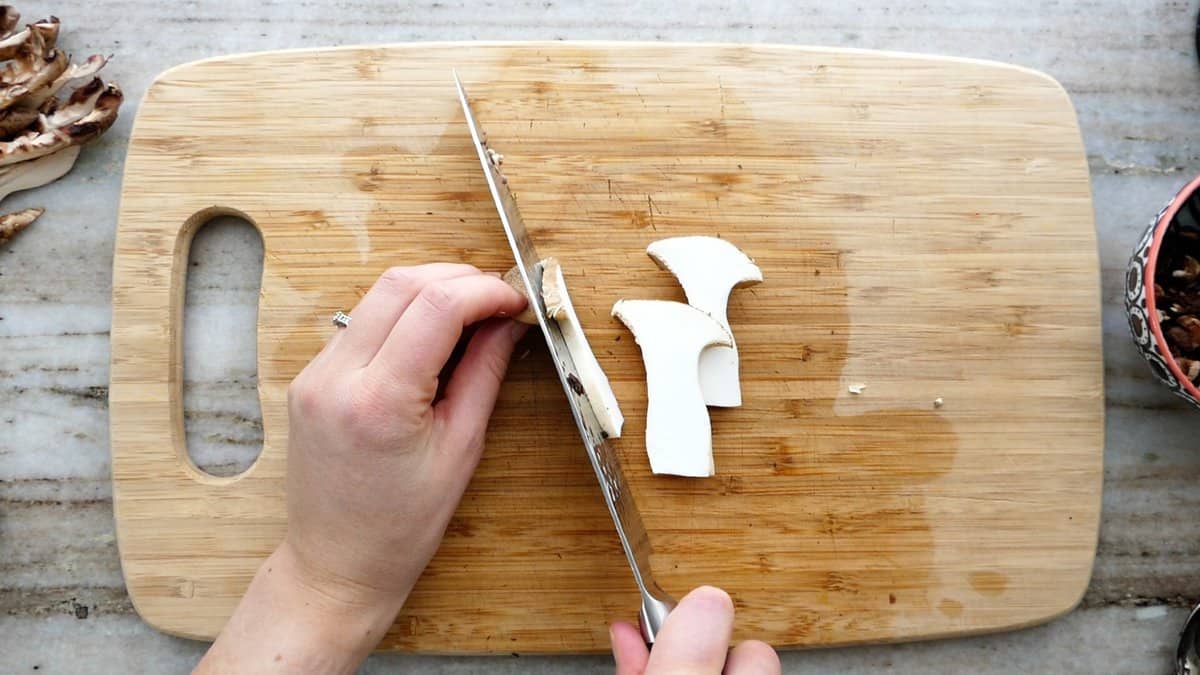 Lion's Mane Mushrooms
Lion's mane is a lesser known variety of mushrooms with a shaggy appearance that looks like a lion's mane. You can cut them lengthwise into slices of your desired size or just pull them apart.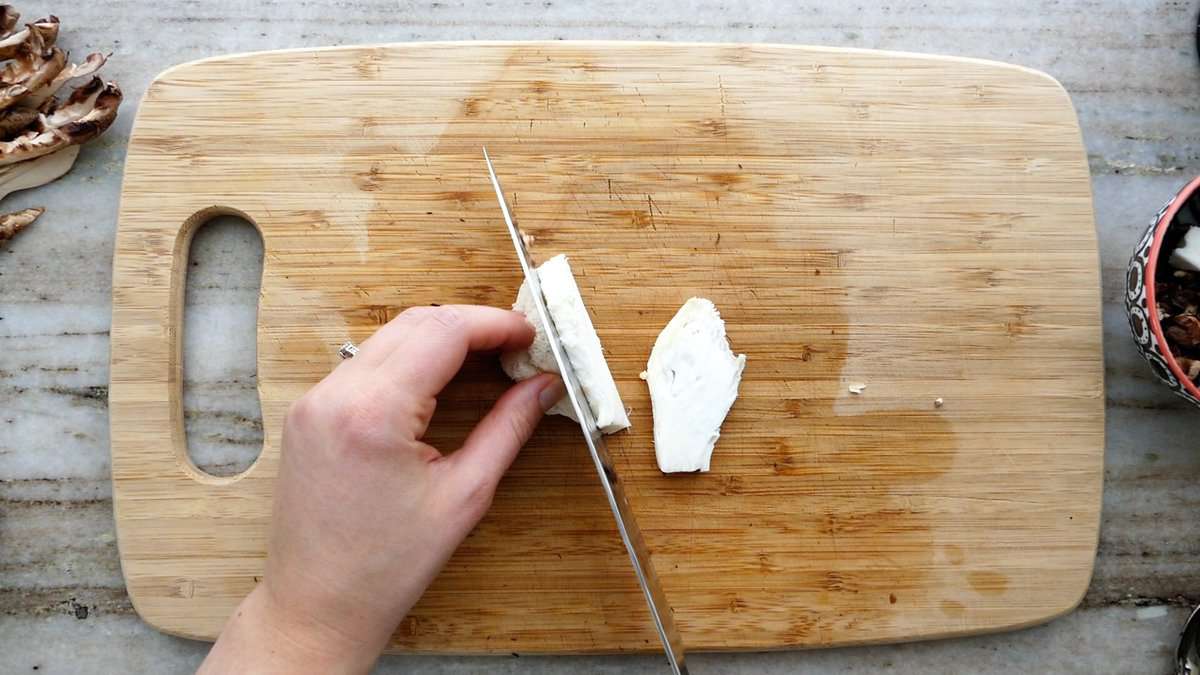 Recommended Equipment
My favorite tool for cutting mushrooms and other vegetables is my Shun chef's knife, but a paring knife also works well. For cutting boards, I use these bamboo ones with rubber stoppers that prevent slipping.
Mushroom Recipes
Now that you know how to cut mushrooms, let's talk about how to cook them! I like to use sliced or quartered mushrooms in stir fry and soup, sliced mushrooms in pasta and pizza, and chopped mushrooms for recipes that use them in place of meat. If you have a lot of mushrooms on hand, you can also freeze them.
Video
I'd love to hear how you like this recipe! Rate/review using the stars on the recipe card or in the comments, and follow the Veg World on YouTube, Instagram, Facebook, and Pinterest. Looking for something totally different? Browse the recipe library.
📖 Recipe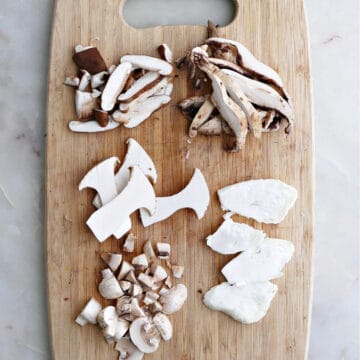 How to Cut Mushrooms
Learn how to clean, trim, slice, quarter, and chop mushrooms of many varieties.
Print
Pin
Rate
Save
Saved!
Ingredients
1

pound

mushrooms

-

of choice
Instructions
Clean your mushrooms by wiping them with a damp paper towel to remove dirt and debris.
Button or Cremini Mushrooms
Trim off any dried out or woody parts from the stems.

To slice, cut the mushrooms into slices of desired size.

To quarter, cut the mushrooms in half, turn 90 degrees, and cut the halves into quarters.

To chop or dice, cut the mushrooms into slices or quarters and then into smaller pieces.
Shiitake or Chanterelle Mushrooms
Cut into slices or smaller pieces.
Portobello Mushrooms
Remove the entire stem. Scoop out the gills with a spoon and discard.

Cut into slices or smaller pieces.
King Trumpet/Oyster Mushrooms
Slice lengthwise into thick pieces.
Lion's Mane Mushrooms
Slice or pull apart into pieces of your desired size.
Notes
Use cut mushrooms right away or store in the refrigerator for 1 to 2 days. They will go bad more quickly after being cut than if they are left whole. You can also freeze mushrooms for later use.
Mushrooms are delicious in soups, pasta, stir fry, and many other recipes.
Nutrition
Serving:
0.5
pound
|
Calories:
50
kcal
|
Carbohydrates:
7
g
|
Protein:
7
g
|
Fat:
1
g
|
Saturated Fat:
0.1
g
|
Polyunsaturated Fat:
0.4
g
|
Sodium:
11
mg
|
Potassium:
721
mg
|
Fiber:
2
g
|
Sugar:
4
g
|
Vitamin C:
5
mg
|
Calcium:
7
mg
|
Iron:
1
mg
Enjoy your mushrooms! – Lizzie