If you find yourself wondering if you can freeze fresh mushrooms, including button or white, oyster, portobello, or shiitake, this post has everything you need to know. Learn how to freeze mushrooms raw or cooked, how long to keep them in the freezer, and how to use them in recipes.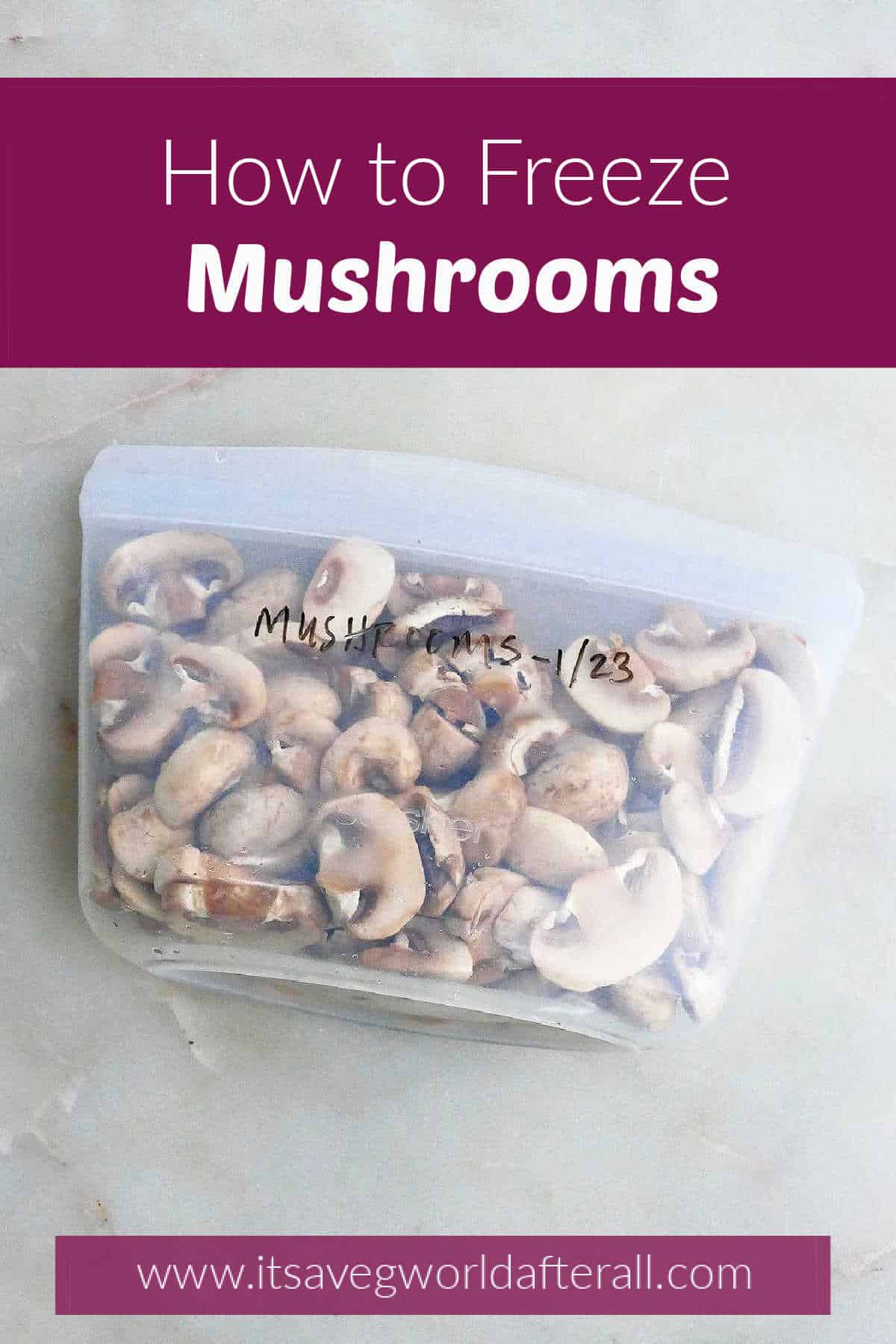 Mushrooms are a versatile ingredient and provide a meaty texture and savory flavor to so many recipes, especially vegetarian or vegan dishes. If you like to cook plant-forward meals, they are a wonderful addition to your refrigerator.
However, you may be wondering if you can preserve mushrooms for a longer time so that you can have them on hand without always needing to buy fresh mushrooms. In this post, you'll learn how to freeze mushrooms for this exact purpose!
Jump to: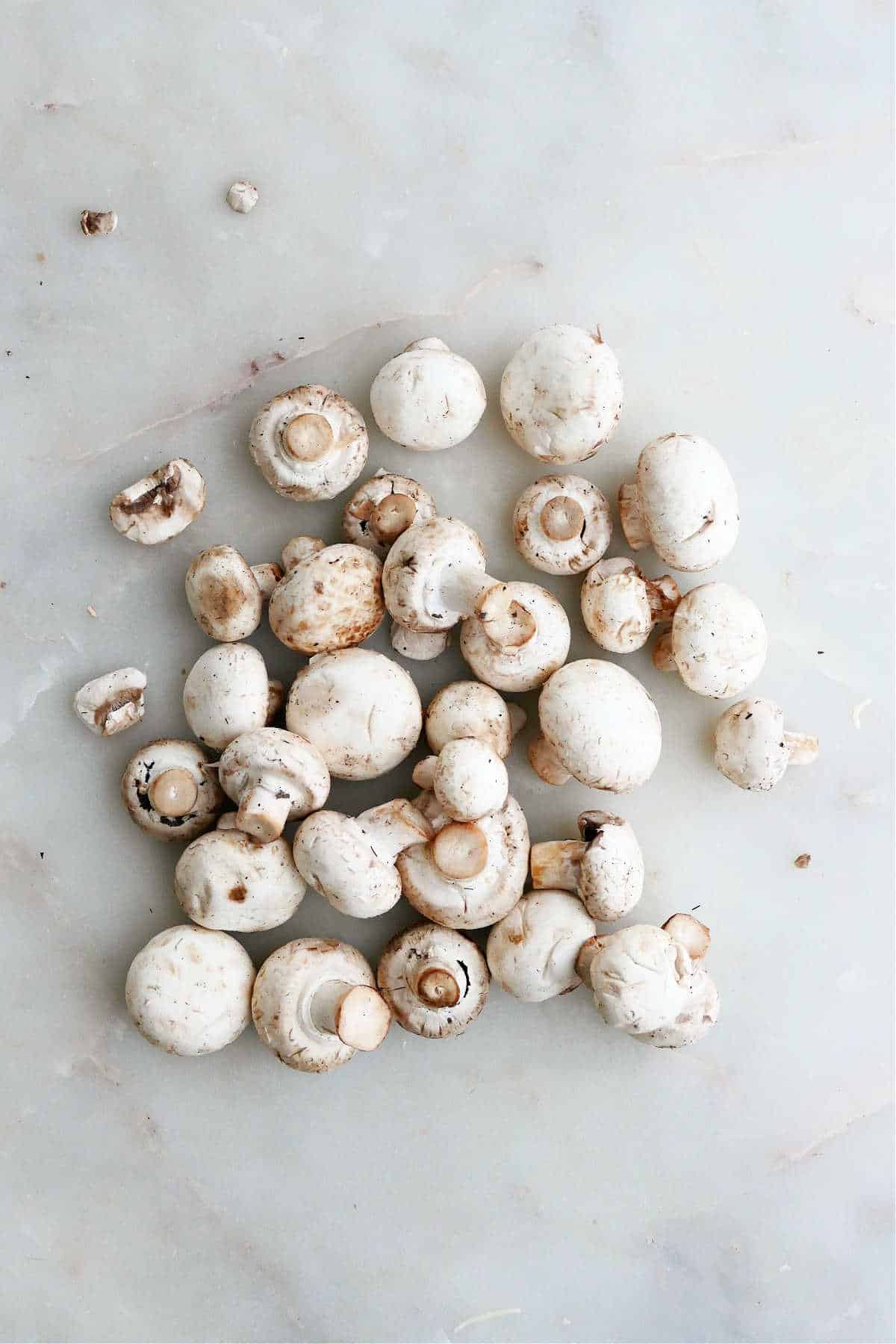 How to Prepare Mushrooms for Freezing
Here are the basic steps for freezing mushrooms:
Clean. Use a damp paper towel to wipe them clean.
Trim. Slice off any dried out or woody parts of the stems. Remove the stems entirely from portobello, chanterelle, and shiitake mushrooms.
Cut or slice. Small mushrooms can be kept whole, but most other mushrooms should be cut. Cut button/white or cremini/baby bella into slices or quarters and most other mushrooms, including shiitake, portobello, or oyster, into slices. For more information, see How to Cut Mushrooms.
Cook. Steam or sauté the mushrooms for 3 to 5 minutes.
Flash freeze. After the cooked mushrooms cool, transfer to a lined baking sheet. Spread them out in a single layer. Place the baking sheet in the freezer, somewhere it won't get bumped. Freeze for 1 to 2 hours until frozen solid.
Transfer to freezer-safe bags. I like to use Stasher bags for this purpose. You can then write on the bag directly with dry-erase markers instead of using a label. Store in the freezer for up to 6 months.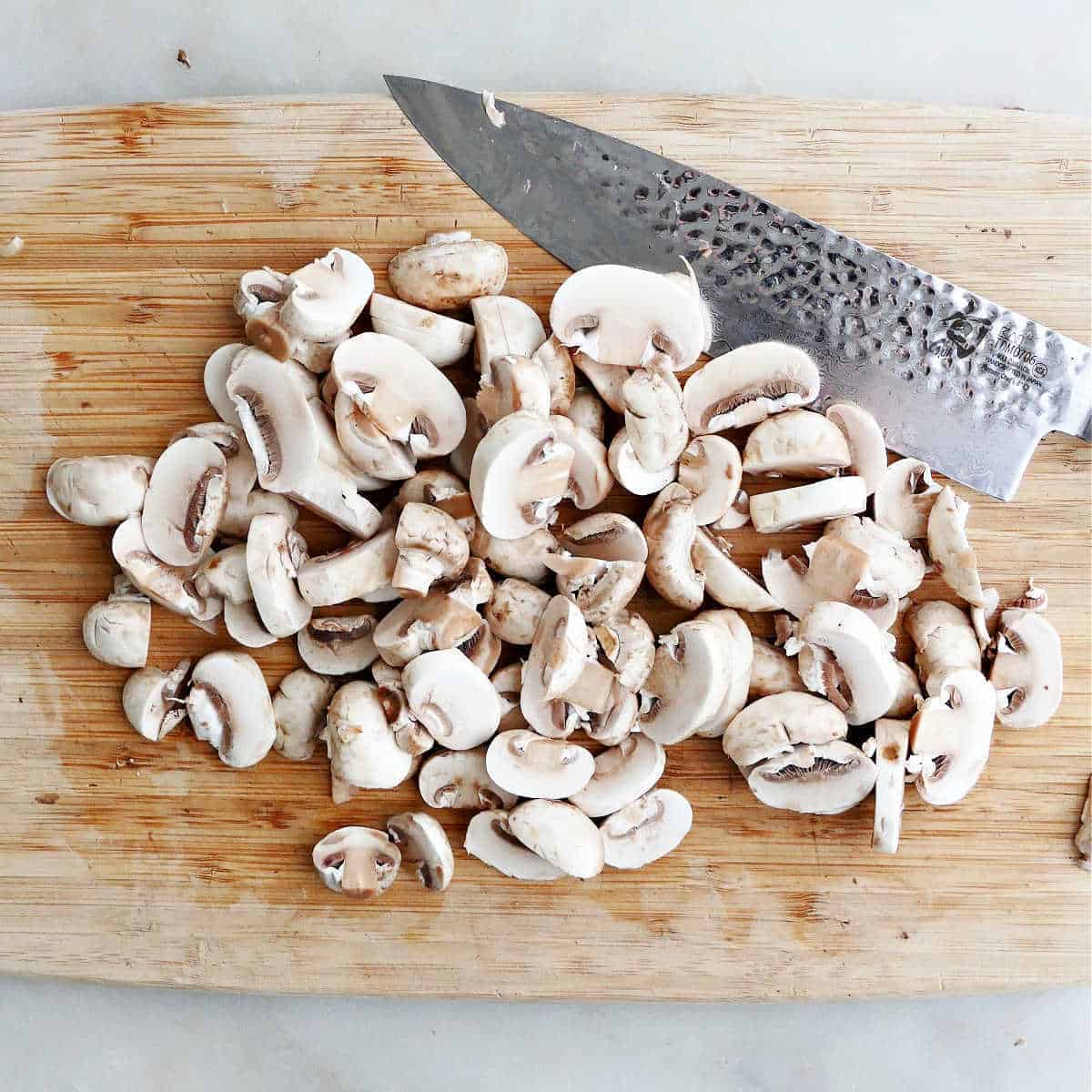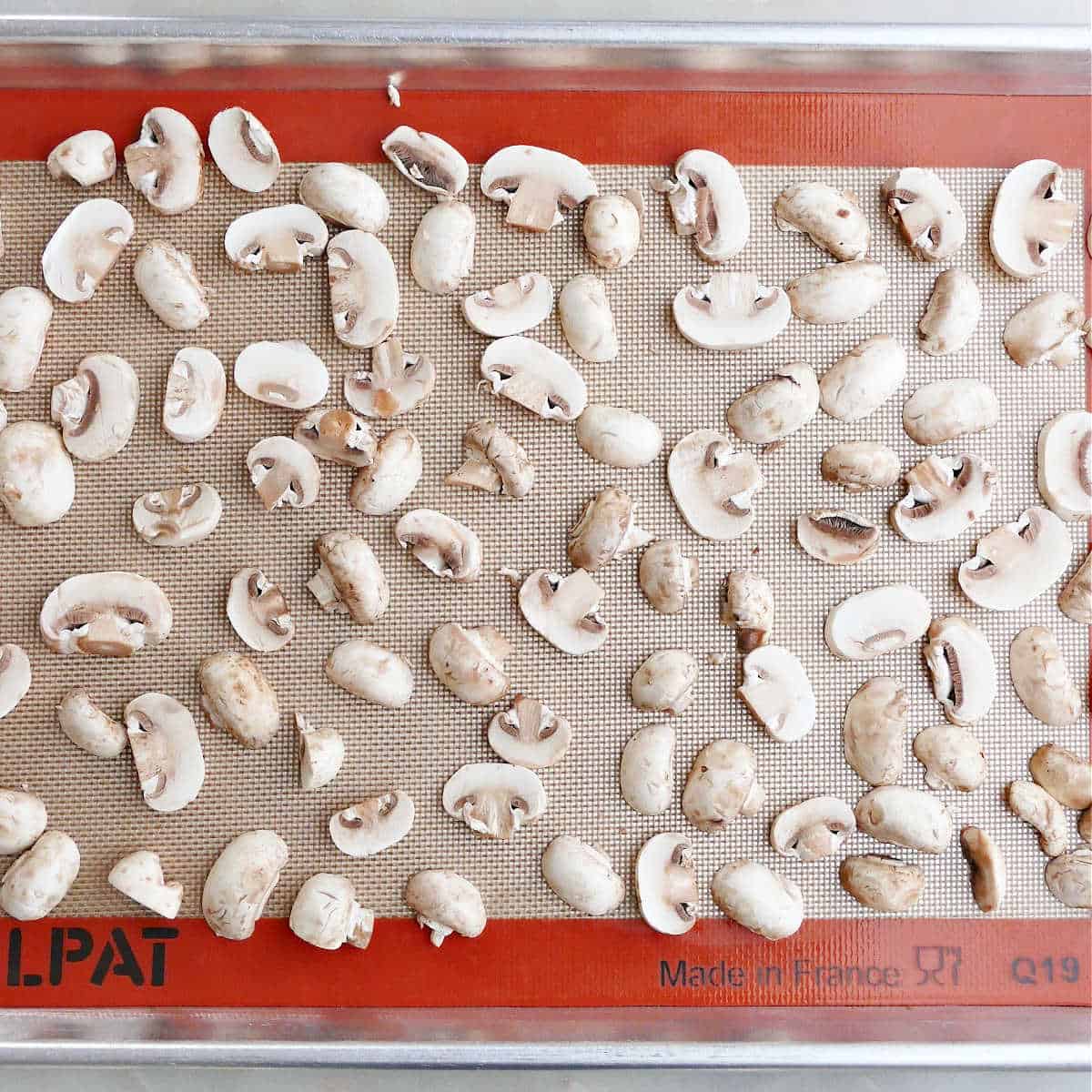 FAQ
How do you cook mushrooms for freezing?
You can steam or sauté mushrooms before freezing. If you want to steam them, bring an inch of water to a boil in a pot. Place a vegetable steamer basket in the pot, add the mushrooms, cover, and cook for 3 to 5 minutes.

If you want to sauté mushrooms, cook them in a skillet with a tiny bit of olive oil for about 5 minutes. Let them cool completely before following the rest of the above steps.
Can mushrooms be frozen without cooking?
You can freeze mushrooms raw and skip the steaming or sautéing step. However, frozen raw mushrooms tend to become very mushy when cooked since they absorb a lot of water. If you are using them in hot dishes like blended soups or casseroles where their texture doesn't matter, then you can freeze them raw without concern. Otherwise, it's better to cook them slightly before freezing.
How long can you freeze mushrooms?
When properly prepared and sealed in freezer bags that have as much air removed as possible, frozen mushrooms can last for up to 6 months.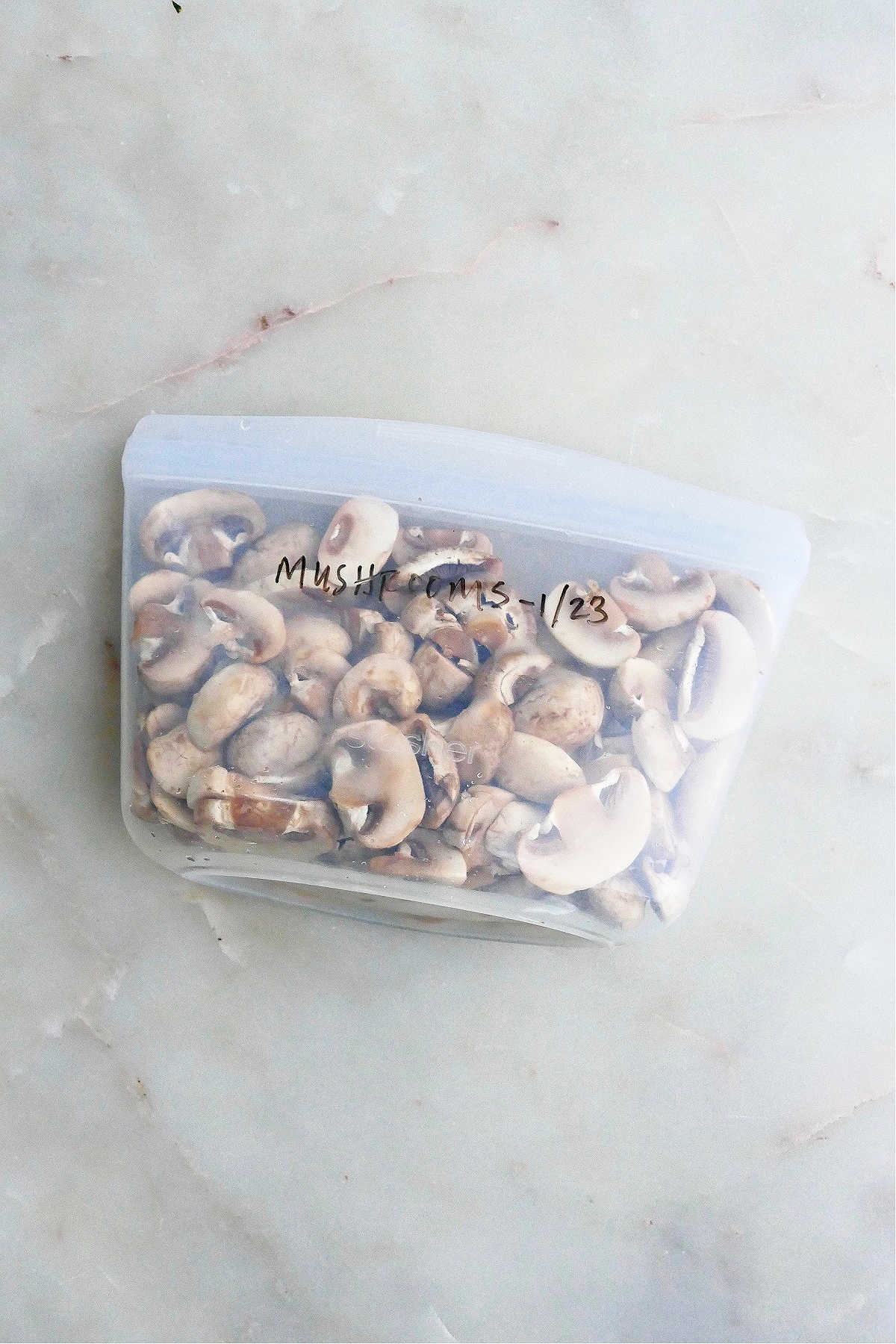 How to Use Frozen Mushrooms
Now that you know how to freeze mushrooms, let's talk about how to eat them! For best results, only use them in hot recipes. They won't work well in raw ones. They also don't work very well if roasted from frozen.
Frozen mushrooms typically do not need to be thawed before being added to recipes. You can stir them right into a soup, risotto, casserole, or pasta dish. You will just need to increase the cooking time by a few minutes to make sure they cook fully. For example, if you are sautéing mushrooms as part of a recipe, cook them for a little longer to ensure any excess water they absorbed when frozen is steamed off.
Here are some great ways to use frozen mushrooms:
I'd love to hear how you like this recipe! Rate/review using the stars on the recipe card or in the comments, and follow the Veg World on YouTube, Instagram, Facebook, and Pinterest. Looking for something totally different? Browse the recipe library.
📖 Recipe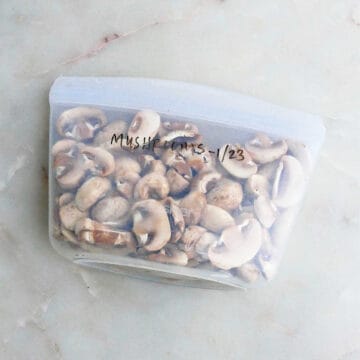 How to Freeze Mushrooms
Learn how to prepare mushrooms to store in the freezer for later use.
Print
Pin
Rate
Save
Saved!
Instructions
Clean and prepare the mushrooms for freezing. Wipe them clean with a damp paper towel to remove dirt. Trim off the dried out parts of the stems or remove the entire stems of chanterelle, shiitake, and portobello mushrooms.

You can keep small mushrooms whole, but most mushrooms should be sliced. Slice or quarter button/white and cremini/baby bella mushrooms. Slice shiitake, portobello, and oyster mushrooms.

Next, cook the mushrooms slightly. You can either sauté them in a skillet with a little oil for 5 minutes or steam them. To steam, boil an inch of water in a pot. Add a steamer basket, place the mushrooms in the basket, cover, and cook for 3 to 5 minutes. Let the mushrooms cool completely after cooking.

Alternatively, you can keep the mushrooms raw. However, frozen raw mushrooms get very mushy when cooked, so it's usually best to cook them before freezing unless you are only using them in dishes where their texture doesn't matter.

After the mushrooms cool, transfer them to a lined baking sheet. Spread them out in a single layer. Place the baking sheet in the freezer, somewhere it won't get bumped. Freeze for 1 to 2 hours until frozen solid.

Transfer the frozen mushrooms to freezer bags. Seal tightly, removing as much air as possible. Label.

Store in the freezer for up to 6 months.
Notes
Use frozen mushrooms in hot recipes for best results. They don't work well in raw ones. Add the mushrooms directly to recipes like soups, casseroles, pasta, and risotto. Just be sure to cook for long enough so they fully thaw and release any moisture they absorb.
Nutrition
Serving:
0.5
pound
|
Calories:
50
kcal
|
Carbohydrates:
7
g
|
Protein:
7
g
|
Fat:
1
g
|
Saturated Fat:
0.1
g
|
Polyunsaturated Fat:
0.4
g
|
Sodium:
11
mg
|
Potassium:
721
mg
|
Fiber:
2
g
|
Sugar:
4
g
|
Vitamin C:
5
mg
|
Calcium:
7
mg
|
Iron:
1
mg
Enjoy this vegetable hack! – Lizzie