Learn how to cut shallots in three different ways with this tutorial post and video. You'll see how to peel a shallot, how to dice shallots, and how to cut shallots thinly into rings and half rings.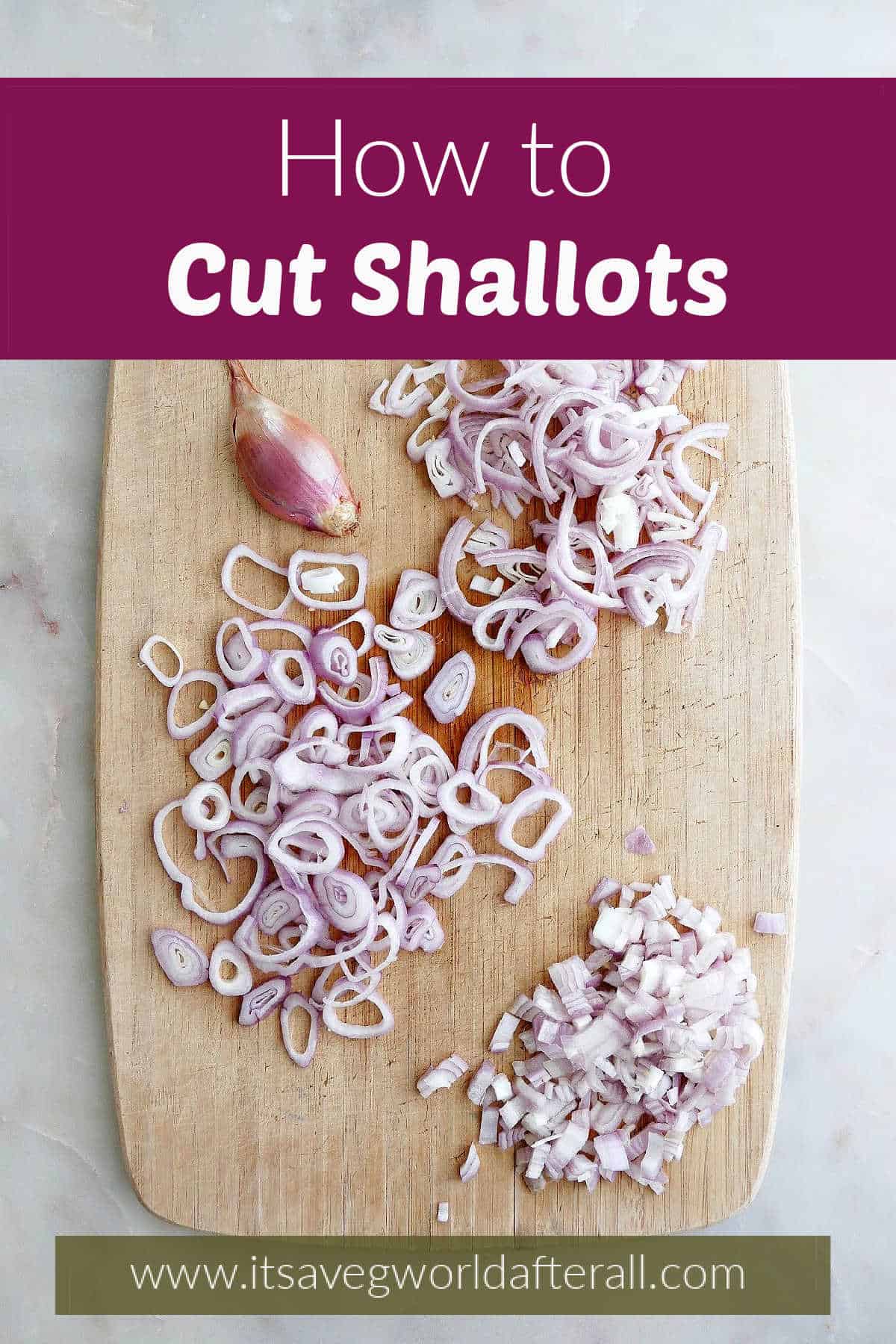 This post may contain affiliate links. For more information, see my affiliate disclosure.
Shallots are one of my favorite members of the onion family. They're most similar to sweet onions and have a mellower taste than red, white, or yellow onions.
Crispy fried shallot rings are perhaps the most common way to eat this veggie, but they make a great addition to so many dishes. You can use shallots in place of onions in most recipes. They taste delicious in soups, risottos, pastas, dressings, and marinades.
But if you're new to cooking with shallots, you may not know how to cut them. Shallots have a unique shape, and sometimes a shallot has multiple bulbs that are side by side.
In this post, I break down how to dice shallots like onions and how to cut shallots into rings and half rings for frying. Be sure to scroll down to the video above the recipe card to watch the tutorial!
How to Peel a Shallot
Before you cut shallots, you need to remove the skin. Start by slicing off the stem end.
Then, peel back the skin and discard. Keep the root on to make it easier to cut.
How to Dice Shallots
If the shallot contains more than one bulb grouped together, break them apart from each other and work with each one separately. Peel the shallot. Cut the shallot in half lengthwise.
Make lengthwise slits in each half of the shallot.
Dice the shallot crosswise.
How to Cut Shallots into Rings for Frying
Peel the shallot. For half rings, slice the shallot in half lengthwise. Then, make crosswise cuts.
For full rings, keep the shallot intact and make crosswise cuts.
Recommended Equipment
I like to use these bamboo cutting boards that have stoppers on the bottom to prevent slipping. If you are interested in the chef's knife that I use to chop veggies, check it out here.
How to Cook Shallots
Shallots can be enjoyed raw, sautéed, caramelized, roasted, or pickled. They are commonly used as a base for soups, risottos, and dressings or marinades.
Some of my favorite dishes with shallots include Quick Pickled Shallots, Balsamic Caramelized Shallot Pasta, Parmesan Peas and Shallots, and Healthier Green Bean Casserole with Almonds. They also appear in the Vegan Mushroom Risotto, Baked Brown Rice Risotto with Asparagus, and the dressing for the Grilled Panzanella Salad.
Watch How to Prepare Shallots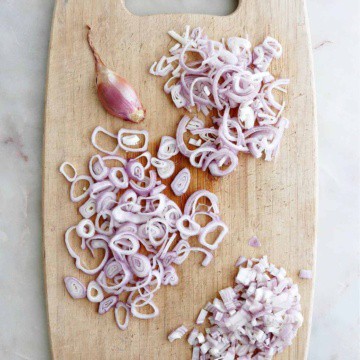 Instructions
If the shallot has more than one bulb, pull them apart. Cut off the stem end of the shallot. Peel back the skin and discard. Keep the root end on to make it easier to cut.
Diced shallots
Slice the shallot in half lengthwise. In each half, make lengthwise slits. Cut the shallot crosswise to dice it.
Sliced shallots (half rings)
Slice the shallot in half lengthwise, then make crosswise cuts on each half to yield half rings.
Sliced shallots (full rings)
Make crosswise cuts on the shallot to yield full rings.
Nutrition
Serving:
1
shallot
|
Calories:
18
kcal
|
Carbohydrates:
4
g
|
Protein:
1
g
|
Fat:
1
g
|
Sodium:
3
mg
|
Potassium:
84
mg
|
Fiber:
1
g
|
Sugar:
2
g
|
Vitamin A:
1
IU
|
Vitamin C:
2
mg
|
Calcium:
9
mg
|
Iron:
1
mg
Enjoy your shallots! – Lizzie