A delicious way to satisfy your sweet tooth, these Maple Roasted Almonds are a protein-packed vegan snack with only three ingredients!
Looking for a recipe that features these almonds? Check out the Healthier Green Bean Casserole.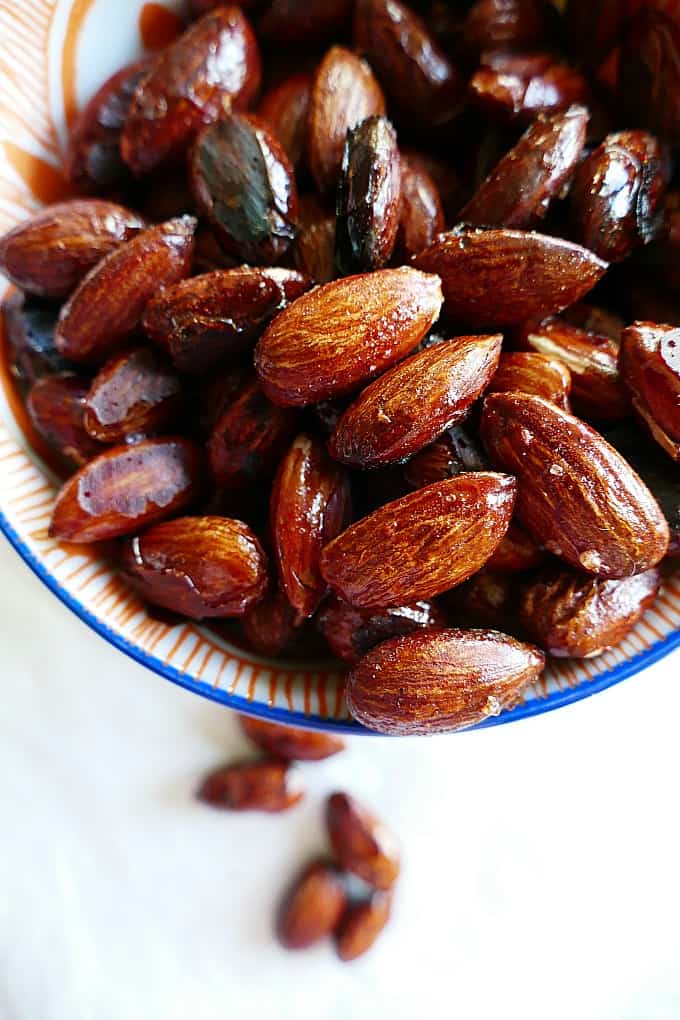 Sugar cravings. We've all had 'em! Maybe you had a long morning of meetings, ate a quick lunch, and at 2 pm, you find yourself hankering for any bit of sweetness you can get your hands on. Or you rushed to work, grabbed a coffee and a pastry to go, and feel hungry an hour later.
To prevent these scenarios, it's best to eat balanced meals with protein, healthy fats, and fiber, as often as you can. But what about when that's not possible? Or when you are eating balanced meals, but still crave something sweet?
Maybe it's your time of the month, you're pushing a deadline at work, or you just want a treat.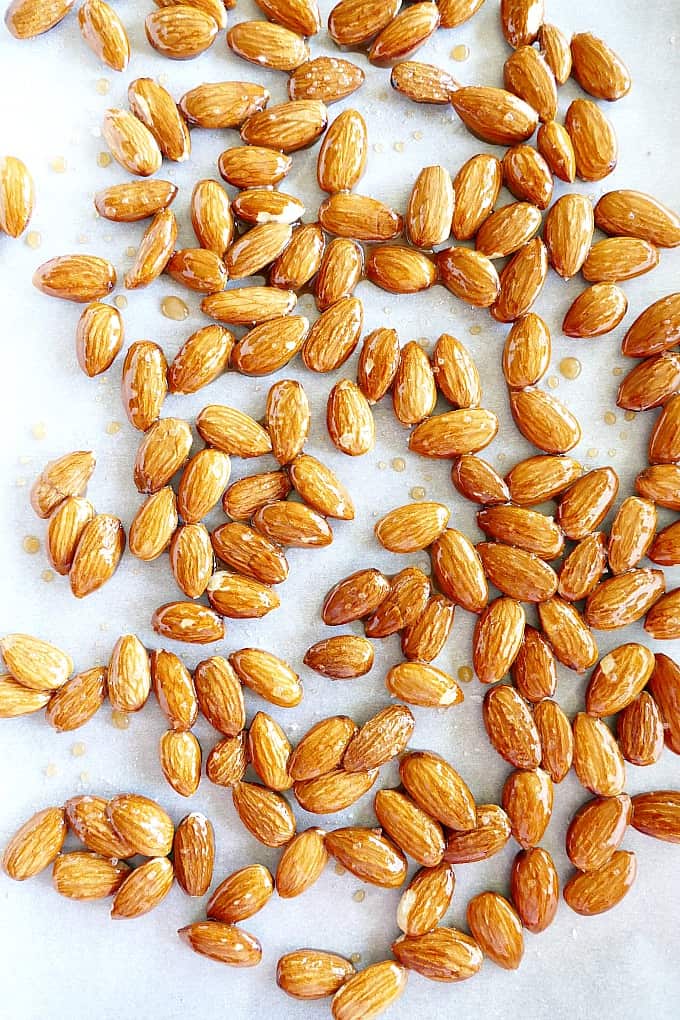 Instead of denying yourself and overly restricting your food choices (doing so will only make you want that cookie even more), consider reaching for a sweet option that also gives you some nutrients, like these Maple Roasted Almonds!
They're salty, sweet, and can be made in just 20 minutes!! How's that for a winning snack?!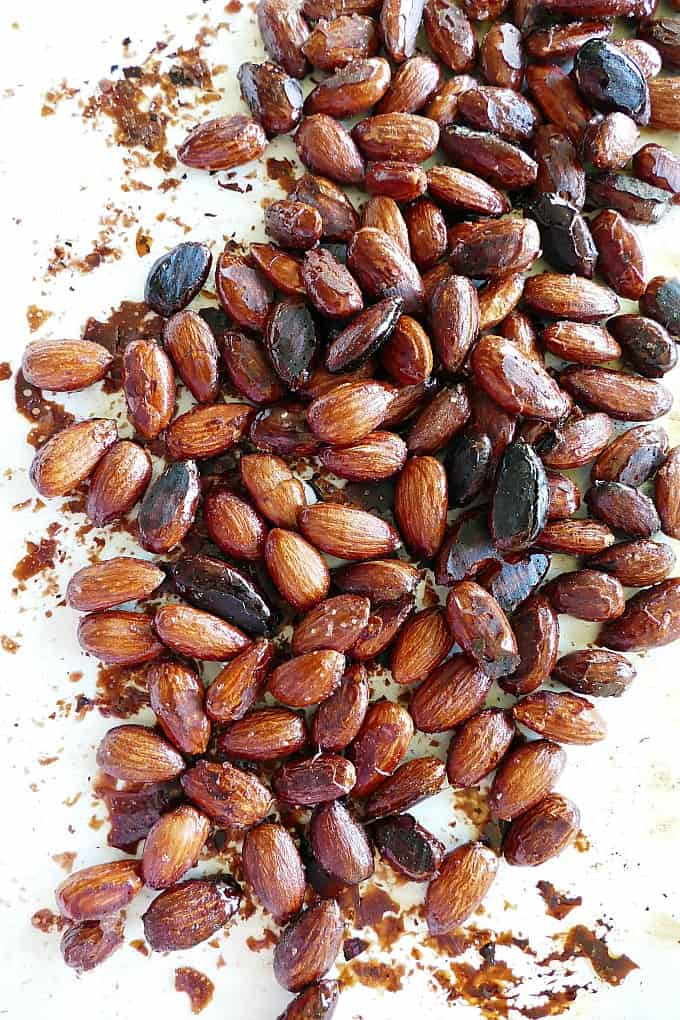 How to Make Maple Roasted Almonds
I'm telling you,this is SO easy!
Mix together raw almonds and maple syrup.
Transfer to a lined baking sheet. Sprinkle with sea salt.
Roast in the oven for 15 minutes.
Badabing, badaboom. Don't you love it when recipes are actually as simple as they sound?
Speaking of simple snacks (that are also sweet!), don't forget to check out some of my other favorites while you're here, like the Vegan Peanut Butter Cups with Pumpkin, Sweet Corn and Blueberry Frozen Yogurt Bark, and Carrot and White Bean Vegan Blondies.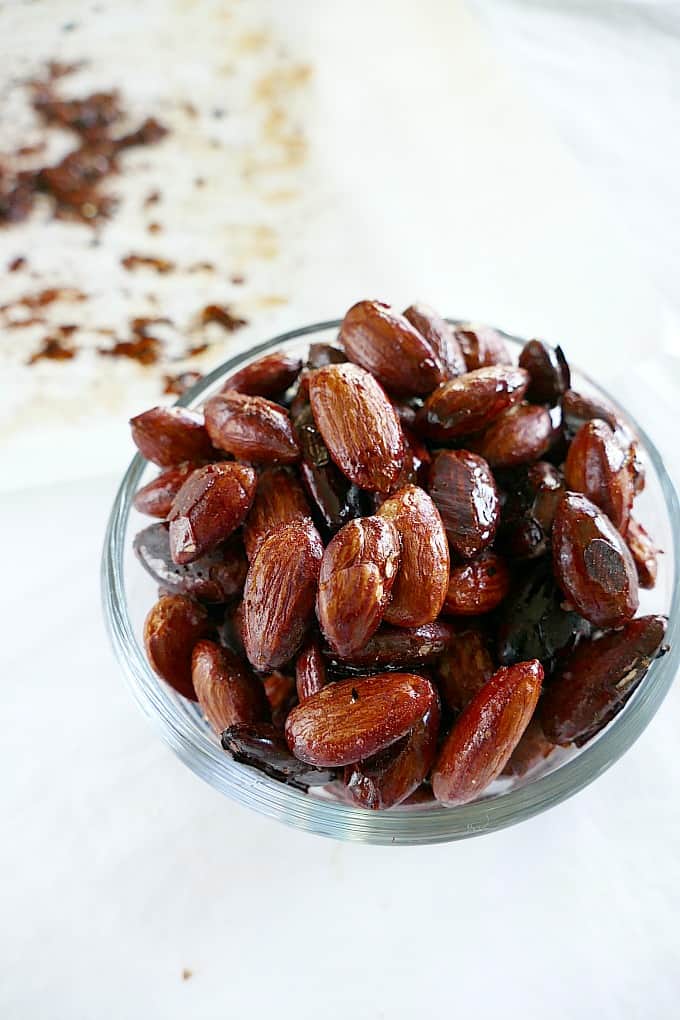 In terms of storage, I highly recommend storing these almonds in a glass container in the fridge right away. This prevents them from getting sticky, and makes them easier to eat.
If you make this recipe, be sure to add to the comments below and let me know how you like them!
📖 Recipe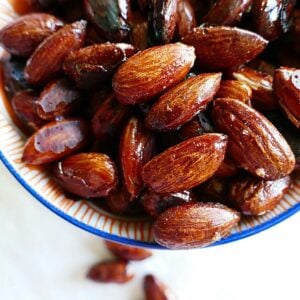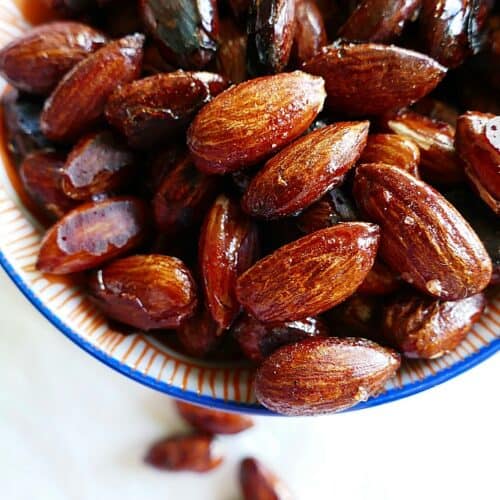 Instructions
Preheat oven to 350 degrees F. Line a baking sheet with parchment paper.

In a small bowl, mix almonds with maple syrup until coated. Transfer to baking dish. Make sure almonds are not overlapping. Sprinkle with sea salt to taste.

Bake for ~15 minutes. Let cool before eating.
Notes
After you make these, store them in the fridge as soon as possible. They will get crunchier, and be less sticky on your teeth, by doing so.
Nutrition
Serving:
0.25
cup
|
Calories:
233
kcal
|
Carbohydrates:
14
g
|
Protein:
8
g
|
Fat:
18
g
|
Saturated Fat:
1
g
|
Sodium:
1
mg
|
Potassium:
275
mg
|
Fiber:
4
g
|
Sugar:
7
g
|
Calcium:
105
mg
|
Iron:
1
mg
Happy snacking!
Lizzie