As summer came to an end this past weekend, I was simultaneously launching this blog- a new endeavor for a new season. Shorter days, cooler temperatures, and apples in this week's CSA farm share all make a bittersweet point. Fall is coming, whether we like it or not. But before we get to the (hopefully) delicious meals I have in store for autumn, why not pay tribute to the flavors of this past season?
Okra, Corn, and Tomato Salad
When I picked up a bag full of okra in my produce box on Tuesday, I was stumped. What were these little red pepper-like things? My Google searches turned up articles and posts detailing "how to cook okra so it doesn't get slimey." Intrigued by the gooey properties of these little guys, I decided to concoct an okra stew of sorts, jam packed with seasonal goodies, sans the slime!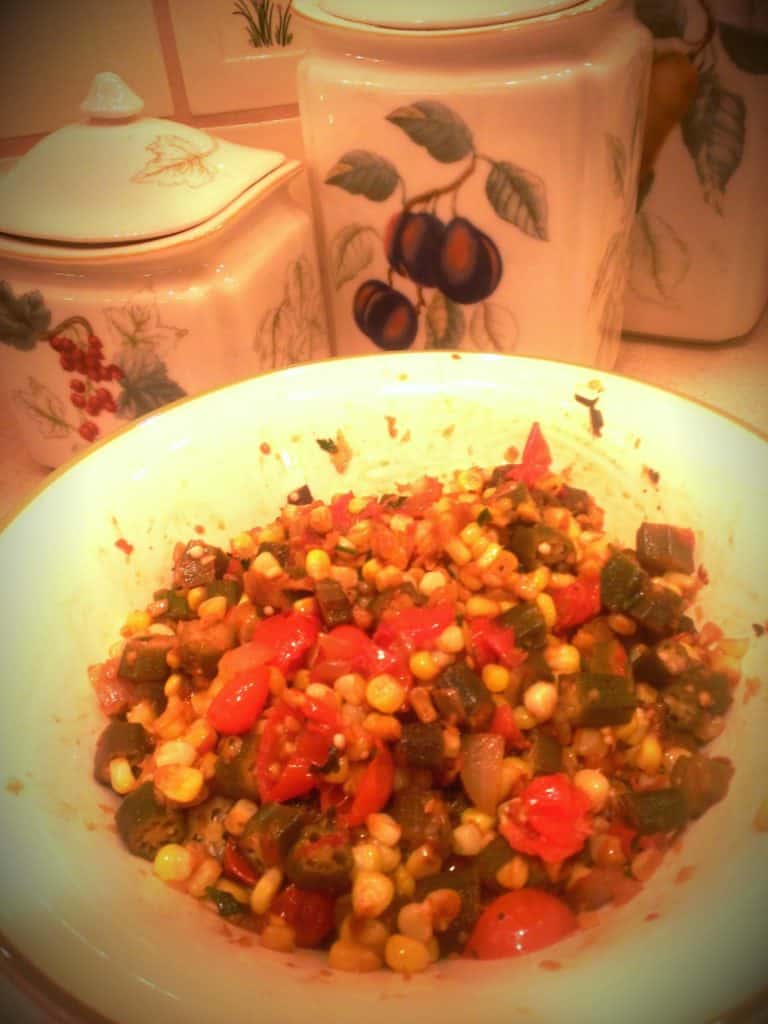 Ingredients:
3 tablespoons olive oil
5 cloves garlic
½ yellow onion, chopped
2 ears worth of fresh corn kernels (removed from the cob)
1 ½ cups grape tomatoes, cut in half
½-1 pound okra, chopped
⅓ bunch of fresh parsley
Salt and pepper to taste
Directions:
Heat olive oil in a skillet over medium heat. Add onion and corn and lower heat, stirring occasionally until onions are translucent. Raise heat to medium-high and add okra and tomatoes at same time (the high heat and tomatoes will prevent the slime from making it to the final product, although you may see a little in the beginning).
Add garlic, lower heat, and stir until the vegetables are no longer firm. Remove from heat. Rip fresh parsley over the mixture and add salt and pepper to taste. Serve and enjoy!
Okra, you have been served.
Stuffed Baby Bell Peppers
So since it is my first post and all, here's another easy recipe. It's perfect for an appetizer or side dish at end-of-summer gatherings (and all year round, too).
Ingredients:
10-12 baby bell peppers, washed
2 tablespoons olive oil
1 bag of spinach, chopped
3 cloves garlic
1 egg
½ cup bread crumbs (Panko adds some great flavor)
Water if needed
Directions:
Preheat oven to 350 degrees. Cut stems and tops (about ⅛ inch wide) off of peppers. Clean out seeds. Heat olive oil in a small frying pan over medium heat. Add chopped spinach and garlic and sauté for 3-5 minutes. Beat egg in separate bowl. Stir in bread crumbs and spinach. Add water if dry.
Stuff peppers with mixture. Bake on a cookie sheet for 15 minutes. Enjoy while hot!
This also tastes delicious inside mushrooms, and if desired, you can add ⅓ cup parmesan cheese to the stuffing.
That's it for this colorful veggie post.
Stay tuned.
Peace,
Lizzie