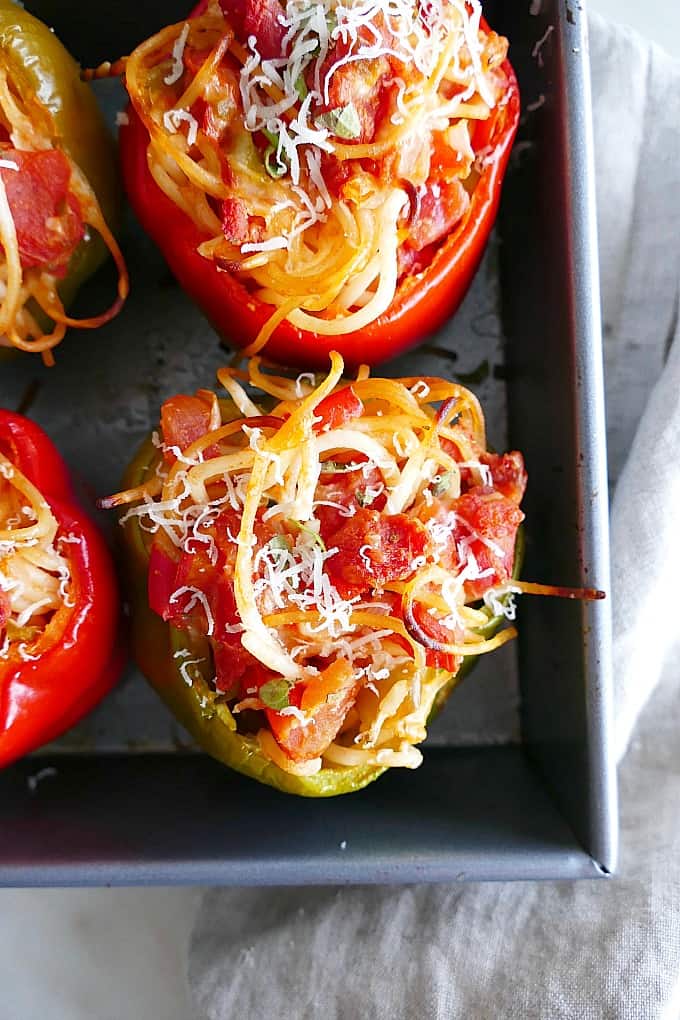 Did you know that September is National Family Meals Month? I usually don't pay attention to food holidays, but I did happen to make this recipe with Family Meals Month in mind.
As soon as kids go back to school, it seems like everyone's schedules get a zillion times more hectic. As a result, people tend to forget about eating, cooking, and meal planning. They want food on the table, and they want it on there fast!
Fast, healthy meals are something I can definitely get behind, especially when my schedule picks up in the fall. Even though Will and I are just a family of two, I'm always brainstorming recipes that can be scaled up or down to feed both our small family or a bigger one!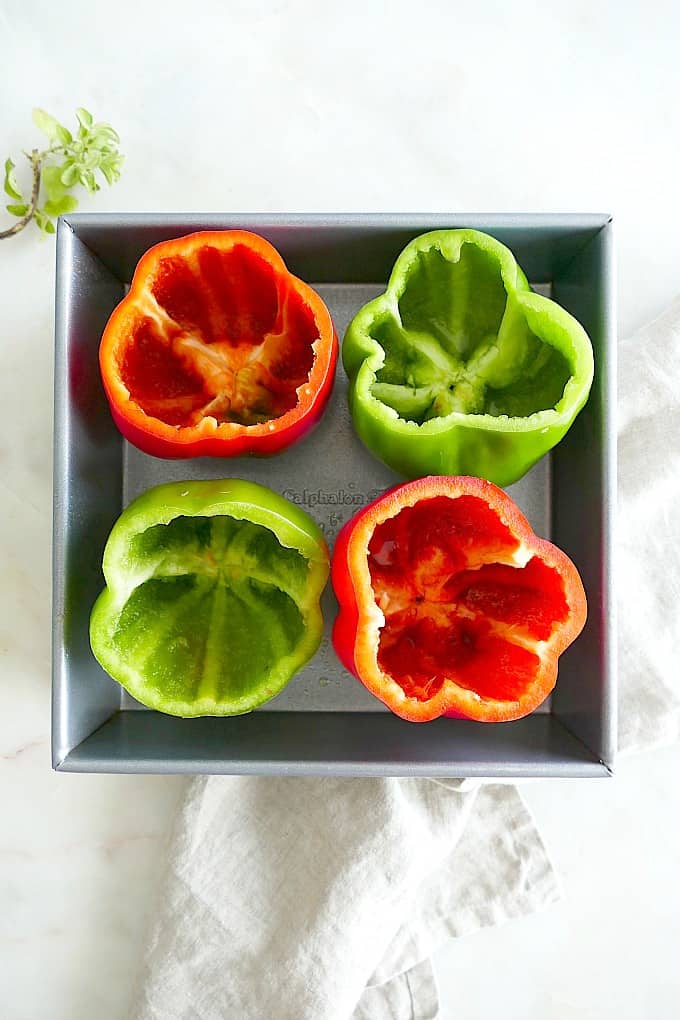 My interest in developing more family-friendly recipes for the Veg World, plus the fact that I'm a seasonal veggie nerd, resulted in these fun and easy Spaghetti Stuffed Bell Peppers!
This recipe is a fun way to get more veggies on the table in a way that the whole family will love. You only need to 1) boil some spaghetti, 2) mix in some canned tomatoes, cheese, and seasonings, and 3) stuff a few bell peppers! Pop the final product in the oven while the kids start their homework.
Busy September nights, you have been served…
These Spaghetti Stuffed Bell Peppers are pretty darn nutritious, but you can boost their nutrition even more by:
Opting for 100% whole grain spaghetti
Sneaking in more veggies when you stuff the peppers
Adding a lean protein, like diced chicken or beans
I'd love to hear how your family likes these in the comments below!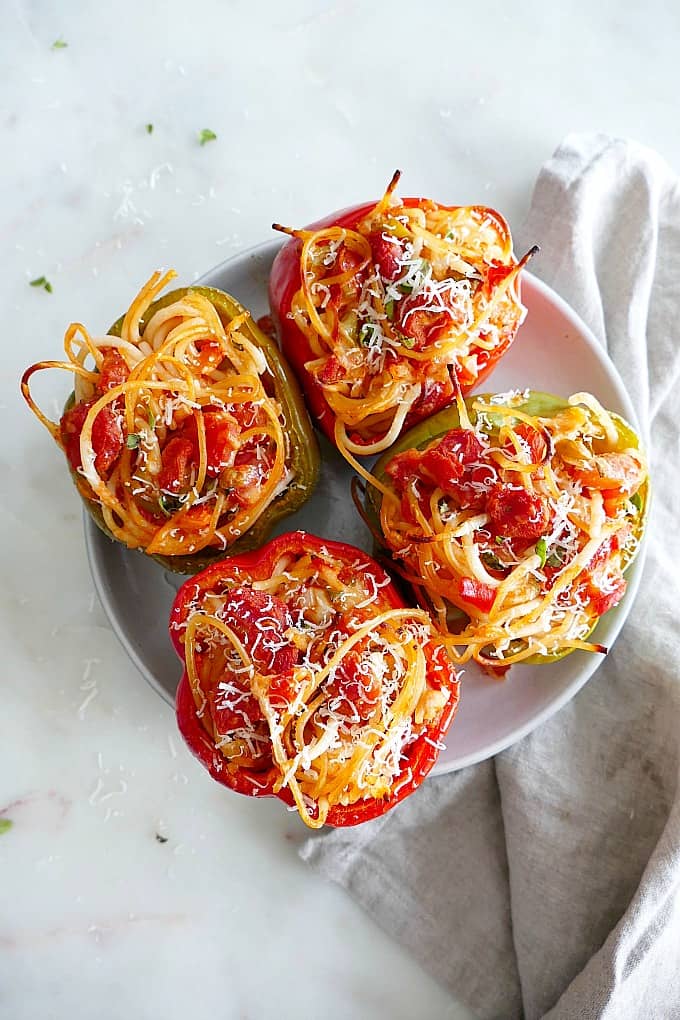 Oh, and did I mention these make great leftovers?!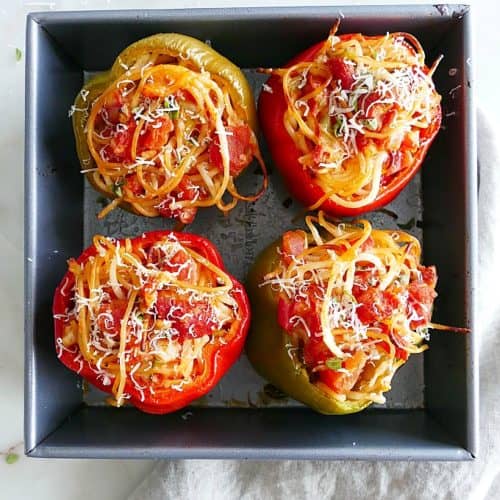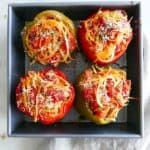 Spaghetti Stuffed Bell Peppers
A fun way to eat more veggies that the whole family will love!
Ingredients
8

bell peppers

8

oz

spaghetti

dry

1/4

cup

diced onion

1

tbsp

olive oil

1

14.5 oz can

diced tomatoes

2

tbsp

fresh oregano

chopped

1/2

cup

grated parmesan

1/2

cup

shredded mozzarella
Instructions
Preheat the oven to 350 degrees F. Prepare the peppers by slicing off the tops and removing the seeds and stems. Spray a 9x13 baking dish with oil. Place the hollow peppers in the dish.

Cook the spaghetti according to package instructions. Spaghetti typically comes in 16 oz packages, so you can choose to make it all and use half or just make half of the package. When the spaghetti is finished, drain it and transfer to a large mixing bowl.

While the spaghetti is cooking, dice the tops of the peppers (to prevent food waste). Heat the olive oil in a large skillet over medium high heat. Add the diced pepper tops and diced onions, and cook for 5 to 7 minutes. Transfer these veggies to the mixing bowl with the spaghetti.

Add the diced tomatoes, oregano, grated parmesan, and shredded mozzarella to the bowl with the spaghetti and sauteed veggies. Stir until everything is well combined.

Using tongs, stuff the bell peppers with equal amounts of the spaghetti mixture. Bake for 35 to 40 minutes or until the peppers become slightly tender. Serve with a sprinkle of cheese on top, and enjoy!
Pin these Spaghetti Stuffed Bell Peppers now to make later!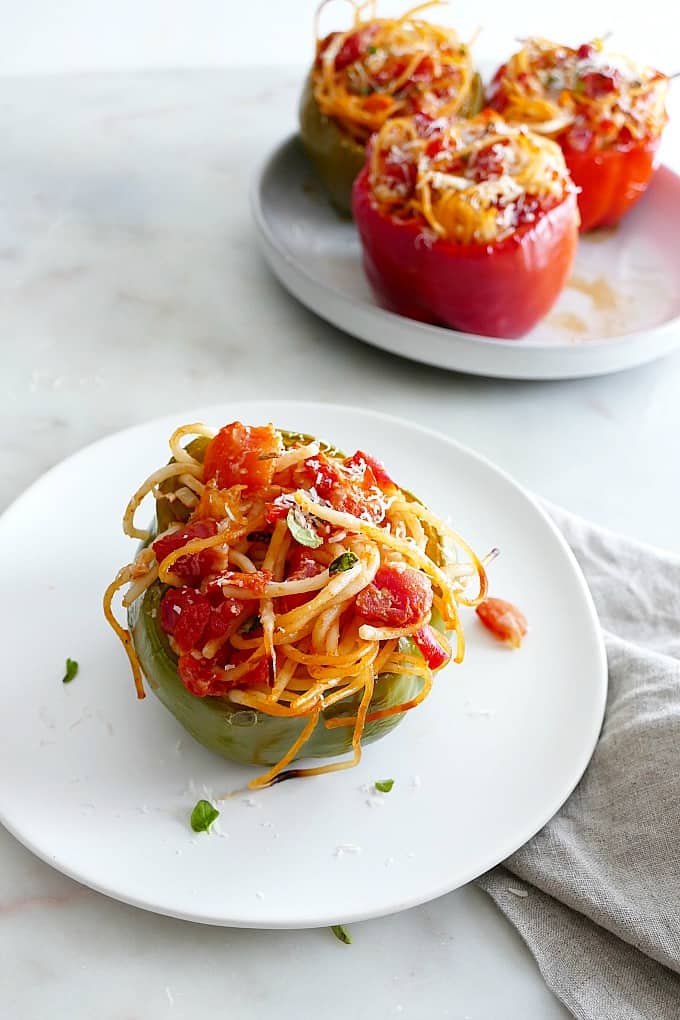 Happy Family Meals Month!
Lizzie