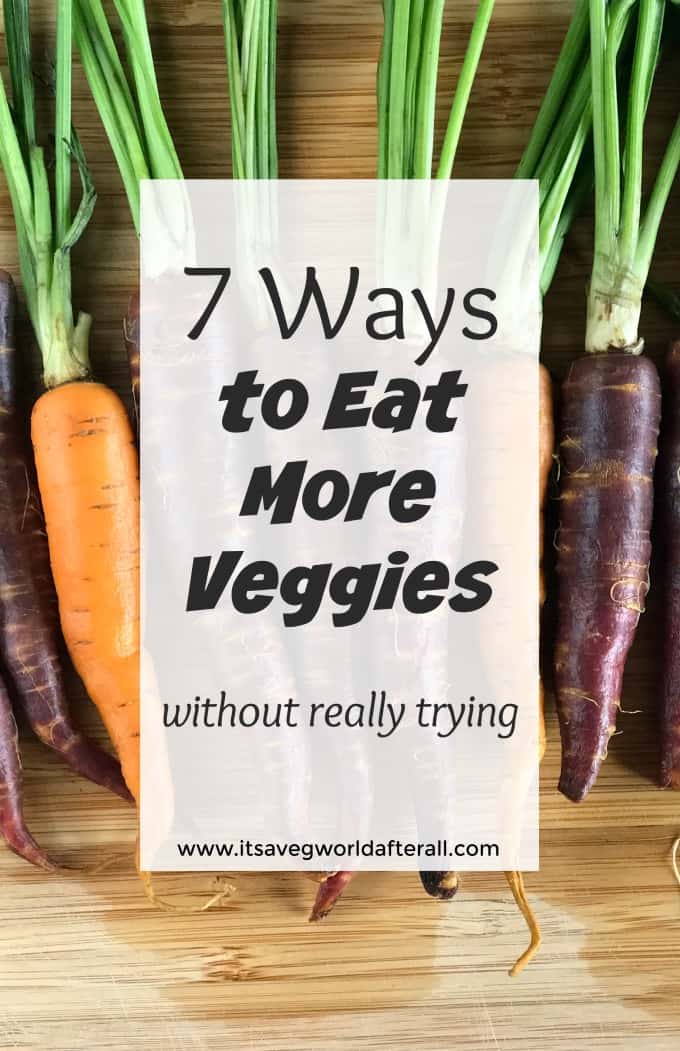 I'm sure you all know this by now. But I love veggies.
There I said it!
Really, I do. Vegetables are nature's best gift to all of us. They are filled with nutrients, and eating more vegetables is a known way to stay healthy, decrease your risk for certain diseases, and live well.
Adding more vegetables to your daily meals and snacks is a great start to eating a balanced diet. Ok, so we all know that eating more veggies is good for us. But how can we put this into action? Are salads and raw veggies the only way to increase our veggie intake?
No way! There are SO many ways to enjoy vegetables. Start with what you like. Peas, carrots, beets, onions, tomatoes…whatever floats your boat, and slowly incorporate new veggies.
Read on for some easy ways to eat more vegetables, without really trying! With these tips, you'll be eating rutabaga and kohlrabi in no times ;-).
1. Prep your veggies in advance.
The easiest way to eat more veggies is meal prep.
If you're intimidated by this process, don't be. Meal prep doesn't mean you have to fill 20 different tupperwares with pretty meals like your favorite food bloggers. If you are new to meal prep, you can start with these simple tasks:
Roast a few trays of veggies. Like carrots? Beets? Sweet potatoes? Broccoli? Good. Slice 'em, dice' em, drizzle that olive oil, give 'em a good dash of salt and pepper, and roast for 20-30 minutes at 400. Boom.
Slice raw veggies and store in water. I have to give my husband (and mother-in-law) credit for this one! Slice some carrots and celery stalks, and store them in a container with cold water in the fridge. They will keep their crunch all week long!
Having a plan with recipes and grocery lists is a great way to get started with meal prep.
2. Keep your freezer stocked with veggies.
Frozen vegetables and fruits are just as nutritious as fresh ones! They are picked and blanched at the peak of their ripeness. Keeping your freezer stocked with frozen vegetables means you will always have something healthy on hand. They are the perfect option for busy weeks!
Need a 10 minute dinner idea? Steam some broccoli and peas. While they're cooking, scramble some eggs. Boom.
3. Sneak veggies into your weeknight classics.
Pasta, pizza, mac and cheese, chicken salad, rice, and eggs have some things in common. 1) They tend to be weeknight classics for busy adults and families, and 2) You can add veggies to all of them!
Throw some frozen veggies into your pasta or mac and cheese as they cook in boiling water. Add chopped grean beans to your rice dishes, put celery and cucumbers in your chicken salad, and add diced peppers and onions to your eggs. It's as easy as that!
4. Add veggies to ground meat, or try veggie burgers.
Putting vegetables, like chopped carrots, onions, peppers, and even black beans, into taco meat or burgers can help you eat healthy and save money!
You can double the yield of ground meat by bulking it up with vegetables and beans. These additions will also add flavor.
5. Swap carbs for veggies!
I'm not against "carbs" in any way. In fact, I love carbs, and believe they are a necessary part of almost every diet. That being said, a lot of the carbs out there are refined and/or filled with added sugars. Luckily, you can swap almost all of these carbs with veggie-based alternatives:
Pizza crust? Try cauliflower crust!
Noodles? Spiralized veggies to the rescue.
Rice? Cauliflower rice and broccoli rice are two of the hottest foods right now. Most stores sell pre-riced and frozen options.
Bread/wraps? Nothing like a good ol' lettuce wrap.
Chips? Veggie chips are where it's at. Look for options that include simple ingredients, such as dehydrated/dried veggies and seasonings.
6. Make veggie-based dips and spreads.
Sure, mustard and mayo taste great on sandwiches, and sour cream is delicious in dips. But there are tons of ways to include veggies in your sandwich spreads and dips.
Think: pesto, avocado spread, homemade spinach and artichoke dip, salsas, and more!
7. Drink your veggies!
This list would not be complete without a shout-out to smoothies. They are the easiest way to get your veggies in, especially leafy greens. Pinterest and instagram are exploding with healthy smoothie options that take less than 5 minutes to make, and can even be prepared in advance.
A few of my favorite smoothies include:
Need more inspiration? Take a look around the blog, or visit my Pinterest page to check out my different boards with healthy plant-based recipes.