For a delicious twist on a classic potluck dish, try this vegan potato salad with dill, mustard, and scallions. This is a no mayo potato salad recipe that's sure to be a winner!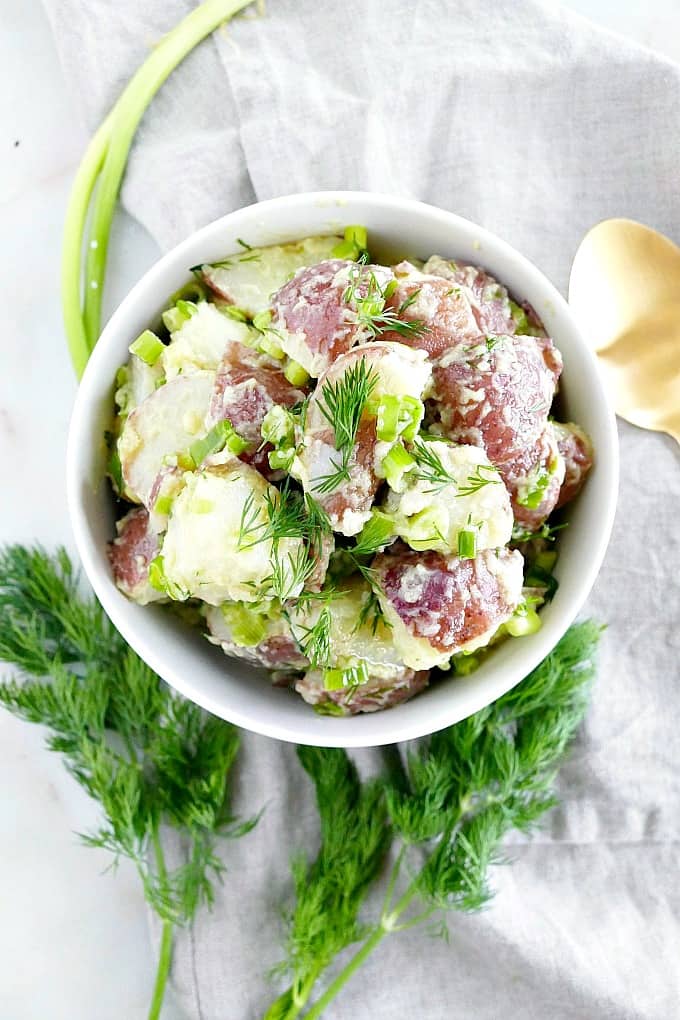 I think I have a new favorite recipe on here. Ok, I say that a lot, but this one is SO GOOD!
Will and I are both not the biggest potato salad people. It gets the job done, but it's not my first choice if I see it on a spread.
My opinions have changed, however, with this healthy potato salad recipe! It's creamy without even really trying (from olive oil and mustard, not mayo) and bursting with freshness from green onions and dill.
And it just so happens to be a great dish for the upcoming 4th of July!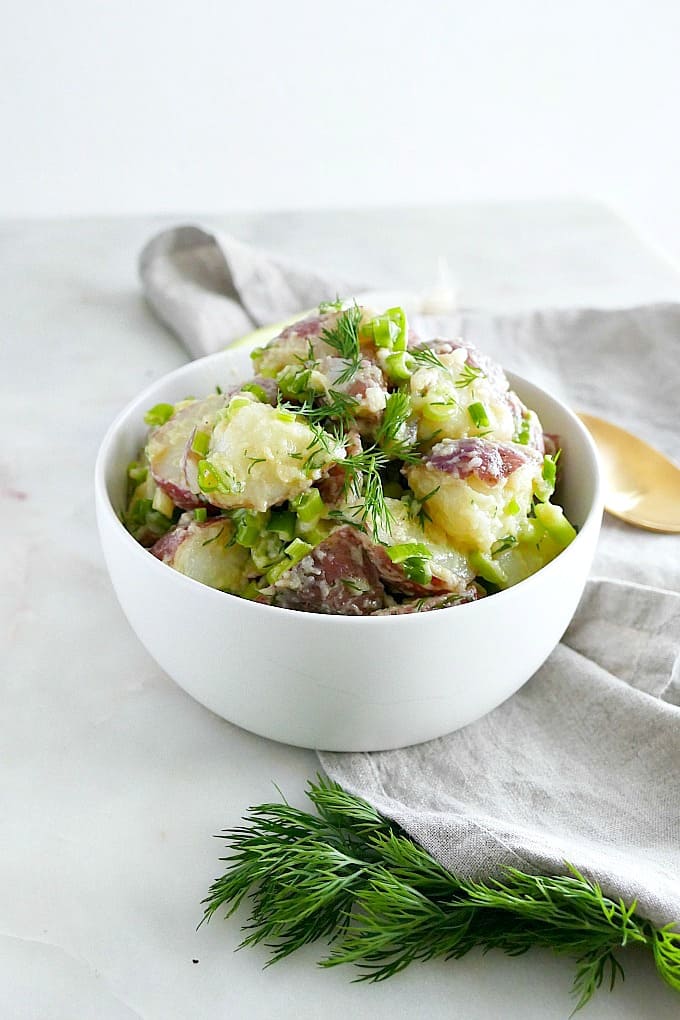 Until this recipe, I had never ever made potato salad before. Knowing how long it can take to cook potatoes, I was a bit apprehensive about making it.
What I didn't realize is that for potato salad, you just have to boil those suckers. It takes no time at all! There's no mashing, roasting, or beating afterwards like you do on Thanksgiving.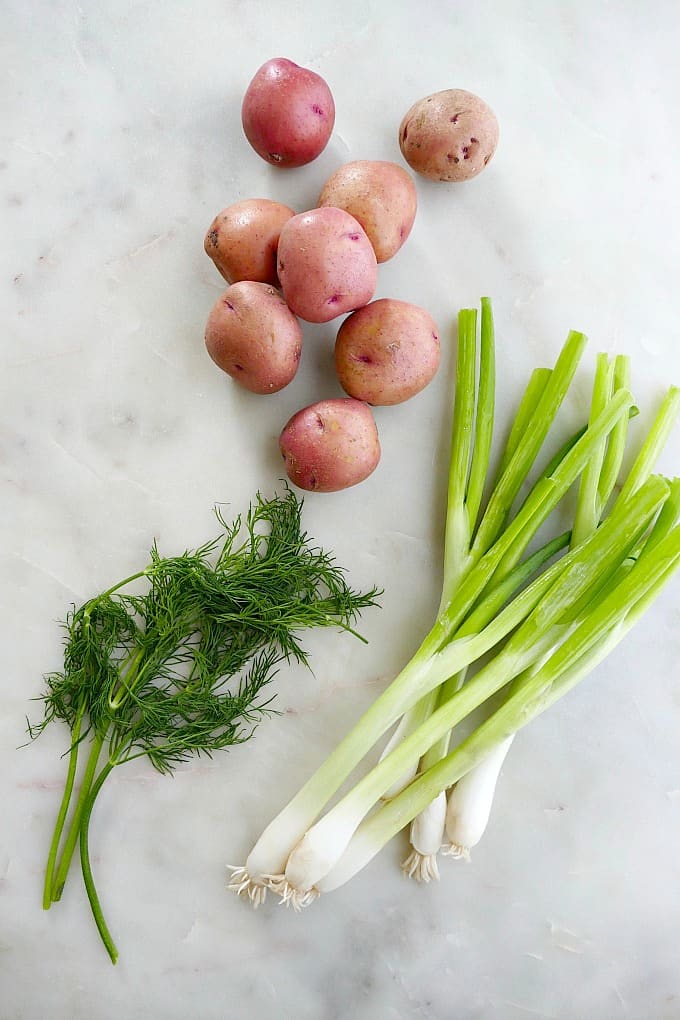 How to Make Vegan Potato Salad
First, gather your ingredients: red potatoes, fresh green onions (scallions), dill, olive oil, dijon mustard, white wine vinegar, and some salt and pepper.
Once you have those on hand, follow this seamless process to get to potato salad heaven!
Bring a large pot of salted water to a boil. Don't fill it all the way to the top, though, because you don't want boiling water to splash on you when you put the potatoes in the pot in step #2.
Quarter the potatoes and add them to the boiling water. Let them cook for ~16-18 minutes. You want them to be fork tender, but not so tender that they fall apart and get overly mushy. I recommend checking them at 10 minutes and then again every couple of minutes until they are the texture that you want.
While the potatoes are cooking, slice the scallions and fresh dill. Whisk together the olive oil, dijon mustard, and white wine vinegar (you can sub any light-colored vinegar or red wine vinegar) in a small bowl.
Drain and rinse the potatoes immediately. Add them to a large bowl with the scallions and dill. Pour over the dressing and use a rubber spatula to mix it all up!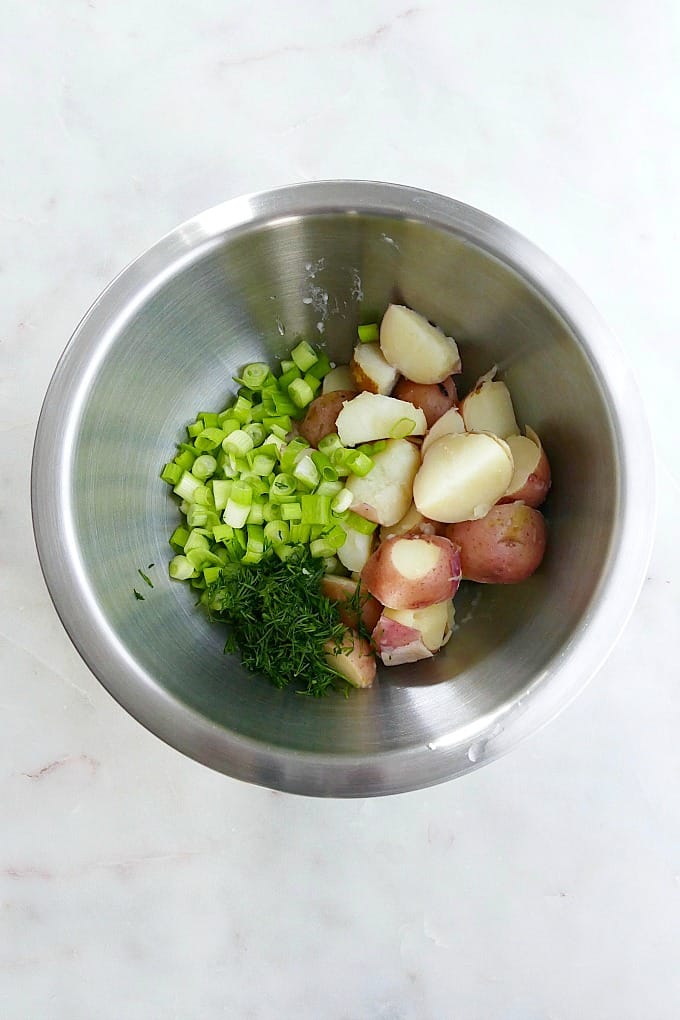 What to Serve with Vegan Potato Salad
This salad tastes delicious warm or cold. If you want to serve it cold, cover the bowl with plastic wrap and store in the fridge for at least 30 minutes and up to a few hours before serving.
Serve with beef or veggie burgers, fish, chicken, skewers, or any type of grilled protein. Add some fresh watermelon and a side of greens for a complete meal.
How long does vegan potato salad last?
Vegan potato salad can last for 3-4 days in the fridge.
FYI – if you store it in the fridge for more than a few hours or overnight, the olive oil may solidify. Let it sit at room temperature for a half hour or so, to ensure that the olive oil gets back to its normal consistency. Give it a good stir before eating.
If you bring potato salad to a potluck and it's sitting in hot temperatures for more than a couple of hours, it's best to discard it afterwards. (This is especially true if the potato salad is made with mayo…this one doesn't, but it's better safe than sorry.)
Can you make potato salad the day before?
This particular recipe tastes best when it's served the day you make it. But I have made it the day before serving in the past and it's turned out just fine. It's up to you!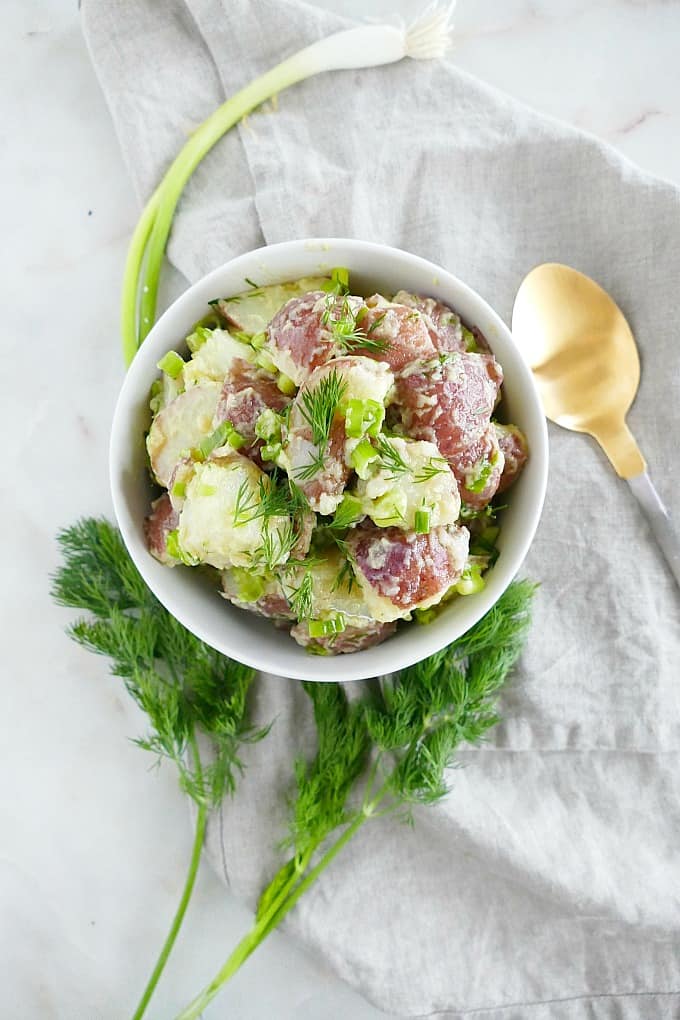 So, friends, add this to your summer cookout menu! And while you're at it, check out these great cookout dishes: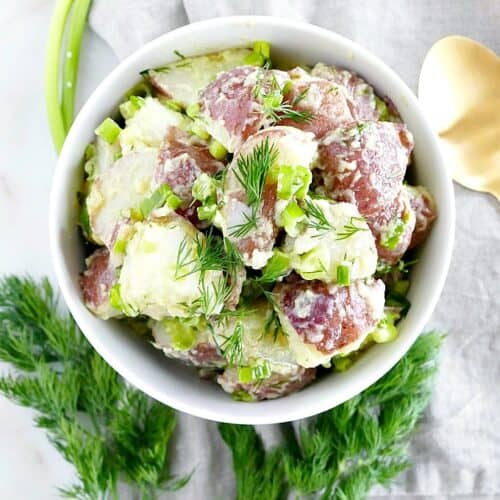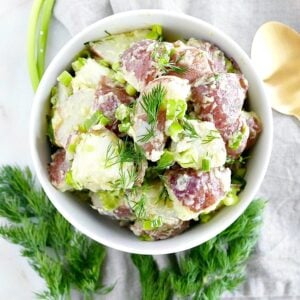 Vegan Scallion Dill Potato Salad
A healthy twist on classic potato salad, made with fresh scallions and dill and coated with olive oil, vinegar, and dijon. This no mayo potato salad is perfect for a summer cookout.
Print
Pin
Rate
Ingredients
1

pound

baby red potatoes

-

washed, dried, and quartered

1/2

tsp

salt

2

tbsp

dill

-

freshly chopped, more to taste

1/2

cup

scallions

-

sliced, about 5 large (~1 bunch)

1/4

cup

extra virgin olive oil

1

tbsp

dijon mustard

1

tbsp

white wine vinegar

Sea salt -

to taste

Black pepper -

to taste
Instructions
Bring a large pot of water (with the 1/2 tsp salt) to boil. Be careful not to fill it too high, because you don't want hot water splashing on you when you put the potatoes into the pot.

Add the potatoes. Cook for 16-18 minutes or until the potatoes are fork tender but not overly soft. I recommend checking on the potatoes at 10 minutes and then again every couple of minutes until they are as soft as you want them.

Drain the potatoes in a colander and rinse with cold water.

While the potatoes are cooking, chop the dill and scallions, and whisk together the olive oil, dijon, and vinegar. Add the potatoes, dill, and scallions to a large mixing bowl. Pour the dressing over the salad and mix until well coated. Add salt and pepper, and perhaps more dill, to taste.

Serve warm or at room temperature, or cover and put in the fridge for 1 to 2 hours to serve cold. Enjoy!
Notes
This potato salad can last in the fridge for 3-4 days, but tastes best when served on the day you make it.
Nutrition
Serving:
1
serving
|
Calories:
206
kcal
|
Carbohydrates:
19
g
|
Protein:
3
g
|
Fat:
14
g
|
Saturated Fat:
2
g
|
Sodium:
356
mg
|
Potassium:
550
mg
|
Fiber:
2
g
|
Sugar:
2
g
|
Vitamin A:
140
IU
|
Vitamin C:
12
mg
|
Calcium:
20
mg
|
Iron:
1
mg
Remember to pin this now to make later!

Happy weekend!
Lizzie