Learn everything you need to know about how to roast vegetables, including the recommended vegetable roasting times, tips about oven temperature and baking sheets, and a printable chart.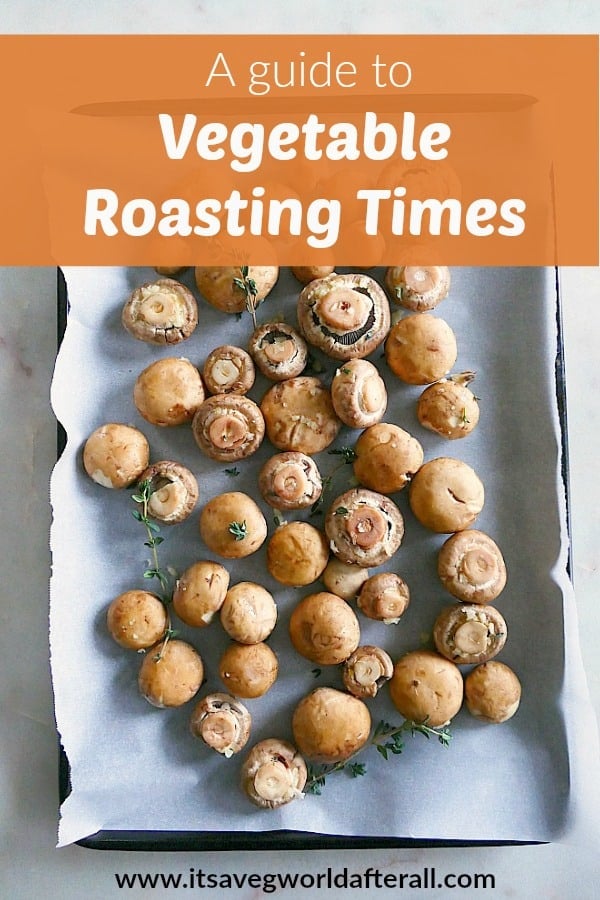 This post may contain affiliate links. For more information, see my affiliate disclosure.
If you asked me my number one recommendation to help people eat more veggies, it would be to roast one or more sheet pans of vegetables every week!
Roasted vegetables can be a simple side to a weeknight dinner or a meal prep staple that you can add to lunches and dinners throughout the week. Dicing veggies (or even keeping them whole!) and baking them in the oven is an easy technique with SO many benefits.
Plus, roasting veggies makes them taste extra delicious, which can be especially beneficial for those of you who don't like raw vegetables.
But how do you make PERFECT roasted vegetables? You know, like the kind that are just the right amount of crispy on the outside and tender on the inside? Well, you're about to find out.
Tips for Making the Best Roasted Vegetables Ever
Here are my expert answers, informed by many years of roasting vegetables in my own kitchen, to some of the FAQs about baking veggies in the oven.
Temperature for Roasting Vegetables
The best oven temperature is between 400 and 450 degrees F. At higher temps, the veggies need less cooking time than at lower temps.
Recommended Equipment: Baking Sheets and Pan Liners
I highly recommended roasting veggies in a baking sheet with low edges, also known as a "rimmed" baking sheet.
You don't want to use a baking dish with higher edges, like the kind you would use to make brownies, since this will prevent steam from escaping. In other words, the veggies won't get as crispy with that kind of dish.
I also recommend lining your baking sheet with parchment paper or a reusable silicone liner. But keep in mind that some brands of parchment paper should not be used at temperatures over 400 to 425 degrees F. This will usually be indicated on the package.
Finally, you can use aluminum foil, but veggies tend to stick more to foil even when you coat them with oil. So, it's not my first choice.
How should you cut veggies before roasting them?
The smaller and thinner you cut veggies, the quicker the cooking time. Typically, dicing veggies into 1″ cubes is a good rule of thumb. To promote even cooking, cut your veggies into as close to uniform pieces as possible.
Several veggies can also be roasted whole, including beets, carrots, sweet potatoes, potatoes, asparagus, and green beans. You can even roast cauliflower whole!
What type and how much oil should you use?
After you cut your veggies, coat them with enough oil so that they aren't dry, but not so much that they're dripping in excess oil. I typically use 1 to 2 tablespoons per baking sheet.
I recommend extra virgin olive oil or avocado oil for roasting veggies. These oils can withstand oven temperatures.
Other tips: stirring, where to put the baking sheet, and more
When you transfer veggies to a baking sheet, be sure to spread them out and make sure they are not overlapping. This allows for the veggies to release their moisture without steaming themselves.
Depending on the type of oven you have, roasted veggies cook best when the sheet is placed on the center rack of the oven. If you want to bake a few sheets of veggies at a time, rotate the sheets during the cooking process so they all get some time in the middle of the oven.
To make sure both sides of your diced veggies get crispy, but stay tender on the inside, you will likely want to stir or flip the veggies with a spatula halfway through the cooking time.
Can roasted vegetables be reheated?
Yes, you can reheat roasted veggies on a plate in the microwave on high for 1 to 2 minutes. Or you can heat them up in the oven at 250 degrees F on a baking sheet until warm.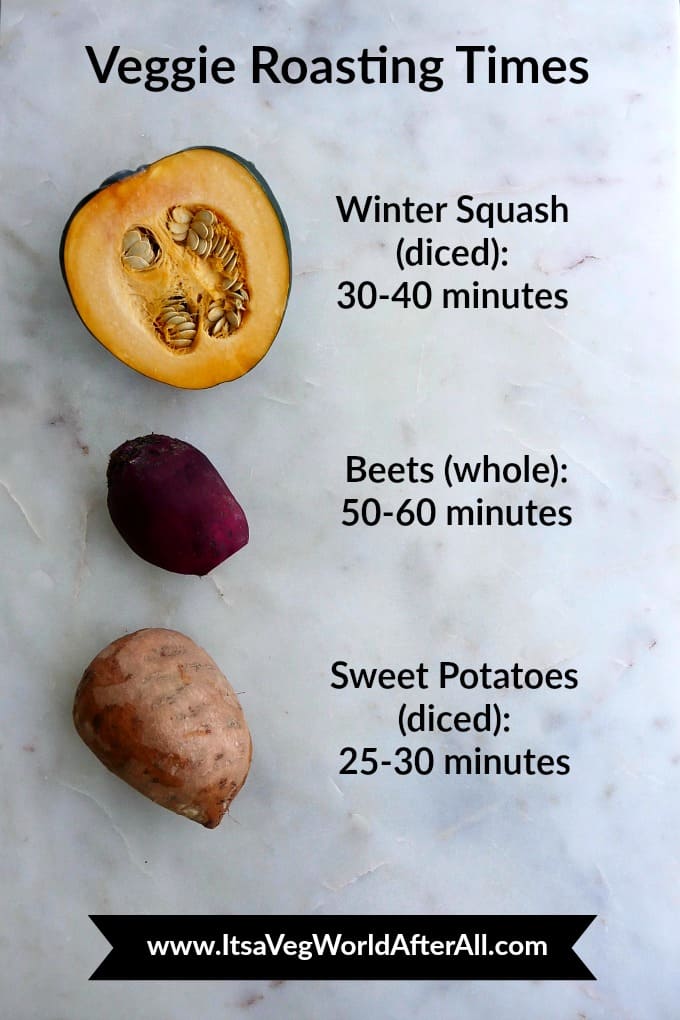 Printable Vegetable Roasting Time Chart
In general, softer vegetables take less time to cook than harder ones. Here is my complete list of veggie roasting times, organized by vegetable.
Aim for the lower end of the time range if you preheat your oven to 450 degrees F and the higher end of the time range if you do 400 degrees F.
**To print this chart, click here for the PDF of Vegetable Roasting Times!**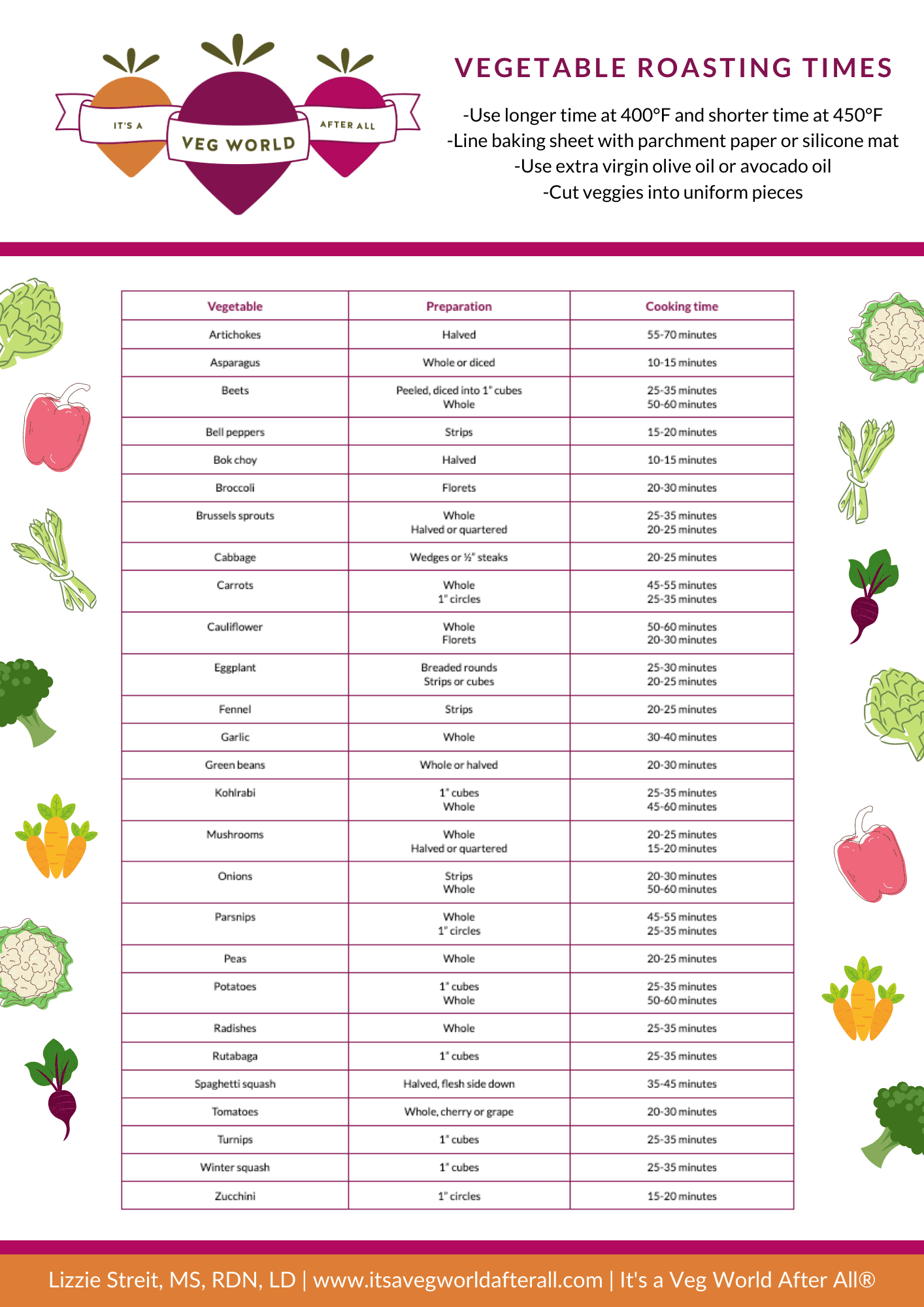 Roasted Vegetable Recipes and Seasoning Ideas
You can't go wrong with regular ol' salt and pepper when making roasted vegetables. But if you're interested in other seasoning ideas, check out my Ultimate Vegetable Seasoning Guide.
And here are some of my favorite roasted veggie recipes!
Did you find this post helpful? Let me know in the comments! And here's the link to the PDF of the Vegetable Roasting Times chart one more time.
📖 Recipe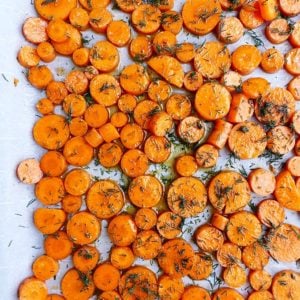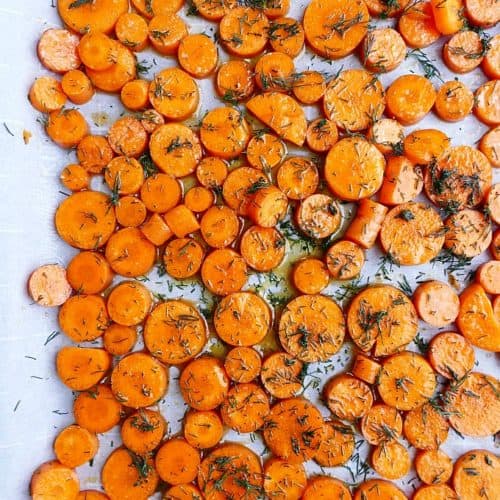 Ingredients
4 to 6

cups

vegetables

-

diced

1

tablespoon

olive oil -

or avocado oil

Seasonings

-

of choice
Instructions
Preheat the oven between 400 to 450 degrees F. Line a baking sheet with parchment paper or a silicone mat.

Prepare your vegetables by dicing them into even slices or cubes, or keep them whole. Add them to a mixing bowl and toss with the olive oil and seasonings of choices. Transfer to the baking sheet and spread them out so they don't overlap.

Put the baking sheet on the center rack of the oven. Softer vegetables (zucchini, tomatoes, broccoli, cauliflower, asparagus) need shorter cooking times, 15-25 minutes. Harder vegetables (root veggies, squash, potatoes) need longer cooking times, 25-40 minutes, depending on how thin you slice them.

Check your veggies halfway through the estimated cooking time and stir or flip them with a spatula. Enjoy your veggies warm!
Notes
Nutrition facts will vary depending on the types of vegetables you use.
Nutrition
Serving:
1
cup
|
Calories:
131
kcal
|
Carbohydrates:
24
g
|
Protein:
2
g
|
Fat:
4
g
|
Saturated Fat:
1
g
|
Sodium:
13
mg
|
Potassium:
499
mg
|
Fiber:
7
g
|
Sugar:
6
g
|
Vitamin C:
23
mg
|
Calcium:
48
mg
|
Iron:
1
mg
Hope you enjoy your roasted veggies! – Lizzie