Learn how to assemble a veggie platter that will keep your guests coming back for more! This post includes dip ideas and tips to make the best vegetable tray for your next party.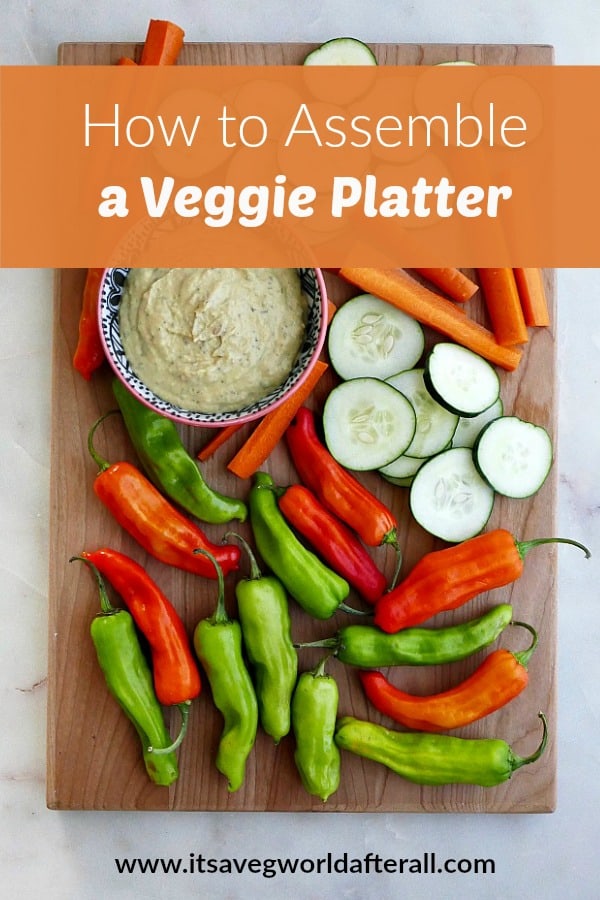 This post may contain affiliate links. For more information, see my affiliate disclosure.
Creating a tasty and colorful veggie platter for my friends and family is one of my favorite ways to spread my veggie love. By combining seasonal vegetables with a variety of dips and munchies, I can introduce my guests to unique ways of eating more plants.
So I figured it's about time to share my favorite tips for how to put together an epic veg platter with the Veg World!
This post was originally published a few years ago, but my summer intern Lily Auger (you'll see her name in the byline!) decided to update it for you. She includes some delicious dip recipes and awesome ideas! I can't wait to hear about the amazing platters you make based on her tips.
Expert Tips for Making the Best Veggie Platter
Include both raw and cooked veggies
Adding raw vegetables to a veggie platter is a no-brainer, but don't forget about cooked ones! Some of my favorite cooked veggies to include are roasted red peppers, caramelized onions, roasted beets, and grilled zucchini or summer squash.
You can also add pickled vegetables for another fun way to eat veggies. Purchase some local pickled goods at the store, or try your hand at Lizzie's Quick Pickled Radishes with Sherry Vinegar, Pickled Red Cabbage, Refrigerator Pickled Asparagus, or Quick Pickled Red Onions for something homemade.
Have at least one each of a savory, sweet, and crowd-pleasing dip
Some guests might be in the mood for something sweet, while others are looking for a savory dip. Aim to have options that please both parties, but also include a neutral choice that almost everyone likes.
On my platters, I always have guacamole or hummus (since, let's be honest, those are crowd pleasers). Then I'll choose a sweet dip, like Lizzie's Jalapeno, Bell Pepper, and Mango Salsa. Finally, I add a savory one, like Lizzie's Caramelized Onion White Bean Dip or Whipped Butternut Squash Goat Cheese Dip.
Not only do varied dips provide options, but they may allow for better nutrient absorption! For more on this, see Lizzie's post – Nutrients from Vegetables: How to Absorb More Vitamins and Minerals. The fat-soluble vitamins, vitamins A, D, E, and K, are best absorbed when they are consumed with a source of healthy fat.
Adding a refreshing Greek Yogurt Cucumber Dip (recipe below), for example, to your platter is not only a delicious way to sneak in more veggies, but will also allow you to nutritionally get the best out of your veggies.
Get your textures right
Having the right assortment of textures is key to developing an awesome veggie platter. You'll want something with a crunch. Add some crackers or chips that go with multiple dips. Tortilla chips can go with guacamole or salsa, and crackers go great with hummus or a sweet dip.
Using veggie-packed cracker "alternatives" (like Lizzie's Homemade Seed and Kale Crackers) is another option if you want to pack on the nutrients while keeping the crunch! I love to pair Brad's Plant Based crackers with hummus or any fiber-filled bean dip! You can also make some crunchier veggie dipping sides yourself, following my Savory Veggie Chips Recipe (below).
Having some nuts, like Lizzie's Maple Roasted Almonds, is another way to include a different texture. And don't forget about naturally crunchy vegetables, like raw cucumbers or radishes. Add softer vegetables, fruits, and creamy dips to round out the rest of your spread.
Include creamy dips to take the place of cheese
Most people associate appetizer plates with an assortment of cheeses, but you can mimic the texture of cheese with plant-based dips! Choose a hummus or dip made from white beans for a dose of creaminess. And of course, don't forget about guacamole.
One of my favorites is my dairy-free, fiber-full Creamy Garlic Dip (recipe below)!
Go for colorful and seasonal
A veggie platter can be a beautiful reflection of the season. You can choose different vegetables and fruits to paint the color palette of your choice. Don't be afraid to experiment with unique veggies that your guests may not know.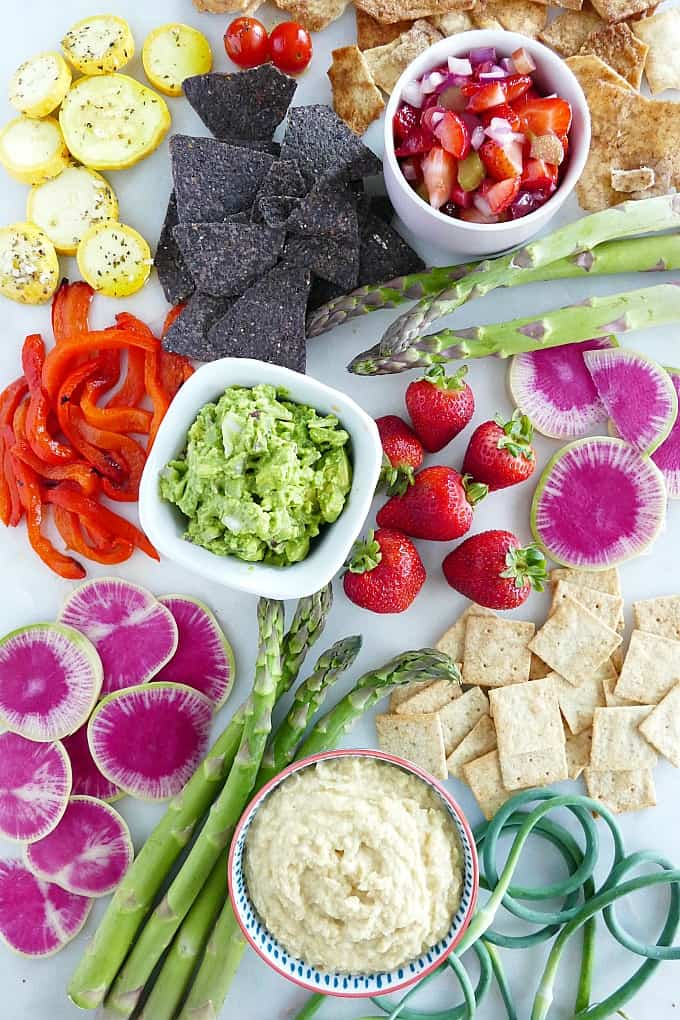 If you make a veggie platter based on the tips in this post, I'd love to hear how about it! Leave a comment and tag @lil_snaaax and @its_a_vegworld_afterall on Instagram! For similar posts, subscribe to Lizzie's weekly newsletter while you're here.
📖 Recipe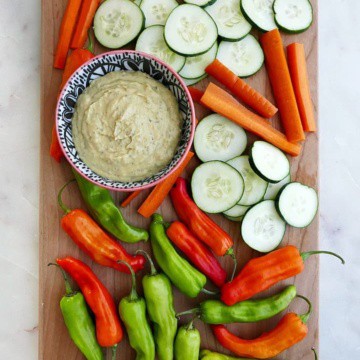 Veggie Platter with Dips
Learn how to assemble an awesome veggie platter and make delicious dips to go with it!
Print
Pin
Rate
Save
Saved!
Ingredients
Instructions
Preheat the oven to 400 degrees F. The best order of operations is to prep the roasted garlic for the Creamy Garlic Dip first. Remove any excess papery skin (but not all of it) from around the head of garlic. Slice about ¼" off the top, then drizzle olive oil into the cloves and rub the head with your fingers to spread around the oil. Wrap it in foil, place directly on the center rack of the oven, and roast for ~30 minutes until tender. Remove from oven and carefully squeeze the tender cloves into a blender. Add the white beans, nutritional yeast, oregano, and lemon juice. Blend on low, drizzling olive oil into the mixture as needed to promote blending. Taste and adjust seasonings as desired. Spoon into one of the serving bowls for the veggie platter.

Next, make the veggie chips. Line a baking sheet with parchment paper or foil. Spread the thinly sliced veggies (sweet potato, beet, zucchini, carrot, etc.) on top. Lightly toss in olive oil, and dust with paprika, garlic powder, salt, and pepper. Bake for 15 to 20 minutes, flipping halfway if needed, or until the chips are crispy. Remove from oven and arrange on the veggie tray.

Finally, make the Greek Yogurt Cucumber dip by stirring together all of the ingredients in a mixing bowl. Transfer to a serving bowl.

Arrange the rest of the veggies (raw, cooked, or pickled) on the platter. Enjoy!
Notes
Save yourself prep time by making the vegetable platter ahead of time. You can make the dips up to 3 or 4 days in advance! Store in an airtight container in the fridge until it's time to serve the platter.
The raw, cooked, and pickled veggies can all be made in advance too, as can the veggie chips.
Note: Nutrition facts are estimated.
Nutrition
Serving:
1
serving
|
Calories:
74
kcal
|
Carbohydrates:
11
g
|
Protein:
3
g
|
Fat:
2
g
|
Saturated Fat:
1
g
|
Cholesterol:
1
mg
|
Sodium:
99
mg
|
Potassium:
229
mg
|
Fiber:
2
g
|
Sugar:
4
g
|
Vitamin A:
6108
IU
|
Vitamin C:
22
mg
|
Calcium:
37
mg
|
Iron:
1
mg
Happy entertaining! – Lily and Lizzie