Learn how to assemble a vegetable platter that will keep your guests coming back for more!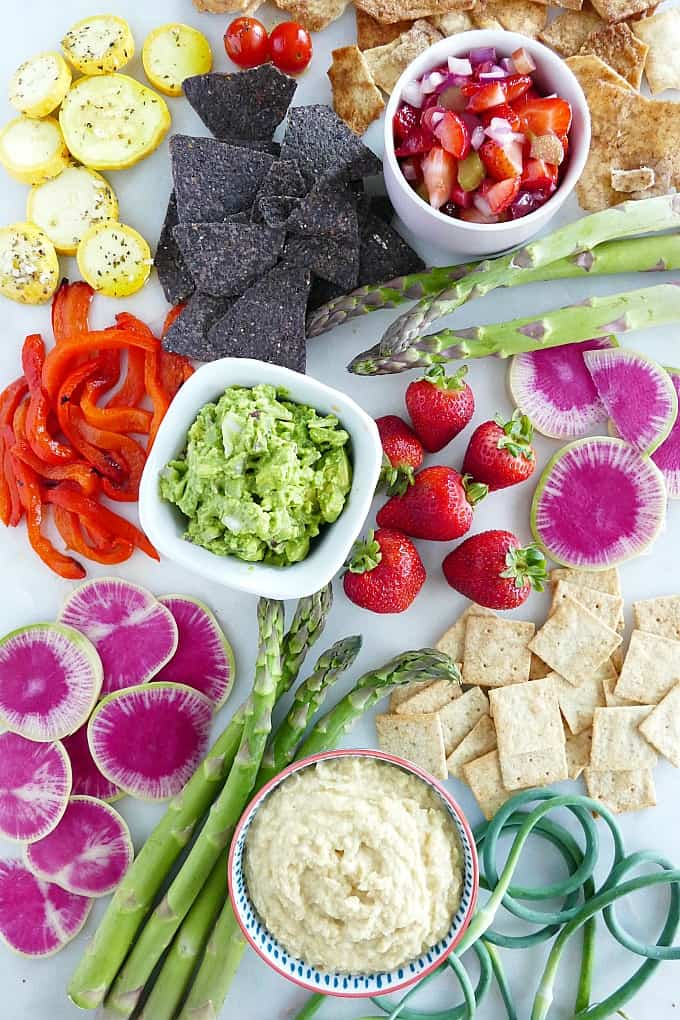 Aside from the holiday season, summer (especially around the 4th of July) is one of the best times of year for hosting parties and cookouts. It's also a great time to enjoy all of the wonderful fresh produce of the season.
Most summer parties take the form of a good ol' fashioned BBQ, with burgers and dogs, potato salad, and fresh watermelon. Even though it may not be traditional, BBQs are also great opportunities to serve a vegetable platter!
Creating tasty vegetable platters for my friends and family is one of my favorite ways to spread my veggie love. By putting together seasonal vegetables with a variety of dips and munchies, I can introduce my guests to unique ways of eating more plants.
I sometimes try to make a spread that doesn't even include cheeses or meats. Honestly, you don't even need them if you combine the right variety of plant-based flavors!
Ready to learn my favorite tips for how to put together an epic veg platter? Read on for my hacks…
How to Assemble a Vegetable Platter Like a Pro
1. Include both raw and cooked veggies.
Adding raw vegetables to a veggie platter is a no-brainer, but don't forget about cooked plants!
Some of my favorite cooked veggies to include are:
Roasted red peppers
Caramelized onions
Roasted beets
Grilled zucchini and summer squash
You can also add pickled vegetables for another fun way to eat veggies. Purchase some local pickled goods at the store, or try your hand at Pickled Watermelon Rinds for something super unique!
2. Have a savory, sweet, and crowd-pleasing dip. And include veggies in those!
Different strokes for different folks. Some guests might be in the mood for something sweet, while others are looking for a savory dip. Try to have options that please both parties, but also include a neutral choice that almost everyone likes.
On my platters, I always have guacamole (since, let's be honest, it's a crowd pleaser). Then I'll choose a sweet dip, like my Strawberry Rhubarb Salsa or Double Pepper Mango Salsa. Finally, I add a savory one, like my Caramelized Onion White Bean Dip.
All of these have hidden vegetables. So I'm sure there will be something to please even the pickiest vegetable eater ;-)!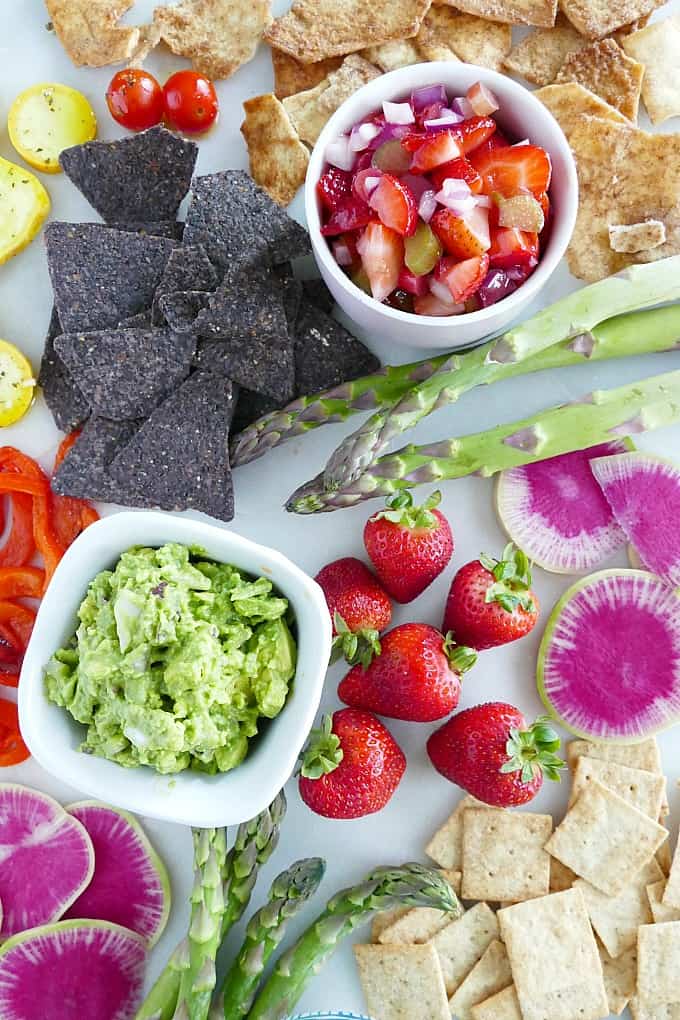 3. Get your textures right.
Having the right assortment of textures is key to developing an awesome vegetable platter. You'll want something with a crunch.
Add some crackers or chips that go with multiple dips. Tortilla chips can go with guacamole or salsa, and crackers go great with hummus or a sweet dip.
Having some nuts, like my Maple Roasted Almonds, is another way to include a different texture. And don't forget about naturally crunchy vegetables, like raw cucumbers or radishes.
Add softer vegetables or fruits and creamy dips to round out the rest of your spread.
4. Include creamy dips to take the place of cheese.
Most people associate appetizer plates with an assortment of cheeses, but you can mimic the texture of cheese with plant-based dips!
Choose a hummus or dip made from white beans for a dose of creaminess. And of course, don't forget about guacamole.
But hey, if you want to add cheeses, you can certainly do that too ;-)…
5. Go for colorful and seasonal!
Vegetable platters can be a beautiful reflection of the season.
On the platter pictured in this post, I included some of the season's best vegetables: asparagus, watermelon radishes, cherry tomatoes, zucchini, summer squash, and red bell peppers.
You can choose different vegetables and fruits to paint the color palette of your choice. Don't be afraid to experiment with unique veggies that your guests may not know.
Someone could go home with a new favorite vegetable, after all…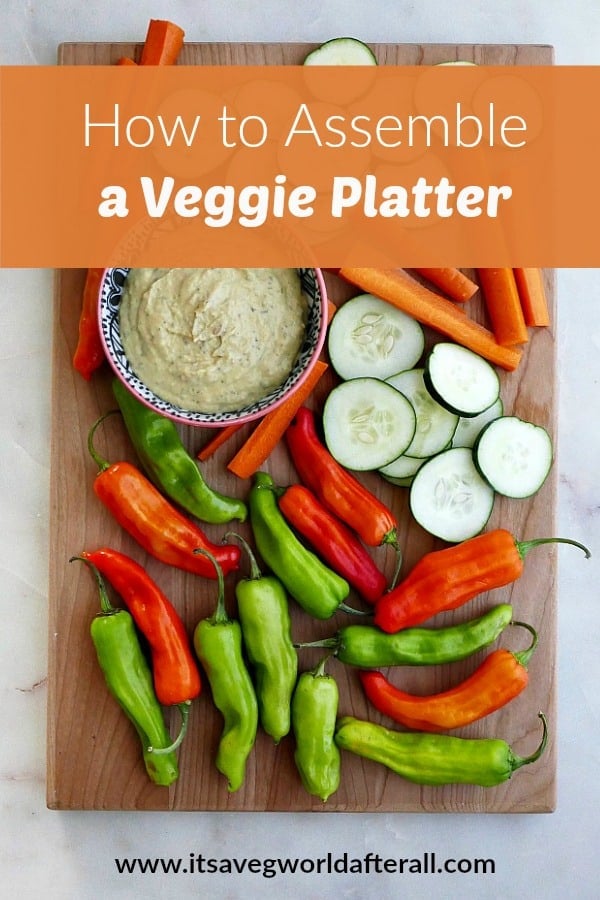 For more tips and hacks for eating more veggies, check out my posts:
Happy entertaining!
Lizzie