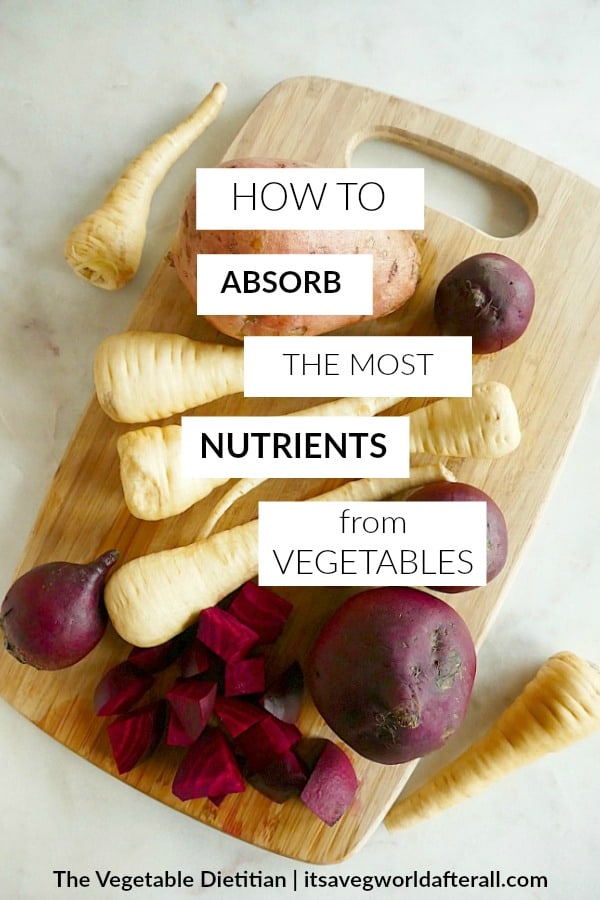 If you are like me and LOVE vegetables, you have probably found yourself thinking about the nutrition of plant-based foods. You may have even wondered, "am I absorbing all of the nutrients in this kale salad?" or "how do I get the most out of all of the veggies I'm eating?"
Alternatively, you might be someone who is just starting to enjoy more vegetables. So, you are using this blog to find tons of easy recipes and to learn about the nutrition of veggies.
Wherever you fall on the veggie loving spectrum, learning how to absorb the most nutrients will be beneficial for you!
"You are what you absorb, not what you eat."
Several years ago, I came across this quote when I took an online course on vegetarian nutrition. This was my first experience learning about how to optimize nutrient absorption, and it really stuck with me, sparking my interest in integrative and functional nutrition.
As I went on to graduate school and my dietetic internship, I continued to develop a holistic approach to nutrition interventions. Using a holistic approach, I try to assess all of the possible factors that could influence nutrition.
I could try to write a dozen blog posts about how nutritional status is not only affected by the foods that we eat, but also by stress levels, meal timing, exercise routines, and of course, gut health. In fact, a dozen posts would still not be enough to cover all of the details of this topic.
So instead of providing a brief overview of all of these topics, this post focuses on how to optimize nutrient absorption by pairing specific foods with certain vegetables. Read on to learn how to best absorb that vitamin K from your kale salad, and how to optimize iron absorption. These tips are a great way to get the most out of your veggies, so that you really can be "what you absorb."
A Guide to Food and Vegetable Pairing
1. Pair fat-soluble vitamins with fat.
The fat-soluble vitamins: A, D, E, and K are absorbed best when they are eaten with a source of healthy fat. Let's chat about some examples.
To absorb the most nutrients from kale, a rich source of both vitamin K and provitamin A, consider dressing your leaves with extra virgin olive oil or tahini dressing. You can also add avocado or a handful of seeds to your salad.
A study conducted by researchers at Purdue University found that participants who ate three eggs with a salad of tomatoes, carrots, and greens had the best absorption of provitamin A carotenoids, due to the fat in the eggs. Another study found that those who ate avocado with carrots or tomato sauce had better absorption of carotenoids. These individuals also had a better conversion rate of provitamin A carotenoids to vitamin A in the body.
Some of my favorite vegetable recipes with healthy fat include:
2. Pair calcium with vitamin D.
Baked salmon on a bed of leafy greens is not just delicious, it's also a highly nutritious combo. Salmon is one of the only foods that is rich in vitamin D, a necessary nutrient for the absorption of calcium. Most of the typical calcium-rich products that come to mind, such as milk and yogurt, already have vitamin D added to them. Plant-based calcium sources do not have vitamin D.
Next time you order salmon at a restaurant or prepare fish for dinner, serve with a tossed salad or side of sauteed kale! Other vegetables with calcium include broccoli, collard greens, and bok choy. The healthy omega-3 fatty acids in salmon will also help you absorb the fat-soluble vitamins in the vegetables.
3. Pair vitamin C with iron.
The most absorbable form of iron is heme iron, found in animal products. However, vegetables can still be an excellent source of iron, with a little help from vitamin C.
Vegetables with non-heme iron include leafy greens, asparagus, acorn squash, broccoli, and more. Some of these vegetables already have vitamin C, but adding an extra dose of C from a squirt of lemon juice or chopped bell peppers will improve absorption even more. Other good pairings include spinach (iron) and strawberry (vitamin C) salad, and asparagus (iron) and brussels sprouts (vitamin C).
Some of my favorite iron and vitamin C recipes include:
Cooking Methods and Nutrient Absorption
Now that you know a few ways to pair foods to enhance absorption, let's discuss the effect of cooking methods on nutrients.
Common cooking methods for preparing vegetables include boiling, baking, roasting, frying, sauteeing, and steaming. When it comes to keeping nutrients intact, which one is best?
The short answer: it depends. Really, it does. A literature review on the effect of preparation and cooking on vegetables published by the International Journal of Gastronomy and Food Science identified the most common cooking methods and their impact on nutritional quality.
Their findings suggest that steaming appears to be the best method for preserving nutrients in vegetables. However, depending on the vegetable, some preparation methods, such as crushing, chopping, and baking, may improve the absorption of nutrients. In addition, the authors mentioned that farming methods and soil quality can both have a significant impact on nutrient composition before food even gets to the kitchen.
The Bottom Line
So, what does all of this mean for you? Well, variety wins again! Aim for a varied diet with both raw and cooked vegetables. If you are looking to increase your consumption of a specific nutrient, consider pairing your foods in the ways listed above. Eating more vegetables in general will always have benefits!