Wondering how you can get the most nutrients from vegetables? This post provides information and tips on improving the absorption and retention of micronutrients in veggies, through food pairings and cooking techniques.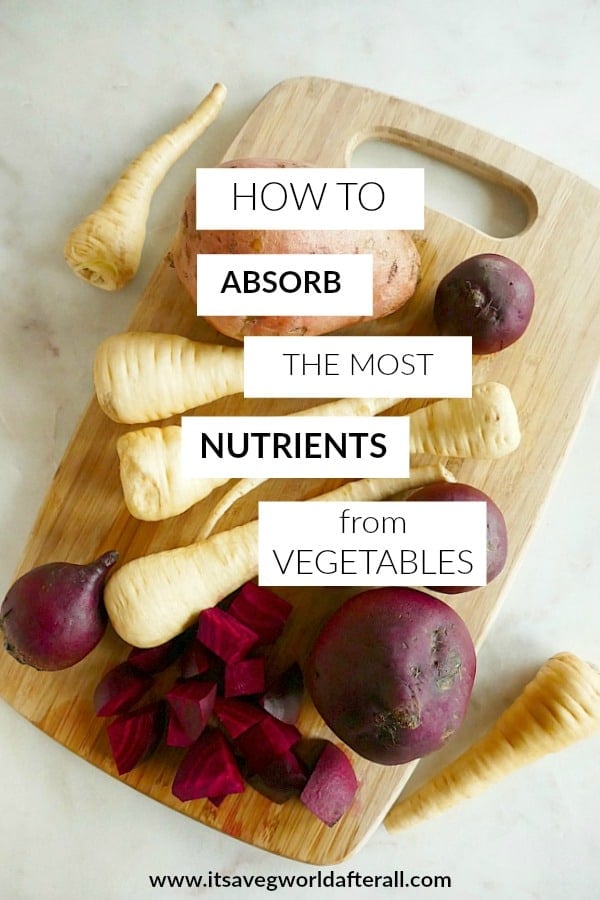 If you are like me and LOVE vegetables, you have probably found yourself thinking about the nutrition of plant-based foods. You may have even wondered, "am I absorbing all of the nutrients in this kale salad?" or "how do I get the most out of all of the veggies I'm eating?"
To answer these questions, this post focuses on how to optimize vitamin and mineral absorption by pairing foods and utilizing certain cooking techniques.
A Guide to the Best Food Combinations for Nutrient Absorption
Pair veggies that contain fat-soluble vitamins with a source of healthy fat.
The fat-soluble vitamins, vitamins A, D, E, and K, are best absorbed when they are consumed with a source of healthy fat.
A study conducted by researchers at Purdue University found that eating three eggs with a salad of tomatoes, carrots, and greens resulted in the best absorption of provitamin A carotenoids, due to the fat in the eggs. Another study found that those who ate avocado with carrots or tomato sauce had better absorption of carotenoids compared to the group who did not get avocado, and they converted more provitamin A carotenoids to vitamin A in the body.
Based on these results, it's clear that eating veggies with fat has benefits. For example, to absorb the most nutrients from kale, a rich source of both vitamin K and provitamin A, consider dressing your leaves with extra virgin olive oil or tahini dressing. You can also add avocado or a handful of seeds to your salad.
Some of my favorite recipes with healthy fats, that will help you get more nutrients from vegetables, include:
Pair veggies high in calcium with a source of vitamin D.
Some individuals who follow a predominantly plant-based diet may struggle to get enough calcium, possibly due to an inadequate intake of vitamin D, which is necessary for the absorption of calcium. In fact, there are very few good food sources of vitamin D. Fatty fish, such as salmon, and egg yolks are some of the only foods that naturally provide this nutrient. However, calcium-rich dairy products, such as milk and yogurt, are also fortified with vitamin D.
If you're getting most of your calcium from plant-based sources, such as leafy greens like kale, collards, and bok choy, aim to eat these foods with a source of vitamin D. For example, you can make a smoothie with kale and Greek yogurt, serve salmon with a tossed salad or side of sautéed collards, or make an omelet with spinach, broccoli, and eggs (yolks included).
Pair iron-rich vegetables with a source of vitamin C.
The most bioavailable form of iron is heme iron, which is found in animal products. However, vegetables can still be an excellent source of this mineral, with a little help from vitamin C.
Vegetables with non-heme iron include leafy greens (like spinach and kale), asparagus, acorn squash, broccoli, pumpkin, sugar snap peas, and sweet potatoes. Adding a source of vitamin C from citrus, strawberries, or bell peppers to meals with these veggies will help you absorb more iron. To put this tip into practice, try making a salad with spinach, lemon juice dressing, and bell peppers.
Some of my favorite recipes with both non-heme iron and vitamin C include:
Cooking Methods and Nutrient Absorption
Now that you know a few ways to pair foods together to enhance nutrient absorption, you may have questions about the effect of cooking on nutrient levels in vegetables.
Common methods for preparing vegetables include boiling, baking, roasting, frying, sautéing, and steaming. But when it comes to keeping nutrients intact, which one is best?
The short answer is: it depends. A literature review on the effect of preparation and cooking on vegetables, published in the International Journal of Gastronomy and Food Science, identified the most common cooking methods and their impact on nutritional quality. The review suggests that steaming, which uses less heat and typically takes less time than other cooking methods, may be the best method for preserving nutrients in vegetables.
However, depending on the vegetable, some preparation methods, such as crushing, chopping, and baking, may actually make some nutrients more absorbable. In addition, the authors noted that farming methods and soil quality can both have a significant impact on nutrient composition before food even gets to the kitchen.
All things considered, eating a diet that includes a variety of both raw and cooked vegetables is the best way to get the nutrients you need. Don't worry too much about always cooking them a certain way. At the end of the day, eating more vegetables in general will have benefits! But if you are looking to maximize the amounts of nutrients from vegetables that you absorb, consider the above food pairings.