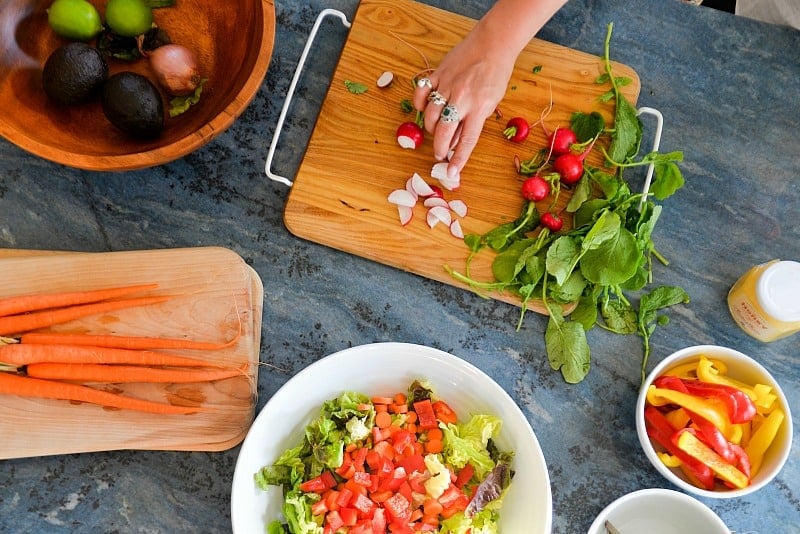 Preparing more vegetables and cooking at home is a simple strategy that can greatly improve your health. And there's research to back it!
A recent study in Public Health Nutrition found that those who cooked dinner at home 6 to 7 times a week consumed healthier foods and less overall calories than those who did not prepare their own meals as often.
What's more, other research has reported that preparing food at home is associated with less fast food consumption and money spent on food.
Even if there wasn't science to back this concept, it just makes sense that being in control of how you prepare meals and the ingredients you use can lead to better health. Not to mention, cooking at home can be a way to relax, be creative, or spend time with loved ones.
One of the first steps towards cooking more at home is learning basic cooking techniques for vegetables. These skills will enable you to make veggies the star of your meals, which in turn will provide you with tons of beneficial nutrients and lead to improved health.
To get you started, here are 7 basic cooking techniques for vegetables!
1. Chopping
Chopping is about as basic as you can get, and it's something that seasoned home cooks might take for granted. But not everyone learns how to slice, dice, and julienne veggies as a kid. That's why chopping is the first and foremost skill to master if you want to become a better cook and eat more vegetables.
By definition, to chop is to cut something into small pieces. When a recipe calls for "1 onion, chopped," it means that you need to cut the onion into pieces, usually in rough but mostly even squares.
If you see the word "dice," it means the recipe is calling for more precise cuts that are usually smaller and more even than chopped pieces. "Mince" is to cut even smaller pieces. Unless you are making a dish that relies on precisely cut vegetables, you probably don't need to worry about mastering a perfect dice or mince as a home cook.
However, mincing does come into play with garlic, herbs, and other aromatics that need to be cut into tiny pieces so their flavor can be spread evenly throughout a dish.
How to do it: The best way to improve your chopping skills is to practice! Make sure you have a sharp knife and a cutting board that doesn't slip on the counter. If you really want to practice, try making a recipe that requires a lot of chopping, like this Farmers Market One Pan Ratatouille.
2. Steaming
Steaming is an age-old technique for preparing veggies. Sometimes it gets overlooked, but it really gets the job done! Plus, research shows that steaming some vegetables may preserve their nutrients more than other methods of cooking.
To steam a vegetable means to expose it to hot water to soften the food and make it more tender.
How to do it: If you have a steam basket (available on Amazon, Target, etc), place veggies in it and put it on top of a pot of boiling water. Leave it on the pot for approximately 5 to 7 minutes, or until the veggies are softened to your liking. If you don't have a steam basket, you can also use a sieve.
3. Boiling
Boiling vegetables is one of the easiest ways to prepare them. How do you think mashed potatoes on Thanksgiving get made, after all?!
While boiling can cause some nutrients to leech out of vegetables into the water, that's not the case for every type of veggie. Sometimes, boiling is the most effective way to cook potatoes and other firm root vegetables even if some nutrients are lost. And if you're eating a variety of both cooked and raw veggies, you don't need to worry about preserving the optimal nutrition of every single meal.
How to do it: Bring a large pot of water to a boil, drop your vegetables in it and cook until they are tender!
4. Sautéing
To sauté a vegetable means to cook it in some type of fat over heat. The most common fats used in sautéing are extra virgin olive oil, butter, and even coconut oil. You can also add minced garlic, herbs and spices, and/or salt and pepper to a sauté.
How to do it: Heat a tablespoon of oil in a large skillet over medium heat. Add chopped veggies and sauté until tender. Sprinkle with seasonings as you go. These Parmesan Peas and Shallots or Cast Iron Blistered Shishito Peppers are two great recipes to practice your sautéing!
5. Marinating
Once you start to get more comfortable in the kitchen, you can create marinades for vegetables! Brushing or soaking vegetables in a mixture of olive oil, spices, herbs and other flavorings before cooking them can increase their flavor and tenderness once they are cooked. Marinated vegetables can be sautéed, roasted, or grilled.
How to do it: Mix 1/4 cup extra virgin olive oil with 2 cloves of minced garlic and a couple teaspoons of your favorite seasonings. Add this mixture to a plastic bag or container and let your veggies soak in it. You can also brush marinades on vegetables right before cooking. For a tasty marinated vegetable recipe, check out these Easy Italian Zucchini Kabobs.
6. Roasting
If you're new to roasting veggies, you have no idea what you're missing! Roasting completely transforms the flavors and textures of raw vegetables. Many people find that the veggies they absolutely hate to eat raw are some of their favorite ones to eat roasted.
How to do it: Preheat the oven to 350 to 400 degrees F. Line a baking sheet with parchment paper. Chop veggies of choice, drizzle with olive oil, seasonings, and salt and pepper. Pop in the oven and bake for 20 to 40 minutes, or until tender. The cooking time will depend on how large you cut the veggies and what kind you are using.
For an easy roasted veggie recipe, check out these Savory Roasted Root Vegetables.
7. Quick Pickling
Last but not least, quick pickling is a simple and fun technique to prepare vegetables. Even though pickling can sound intimidating, making pickled veggies (fridge pickles, not the shelf stable kind) is incredibly easy. With some vinegar, sugar, and spices, you can pickle just about any kind of vegetable.
How to do it: Slice or dice your desired veggies into small pieces and add them to a glass jar with approximately a cup of vinegar, a tablespoon of sugar, and a teaspoon of salt. Seal the jar, and you'll have pickled veggies in no time! Be sure to check out some tested recipes for recommended types of vinegars, instructions, and proportions of ingredients.
To start, check out these Quick Pickled Red Onions or Pickled Red Cabbage.
What does the Veg World think?
Have you tried all of the basic cooking techniques for vegetables on this list? Is there anything else you want to know, or is anything missing? Let me know in the comments below!
Let your friends know what you're reading. Pin these 7 Basic Cooking Techniques for Vegetables.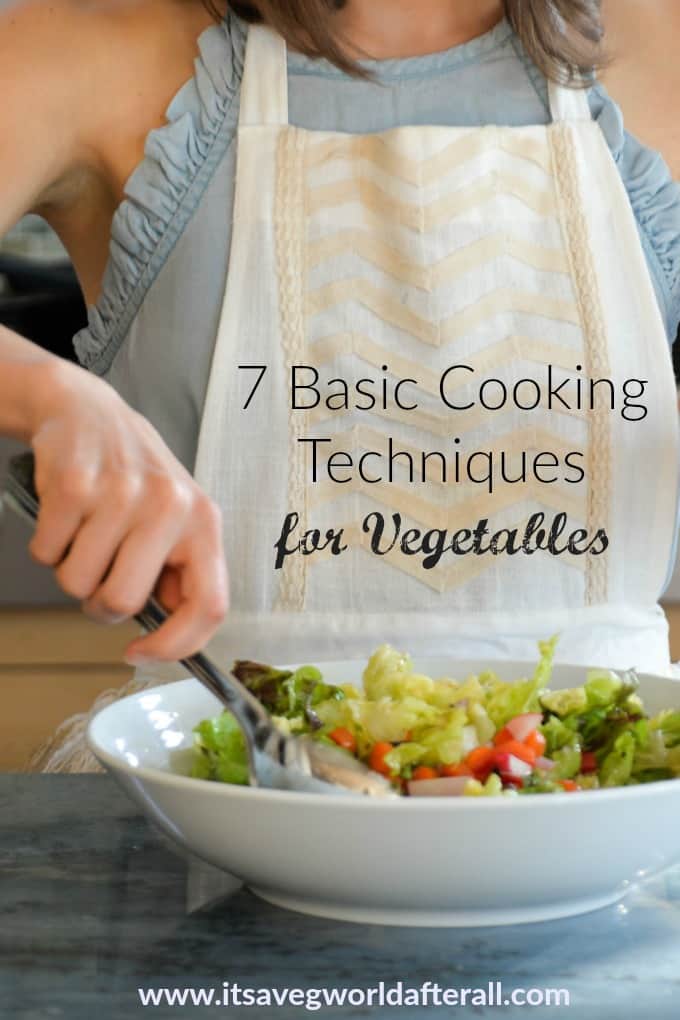 Happy cooking!
Lizzie