Learn about the benefits of honey and how to pair it with vegetables! This post includes facts about honey nutrition and a round-up of 8 delicious recipes that use it.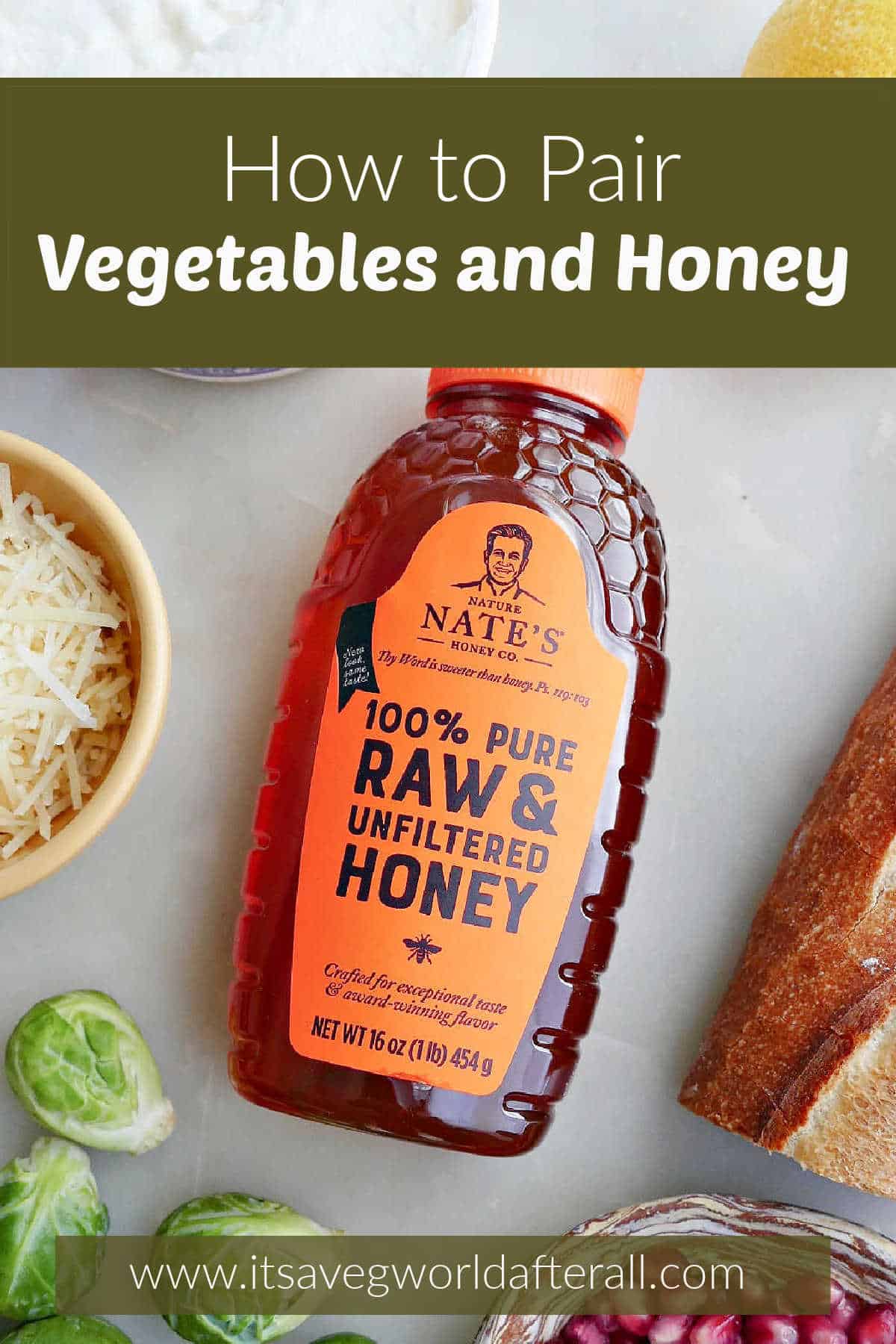 This post is sponsored by Nature Nate's Honey Co. It also contains affiliate links. For more information, see my affiliate and sponsored content disclosures.
It's hard to disagree that honey is delicious. But did you know that raw honey also contains compounds that may have health benefits?
While honey is a natural sweetener that contributes sugar to foods, it offers a lot more than pure table sugar. Raw honey contains antioxidants, among other compounds, and has been shown to have anti-inflammatory and health-promoting properties.
Adding some raw honey to your diet, especially in place of refined sugar, may provide benefits in addition to its delicious taste. That's pretty "sweet," huh?
Although you may think of honey as something you should add to desserts or treats, it's actually an amazing companion to vegetables! And we all know that eating more vegetables is always a good thing. So, honey + veggies is really a win-win in my eyes.
This post highlights some of the main benefits of raw honey and the best ways to pair vegetables and honey.
What is raw honey?
Many of the health benefits associated with honey are linked to compounds found in raw honey. Raw honey is strained and may be minimally processed before being bottled but does not get heated to very high temperatures or undergo heavy processing. As a result, the health-promoting compounds that naturally occur in honey are maintained in raw honey. These include antioxidants, enzymes, and vitamins and minerals.
Processed honey, on the other hand, undergoes more intense processing that may strip it of some of those beneficial compounds. The processing of regular (not raw) honey also removes bee pollen from the product. Bee pollen is linked to many benefits, including anti-inflammatory and antibacterial properties. The presence of bee pollen in raw honey may be partly responsible for its proposed benefits.
Choosing raw honey is the way to go if you want to reap the possible benefits of nature's best sweetener. My favorite brand of raw honey in the US is Nature Nate's! I have been using their product for years, and it never disappoints. I'm proud to be one of their ambassadors. Nature Nate's is available to purchase on their website, at many large grocery stores and retailers (like Target), and on Amazon.
Possible Benefits of Raw Honey
Many of the compounds found in raw honey have health-promoting properties. Although the exact mechanisms behind the benefits of honey are not fully understood, the antioxidants found in honey likely play a role.
Studies in both animals and humans show that honey may reduce blood levels of inflammatory markers. Since inflammation is part of the immune response to infection and illness, incorporating honey into your diet may support a healthy immune system.
In addition, honey has antimicrobial properties. This may be another reason why it helps when you feel under the weather. Honey has been used throughout history as a cough suppressant, and current research supports this use.
Honey may exhibit anti-cancer effects, possibly by regulating the destruction of cancer cells. Consuming honey may also improve blood sugar control in individuals with diabetes.
Lastly, honey has been used to relieve digestive problems like reflux and indigestion. On a related note, the oligosaccharides in raw honey act as prebiotics and support a healthy gut.
These are just a few of the possible benefits of honey! But keep in mind that you should consume honey in moderation. Add it in small amounts to a balanced diet for best results, and avoid going overboard.
You can add a drizzle of honey to your morning oatmeal, squeeze a small amount into a fruit and vegetable smoothie, whisk it into a dressing for a lunchtime salad, or use it in place of refined sugar when baking.
What veggies go well with honey?
Incorporating honey into veggie-based recipes is a great way to reap the benefits of both of these foods! Here are my 8 best Veg World recipes that incorporate honey. You'll find that it tastes delicious in both sweet and savory dishes.
Thank you to Nature Nate's Honey Co. for sponsoring this post! Enjoy! – Lizzie