Have questions about eating tomatoes? This post includes everything you need to know about how to select, prepare, and store tomatoes. Plus, you'll learn about the possible health benefits of tomatoes and get answers to questions about downsides.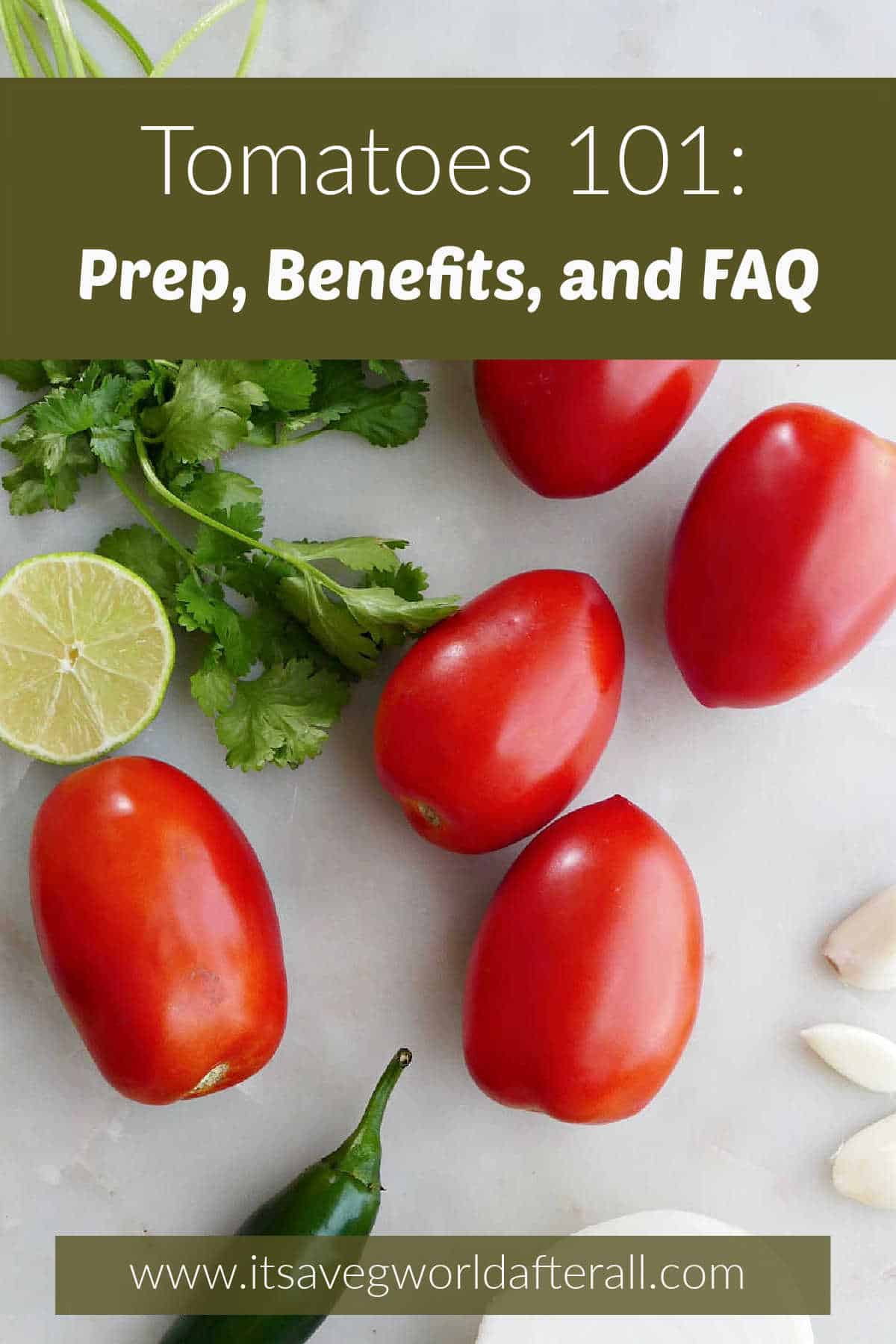 This post may contain affiliate links. For more information, see my affiliate disclosure.
Thank you to my intern Julianne Esteves for contributing this post!
Table of Contents
Intro to Tomatoes
Tomatoes are in peak season during the summer months and are refreshing (thanks to their high water content!), juicy, and full of vitamins and antioxidants. They belong to the Solanum lycopersicum family of plants and originated from South and Central America.
Botanically, tomatoes are a fruit because they have seeds, but they are generally eaten and prepared like a vegetable. While tomatoes are typically round and red, they come in a variety of colors and shapes.
Tomatoes have a sweet yet tangy taste and provide a juicy sensation when eaten raw. They are considered to be fairly acidic and are about 95% water, providing lots of hydration and essential vitamins and minerals, like vitamin A carotenoids and vitamin C. Tomatoes also contain a high amount of lycopene, an antioxidant beneficial for heart and skin health.
You can enjoy tomatoes in diverse ways: raw or cooked and added to sauces, salads, soups, and even drinks. You can add tomato slices to a sandwich or caprese salad, make your own tomato sauce for pasta, or freeze them.
Selecting and Storing Tomatoes
How to Tell if a Tomato is Good
You can tell that a tomato is good when it feels heavy, is unwrinkled, and is deep in color with no yellow or green patches. You can also try smelling a tomato to make sure it has an earthy, aromatic smell which indicates how flavorful it is.
A tomato has spoiled when it becomes very soft, leaks liquid, or starts to mold.
How to Store Tomatoes
How to Keep Tomatoes Fresh Longer
Unripe tomatoes should be left at room temperature, away from direct sunlight. You can place them stem side down, in a single layer, and on a plate to speed up the ripening process. If your tomatoes begin to over-ripen on the counter, you can extend their shelf life by placing them in the refrigerator.
How long do tomatoes last?
Fully ripe tomatoes will last on your countertop for 5 to 7 days. You can place them in the refrigerator for another week.
In the Freezer
Tomatoes can be frozen in a variety of ways, such as whole, sliced, or pureed. If you would like to freeze your tomatoes without the skin, cut an X on the bottom of the tomato, just deep enough to pierce the skin. Then simply place the whole tomato in boiling water for about 30 seconds to completely loosen the skin.
Remove the tomatoes from the water with a slotted spoon. Peel them, place on cookie sheets, and put them in the freezer (somewhere they can lay flat). Once frozen, you can transfer the tomatoes to freezer-safe bags or containers.
If you have a lot of ripe tomatoes, you can also make them into a sauce or jam and easily freeze those in jars for a few months. My cookbook has some great recipes for tomato jam and sauce.
After Slicing
Store sliced tomatoes in airtight bags or containers in the fridge to prevent bacterial growth. I love using Stasher bags. If you have a tomato that only has one or two slices removed, you can cover the cut side of the tomato with plastic wrap and place it cut side down in the fridge.
Canning
Canning tomatoes is a more in-depth preparation method but is a great option when your garden is overflowing with fresh tomatoes! You can learn how to do it yourself, and you'll be soon reaping all the health benefits. Better Homes and Gardens also provides an easy-to-follow method for canning tomatoes.
Benefits of Eating Tomatoes
Tomato Nutrition
One small raw tomato contains:
95% water
18 calories
0.9 grams protein
3.9 grams carbs
1.2 grams fiber
0.2 grams fat
28% Daily Value (DV) vitamin C
Health Benefits
Red tomatoes are high in lycopene and beta-carotene, antioxidants that give tomatoes their red color, help prevent cancer, and reduce the risk of heart disease. Lycopene is important for skin health too, protecting against sun damage and redness. Additionally, tomatoes are good sources of potassium and vitamin C, adding to their heart healthy benefits.
How many raw tomatoes should I eat per day?
Eating tomatoes daily will provide you with many vitamins and minerals, but you'll still receive the benefits if you eat them less often. There is no recommended number of tomatoes to eat per day. Just remember to include a variety of fruits and vegetables in your diet instead of relying on just one option like tomatoes.
Disadvantages of Eating Tomatoes
While tomatoes have lots of health benefits, they may contribute to some issues if eaten in excess (as with many things). Since tomatoes are rich in potassium, those with kidney disease may need to limit their intake of tomatoes.
In addition, since tomatoes are a nightshade vegetable, some are wary of the alkaloid properties that may contribute to autoimmune disorders or inflammatory bowel disease. Generally, there is a lack of research on this correlation though.
Preparing and Eating Tomatoes
Ways to Prepare Tomatoes
Be sure to wash tomatoes in cold water before preparing them. A serrated knife can be helpful for slicing tomatoes vertically to limit the amount of juice and seeds that spill out.
Place the tomato on its side, slice off the top and bottom, and then begin to cut the tomato into thin slices or dice them. Check out my tutorial on How to Cut Tomatoes for more tips.
If you plan to cook them, there are many ways to prepare tomatoes. You can roast them, puree them into sauces or soups, saute them with other veggies, or add to pizzas.
What to Put on Raw Tomatoes
Raw tomatoes can be served in various ways, whether that's in salads, sandwiches, or as an appetizer! Slice a big tomato and drizzle with a little olive oil, balsamic vinegar, and/or sea salt for a crunchy summer snack or make a caprese with fresh mozzarella and stone fruit.
How to Serve Fresh Tomatoes
Since there are many varieties of tomatoes, you can serve fresh tomatoes in different, fun ways! Here are a few examples:
grape tomatoes – pasta salad or with scrambled eggs
heirloom tomatoes – summer salads
beefsteak tomatoes – on burgers or sandwiches
red on the vine tomatoes – salsas or bruschetta
yellow tomatoes – gazpachos or chilled soups like my Yellow Tomato and Corn Gazpacho
Tomato Recipes
There are so many delicious ways to enjoy tomatoes on my site! After reading this, you should definitely check some of these out. For all of my tomato recipes, browse the tomato category.