Learn everything you need to know about eating corn! This post answers frequently asked questions about corn and includes tips on selecting, storing, and preparing. Plus, you'll learn about benefits and side effects of incorporating corn into your diet.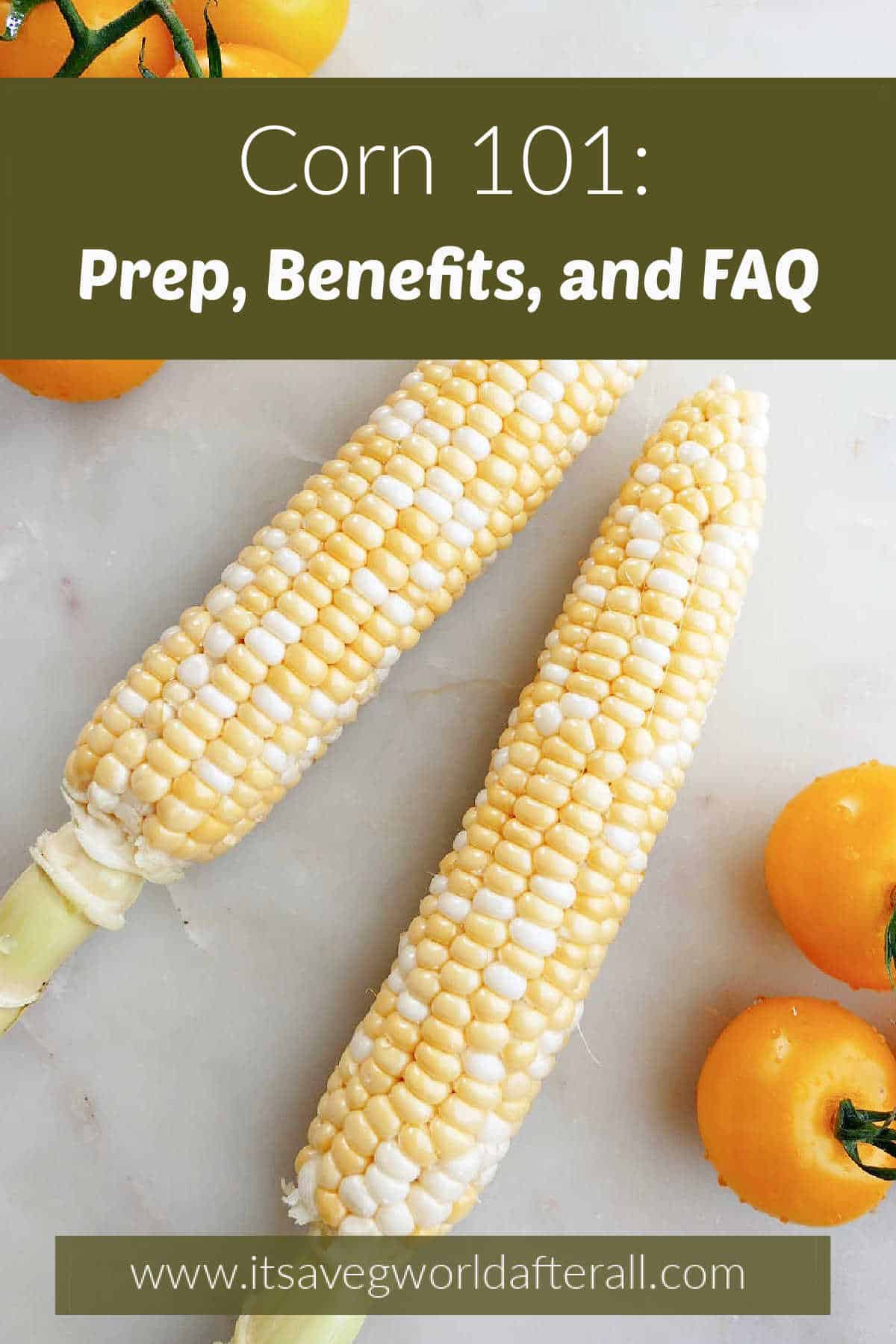 This post may contain affiliate links. For more information, see my affiliate disclosure.
Thank you to my intern Julianne Esteves for contributing this post!
Intro to Corn
Corn is the most popular crop grown in the world, with U.S. farmers planting 14.2 billion bushels of corn in 2020. It surprisingly has many more uses than just as a staple side dish for your summer barbecues.
According to the USDA, about a third of America's corn crop is used for feeding animals, another third is used to make ethanol needed for fuel, and the rest of corn production is used towards human food, beverages, and industrial uses.
Whole corn is considered a starchy vegetable while the corn kernel (where popcorn originates from) is actually considered a whole grain. An average ear of corn contains 800 kernels in 16 rows!
Corn is a good source of fiber, contains many antioxidants that decrease the risk of cardiovascular disease, and provides important vitamins. You can enjoy this sweet-tasting, crunchy crop in many forms, such as grilled on the cob, in salsas, soups, as fritters, or prepared as popcorn!
Selecting and Storing Corn
When is corn in season?
Corn is in season from June until early October, but this may vary depending on where you live.
How to Choose Corn
When shopping for corn, make sure to choose ones with bright green husks that are fully wrapped against the corn and slightly damp. The tassels, which are at the top of the husk, should be gold and slightly sticky.
Another easy way to tell whether your corn is fresh is to start from the bottom and squeeze the whole cob, ensuring that the whole ear is firm and there are no voids. It's very important not to peel back the husk of the corn as this actually shortens the shelf life of the corn!
How to Tell if Corn is Bad
There are a few ways to tell whether corn is bad. If the husks have small brown holes or soft spots, that means that there have been insects on the corn. In addition, if the tassels are starting to yellow, black, or dry out, do not pick those. Avoid any ear of corn with extremely slimy or brown husks.
How to Store Corn
You can store corn at room temperature if you are going to use it in a few hours. After that, make sure to refrigerate the corn with the husks on, tightly wrapped in a plastic bag, to extend its freshness.
How long does fresh corn last?
Fresh corn can last about 5 to 7 days in the refrigerator, but it will taste best if enjoyed within 1 to 2 days.
Can you freeze corn?
Yes, you can freeze corn. The best way to freeze corn effectively is through a blanch method. Blanching ensures that any dirt on the surface is removed and that the enzymes that lead to spoilage are deactivated. Here's how to do it:
Remove the husk of the corn.
Bring a large pot of water to a boil.
Add ears of corn to the boiling water.
Blanch the ears for four minutes. While the corn is blanching, prepare a bowl of ice water.
Remove ears of corn and place in the bowl of ice water for four minutes to stop the cooking process.
Drain.
Cut the kernels off and add them to a freezer bag.
Corn Benefits and Side Effects
Corn Nutrition
One cup of sweet yellow corn contains:
177 calories
5.4 grams protein
2.1 grams fat
41 grams carbs
4.6 grams fiber
24% DV of Thiamine (vitamin B1) and a good source of vitamins C and B9
Does corn have any nutritional value?
Many processed foods are derived from corn, such as refined oils, syrups, and snack foods. These products lose corn's beneficial elements and fiber, making them less nutritious uses of corn.
Thus, when considering the benefits of corn, it is important to understand how the preparation method influences the nutrition of corn. Pick fresh, frozen, or canned (in water) corn instead of highly processed corn-based foods, and you will be able to receive many of its valuable vitamins, minerals, and fiber that provide tons of nutritional value.
Corn Benefits for Hair, Skin, and Eyes
Certain vitamins in corn promote hair, skin, and eye health. For example, corn's high vitamin C content may help maintain healthy skin and hair. Beta-carotene, a natural carotenoid pigment found in corn, helps promote eye health and may have other disease-preventing properties. Lutein and zeaxanthin, other carotenoids found in corn, also play a role in maintaining optimal eye health.
Can you eat corn for weight loss?
No one food is key to weight loss. It is important to maintain a well-balanced diet that contains lots of fruits, veggies, and protein. Adding corn to your diet in moderation and in more healthful ways such as on the cob or in salads can certainly support a healthy lifestyle.
Is eating corn at night good or bad?
Corn can be enjoyed during any meal of the day, and you can receive many of the healthful benefits of corn whether it is eaten at night or earlier in the day.
There is mixed research on the effect of eating certain foods, like corn, at night. Some people find that eating corn before bed may cause indigestion, poor sleep, or affect weight loss efforts. This finding could be due to the fact that corn contains insoluble fiber and is higher in carbohydrates and starch than other vegetables, but the effect will likely depend on the person.
Disadvantages of Corn
Corn is a starchy vegetable, like potatoes, which means it contains more carbohydrates than the average vegetable. It also contains a high amount of cellulose, a part of insoluble fiber, that cannot be broken down by enzymes in the body. This can sometimes cause stomach upset or indigestion.
While corn does contain many healthful benefits, it is also true that the current production of corn is much different than that of hundreds of years ago. Corn is one of the most commonly grown crops, and it has been genetically modified to make it more resistant to drought and insects. The mass production of genetically modified corn has been overused in the American food supply in non-nutritious ways such as in oils and high-fructose corn syrup.
Preparing and Eating Corn
Husking, Cleaning, and Shaving Corn
Shucking corn is the process of removing the husk and silk from the ear. To remove a corn husk, start by pulling part of it down from the tassel on the top of an ear of corn and ripping it off. Continue pulling down pieces of the husk and ripping them off as you go. After all of the husk has been removed, pull off any remaining silk from the ear.
Husking corn can be difficult, so you may want to use a hack to make it easier. If you are just preparing one or two ears, a simple trick is to microwave the whole corn with husk on for 4-5 minutes, cut off a piece of the stalk end, and then hold the corn from the uncut end and shake it until the ear slides out easily, leaving the husk and silk behind.
Can you eat raw corn?
Yes, it is safe to eat raw corn, and just make sure you are picking the freshest possible corn. Rub some olive oil, lemon juice, and salt on it, and you'll have a delicious, crunchy snack! You can also cut the kernels directly off the cob and add them to salads or soups.
Ways to Eat Corn
Corn is extremely versatile and is widely available at grocery stores in fresh, frozen, and canned varieties. Many people like to simply grill or boil corn on the cob and serve it with melted butter. You can also cut the kernels off the corn and add them to salads, soups, chilis, salsas, or vegetable dishes. Don't forget to use up those kernels in popcorn, too!
Corn Recipes
Here are some of my favorite recipes to cook with corn that aren't just on the cob!