This post highlights the best vegetables for smoothies and recipes that use them! You'll learn about the best greens for smoothies and the best veggies to blend. Use my tips to get your daily vegetables in a smoothie that actually tastes good.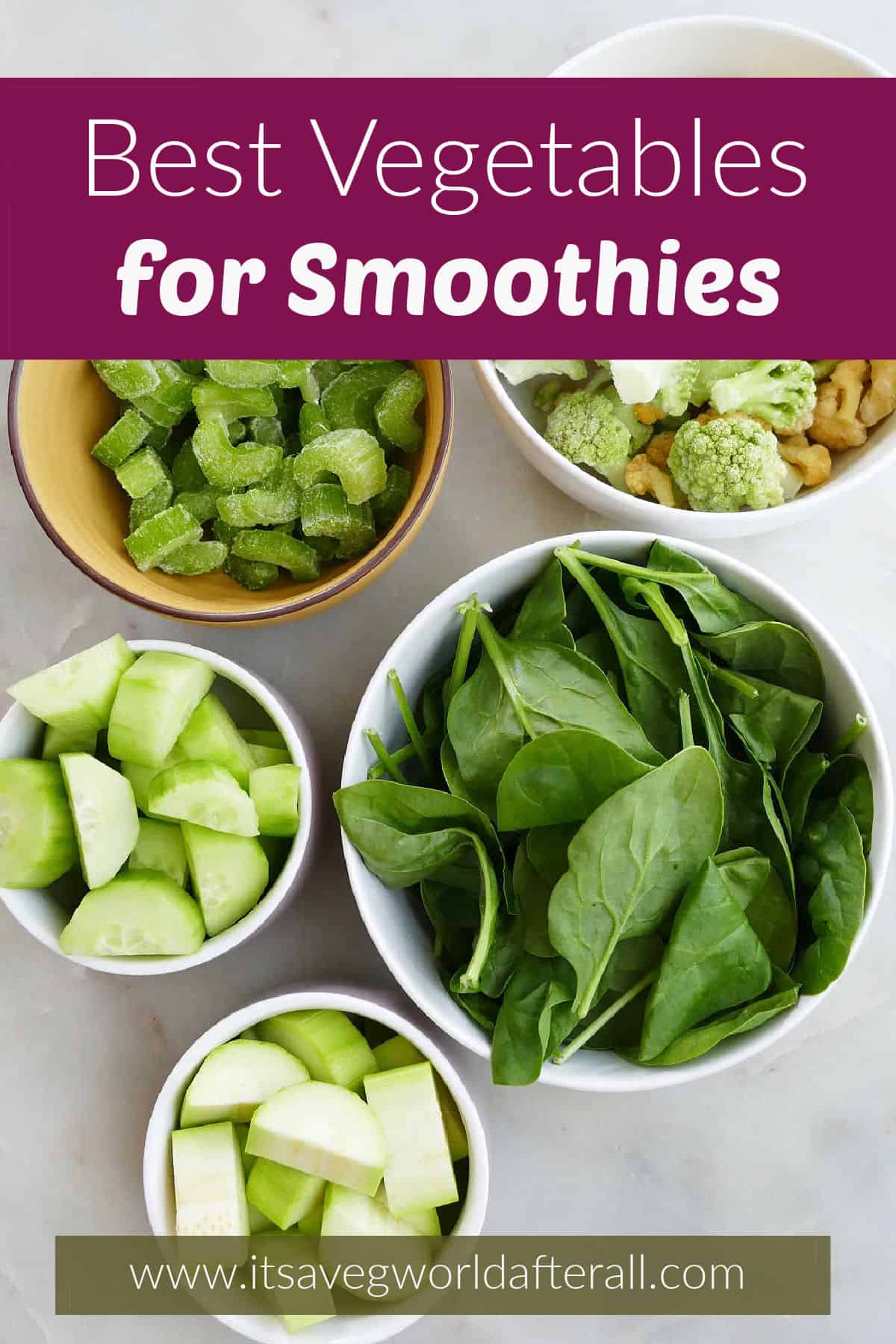 This post may contain affiliate links. For more information, see my affiliate disclosure.
When my readers ask about easy ways to increase their veggie intake, I almost always mention smoothies! Drinking vegetables is more palatable than eating veggies for some people. Plus, you can put a LOT of produce in a single smoothie.
Even better, whipping up a smoothie requires minimal prep time. But making a vegetable smoothie that actually tastes good does require some thought. That's why I put together this post on the best vegetables for smoothies. Spoiler alert: leafy greens aren't the only veggies you can blend.
Best Veggies to Blend in a Smoothie
The following list includes a lot of options that may not come to mind when you're thinking about smoothies. There's a veggie for everyone—even the picky eaters in the family!
1) Leafy Green Vegetables
Veggie smoothies almost always start with a base of leafy greens. Spinach is one of the best options, since it has a mild taste. Kale, chard, and collard greens can also be used in smoothies, but they should be paired with sweet fruits and other flavor boosters that disguise their bitter taste.
Both raw and frozen leafy greens can be added to smoothies. My favorite smoothie recipes with leafy greens include:
2) Avocado
I know, I know. Avocado is technically a fruit, but since it's often grouped with veggies in the culinary world, it's worthy of making this list. Avocados add an incredibly creamy texture to smoothies. Plus, they make them more filling and contribute healthy fats that help you absorb more of the fat-soluble nutrients in the other smoothie ingredients.
The flesh of fresh avocados can be used in smoothies, but frozen avocado also blends well. You can sometimes find frozen avocado cubes at the grocery store. Check out my Avocado Mango Smoothie with Spinach for a delicious option using avo!
3) Cauliflower
Cauliflower is a wonderful addition to smoothies, providing tons of fiber and beneficial plant compounds. Thanks to its mild taste, cauliflower works well with lots of fruits and flavorings. You won't even know it's in there!
You can make a smoothie with frozen or fresh cauliflower, but I prefer frozen cauliflower. Check out my Cherry Chocolate Cauliflower Smoothie!
4) Sweet Potatoes
Not only do sweet potatoes contribute a vibrant orange color, but they also make smoothies thick and creamy. It's best to cook the sweet potatoes ahead of time before adding them to the blender, especially if you don't have a high-powered blender.
To cut back on the prep time involved in cooking them, try my hack for making microwave sweet potatoes. Then, make the Walnut and Sweet Potato Smoothie!
5) Winter Squash
Winter squash are comparable to sweet potatoes as a smoothie ingredient. They offer fiber, energizing carbohydrates, and nutrients like vitamins A and C.
I recommend cooking the squash before adding it to smoothies. You can also used canned or homemade squash puree. For a smoothie recipe that uses squash, see the Butternut Squash Dessert Smoothie.
6) Beets
Beets are one of my favorite vegetables to eat…and drink! Using a beet in your next smoothie will guarantee a gorgeous pink color, plus earthy, slightly sweet notes and tons of nutrients.
If you have a high-powered blender like a Vitamix, you can blend raw beets in a smoothie. Otherwise, it's best to cook the beets beforehand or use pre-cooked, store-bought beets like Love Beets. My Strawberry Banana Beet Smoothie is a reader favorite.
7) Peas
Green peas are among the best frozen vegetables for smoothies. They're not just for icing an injury, after all! With peas, you can have a green smoothie without any leafy greens (unless you want them in there).
Frozen green peas can be added to smoothies straight from the freezer, but some people prefer to lightly steam them first to help with digestion. It's up to you. If you're interested in trying peas in a smoothie, my Green Pea Smoothie with Mint is the perfect recipe.
8) Carrots
I first discovered the magic of using carrots in smoothies accidentally, and I'm so glad I did! Frozen carrots blend very well, provide fiber, and give the final product a beautiful orange color.
Raw carrots do not blend as well as frozen ones, so I recommend using frozen carrots. Check out my post on How to Freeze Carrots, then make the Vegan Carrot Banana Smoothie!
9) Celery
Celery is the ultimate supporting vegetable. It's an irreplaceable addition to soups, but did you know that it can also add a boost to smoothies? Just make sure it's paired with fruits and flavor boosters that complement it's mineral-like taste.
I prefer to use frozen over fresh celery in smoothies. If you're interested in doing the same, my post on How to Freeze Celery will be helpful. After you master that hack, you can make the Celery Smoothie with Apple and Banana.
10) Cucumber
Thanks to its high water content, cucumber makes for very hydrating and refreshing smoothies. It tastes best with leafy greens and tropical fruits, especially in the summer!
I prefer to peel cucumbers before adding them to the blender, but you can leave the skin on if you want the extra fiber. They don't need to be frozen. I just throw in fresh, chopped cucumber in my Cucumber Smoothie with Pineapple and Banana.
11) Zucchini
While I don't have a recipe for a zucchini smoothie on the blog, I did include one in my cookbook! Zucchini has such a mild taste and is virtually unrecognizable in smoothies. It's a great choice for picky eaters and vegetable haters. Pair it with a creamy plant-based milk, nut butter, and cocoa powder for a treat.
And that's a wrap on my list of the best vegetables for smoothies! Which one will you try?!