Learn what to do with your summer farmers market haul! If you have a ton of veggies and don't know how to use them all before they go bad, this post is for you.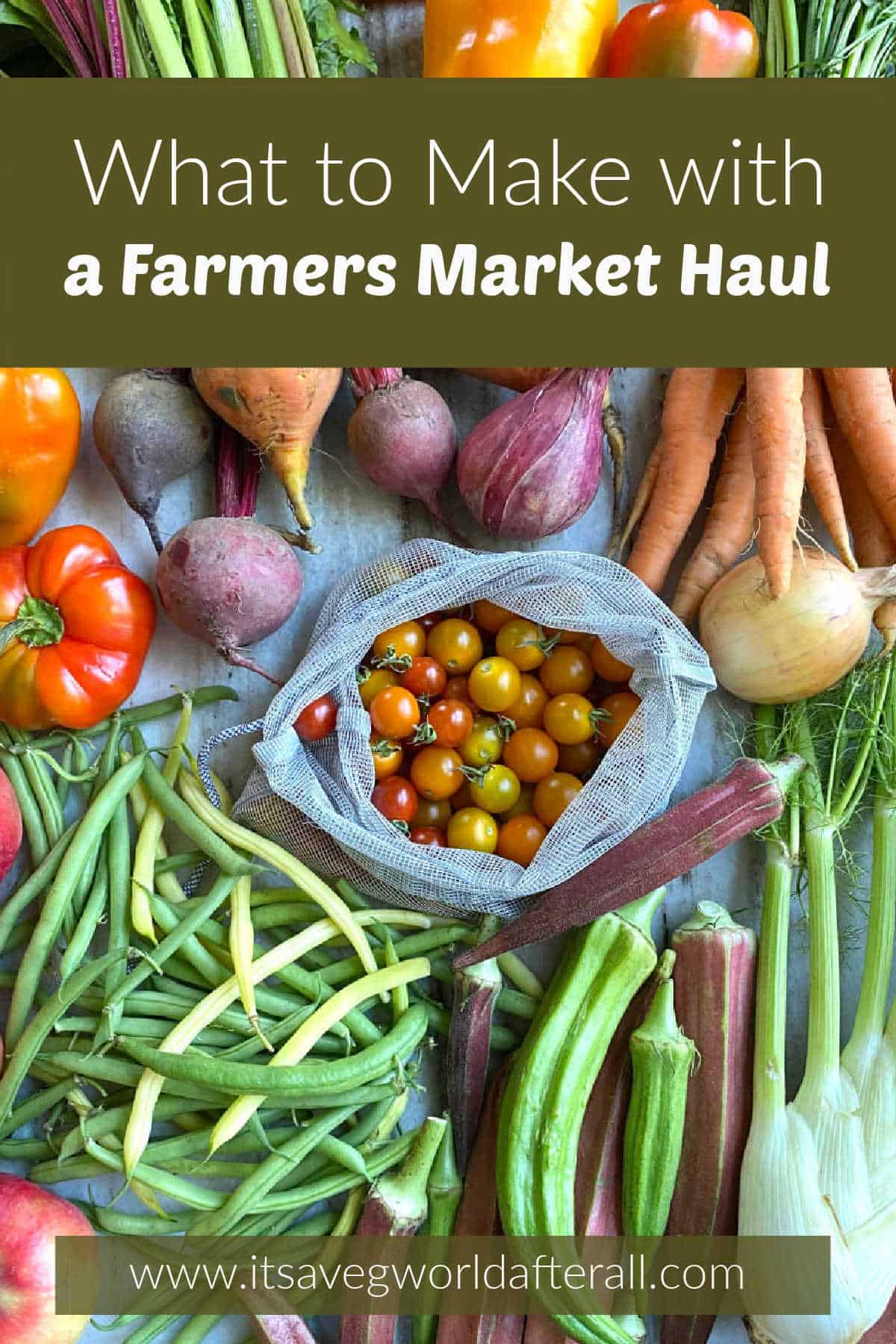 This post may contain affiliate links. For more information, see my affiliate disclosure.
August is coming to an end, but summer veggies are still overflowing the farmers market stands! It's the best time of year for fresh produce, and I hope you are all taking advantage of it.
If you're like me and come home from the market (or your backyard garden!) with TONS of vegetables, you may feel a little overwhelmed after you unpack everything. Coming up with a plan to use the veggies before they go bad can be a challenge.
That's why I'm here—to help you figure it all out. In this post, I walk you through my experience using up a huge farmers market haul over the course of the week. You'll learn how to incorporate veggies into not just side dishes, but also breakfast, snack, main dish, and meal prep recipes.
How to Plan a Weekly Menu with Farmers Market Finds
You can sketch out a menu for the week before or after you go to the farmers market. In this instance, I had a few ideas in mind when I went to the market but didn't come up with the full menu until after I got home. That way, I knew exactly what I had and didn't have to worry about not finding a certain veggie.
Here's what I picked up at the market:
Beets
Bell peppers
Carrots
Cherry tomatoes
Fennel
Green beans
Okra (a less familiar veggie for me!)
Onions
Zucchini
When I sat down to plan the menu, I wanted to make sure I had an assortment of recipes instead of just side dishes. I used the recipe index on my site that's categorized alphabetically by vegetable to easily look up the veggies I got at the market. In just a few minutes, I had a plan.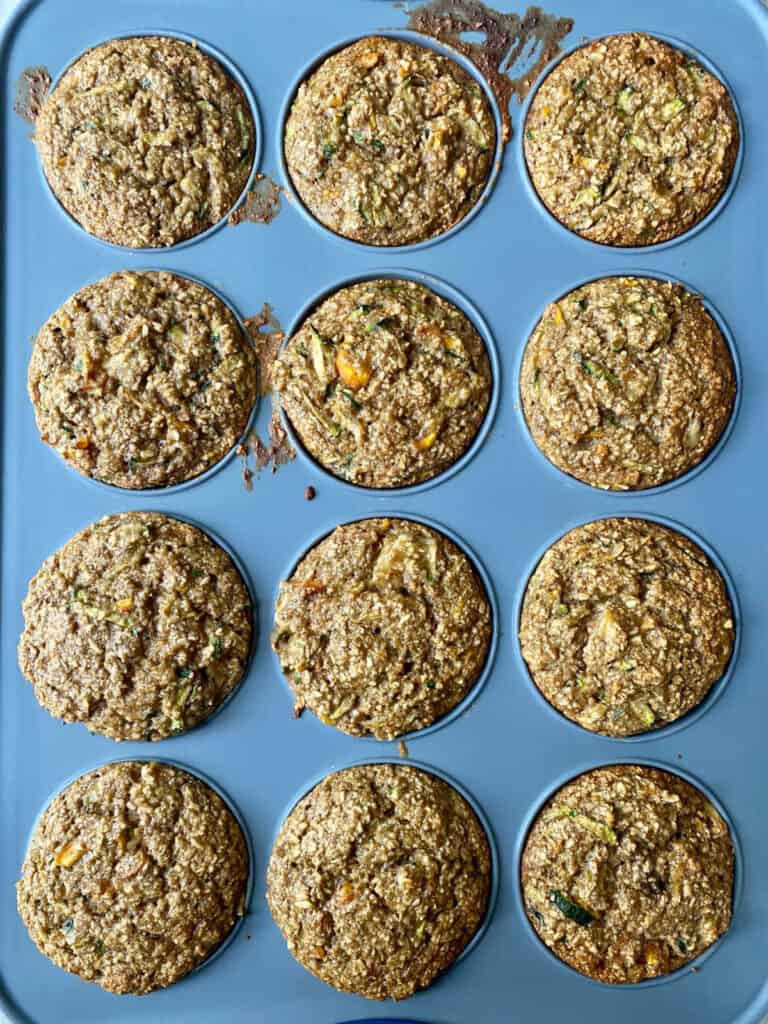 The breakfast, lunch, and snack recipes all kept really well in the fridge. I made most of them over the weekend or when I had a half hour to play in the kitchen after work at the beginning of the week.
I also picked up some apples at the market, so we ate those with peanut or almond butter on the side of the lunch dishes. On other days, we cut up the last few carrots and had them with the white bean dip at lunchtime.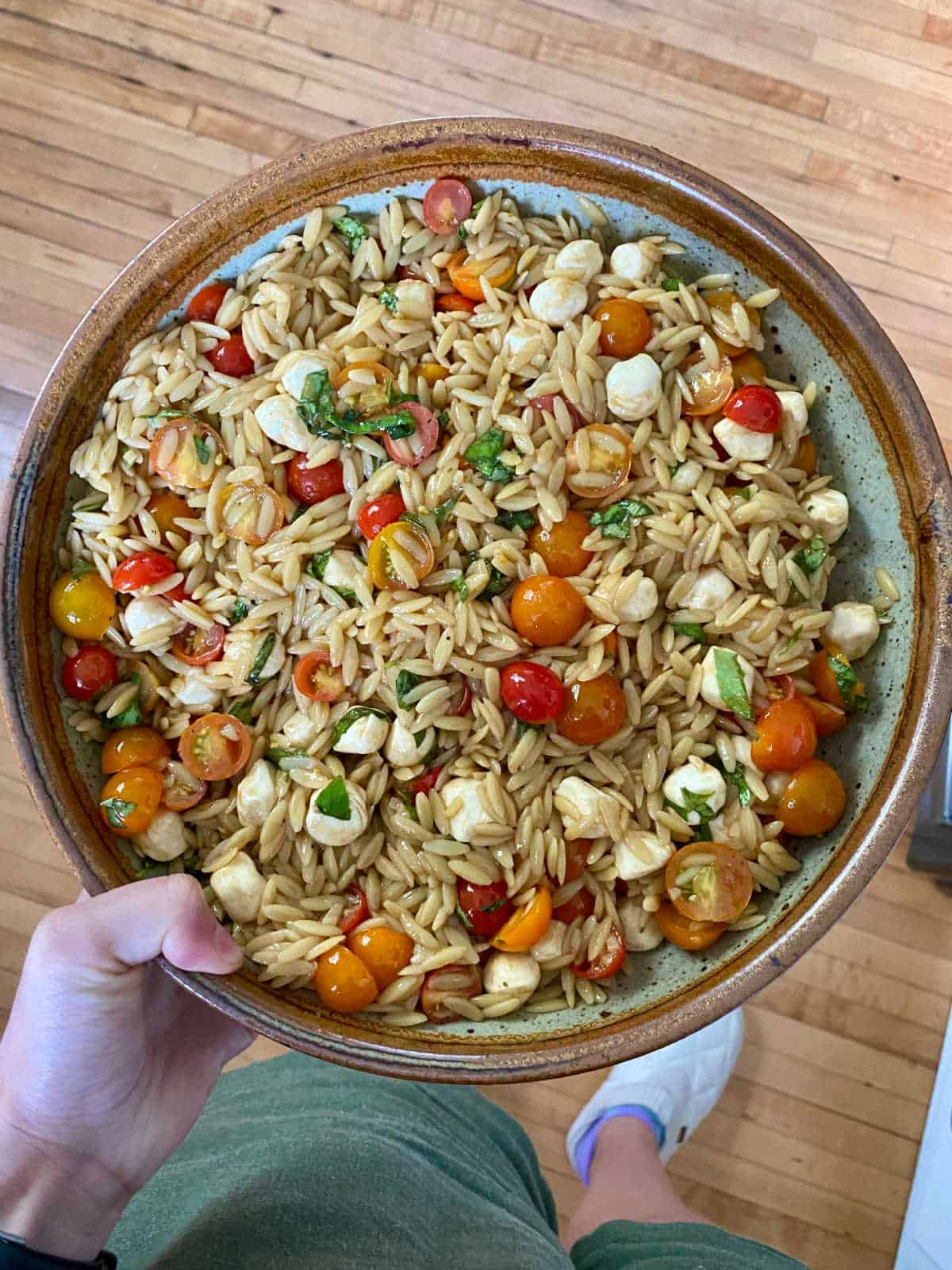 For dinners, I served one of the sides with a protein we had in the freezer. We aim to have frozen meats that we purchase from a local farmer and frozen fish or falafel from Trader Joe's on hand. If we needed something else at the meal, I added brown rice, quinoa, or a spinach or arugula salad.
Another great thing about all of these recipes is that they mostly use pantry staples. For the muffins, I needed oats, common baking ingredients, bananas, and maple syrup, all of which I had.
For the other dishes, I needed chickpeas, white beans, garlic, honey, dried and fresh herbs, pistachios, lemon juice, olive oil, balsamic vinegar, mustard, orzo, and mozzarella pearls. I had the dried seasonings on hand and the fresh herbs in my backyard garden and the beans and most of the other ingredients in the pantry.
I made a quick run to the store for the few groceries I didn't have. Oh, and I should mention that I had sourdough bread and leftover ricotta cheese so that's how I came up with the roasted pepper toast (YUM)!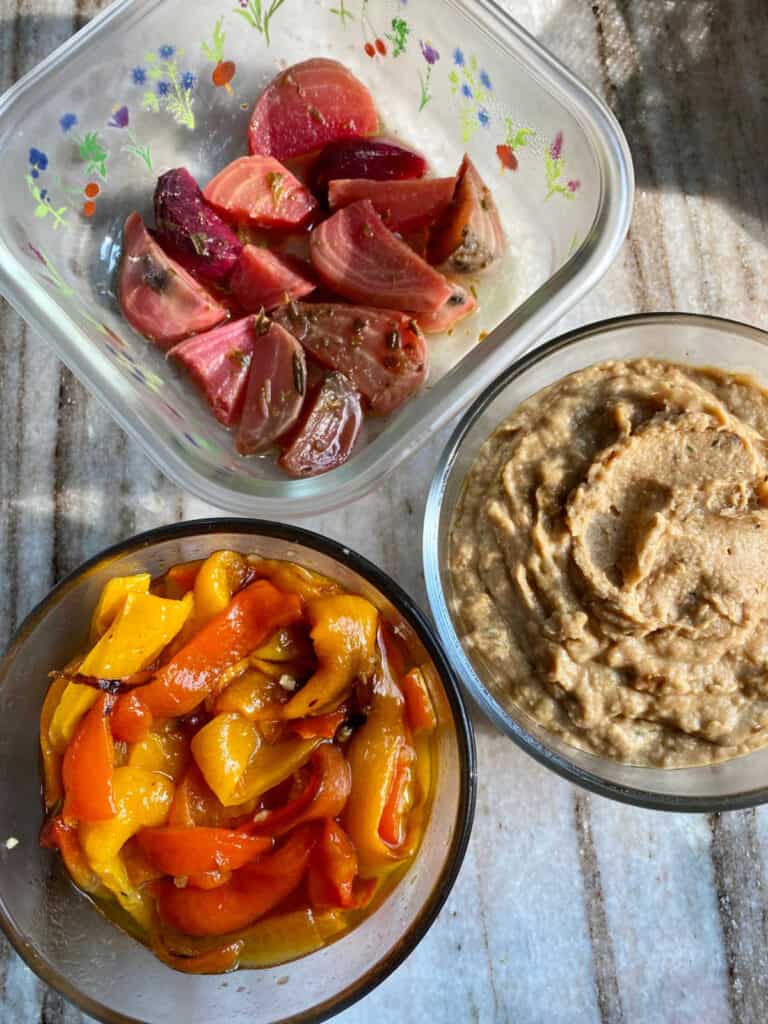 Other Helpful Farmers Market Haul Posts
My weekly menu is just one example of how to use a summer farmers market haul. If you find yourself with extra produce even after planning a menu like this one, I have some other helpful posts for you. Check out my post on How to Use CSA Vegetables or browse my alphabetical vegetable recipe index.
Here are some other great ways to preserve fresh produce:
I'd love to hear how you use your farmers market haul! Leave a comment and let me know. Enjoy your veggies! – Lizzie